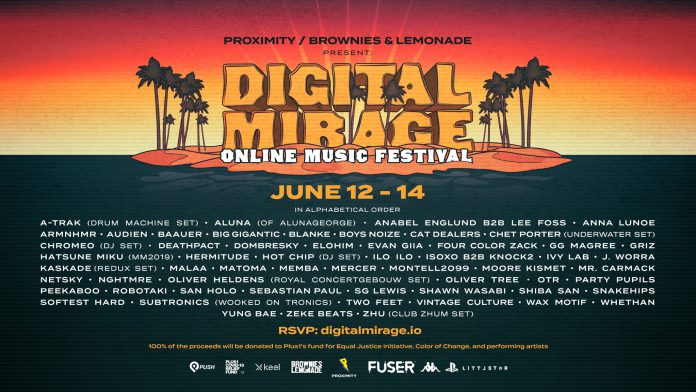 Miss out on Digital Mirage 2.0 last weekend or simply want to relive some sets? Check out the livesets that have surfaced so far!
---
Last weekend, over fifty artists performed sets for the second installment of Digital Mirage 2.0. The latest edition of Proximity and Brownies & Lemonade's collaborative virtual festival drew thousands of viewers to watch the three-day event and raised tons of money along the way.
Beyond an abundance of stand-out sets from performers, some acts pushed the envelope in terms of their set-up. Chet Porter performed underwater, Oliver Heldens streamed his set from the luxurious Royal Concertgebouw in Amsterdam, and there were plenty of surprises throughout the weekend from Shawn Wasabi, ZHU, Subtronics, and countless others.
Regardless of format, the entire catalog of acts proved that they are still at the top of their live performance game regardless of quarantine. Looking to catch up on what you missed? We got your back; we've collected links to all of the sets for you to sit back and indulge in.
What was your favorite set from last weekend? Who surprised you the most? Let us know in the comments and feel free to join in on the conversation on Facebook!
Digital Mirage 2.0 Livesets 
---
A-Trak
SoundCloud | Mixcloud | YouTube
---
Aluna
SoundCloud | Mixcloud | YouTube
---
Anabel Englund B2B Lee Floss
SoundCloud | Mixcloud | YouTube
---
Anna Lunoe
SoundCloud | Mixcloud | YouTube
---
ARMNHMR
SoundCloud | Mixcloud | YouTube
---
Audien
SoundCloud | Mixcloud | YouTube
---
Baauer
SoundCloud | Mixcloud | YouTube
---
Big Gigantic
SoundCloud | Mixcloud | YouTube
---
Blanke
SoundCloud | Mixcloud | YouTube
---
Boys Noize
SoundCloud | Mixcloud | YouTube
---
Cat Dealers
SoundCloud | Mixcloud | YouTube
---
Chet Porter
SoundCloud | Mixcloud | YouTube
---
Chromeo
SoundCloud | Mixcloud | YouTube
---
Deathpact
SoundCloud | Mixcloud | YouTube
---
Dombresky
SoundCloud | Mixcloud | YouTube
---
Elohim
SoundCloud | Mixcloud | YouTube
---
Evan Giia
SoundCloud | Mixcloud | YouTube
---
Four Color Zack
SoundCloud | Mixcloud | YouTube
---
GG Magree
SoundCloud | Mixcloud | YouTube
---
GRiZ
SoundCloud | Mixcloud | YouTube
---
Hatsune Miku
SoundCloud | Mixcloud | YouTube
---
Hermitude
SoundCloud | Mixcloud | YouTube
---
Hot Chip
SoundCloud | Mixcloud | YouTube
---
ilo ilo
SoundCloud | Mixcloud | YouTube
---
ISOxo B2B KNOCK2
SoundCloud | Mixcloud | YouTube
---
Ivy Lab
SoundCloud | Mixcloud | YouTube
---
J. Worra
SoundCloud | Mixcloud | YouTube
---
Kaskade
SoundCloud | Mixcloud | YouTube
---
Malaa
SoundCloud | Mixcloud | YouTube
---
Matoma
SoundCloud | Mixcloud | YouTube
---
Memba
SoundCloud | Mixcloud | YouTube
---
Mercer
SoundCloud | Mixcloud | YouTube
---
Montell2099
SoundCloud | Mixcloud | YouTube
---
Moore Kismet
SoundCloud | Mixcloud | YouTube
---
Mr. Carmack
SoundCloud | Mixcloud | YouTube
---
Netsky
SoundCloud | Mixcloud | YouTube
---
NGHTMRE
SoundCloud | Mixcloud | YouTube
---
Oliver Heldens
SoundCloud | Mixcloud | YouTube
---
Oliver Tree
SoundCloud | Mixcloud | YouTube
---
OTR
SoundCloud | Mixcloud | YouTube
---
Party Pupils
SoundCloud | Mixcloud | YouTube
---
Peekaboo
SoundCloud | Mixcloud | YouTube
---
Robotaki
SoundCloud | Mixcloud | YouTube
---
San Holo
SoundCloud | Mixcloud | YouTube
---
Sebastian Paul
SoundCloud | Mixcloud | YouTube
---
SG Lewis
SoundCloud | Mixcloud | YouTube
---
Shawn Wasabi
SoundCloud | Mixcloud | YouTube
---
Shiba San
SoundCloud | Mixcloud | YouTube
---
Snakehips
SoundCloud | Mixcloud | YouTube
---
Softest Hard
SoundCloud | Mixcloud | YouTube
---
Subtronics
SoundCloud | Mixcloud | YouTube
---
Two Feet
SoundCloud | Mixcloud | YouTube
---
Vintage Culture
SoundCloud | Mixcloud | YouTube
---
Wax Motif
SoundCloud | Mixcloud | YouTube
---
Whethan
SoundCloud | Mixcloud | YouTube
---
Yung Bae
SoundCloud | Mixcloud | YouTube
---
Zeke Beats
SoundCloud | Mixcloud | YouTube
---
ZHU
SoundCloud | Mixcloud | YouTube
---
Connect with Brownies & Lemonade on Social Media:
Website | Facebook | Twitter | Instagram | SoundCloud
Connect with Proximity on Social Media:
Website | Facebook | Twitter | Instagram | YouTube | Spotify