We sat down with Zingara to talk about her latest track and creating a space to produce in this week's Artist Spotlight!
---
The Mid-Atlantic region of the US is a hotbed for exciting new artists, and Zingara is one of the latest names turning heads across the scene. With her wobbly and driving brand of music, the Baltimore native has already shown some serious talent on tracks like "Medusa" and "Zodiac."
Despite the constraints of quarantine, Zingara hasn't slowed down. Her recent b2b set with ROYALFLU$H showcased her skills from an isolated spot in the woods. She threw down an awesome set despite not having a crowd, the hallmark of an artist who is clearly set for success and will be making waves for years to come.
In this week's guest mix, Zingara offers up an impressive array of stellar bass tunes. Her production prowess is on full display as this mix is perfect for vibing out or deep-cleaning your house! Make sure you check out her interview below, as we talk to her about her first EDM show, working with GRL GANG, and so much more!
---
Stream EDMID Guest Mix 221 || Zingara on SoundCloud:
---
Hey Zingara! It's great to talk to you. How have you been doing during the quarantine over the past few months?
Hey! I've actually been ok! I've been trying to think positively throughout this whole thing. I'm currently finishing up my last few classes with Towson University so I'm very close to graduating which is exciting. I've also had more time to spend at home working on music and mixes!
What are some things that have kept you grounded during this uncertain time? 
Now that I do have more time on my own, I've been trying to take time everyday to exercise, read, and of course work on music. I've definitely felt more creativity inspired recently. I'm also a huge believer in the Law of Attraction so writing down my manifestations everyday and what I am thankful for is really doing a lot to keep me grounded! I'm keeping an open mind and trusting the process along the way.
One of the things that we've all been missing the most has been being at events with our friends. What's one thing you miss the most about live performances? 
I miss everything about live performances. I always have my friends over beforehand so we can all go together. Spending extra time with them before is what I miss a lot though. They are so supportive and the reason I have come so far! I am very lucky to be surrounded by people who support my journey. Also just the adrenaline from performing and being in that atmosphere is my favorite thing ever. I've been performing since I was three years old and can't get enough of it. Being in front of a crowd is just an indescribable feeling. I can't wait to get back to it.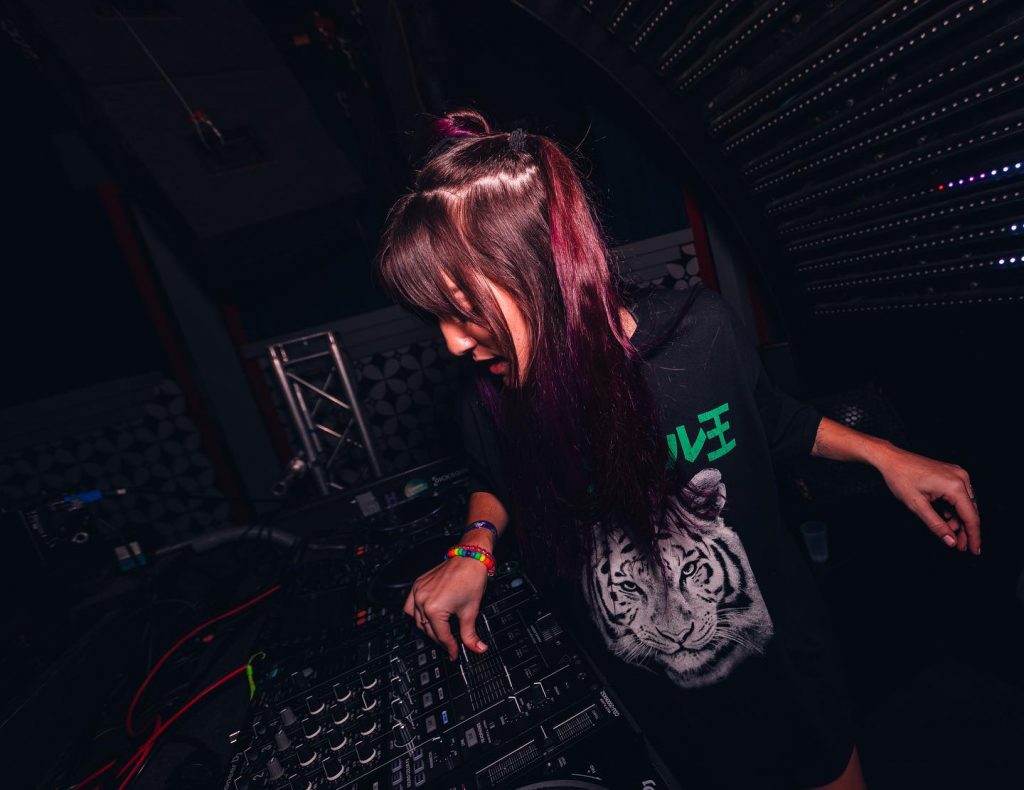 Speaking of live performances, what's your track selection process for mixes and live sets? Do you tend to gravitate towards using original tracks or tracks from other artists? 
I would say I definitely have been trying to incorporate more of my own music, my friend's music, and music that inspires me to create. I have only been producing for about a year and DJing for three so seeing my progress in my mixes including my own music is super exciting with how far I have come! I also try to tell a story in my mixes, going from different BPMS, playing out songs, and really making everything flow nicely is what I tend to lean towards. I have so much fun creating them and finding new artists to include in them!
Tell us about your home studio. What kind of environment have you found works best for you? How do you get into a solid production flow?
For me personally, being in a light open space is where I can write the most. My studio set up at home is surrounded by plants and crystals and cool lights! I just like to have my own sacred space where I can go and know everything will flow out of me. Definitely have to keep the vibes right to produce something I love. 
We've been bumping your new track "Solipsist," which is a great showcase of your bass and rhythm abilities. Can you walk us through the process of producing that song?
So I recently took a Philosophy class and learned about the term, "Solipsist", which is someone who believes their mind is the only mind to actually exist. I thought it was a super cool concept and immediately researched it more and felt inspired to make this song. It really all just poured out of me. I love to start my tracks with a concept or a story to create and keep that feeling throughout the whole thing. It's weird because all of my songs that are out now are tracks that really just fell out of me instantly. Most of my music I am sitting on is hard for me to pick up again because I constantly want to start something new.
You also released "Zodiac" on the RIOT! EP with GRL GANG earlier this year. What is it like to be a part of that very supportive community?
I am so grateful for the opportunities this has brought me. JEANIE is a legend and is so helpful to all the girls. I have met so many awesome and inspiring girls and friends through this and I couldn't be happier to say I am a part of it. Everyone involved is so talented and unique! I am constantly blown away by them.
Every artist, no matter how big or small, faces some hurdles in their career that they need to overcome. Which hurdle has been the biggest one you've faced so far in yours and how did you overcome it?
My love for djing started around a really difficult time in my life. The person who really pushed me to try to follow my dreams in the first place ended up tragically passing away. A few months after that, my grandpa passed away, and just when I thought my world was crashing down my best friend ended up passing away as well. I really did not know if I could keep going. I do believe they are watching over and pushing me when I feel down. I can feel their energies around me, especially when I perform. Something else I struggle with is when I come to the realization of how many other extremely talented people there are who have the same goals as me! It makes me feel so small and I know so many people can relate to this. I just have to remind myself to keep going, there's no competition, and there is room for everyone to live out their dreams!!
Who are some of the artists who you first started to listen to when you fell in love with dance music, and do you still gravitate towards their music today?
When I first got into any form of EDM, I saw Alison Wonderland live and fell in love. She is such a powerful women influence in the music industry and I just love her energy. From there I started filming DJs perform and making little recaps for them. After filming so many times and being on stage, I just knew I had to try to do this on my own. I started performing in small bars and clubs at Towson and my love for it just grew. Although I still love Alison Wonderland, I have so many people who influence me there is no way I could name them all!! My friends who produce inspire me everyday.
Finally, what's your favorite place to grab something to eat in Baltimore?
That is such a hard question! My boyfriend and I love sushi and our favorite place to go when we want to treat ourselves is Azumi. In Towson, one of my favorite places that I feel like doesn't get enough credit is Pho Dat Thanh, which is a Vietnamese restaurant! I think they must think I'm crazy for eating there so often!
---
Follow Zingara on Social Media:
Facebook | Twitter | Instagram | SoundCloud | YouTube