Need your hard dance fix during the quarantine? Insomniac has you covered with two weekends of the Basscon Presents Wasteland Livestream!
---
Do you live for hardstyle? Have you been hoping to catch some high-energy beats during the ongoing quarantine? Well you're in luck because it's time for the harder styles to get the recognition they deserve. That's right, Insomniac has announced that the Basscon presents Wasteland Livestream is a go!
As one of the premier hard dance brands, Basscon has made waves in the scene with their standalone events and stage takeovers that bring serious energy along with them. Now they've been given their time to shine in the virtual realm for two weekends of powerful sets on May 29 and June 12 and the lineups just dropped for each!
Related: Looking for a comprehensive list of the livestreams happening all over the world wide web this weekend? Check out our Livestream Tracker!
The May 29 show is set to kick things off in the best way possible with sets from DJ Anime, LNY TNZ, Lady Faith, and Audiofreq. Of course, a set from Pulsatorz and Sub Zero Project will be much desired to catch along with Ben Nicky's XTREME performance as well.
The livestream gets even sweeter on June 12 with a packed lineup featuring renowned artists including Darren Styles, Adrenalize, and DJ Isaac. Additionally, the second show will bring Dr. Rude and Mad Dog to the stage along with Lil Texas and Soren for even more infectious tunes!
Stay tuned because more updates and specific set times will be arriving ahead of both weekends. Don't forget to let us know who you're most excited to catch and where you'll be tuning in from in the comments!
Follow Basscon on Twitter for the latest updates and make sure you're following Insomniac Events on YouTube and Twitch so you can get a reminder the moment the streams go live!
---
Watch the Basscon Presents Wasteland Livestream on Twitch:
---
Basscon Presents Wasteland Livestream – Schedule June 12: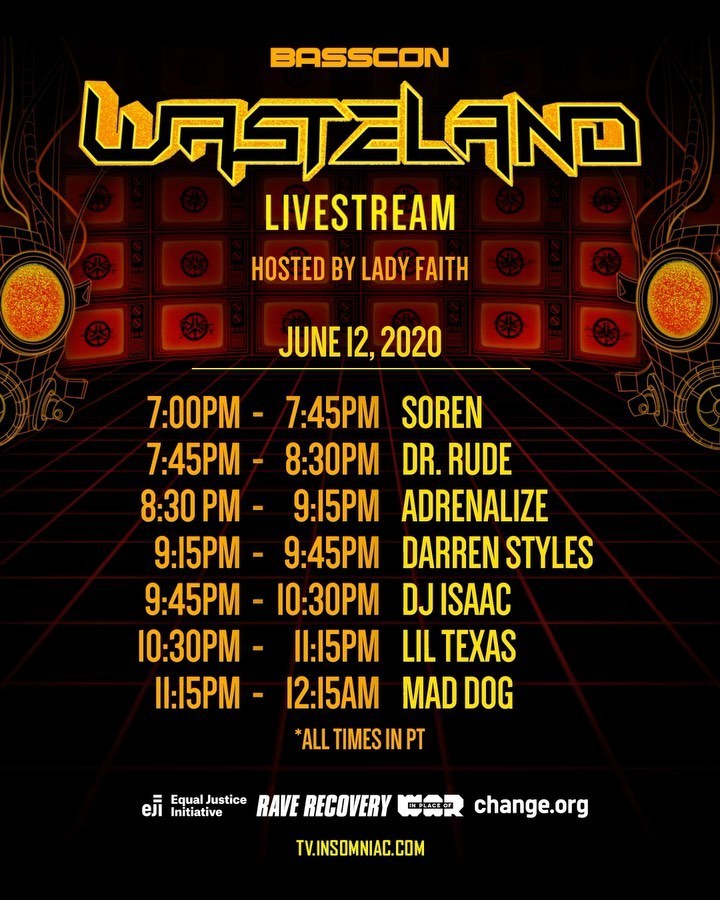 ---
Basscon Presents Wasteland Livestream – Lineup: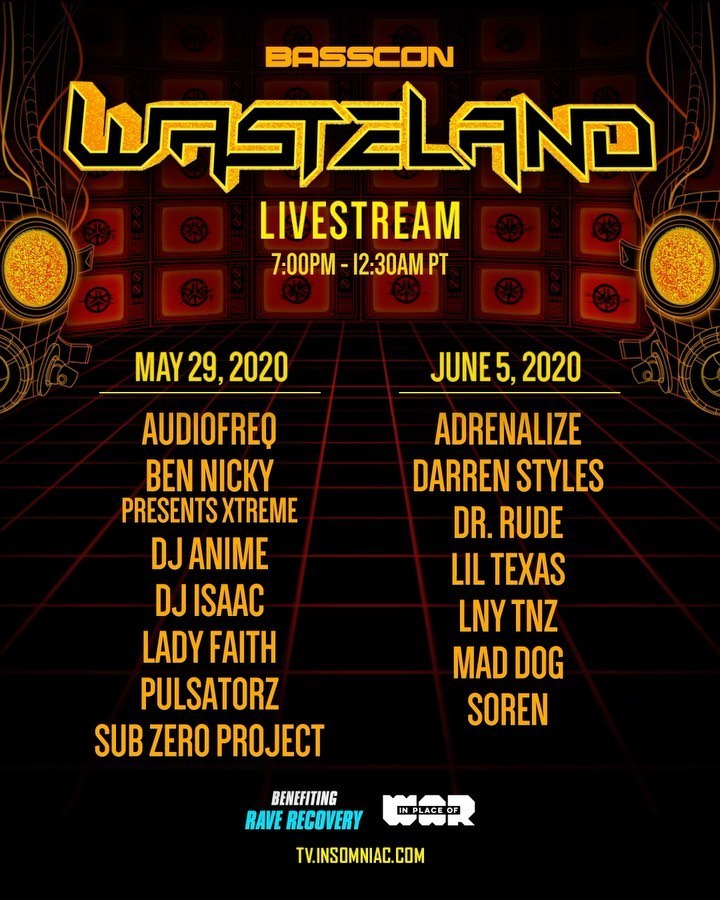 ---
Follow Basscon on Social Media:
Website | Facebook | Twitter | Instagram | SoundCloud | YouTube