Neon Owl is bringing their Open Door Sessions to the virtual space with an impressive lineup of speakers from different facets of the industry!
---
As the entire dance music community continues to deal with the impact of the COVID-19 pandemic members of the industry have flocked to the digital realm. Artists have been playing nonstop on platforms like Twitch and YouTube, labels and promoters have explored hosting their own curated events, and others in the scene have taken to different platforms to share their knowledge as well. Now, Neon Owl has entered the chat with the upcoming edition of Open Door Sessions.
Since its debut edition, Neon Owl's Open Door Sessions have become renowned for their lineups of speakers that feature some of the dance music and festival scene's best and brightest. The eighth edition in the series continues that trend as Neon Owl's founder Elaine Huang is set to be joined by movers and shakers like SPIN's Editor-in-Chief Matt Medved, Brownies & Lemonade's Creative Director Chad Kenney, Cardinal Artists' Founder Marc Geylman, and Northern Nights Music Festival's Matthew Whitlock who will all be discussing the current state of the scene and more.
But it isn't just industry-members who make up the list of speakers either, as talented artists including Sacha Robotti, KhoMha, and Mikul Wing (from Autograf) will be adding to the conversation. And for you aspiring artists out there who might be reading this, the upcoming edition of Open Door Sessions will also feature a demo listening party which you can submit your unreleased tunes to as well. (Submit your demos to [email protected] for your chance to be featured.)
Due to the COVID-19 pandemic, Neon Owl has decided to make this available to attendees to participate in for free as a way to show their support for the heavily impacted industry. Donations are greatly appreciated to support their efforts in continuing to create amazing in-person and virtual networking events for the music industry!
EDM Identity is proud to be partners for the upcoming edition of Open Door Sessions. Head over to Neon Owl's website to register now and receive access to the Zoom link so you can catch all the action on May 31!
---
Open Door Sessions 8.0 Lineup: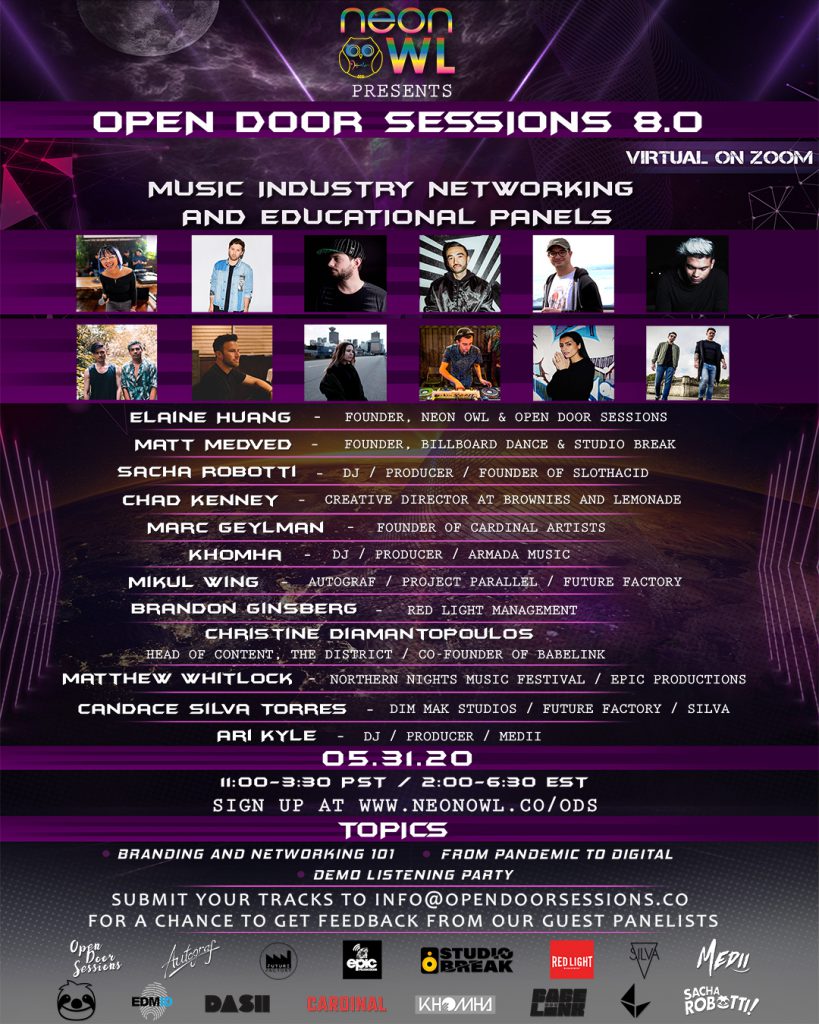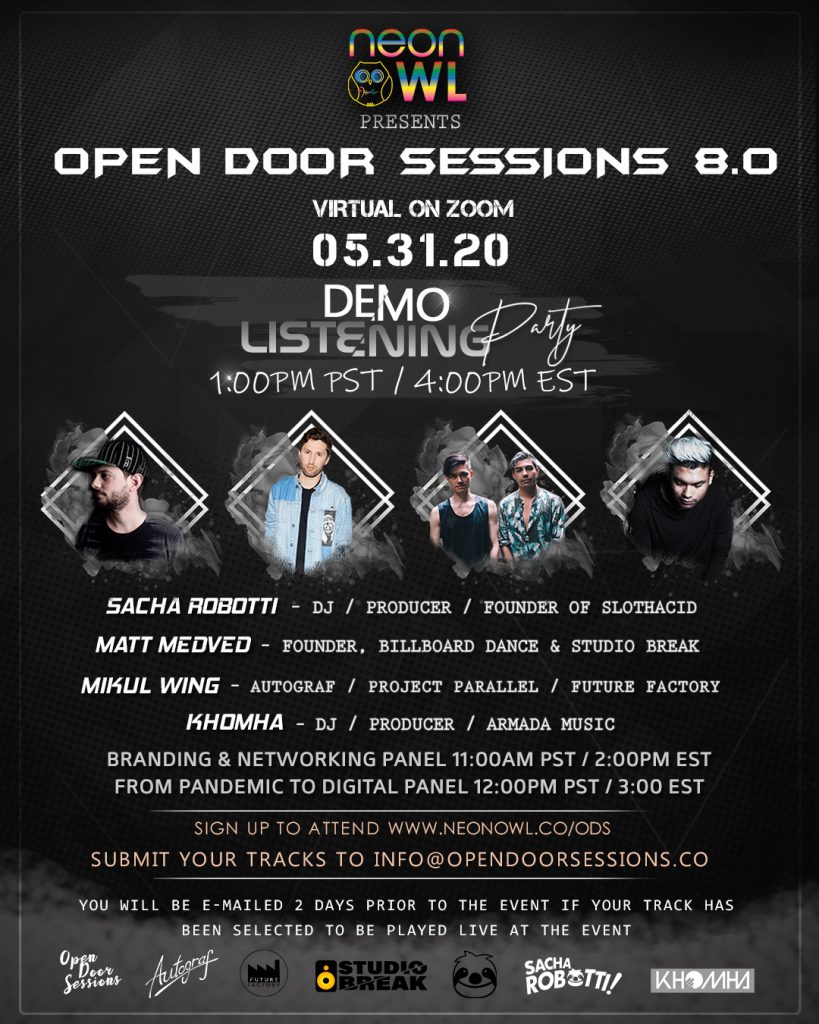 ---
Lineup of Speakers:
Elaine Huang – Founder, Neon Owl & Open Door Sessions 

Matt Medved – Founder, Billboard Dance & Studio Break 

Sacha Robotti – DJ / Producer / Founder of Slothacid 

Chad Kenney – Creative Director at Brownies and Lemonade 

Marc Geylman – Founder of Cardinal Artists 

KhoMha – DJ / Producer / Armada Music 

Mikul Wing – Autograf / Project Parallel / Future Factory 

Brandon Gingsberg – Red Light Management 

Christine Diamantopoulos – Head of Content, The District / Co-founder of Babelink 

Matthew Whitlock – Northern Nights Music Festival / Epic Productions 

Candace Silva Torres – Dim Mak Studios / Future Factory / SiLVA 

Ari Kyle – DJ / Producer / Medii
---
Follow Neon Owl on Social Media: