The fifth installment of the Bangers series by GRiZ is a genre-bending party starter that bridges the gap between technical proficiency and playfulness.
---
It's an auspicious day for GRiZ fans everywhere. The don himself just dropped Bangers[5].Zip, the fifth EP installment in his Bangers series that launched early last summer. This 3-track EP is a true showcase of GRiZ's eclectic tastes and production abilities, perfectly balancing his technical skills with his playful spirit. Boasting a mix of bass and house music, no matter what environment you're in, you'll instantly be transported to your favorite dance party.
Related: Missed the release of the last Bangers EP? Don't worry – we got your back! Read our review of Bangers[4].Zip!
Unlike his other projects like Chasing the Golden Hour that have a more symbolically driven theme to them, this series brings it back to basics. It's about good music but, equally important, also having fun. The inclusion of ".Zip" in the titles of each EP indicates none of this needs to be, nor should it be, taken too seriously.
Listen to Bangers[5].Zip EP on Spotify below, download or stream it on your favorite platform, and read on for our take on this release from GRiZ!
Stream GRiZ – Bangers[5].Zip EP on Spotify:
The interplay between traditional song structure and non-traditional production elements allows the EP to feel nostalgic and fresh at the same time.
GRiZ's unified approach to song structure bridges the gap between that playful attitude and reverence for technical proficiency. Each song embodies a traditional "buildup-drop-buildup-drop" structure. A familiar format for any raver. Yet, within this familiar structure, GRiZ plays with production elements to keep you on your toes. Not only do the drops change every time, the genre also changes between the start and end of each track.
We start with "The Baddest" a heavier bass music track that starts with a festival trap buildup before transitioning into a dubstep drop that puts the likes of Doctor P and Cookie Monsta to shame. With a deep vocal telling you that "I'm bad but I make it look good though," this angsty anthem will have you looking for the nearest rail to ride.
Second, we have "My Friends and I, Pt. 3″ a house tune that starts with a playful, tech house vocal that gives off total Splash House pool party vibes with its bouncy bassline and light rap lyrics. This song takes you on an unexpected journey, with its third drop going into bass house style breaks before diving into a free form bass ending.
The EP ends with its most experimental song, "Spaceship Ride." This track invites listeners to "hop onto the spaceship" to be taken for a ride, and we are certainly taken on a ride here. The vocals and tempo during the intro and buildups are reminiscent of Kanye West's "Black Skinhead," while the drops sound like the wonky spawn of a dubstep alien. This contrast between rock instrumentation and heavy sound design is a sonic treat.
---
GRiZ – Bangers[5].Zip EP – Tracklist:
The Baddest
My Friends and I, Pt. 3
Spaceship Ride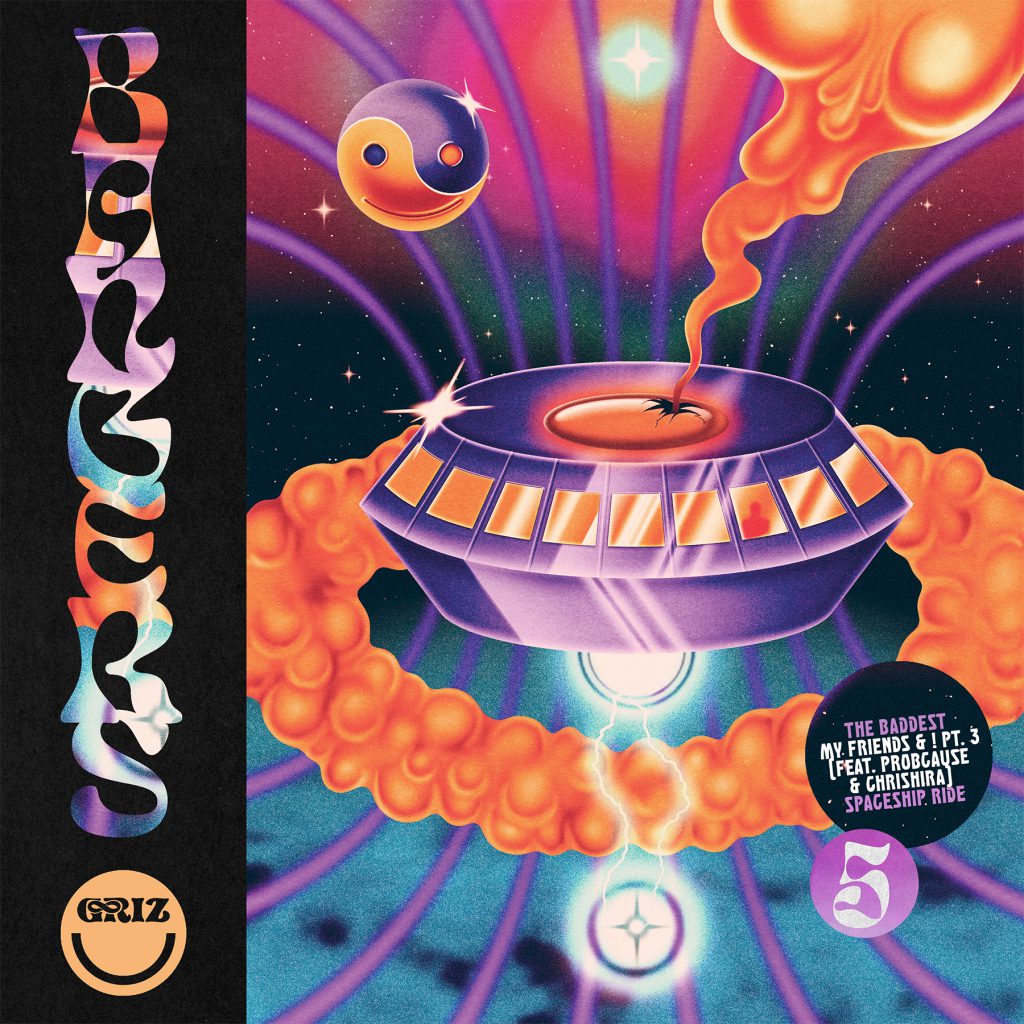 ---
Follow GRiZ on Social Media:
Website | Facebook | Instagram | Twitter | SoundCloud | Spotify | YouTube