Overwhelmed without a clue of what to tune in to? Here are some experiences that might help keep you sane during Social Distancing!
---
The social distancing measures during the coronavirus quarantine have sparked a large number of livestreams from the wide DJ base around the world. But for some, the digital realm might not be the cup of tea they're after. Maybe it's the dislike of the constant chatter from the community during the sets, the desire for something more simple to throw into the background, or missing the noise of the crowd while listening to a set. I cannot blame those thoughts and feelings at all, because I definitely relate.
There is definitely a time and place for the livestreams that many DJs are tackling right now. They are a great medium offering the community a way to interact like never before as we all practice some form of social distancing in this time of crisis. Yet, there are definitely moments where all I want is the calmness of a familiar radio show or the ease of putting on a mix prepared for simply listening to.
As such, I felt it worthwhile to share some of the experiences keeping me sane right now.  This is what's working for me, what I've dug up that some may not be familiar with, and what honestly offers me something beyond some headbanging beats or dancing on my studio floor.  If you need some suggestions on activities that might break the funk for you, read on!
Experiences Keeping Me Sane During Social Distancing
---

Organizing and Archiving
This first one is personal but may help you gain some focus on any given day. My day job keeps me busy during the weekdays but I need a break every once in a while since the view of my neighbor's house gets old after a few hours. All too often, it turns me towards a task put off far too long. An early example was cleaning out a closet that accumulated too much random stuff over the past few years. In these moments, I roll up my sleeves and start going through stuff to toss in the rubbish.
Likewise, there is a vast amount of music I own as a DJ and archivist. Streaming never was my primary way of picking up music – I like owning my library, and not just for DJ purposes. I like knowing I can listen to my music without worrying about data connections on a drive through the mountains or desert.
So, I've also dug into organizing my music library. This includes finding high-resolution album art for songs, updating ID3 tags, and updating playlists where appropriate. Maybe it means ripping one or more CDs too. In short, it is simply taking what I love sharing in performance and making it accessible to how I can find it.
---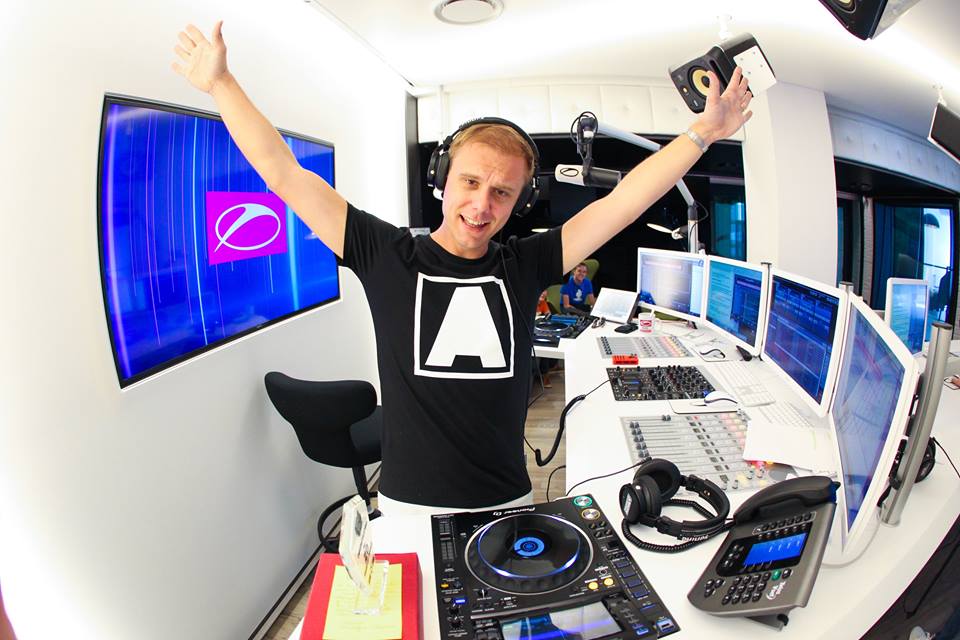 Radio Shows
Thankfully, in all of this, the DJs I love have not stopped their radio shows seeing as they have ample studio time given our self-isolation. Every week I can tune into the video broadcast on YouTube of A State Of Trance. I can dive deeper into trance and progressive with Pure Trance thanks to Solarstone. I realize both of those are trance-centric, but the point is there are artists committed to their amazing weekly work for you to enjoy.  That said, there are some experiences that are new or that I fan the flames with that I wanted to share with you too!
Armada Next has come up swinging with some beautiful house-focused beats that was struck two weeks in with the lockdown. While they took a week off from uploading, the hosts are back at it in full. I've really enjoyed the less polished mixing of the show that allows the music to be the focus. Maykel Piron and Ben Malone host the stream every week and really bring some fun energy back to house music in the Armada HQ Studios. Click it for the full details.
A mainstay of the drum and bass scene for years, the Hospital Podcast remains one of the most entertaining shows I get to enjoy. Label founder Tony Coleman, known to the world at large as London Elektricity and the Hospital Records family share new tunes from around the world. Centered squarely on Drum and Bass music, the podcast is an ode to the beauty of music as heard by Tony's talented ears. If you never gave it a shot, try it out.
Another mainstay of my house music radio shows is EDX's No Xcuses. For all the hate that can fill the world, EDX's show always has something that lifts up the soul. There are progressive vibes there for the house fans, plenty of energy for the festival family, and the booming beats of the club are fully retained. EDX is always a fun presenter of the best in house beats from the Swiss dance culture side of the genre, so if you dig the vibes of the Helvetic Nerds as a whole then this one's for you!
---

Special Livesets, Livetreams, and Unique Settings
Okay – so I have watched a few live streams too. Netsky's Return to Hospital Records felt super special and I had to tune in.  Not only was it Netsky returning to the label he started his career on, but it was also him taking us on a journey of drum and bass that he loved and was a romp through classics he produced.
There's something here that every fan will enjoy without a doubt. He also premieres his new tune off the upcoming drum and bass album that is still an artistic work in progress but will release on Hospital Records later this year. Tune in, vibe out, and remember a time simpler than today. This, along with #ClubQuarantine thanks to Gabriel & Dresden, have kept my live streams happy.
I wrote up the live sets posts for Let It Roll Winter 2020 because the event truly captivated me as a real drum and bass experience. It is something that an older junglist like myself enjoys that just feels so often lost in my home region. That's not a knock that the scene here caters to other styles, just that I often find myself wishing for more of the style of drum and bass from years gone by instead of the dub influence of today.  Hearing the DJs rock the Czech event right really helped catapult the early blues in the days stuck indoors.
Let's not forget the CRSSD Festival 2020 sets either! Whether it was the streams on YouTube or the crop that's popped up from artists like Sacha Robotti and Justin Jay recently over on SoundCloud, CRSSD Festival represents one of the few festivals the first half of the year will see. In fact, it's become the bastion of the early season after so much has been shuttered.
Finally, I want to offer you three unique spaces and stories I've lost myself in over these past few weeks of social distancing.
First up is Gioli & Assia's Diesis Lounge performances on YouTube. The two females from Italy really captured a sound I have not heard much before as they blended the vibrant live instrumentation of the handpan and guitar into some dreamy atmospheres. In a way, they remind me of the dreamy whimsy of someone like Lana Del Rey, only much more electronically influenced and structured. There are covers you'll find within, but all with their unique touch. Dive into the lounge with them.
Then we have Mr. Ben Lost. 
The man behind the legendary Lost Language music label, which will celebrate twenty years of releasing music this year, pops up out of nowhere. Creatively, Ben's style of progressive house and trance wanders his artistic peculiarity. I stumbled into the black hole of Ben's stylings through Solarstone and never really left – he just has the sense that captivates the mood of trance so well.
Out of nowhere this mix titled "Exhibition Isolated" popped into my YouTube feed a few days ago and it's just too good not to share with you. Enjoy the glory years of Lost Language's back catalogue in this expansive hour-long sonic journey. I'm excited to hear more from Ben this year as he celebrates the lasting legacy of his music label!
As my final trick – let's talk about Mr. Norman Cook – aka Fatboy Slim! 
Just recently premiered on his YouTube page he offers this gorgeous fun set from Melbourne, Australia this past January. Fortunately, I caught the wizard behind the decks at clubs and at EDC Las Vegas – which was an experience I expected to miss in my life until he reinvigorated his worldwide presence with the anthemic "Eat, Sleep, Rave, Repeat."
For an injection of massive fun energy into my day, this set delivers in spades. If you haven't enjoyed a set by Fatboy Slim in the last few years, I invite you to partake in this delectable slice of house music fun. He caters to all of his catalogued styles and throws plenty of energy and fun samples into the mix. Gravitate to this you all!
---
There is no doubt that the Social Distancing measures we're facing right now are challenging.
The reality of a pandemic in the global age we live in is something new that we are all facing together. The smart move has been to stay apart to the best of your abilities – and I get it, that's not simple or easy. For the better part of three weeks, I've barely seen anyone aside from my neighbors on the balconies or the short jaunts I've taken to get food and support the few local businesses that kept their doors open to provide food and goods.
However, during social distancing measures, we need to remain reminded that we are not alone. The doors that the last century opened to technology allow and offer us new exciting ways to interconnect like never before. Picking up a phone and calling an old friend, checking in on your family members, and offering a helping hand while maintaining the connections we have is part of our social responsibility now more than ever. As always, walk with love, peace, and beats! – MyStro