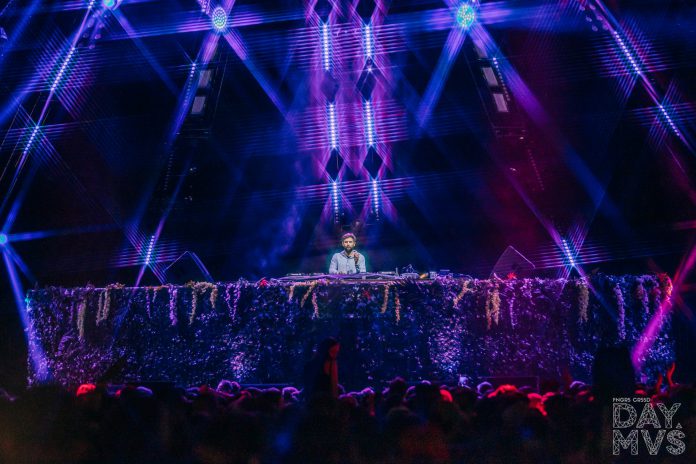 Lane 8 proves once again that he is a master at lifting spirits and tugging at heartstrings of listeners with Groundhog Day, a mixtape.
---
If you've been on the hunt for an artist that will help guide you during the coronavirus pandemic and give you the moment of solace you desire, there's no doubt that Lane 8 is the right one for you. Now, he's provided a momentary escape during these troubling times by releasing a fresh mixtape for his loyal following to feast their ears on, Groundhog Day, a mixtape.
Aptly titled, not just for the track of the same name on Brightest Lights but because life in quarantine feels like the same day played on repeat, this near three-hour mix is a dose of melodic beats that will instantly soothe your soul. In true mixtape fashion, Lane 8 has filled to the brim with tunes from This Never Happened and some deeper cuts as well.
Pay close attention and you'll hear beats from artists including MOGUAI and Matt Fax to Mind Against and Matador. Of course, we can't help but fall in love with the songs from frequent faces like Avoure, Solanca, and Rylan Taggart that show off the fantastic curation on the label.
Related: Check out our review of Brightest Lights and listen to his recent album!
Take a listen to Groundhog Day, a mixtape on SoundCloud below, read on for the full tracklist that is packed with amazing artists, and let us know how you've been finding solace during these difficult times in the comments!
---
Stream Lane 8 – Groundhog Day, a mixtape on SoundCloud:
---
Tracklist:
Lane 8 & Anderholm – Roll Call [This Never Happened]
KiNK – Leko (Session Victim Remix) [Burek]
Local Dialect – Perseus [Zerothree]
Lane 8 – Sunday Song (Rylan Taggart Remix) [This Never Happened]
Deeparture – Fuselage [This Never Happened]
Yung Yotto – Tarantia [Out of Office]
Lane 8 – Brightest Lights ft. Polica (Paraleven Remix) [This Never Happened]
Kolsch – Sleeper Must Awaken [Kompakt]
Josh McKenzie – In Your Eyes [This Never Happened]
Artche – Second Chance [Stress Records]
Lane 8 – Bear Hug [This Never Happened]
John Dahlback – Hustle Up (Paul Thomas Remix) [Nero Recordings]
Four Tet – Love Salad [Text Records]
Solanca – Flor Roja [This Never Happened]
ID – ID
Sultan & Shepard – Banya [This Never Happened]
Lane 8 – Keep On [Anjunadeep]
Artche – Two Minds [Stress Records]
Solanca – Calatheas Chant [This Never Happened]
Matador – Bush [Astralwerks]
Goom Gum – Hollow [Fly Boy]
Lane 8 – Yard Two Stone ft. Jens Kuross (Sultan & Shepard Remix) [This Never Happened]
Moon Boots – WTF (Tinlicker Remix) [Anjunadeep]
Lane 8 – Don't Let Me Go ft. Arctic Lake (Avoure Remix) [This Never Happened]
Josh McKenzie – NCFTos [This Never Happened]
Lane 8 – Shooting Arrows ft. Polica (Matt Fax Remix) [This Never Happened]
PRAANA – Samasta [This Never Happened]
Massane – Not Alone [This Never Happened]
Tommy Baynen – Laminar Flow [Colorize]
Sultan & Shepard – Guaba [This Never Happened]
TMA – Aitne (Monkey Safari Remix) [Hommage]
Frere – Often Wrong (Tourist Remix) [Monday Records]
Mind Against – Walking Away [Afterlife]
MOGUAI – Impereal [mau5trap]
Kevin Saunderson – Oombah (Themba's Herd Extended Remix) [KMS]
BAILE & Nuage – Murmur [This Never Happened]
---
Follow Lane 8 on Social Media:
Website | Facebook | Twitter | Instagram | SoundCloud | YouTube