EARWIG Music Festival has unveiled a stacked lineup of artists for their virtual experience on Discord to help raise funds from DanceSafe!
---
As the entire dance music community and the festival scene continues to grapple with the coronavirus pandemic, many have turned to livestreaming platforms to stay engaged with fans. Now, DEATHPACT's Discord server Deathcord is joining in on the fun with EARWIG Music Festival.
Hosted on Tuesday, April 21 on the Deathcord server, fans can tune in to catch sets from a stacked list of artists that includes Notaker, SHSTR, SWARM, and an Electric Hawk takeover you simply won't want to miss. Of course, it will also include a performance by DEATHPACT as well which will be a fitting online debut for any of their fans to catch from the comfort of their rave cave!
Throughout the entire virtual festival, they'll also be raising funds that directly support DanceSafe! A donation link will be shared and everyone who tunes in is encouraged to donate through a GoFundMe link. DanceSafe is a 501(c)(3) public health organization promoting health and safety within the nightlife and electronic music community.
Want a taste of what's in store? The EARWIG Team will be going live with some performances in the leadup as well. On Tuesday, April 7, they'll be hosting SHIMMR for a massive set, and Tuesday, April 14 will see GALIXI take over the stream. Both performances will take place at 5pm PDT on the Deathcord Discord Server!
Check out the full lineup below, head over to the Deathcord Discord Server so you're ready for the upcoming show, and let us know who you're most excited for in the comments!
---
EARWIG Music Festival 2020 Lineup: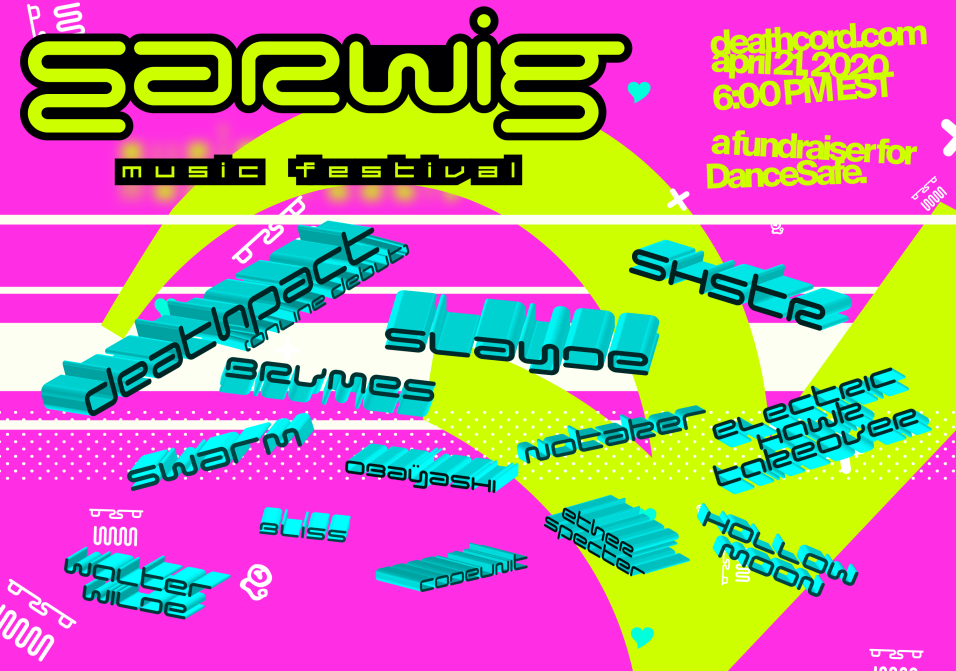 ---
EARWIG Music Festival 2020 – Lineup By Artist:
DEATHPACT (Online Debut)
SHSTR
SLAYDE
Notaker
SWARM
BRVMES
Walter Wilde
Electric Hawk Takeover with MATHENY and Voliik
Hollow Moon
OBAYASHI
Bliss
CODEUNIT
Ether Specter
---
Event Information:
Date: April 21, 2020
Hours: 3:00PM PDT
Location: Deathcord Discord Server
---
Follow Deathcord on Social Media: