CRSSD Festival Spring is nearly here and now you can start planning your weekend of fun in the sun with all the essential info!
---
With each passing day, house and techno lovers are arriving closer to another fantastic edition of CRSSD Festival Spring in sunny San Diego. This year, the festival is set to feature some of the top names in the dance music scene today including techno greats Carl Cox, Pig&Dan, and Charlotte de Witte, fantastic house artists Chris Lake, Sacha Robotti, and Justin Jay, and legends such as RUFUS DU SOL and Gesaffelstein.
Thousands will be flocking to America's Finest City and making their final preparations for a weekend filled with amazing beats and after-parties to keep everyone dancing deep into the night. Now, the few remaining pieces of info have surfaced including the set times, new clear bag policy, and more. Additionally, Steve Darko and Archie Hamilton have been added to the lineup due to visa issues for PAX and Etienne de Crécy that will prevent them from playing.
Get hyped for CRSSD Spring by checking out our playlist, read on for the info you NEED to know before you go, and let us know who you're most excited to catch in the comments below!
---
CRSSD Festival Spring 2020 Essential Info:
Dates: March 7-8, 2020
Venue Address: Waterfront Park – 1600 Pacific Highway, San Diego, CA 92101
Get Directions by clicking here!
Tickets: SOLD OUT!
Facebook Event Page: RSVP HERE
This is a NON-Smoking event. This includes vape-pens, E-Cigs, cigarettes, etc, and yes they will throw them away.
Stay updated with all the latest from FNGRS CRSSD by downloading their app for your Apple or Android device.
---
CRSSD Festival Spring 2020 Set Times: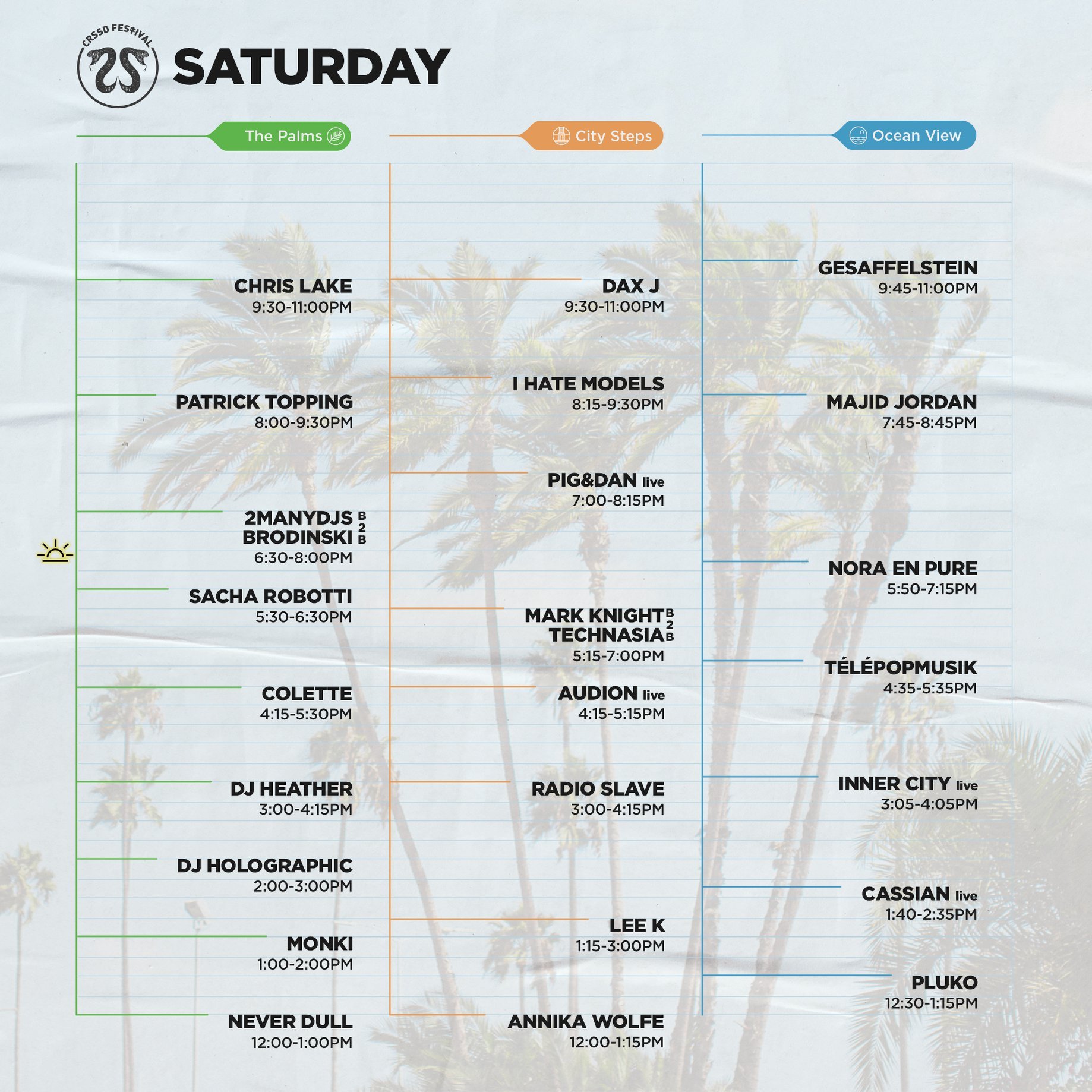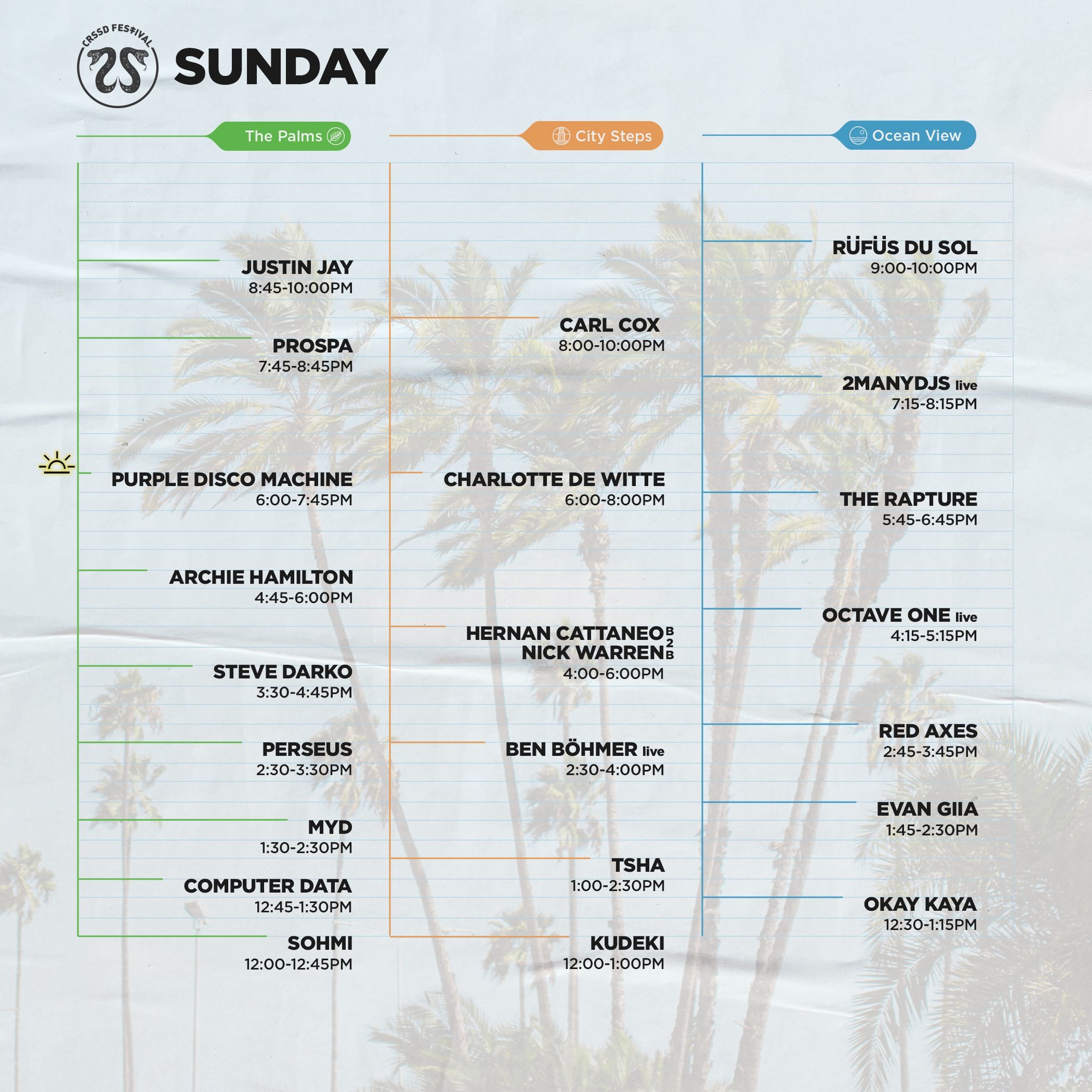 ---
CRSSD Festival Spring 2020 – Map: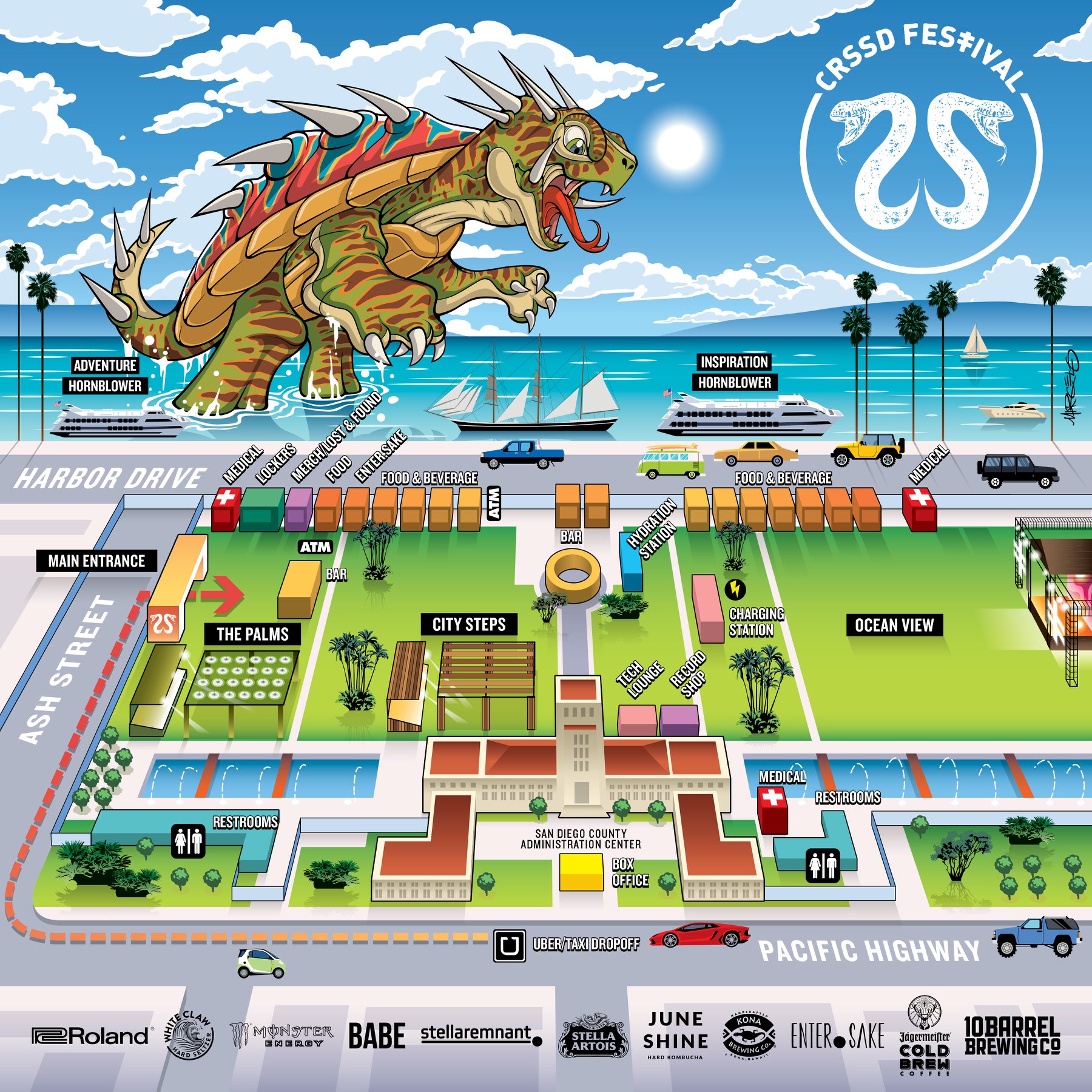 ---
CRSSD Festival Spring 2020 By Day & After Dark Parties:
Click this link for details on the parties happening before and after the festival each day. Many have already begun to sell out so make sure to grab yours quickly!
---
Getting to CRSSD:
There will be no on-site parking available, so plan accordingly.
Paid parking is available nearby. Highly recommended as metered parking is enforced on Saturday until 6pm. Arrive early for best results!
Most accessible trolley station is "County Center/Little Italy" on the Green Line. MTS map available here.
---
Clear Bag Policy:
Clear tote bags (including handbags/purses) that are clear plastic, vinyl or PVC and do not exceed 12" x 6" x 12" will be admitted inside after inspection.
Small clutch bags or wallets that do not exceed 4.5" x 6.5 ", with or without a handle or strap, may be carried into the venue along with one of the clear bag options (clear tote or storage bag).
Oversized bags (i.e. backpacks, suitcases, beach bags, laptop bags, etc.) and camelbacks are prohibited.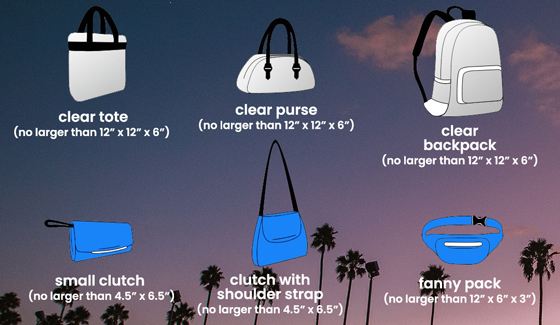 ---
Do's & Don'ts:
NO:
SMOKING (NO CIGARETTES, E-CIGS, VAPES) (THEY WILL TOSS YOUR LIGHTERS TOO)
Blocking, standing on, redirecting, or sitting on fountain jets
Eating /Drinking in the fountains
Re-entry
APPROVED ITEMS:
Clear backpacks, totes, handbags, plastic that are vinyl or PVC and do not exceed 12" x 12" x 6"
Small clutch bags, fanny packs & wallets that do not exceed 4.5" x 6.5
Prescribed medication (in the container with matching ID to be checked at entry and only containing the number of doses needed for the duration of the event as prescribed on the pill container.)
Cell phones
Non-professional cameras
Blankets/towels
Sunscreen (contents to be checked at entry)
Sealed gum
Sealed chapstick
Sealed lipstick
Sealed eyedrops
Sealed makeup
Empty 24oz (or less) transparent plastic bottle (Nalgene style) or clear plastic water bottle
GoPros (w/o sticks)
Sunglasses
Earplugs
Good times
PROHIBITED ITEMS:
Drugs / drug paraphernalia
Cigarettes, E-Cigs, Vapes
Outside food + drink [sealed outside food allowed for those who have a documented need (must have Dr.'s note that matches ID)]
Laser Pointers
Lighters
CamelBaks / bladders (water stations provided + one empty 24oz (or less) transparent plastic bottle (Nalgene style) or clear plastic water bottle OK)
Large backpacks (CLEAR BAGS ONLY – SEE CLEAR BAG POLICY)
Glass bottles or containers
Weapons of any kind
Laser pointers
Selfie sticks
Audio recording devices
Professional photo / video cameras
Drones
Umbrellas (parasols ok)
Open Makeup
Chalk, markers, sharpies
Chains / chain wallets
Stickers / flyers / solicitations
Pets (guide/service dogs OK)
Cleated shoes
Totems
Hula hoops
LED gloves, Flowlights, etc
Nudity, pasties, thongs (Clothing must not when wet expose parts of the body under County Code 32.1002 prohibiting public nudity)
---
Reminder To Mind Your Belongings:
Unfortunately, many people have reported pickpockets, bag slashings, and theft of wallets, smartphones, purses, and other valuables during this festival season. While this small number of bad apples in the bunch doesn't define an entire crowd, there are opportunistic people who come to these events to take advantage of unsuspecting party-goers and it's important to be mindful of your valuables while at CRSSD Festival.
Looking for tips to keep your belongings safe? Check our post highlighting some ideas!
---
Follow CRSSD Festival on Social Media:
Website | Facebook | Twitter | Instagram | SoundCloud | YouTube