Shambhala Music Festival just dropped an absolutely stacked lineup for 2020 featuring Claptone, REZZ, RL Grime, Seven Lions, and more!
---
One of the best festivals to attend in North America, Shambhala Music Festival, has announced that they'll be moving dates to earlier in the summer and now take place from July 24-27 at their home in Salmo, B.C. The move will hopefully mitigate the rain they've had in recent years and provide a solid heat to enjoy more outdoor and river activities.
Every year the festival offers plenty of stages, countless workshops, and a connection with nature that is really unparalleled. Of course there's plenty of music too and the lineup that dropped today put the high level of curation on full display with artists like Black Tiger Sex Machine, Claptone, Subtronics, Tipper, Rezz, and Ekali among others.
From up-and-comers to all-time favorites and everything in between, the lineup really has a little bit of everything. Other notable artists on the bill this year include 1788-L, Dirtwire, i_o, and Said the Sky who have been making big waves recently, among others. And if you haven't heard of Too Many Zooz, Shaka Loves You, Supertask, or SoDown we highly recommend you check them out!
Over the next few months, Shambhala will release 200 more artists who will be dotting the lineups of Fractal Forest, Amphitheatre, the Village, and Pagoda so stay tuned. Until then, get a taste of what the experience at Shambhala is like by checking out our review of last year's edition!
Thinking of attending this year's edition of Shambhala Music Festival? Let us know in the comments below! Tickets are on sale now and moving fast, don't procrastinate and buy your ticket today via ShambhalaMusicFestival.com!
---
Shambhala Music Festival 2020 Lineup Flyer: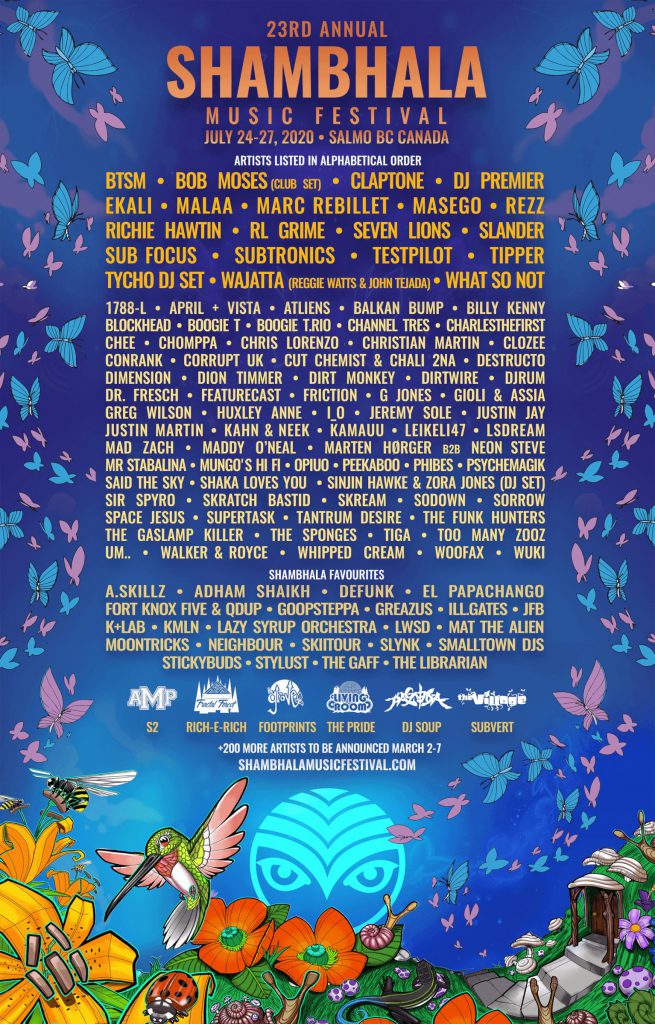 ---
Shambhala Music Festival 2020 Lineup by Artist:
BTSM
Bob Moses (Club Set)
Claptone
DJ Premier
Ekali
Malaa
Marc Rebillet
Masego
Rezz
Richie Hawtin
RL Grime
Seven Lions
Slander
Sub Focus
Subtronics
Testpilot
Tipper
Tycho (DJ Set)
Wajatta (Reggie Watts and John Tejada)
What so Not
1788-L
APril + Vista
ATLiens
Balkan Bump
Billy Kenny
Blockhead
Boogie T
Boogie T.RIO
Channel Tres
Charles The First
Chee
Chomppa
Chris Lorenzo
Christian Martin
CloZee
Conrank
Corrupt UK
Cut Chemist & Chali 2NA
Destructo
Dimension
Dion Timmer
Dirt Monkey
Dirtwire
DJRum
Dr. Fresch
FeatureCast
Friction
G Jones
Gioli & Assia
Greg Wilson
Huxley Anne
I_O
Jeremy SOle
Justin Jay
Justin Martin
Kahn & Neek
Kamauu
Leikeli47
LSDream
Mad Zach
Maddy O'Neal
marten Horger b2b Neon Steve
Mr. Stablina
Mungo's Hi Fi
OPIOU
Peekaboo
Phibes
Psychemagik
Said the Sky
Shaka Loves You
Sinjin Hawke & Zora Jones (DJ Set)
Sir Spyro
Skratch Bastid
Skream
SoDown
Sorrow
Space Jesus
SuperTask
Tantrum Desire
The Funk Hunters
The Gaslamp Killer
The Sponges
Tiga
Too Many Zooz
Um…
Walker & Royce
Whipped Cream
Woofax
Wuki
A.Skillz
Adham Shaikh
Defunk
El Papachango
Fort Knox Five & Qdup
Goosteppa
Greazus
Ill.Gates
JFB
K+LAB
KMLN
Lazy Syrup Orchestra
LWSD
Mat the Alien
Moontricks
Neighbor
SkiiTour
Slynk
Smalltown DJs
StickyBuds
Stylust
The Gaff
The Librarian
---
Connect with Shambhala Music Festival on Social Media: