All Day I Dream has announced that they'll be heading to Miami, London, Mykonos, Ibiza, Los Angeles, and more this year!
---
Renowned house and techno brand All Day I Dream have been making some serious waves as tastemakers who continue to push the boundaries of the genre and provide some of the best vibes the scene has to offer. Helmed by Lee Burridge, the Brooklyn-based brand has truly become a global phenomenon as its legendary showcases regularly touch down in iconic locations.
Over the past few years, All Day I Dream has taken their sounds on tours that have spanned a multitude of continents and now they've announced the dates for this year. While Lee Burridge and his loyal fanbase have landed in Dubai, London, Brooklyn, and OMNIA Bali already, they have over a dozen more shows throughout the rest of the year.
Related: Want to know how we were swept away by their iconic soundscapes? Read all about our experience at All Day I Dream in Denver for a look!
From March until September the All Day I Dream crew will find their way to Miami, Ibiza, Los Angeles, Barcelona, Las Vegas, San Fransisco, Mykonos, Toronto, and Denver. Additionally, they'll be making a return trip to London and playing another show in their home base of Brooklyn as the warmer months approach as well.
Tickets for stops that have already been announced are available now via AllDayIDream.com!
Want a taste of what's in store? Watch Lee Burridge at OMNIA Bali:
---
All Day I Dream 2020 Tour: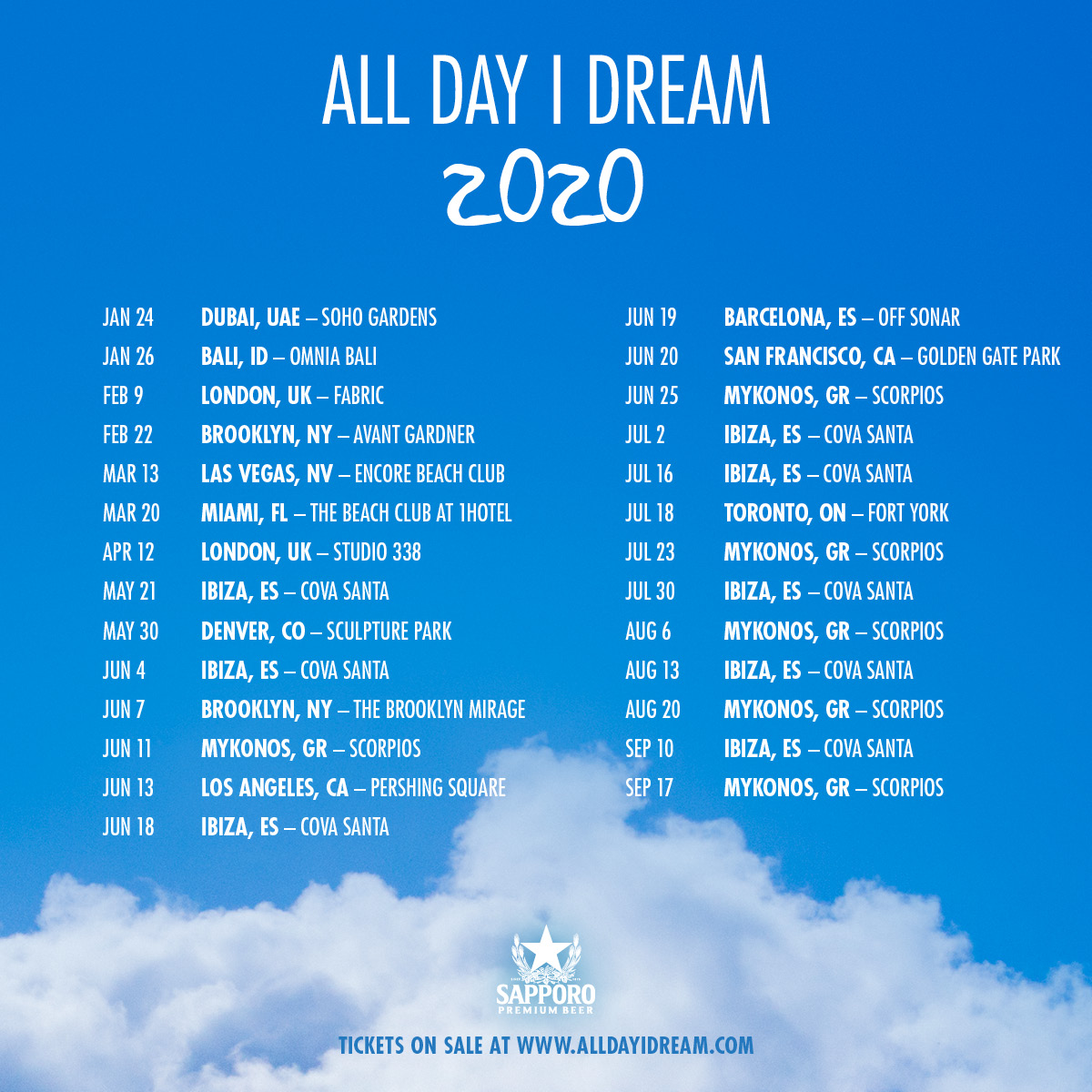 ---
All Day I Dream 2020 Tour Dates:
January 24—Soho Gardens—Dubai, UAE
January 26—Omnia Bali—Bali, ID
February 9—fabric—London, UK
February 22—Avant Gardner—Brooklyn, NY
March 13—Encore Beach Club—Las Vegas, NV
March 20—The Beach Club at 1Hotel—Miami, FL
April 11—Soho Gardens—Dubai, UAE
April 12—Studio 338—London, UK
May 21—Cova Santa—Ibiza, ES
May 30—Sculpture Park—Denver, CO
June 4—Cova Santa—Ibiza, ES
June 7—The Brooklyn Mirage—Brooklyn, NY
June 11—Scorpios—Mykonos, GR
June 13—Pershing Square—Los Angeles, CA
June 18—Cova Santa—Ibiza, ES
June 19—Off Sonar—Barcelona, ES
June 20—Golden Gate Park—San Francisco, CA
June 25—Scorpios—Mykonos, GR
July 2—Cova Santa—Ibiza, ES
July 16—Cova Santa—Ibiza, ES
July 18—Fort York—Toronto, Canada
July 23—Scorpios—Mykonos, GR
July 30—Cova Santa—Ibiza, ES
August 6—Scorpios—Mykonos, GR
August 13—Cova Santa—Ibiza, ES
August 20—Scorpios—Mykonos, GR
September 10—Cova Santa—Ibiza, ES
September 17—Scorpios—Mykonos, GR
September 24—Cova Santa—Ibiza, ES
---
Connect with All Day I Dream on Social Media:
Website | Facebook | Twitter | Instagram | SoundCloud