Austin-based house duo KIVI stopped by to give us some insight on their recent releases, working with Dirtybird, and plenty more!
---
The sounds of house and techno have been booming across North America as both styles continue to explode in popularity. While there might be a plethora of established names, the rising stars are ones who have been truly pushing the boundaries of the styles over the past few years. One of those artists is Austin-based duo KIVI.
Alonso Garcia and David Sien instantly clicked when they first met and it has been off to the races ever since. Working together, they've both brought their strengths to each side of the duo with Garcia helping Sien learn to DJ and vice-versa with producing beats. Their music hasn't gone unnoticed, either, with releases on labels like Dirtybird and OFDM and sets that have kept crowds grooving all over the country.
Now, with the new decade on the horizon and plenty more in store from KIVI, we caught up with the duo to explore their past, present, and get a taste of the future. Stream their exclusive guest mix below and read on for the chat!
Stream EDMID Guest Mix 207 || KIVI on SoundCloud:
---
Hi Alonso and David, thanks for taking the time to chat with us today! Let's kick things off by taking a deeper look at your backstories before coming together as KIVI. Who were some of your earliest influences musically and what led you to discover dance music?
Alonso: The very first influences that I can remember started in the 90s when I was very young by listening on MTV to people like Eric Prydz, Daft Punk, Stardust, and Benny Benassi. In 2006 I listened to Fake Blood and was hooked on electronic music heavily from then on. My tastes grew into artists like Zeds Dead, Bassnectar, UKF (Everything), Netsky, Pretty Lights, Mat Zo, Above & Beyond, Arty, and Skrillex.
The turning point for me was when I attended Shambhala Music Festival in 2009. I ran into Zeds Dead in the midst of the festival and said hi to them and expressed to them how much I loved their music. They were super chill and nice to me and we went our separate ways, their show that night was unreal! At that moment I felt I needed to be DJ myself and I chose to do everything in my power to do so because I felt like that meeting was a sign.
David: I was around 11 years old on a trip to California with my family. There was a CD left in the rental car's CD player that only had the words "live at low" written in sharpie across the front. I used to jam that CD daily. A year or two later I found out from a friend that it was a recording of The Chemical Brothers recorded live at Lowlands Festival in The Netherlands. I became a fanboy instantly which opened the doors to my electronic music exploration and addiction to buying synths and hardware.
Other than The Chemical Brothers I was heavily influenced by the garage punk scene which led to electronic acts such as Kraftwerk, Suicide, Aphex Twin, Wagonchrist, Modeselektor. I remember seeing The Chemical Brothers play at the Rock Werchter Festival in Belgium in 2005. This was the first time I had seen an electronic duo with a full size LED screen and it was a beautiful moment seeing visuals and electronic music blend so seamlessly. Today I try to mix it up not focusing on a genre just trying to find what I think is good.
You both came together to form KIVI and have been off to the races ever since on both the release and performance front. How did you two initially decide to start working together?
A: We first met years ago at 512 Nightclub on 6th street, in Austin. At the time David was one of my best friends roommates where we would throw after-parties at. I was a resident DJ at the club and when David and I met he immediately invited me to his studio. I had never walked into a real studio at that point in my life and I was blown away. I asked David if he could teach me and in return, he could share my residency.
D: I had just moved to Texas, had no friends, and decided to live on top of a bar on 6th Street in Austin. At the time I was renting a studio in an abandoned nursing home in South Austin. It was creepy. [Laughs] No windows and in between two hardcore metal bands. I invited Fonzy to swing by and he showed such a determination to learn how to transpose his thoughts into music. I had teaching experience with Ableton and I really enjoy teaching people who show a desire to learn. From that moment we have basically been in the studio every day since and we're no longer in a nursing home, moving on up!
What's the dynamic like when you're both working in the studio together? Is it always fairly collaborative? Can you walk us through what a typical flow of making a tune is like?
A: David has been playing music his entire life and can play almost every instrument. I, on the other hand, was self-taught and just used my ear to hear what sounds good. He comes up with a lot of our ideas and melodies and I do more of the sound design, mixing, arranging, and progression of our loops. Usually, we both take turns 15 mins and 15 mins and do as much as we can at that time. We move pretty fast on Ableton and we both work pretty well so our songs come together quickly when we are on the money.
From there we use what we like to call the "El Monk" Method to finish our tracks. We had the pleasure of collaborating with him and he showed me how he writes down what needs to happen in the song from beginning to end and then makes that happen. It was so organized and focused it was a game-changer for me to be able to get our songs to that finished stage. Thanks, Monk!! <3
D: I like to think that creative thoughts come and go like that so I try my hardest to hit the record button as much as possible. I usually will knock out five ideas bounced as a complete song in one sitting. Not saying this is a good method but working with Alonso it has allowed me to focus on content creation when we're together we dial it in and focus on completion. Alonso is a madman at percussion and EFX he understands song structure and his sound design skills are amazing.
You've already picked up support from labels like Dirtybird, Cartel Collective, Spoon Fed Records, and OFDM. What has this love from labels meant to you as rising artists in the scene?
A: Getting signed by Dirtybird changed our lives overnight, it was surreal. People started actually listening to our music and taking us seriously. Also, haters came out of the woodworks left, right, and center which was really sad to see. From there we realized that signing with smaller labels was actually gaining us a lot more followers and shows.
The compilations we've signed to have all charted on Beatport with the first one on Spoon Fed Records hitting #1 on the Tech House chart. That was a huge accomplishment. We just had the pleasure of playing their latest release party in Pomona, California at Space Taco Tuesday. Almost 500 people showed up and the energy was insane in that room, hands down the most fun show we have played.
Overall, every time we sign with a label we get to show our music and we gain a lot of followers, plays, exposure, and bookings for shows. Our main focus is to keep the releases coming and to increase the range of labels that we are releasing with.
D: Dirtybird was the first label we reached out to and the first label that signed us. It has opened up so many doors for us and we are extremely grateful for the number of ears that they reach. We have made lifelong friends with the labels we have signed with and that's whats super dope about the process. I owe my credit to Alonso. I always finish a track, post it, and move on, but he puts in the work to build these relationships and I owe a lot of my recent success to him and all the labels who have poured their souls into distributing our music to more people.
Last year you took the stage and dominated the decks at Seismic Dance Event in Texas. When you're approaching performances what's your preparation process like? Do you pre-plan at all or are you more comfortable mixing on the fly?
A: We like to both create playlists that are focused around our original tracks, from there we feel the vibe in the crowd and follow the energy of the mix. I feel like pre-planning sets limits you and the crowd may not be feeling it but you're stuck with "the plan". I think DJs should feel the vibe, watch the crowd and keep them dancing. We also make sure all of our sets are different from the last show so every KIVI show is unique and special.
D: Lately, people have been giving me the title of the dude that drops the breaks in the KIVI sets which is a recognition I'll gladly accept. [Laughs] The truth is I learned how to DJ from Alonso and he continues to amaze me behind the decks. Come watch us play and see what I mean!
The path to success is never straightforward or smooth. Can you share what hurdles or struggles you've faced so far in your careers and how you've overcome them?
A: The hardest part has been keeping up with all the different projects we have going on and balancing our personal lives with the music life. I had to quit my job and do music full time so we can keep up but I also do part-time work to make ends meet.
D: Life is full of cheesy quotes and personal opinions. If you have a problem solve it if you don't like something change it. We are only human and can only strive for everything to be kosher at all times. Alonso and I have had our moments but together we have an ability to overcome and move forward as brothas first.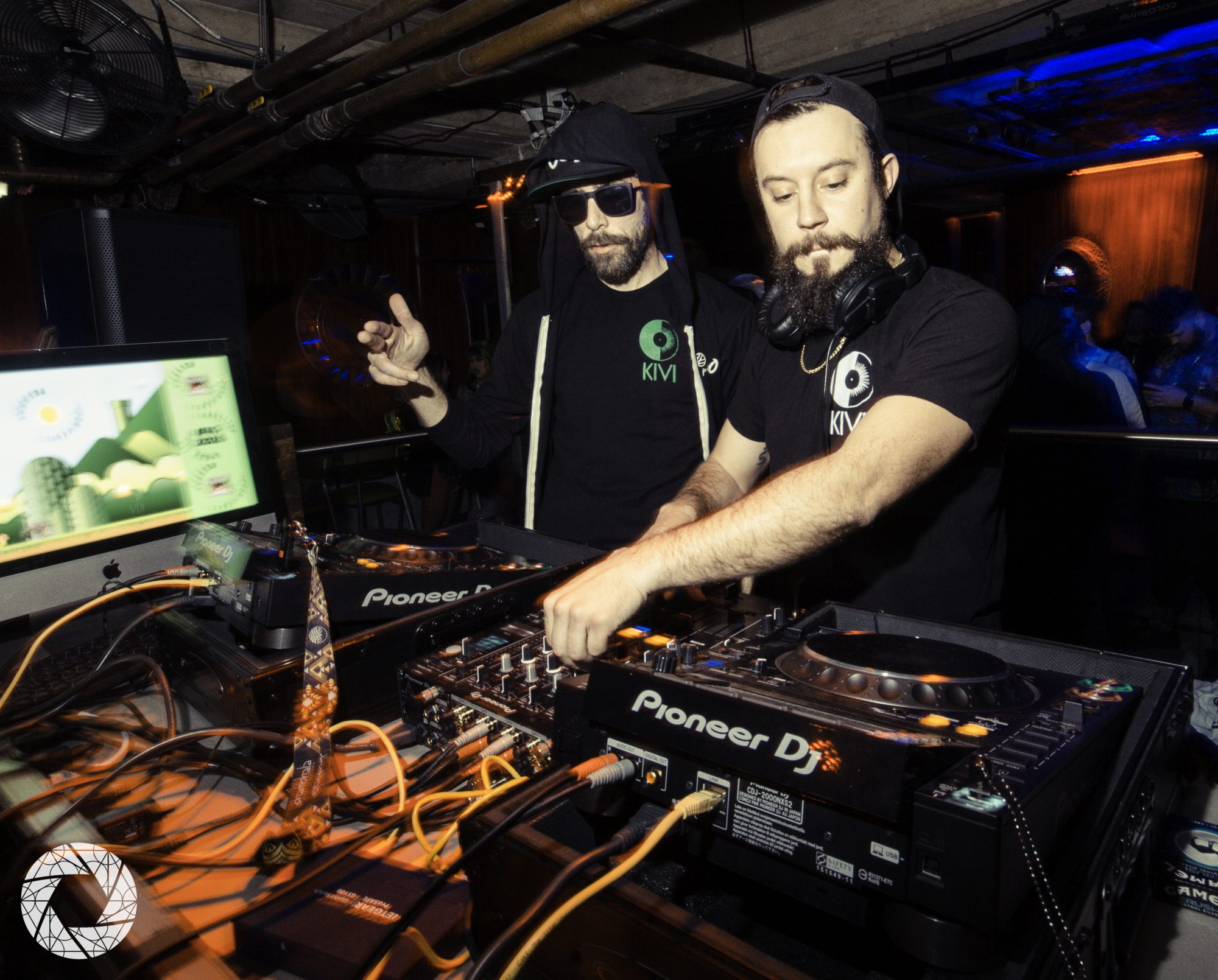 If you were both stuck on a desert island and each had three items with you, what would they be and why?
A: A solar-powered generator, MacBook with Ableton and a charger, and speakers. The show must go on and we have beats to make!
D: A machete to open coconuts. A toothbrush because I gotta have clean teeth for when I am rescued. And a seed to plant my favorite herb, hemp, to make rope, fabric, paper, etc. The byproducts alone make this a highly prized item
With the new year (and decade) in full swing. What are some goals that you both hope to achieve on a professional level in 2020 and beyond?
A: Our main goal this year is to play more festivals than last year. We noticed we have a very unique style and a strong following right now so we want to be able to expand and grow to the next level which is festival gigs. We also want to continue to release a lot of music and have releases lined up every month so that we keep the original beats coming out for our fans and live shows.
D: Our main goal this year is to play more festivals, make more beats, and grow our sound. We plan to release a bunch of new music and continue growing moving forward every day.
Finally, you're based out of Austin and the city is known for having some of the best food in the country. When we come to visit where should we grab a bite to eat?
A: [Laughs] I love this question, great question! Currently, my girl and I are obsessed with Tyson's Tacos. If you sing them a song at the front you don't have to pay, but we never sing though. I also love seafood and there is this place called TLC that is just fantastic and they have good beer as well. Everyone loves BBQ in Texas and Terry Black's is the spot for that. Let me know when you come I'll take you to all three!
D: Grab a burger from this place called Burger TEX, there's never a line and it's the best. Avoid trendy spots. Get the "street taco" from Taco Joint. Have a fancy man drink at the Driskill Hotel Bar and swing by Black's bbq for the Texas meat experience. [Laughs]
---
Connect with Kivi on Social Media:
Facebook | Twitter | Instagram | SoundCloud | Beatport