Kosmic Kingdom is returning to Sleepy Hollow Renaissance Park in Des Moines, Iowa with headliners Space Jesus and Peekaboo.
---
If you're looking to get your festival season started early in the Midwest, look no further than Kosmic Kingdom Music Festival. The two-day event is brought to you by the same company who puts on 515 Alive Music Festival and will take place from May 29-30 with an impressive bass-filled lineup for the 2020 edition.
The festival is set to take place at Sleepy Hollow Sports Park in Des Moines, the same grounds on which an annual Renaissance Faire occurs. Some of the unique features of Kosmic Kingdom are the castle themed stages with Funktion-One Sound along with 35+ medieval buildings to explore. The camping area will have flat, grassy land, and RV spots with electric hookups are available.
This year's lineup features a strong selection of bass music headlined by Space Jesus, Peekaboo, LSDream, and Rusko. There's plenty of diversity in the undercard of the lineup, which is highlighted by Esseks, Huxley Anne, Jantsen, Supertask, Toadface, TYNAN, and Zia as well.
Kosmic Kingdom will also bring forth a Spicy Bois takeover from Meso, Space Wizard, and Mlotik. Other artists will also be performing including Angelic Root, Beardthug, KREWX, LoTemp, VCTRE, and more.
Tickets are on sale now and available on Eventbrite! Both camping and non-camping tickets are available. Discounted tickets are currently available for a Lineup Announce Sale and will be increasing soon.
---
Kosmic Kingdom Music Festival 2020 Lineup: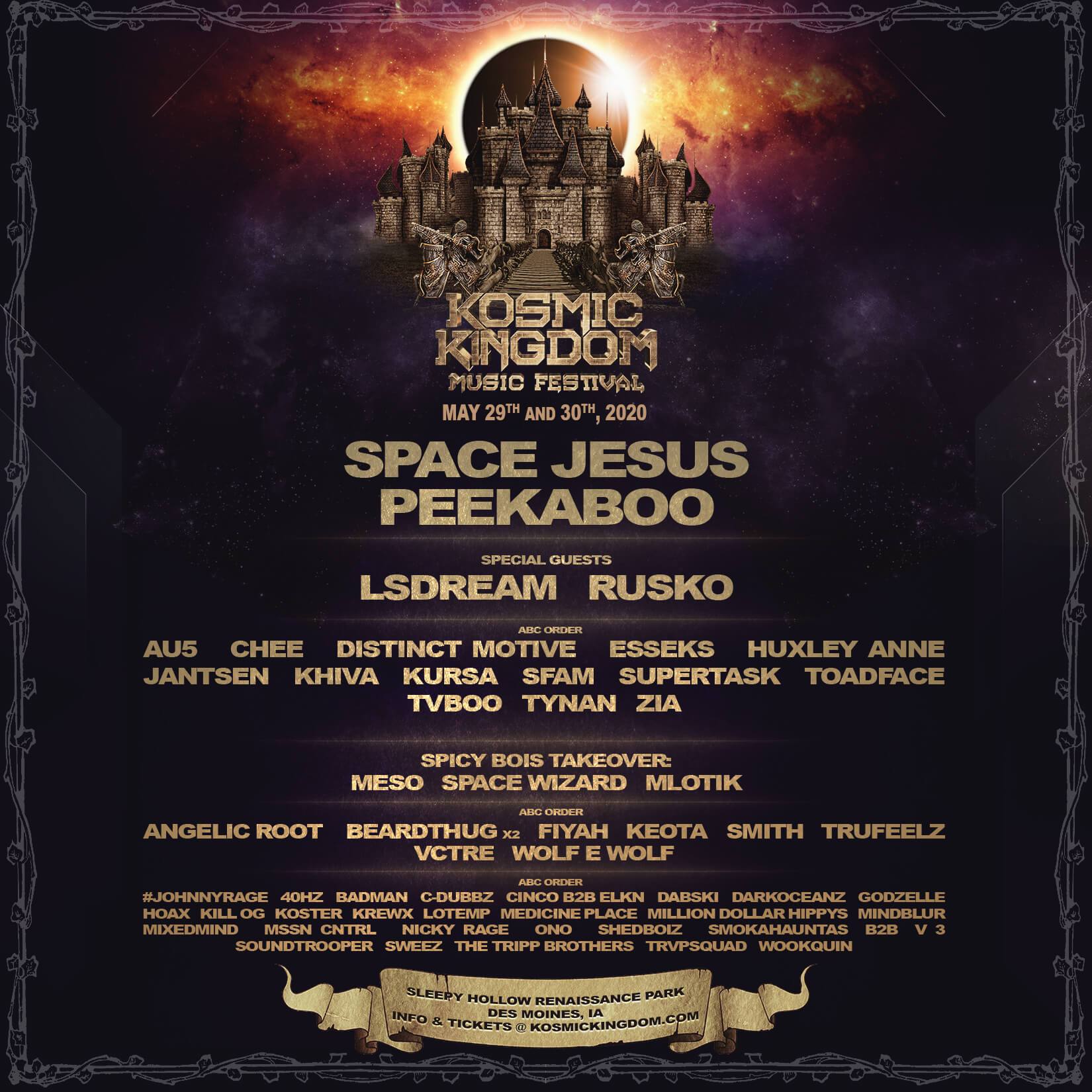 ---
Lineup By Artist:
Space Jesus
Peekaboo
LSDream
Rusko
AU5
Chee
Distinct Motive
Esseks
Huxley Anne
Jantsen
Khiva
Kursa
SFAM
Supertask
Toadface
TVBOO
TYNAN
Zia
Meso
Space Wizard
Mlotik
Angelic Root
Beardthug (x2)
Fiyah
Keota
Smith
Trufeelz
VCTRE
Wolf-e-Wolf
#JohnnyRage
40HZ
Badman
C-Dubbz
Cinco b2b ELKN
Dabski
Darkoceanz
Godzelle
Hoax
Kill OG
Koster
KREWX
LoTemp
Medicine Place
Million Dollar Hippys
Mindblur
Mixedmind
MSSN CNTRL
Nicky Rage
Ono
Shedboiz
Smokahauntas b2b V3
Soundtrooper
Sweez
The Tripp Brothers
Trvpsquad
Wookquin
---
Follow Kosmic Kingdom Music Festival on Social Media: