Ahead of a massive performance at Wakaan Music Festival, Kansas City-based duo LoTemp share their first ever mix and reflect upon their biggest year yet.
---
Opening up the main stage on Friday of Wakaan Music Festival is up and coming bass duo LoTemp. With a blend of street-worthy, hip-hop-influenced bass beats that are quickly spreading across the scene, these two have grown tremendously in 2019. With tracks like "Big Sound", "Energy", and "Mr. Producer", it's no wonder that the Kansas City-based duo has turned heads in bass music. Their most recent single, "Reala", shows off their unique blend of dubstep, trap, and hip-hop.
Earlier this summer they made appearances at Dancefestopia and the Electric Forest RV After Parties, and Wakaan is bound to be their biggest and best show yet. LoTemp have also been heavily active in their local scene as well, with opening gigs for Haywyre and KOAN Sound in Kansas City and Riot Ten in Wichita on the horizon as well.
Usually focusing on live shows and production, LoTemp has now released their first mix exclusively here ahead of Wakaan Music Festival. Take a listen below and read on as they've answered a few questions about their upcoming gig, the midwest bass community, and more!
Stream EDMID Guest Mix 186 || LoTemp on SoundCloud:
---
Let's start off by taking a look at both of your beginnings in the scene. Who were some of your first musical influences and when did you guys decide to come together to make music as LoTemp?
Dylan: The first dubstep song I ever heard was in 7th Grade and I was hooked immediately. By the time I was a freshman in high school, I began messing around in Ableton and FL Studio. Nothing really serious, just for fun. At that time, my influences were HUCCI, Stooki Sound, and basically anything on TrapMusicHD.
Cody: The first song I heard was "Finally Moving" by Pretty Lights, and I was hooked. Nothing could have been a better introduction. Excision was the second artist I heard and that got me into the heavier shit. We met at the end of 2016 and started LoTemp mid-2017. It's been a dream since then. My influences are sfam, Eazybaked, G Jones, Milano, and G-Rex.
Earlier this month you performed at Dancefestopia for the second time. Considering you're both from Kansas City, how special is it to play a festival in your home city and how did this year compare to last?
D: It feels great to throw down in our hometown! Everyone shows up and gives us SO much support – it's really humbling. We appreciate anyone who comes to any set we play! This year, the Bass Hertz x Shatter Worms Pyromid really stepped it up with Void Acoustics, BassMaxx, and SPL. The low end was amazing! The Bass Hertz and Shatter Worms guys are our family! Loved playing on the rig!
C: Pretty much what Dylan said. I love getting to play for our hometown crowd. The support Kansas City shows us is unreal and they make everything possible.
You're also about to head to the first-ever Wakaan Music Festival for one of your biggest shows yet! What are you specifically excited for at Wakaan and what can fans expect to hear in your set?
D: Being on that lineup still doesn't feel real. I think it will all set in either right before we take the stage or at some point during our set. Specifically, I'm excited to see all the amazing talent on that bill! There's not one artist on the bill that doesn't deserve their slot.
C: Wakaan is about to be insane. I still cannot believe we are on that lineup. Everyone is going to crush their sets. What people should expect from us is insanity. Lots of unreleased music from us and the homies, lots of insane live edits, and just some nutty music in general. It's going to be a party.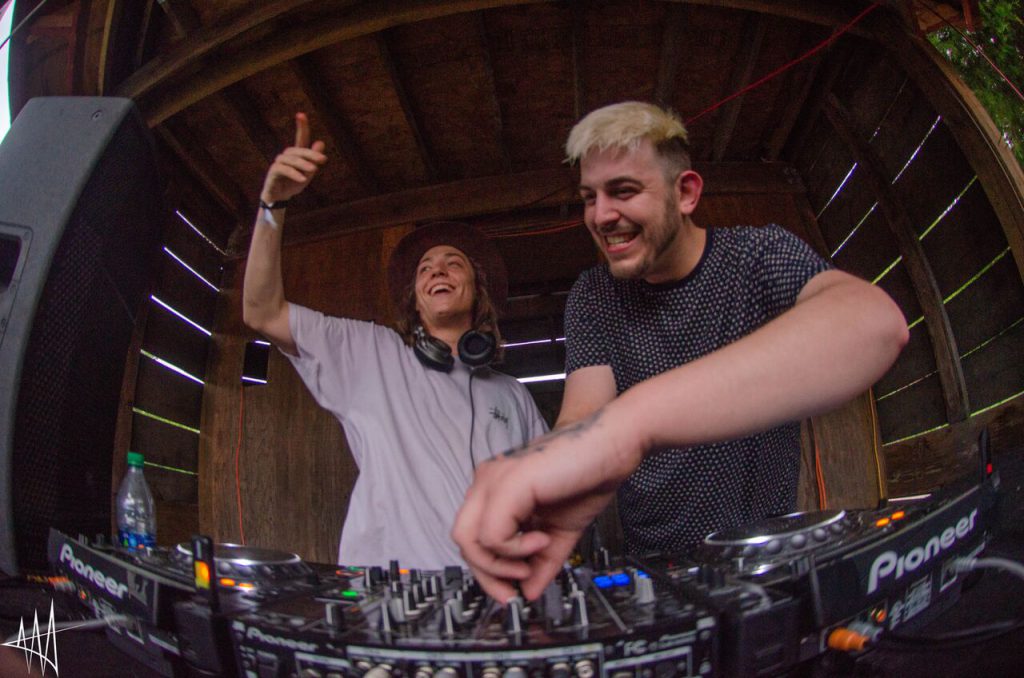 Other than your own set, who is an artist on the lineup at Wakaan you feel is a "can't miss" for those who are making the trip?
D: I'm super excited to see a lot of artists. However, I've never seen Abelation or Tiedye Ky and they're both must-sees for me. Also, the entirety of the SpicyBois takeover on the Jaenga bus is a can't miss!
C: For me, I'm excited to see KOAN Sound, sfam, Eazybaked, Abelation, Big Chocolate, and all of my SpicyBois fam. Really every set is going to be amazing and you'll definitely get your dose of bass music that weekend.
Tell us a little bit about your performance at Electric Forest's RV stages – I think you gained a lot of new fans there! What was the energy like playing a renegade compared to a festival set?
D: I was celebrating my 21st birthday in Las Vegas, so I'll let Cody take the lead on this one.
C: I was missing Dylan the whole time but the energy was insane. Being the last set of Electric Forest was amazing! There was so much energy coming from the crowd and those Henny's were slapping. The biggest difference between a regular set and a renegade set is that everyone is trying to get down so the energy is high – people would rather party than sleep. Going B2B with our spicy brother MeSo to end the night was just the cherry on top of an amazing Electric Forest.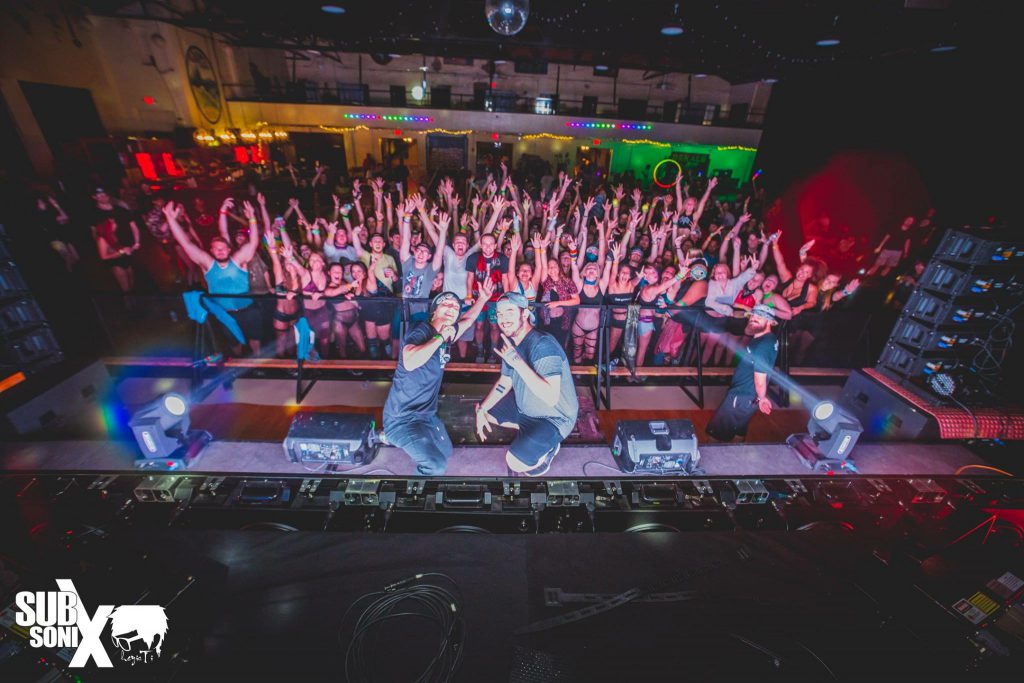 Having taken the stage at shows all over the US at this point, what do you feel makes the bass scene in the Midwest different from other areas of the country?
D: I feel like there's a lot of love in the Midwest bass community. People show out because they genuinely love the music as opposed to just wanting a place to party.
C: For me personally, I feel like the Midwest has the best bass scene. Most other scenes will show out for your huge headliners but not for the underground names. Pretty much everywhere I've been in the Midwest there are always people there for the music instead of just looking for a party.
Back in June your track "Energy" was featured on SpicyBois' Floppi Disk compilation. How did the relationship between you and that label first form?
D: Honestly, Cody showed me the collective and before I even replied to his message, I submitted our tune "Big Sound"  to them and it was later released. Later on, we were playing a show in Denver and met up with Hunter, the curator of the label, and now we're good friends with him and everyone on the collective!
C: SpicyBois is family. From the first time I met Hunter, I knew we were gonna be friends. Then we hosted a SpicyBois house party at my place in KC with MeSo, Space Wizard, and SAGZ and we all just became fam. It's been such an amazing experience.
"Mr. Producer", another one of your recent tracks, was released in July. When you're sitting down to produce some music, what's your production process like and how did you approach that track specifically?
D: It started from wanting to make a 160 BPM track. Most of our tracks start the same way with us making a simple beat and filling in the dry areas along the way. From there, I found the 'pew' sample and started making different melodies with it and it all sort of came together. The second drop of the song really takes the 'pew' laser sound to the next level.
C: When it comes to producing, I mostly give ideas and inputs on the composition. Dylan's an actual wizard behind FL and he can take all my thoughts and put them down. It's actually kind of insane. He is far more advanced than I am.
Aside from your work as artists you're also apart of the ZOOKS movement. Can you share what that's about?
D: We started ZOOKS shortly before the LoTemp project. ZOOKS is a full-fledged event production and promotions company for the Kansas City area and we're involved in most of the big shows around town. I do the talent buying for the company. So far, we've brought acts such as Mersiv, Of The Trees, HE$H, and ill.Gates to the market. It's super cool to be able to do something like that for our scene around here!
C: ZOOKS is family as well. Started from an idea Papa Bear (Erik) had. The three of us discussed it and we just went from there. It's been a lot of fun bringing underground music to Kansas City and watching the scene grow into it.
Finally, what can your fans expect in 2020 and beyond? Do you have any specific goals that you hope to accomplish?
D: Simply put – more. More music, more shows, more festivals. The support we've received this year is unreal and we're so excited to show everyone what we've been working on!
C: You can expect more of everything from us. More music, more shows, more festivals. We are having the time of our lives right now and everyone's support keeps us going. Thank you to all of you! You don't understand how much energy you guys give us.
---
Connect with LoTemp on Social Media:
Facebook | Twitter | Instagram | SoundCloud | Spotify