The triumphant return of Gem and Jam Festival was inspiring and united the community in Arizona through art, music, and, of course, gems.
---
Over the years of attending, Gem and Jam Festival has become a favorite of mine. It hits on every bullet point of what makes a great festival and continues to get better and better with each passing edition. This year was no exception as they once again integrated art with music and community sharing in a seamless way unlike other festivals in the scene.
This year, the layout was similar to the previous edition I had attended but with a few additions and modifications that were made. Lines were basically non-existent all weekend and the security and ticket check were efficient as well. In fact, each day I was inside the festival grounds in less than five minutes which was a record time for me.
Just past the entrance was a multimedia commons. Multiple screens wrapped around a circular area showing different short videos. Next came a type of children's area sponsored by a family circus. It was full of children during the daylight hours of the festival.
The family-friendly nature of Gem and Jam really alters the dynamic of the festival.
The atmosphere of a fully family-friendly festival is hard to capture but Gem and Jam did it well. I was also impressed by the responsible nature of all of the parents who were attending, as every child that I saw had ear protection and I never saw many children after the sun had gone down.
After a few vendors were the first green space. This area was used for a variety of activities. I saw yoga and a native blessing ceremony take place there. The yoga participants filled most of the area and contained a varying amount of experienced and inexperienced groups. I happened into the Native American blessing ceremony, to which the speaker reminded us all that we were exactly where we were meant to be.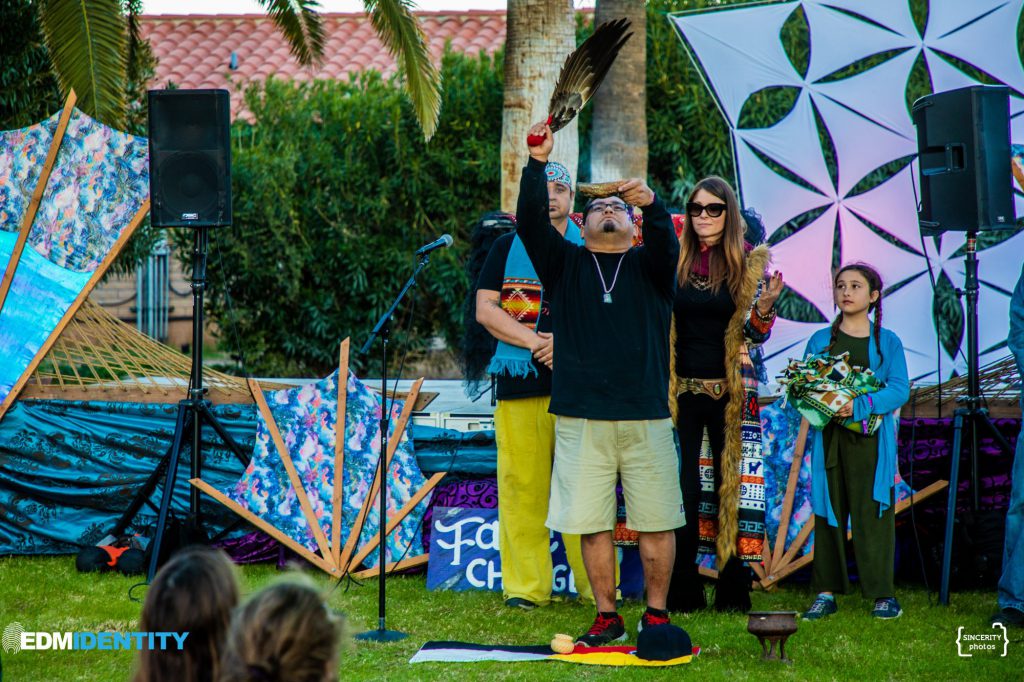 Gem and Jam's inclusion of Native American traditions and stories creates a unique atmosphere.
What I thought was more prevalent this year than in previous years was their Native American presence. Aside from the blessing earlier in the day, I got to experience a drum circle and a presentation on what most people would call a didgeridoo. This cultural integration was again executed very well ensuring that at least one of these presentations took place on the crossroads of the vendors.
Speaking of vendors, the number of them at the festival felt like it doubled from the last time I was there.
Any variety of festival attire, accessories, light toys, gems, and art could be purchased. Custom works of leather, fur, neon, and chains were unique novelties. This variety kept the market alive well into the night and early morning.
The food vendors were also an area that Gem and Jam really hit their mark. A variety of vegan, vegetarian, and omnivore foods was available. Ranging from an Acai bowl to Indian cuisine or Chinese-style dumplings there was something for every type of diet, including pizza. Moreover, all the food and drink vendors were exceptionally reasonable. A single alcoholic drink started at six dollars putting many other festivals to shame in beverage competition.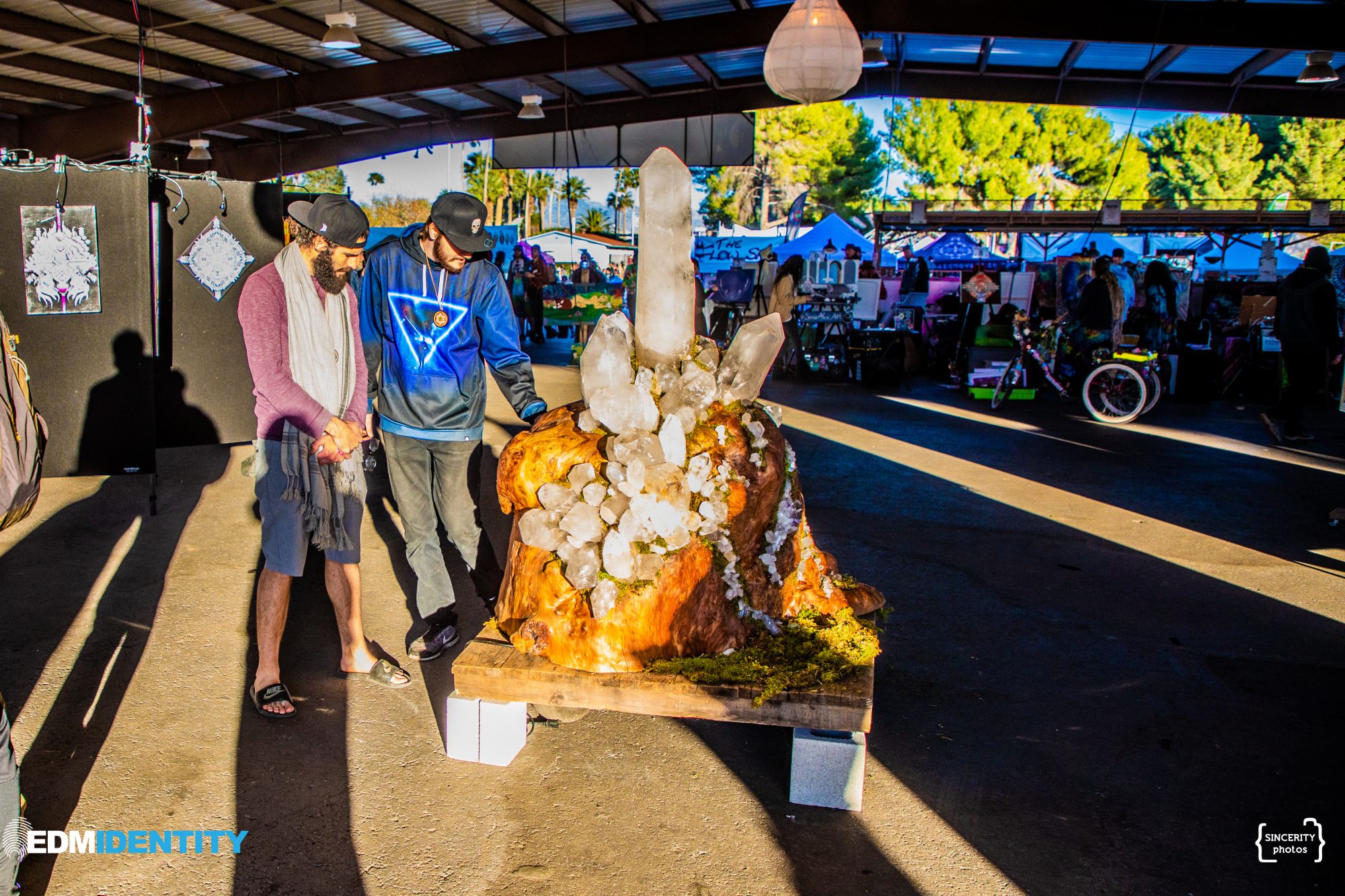 Just beyond the vendors was a re-imagined art gallery.
Live painters lined the perimeter, painting a piece that would be auctioned off later in the weekend. This is where my friend Kylee Sparks was painting. Having come from Colorado she was excited about the experience and explained that she had been able to grow her network quite a bit since the first day. The art community was palpably supportive of each other and it accentuated an extra property of the festival.
A small tea palace broke up the right side of the gallery. Pillows and carpet circled around a table with a chandelier and ribbons draped above. It was an area frequently filled with attendees. On the other side was the familiar sideways art house that was making the festival circuit last year.
The stages were beautiful centerpieces for the gemstone motif.
The Emerald Stage would for most purposes be considered the main stage and capable of hosting live music acts. It was adorned with a large painting on one side and large quartz crystals along the ledge of the stage. The Onyx Stage was the warehouse designed for mostly digital production. Giant gemstones created the backdrop for the stage while disco balls provided much of the light production.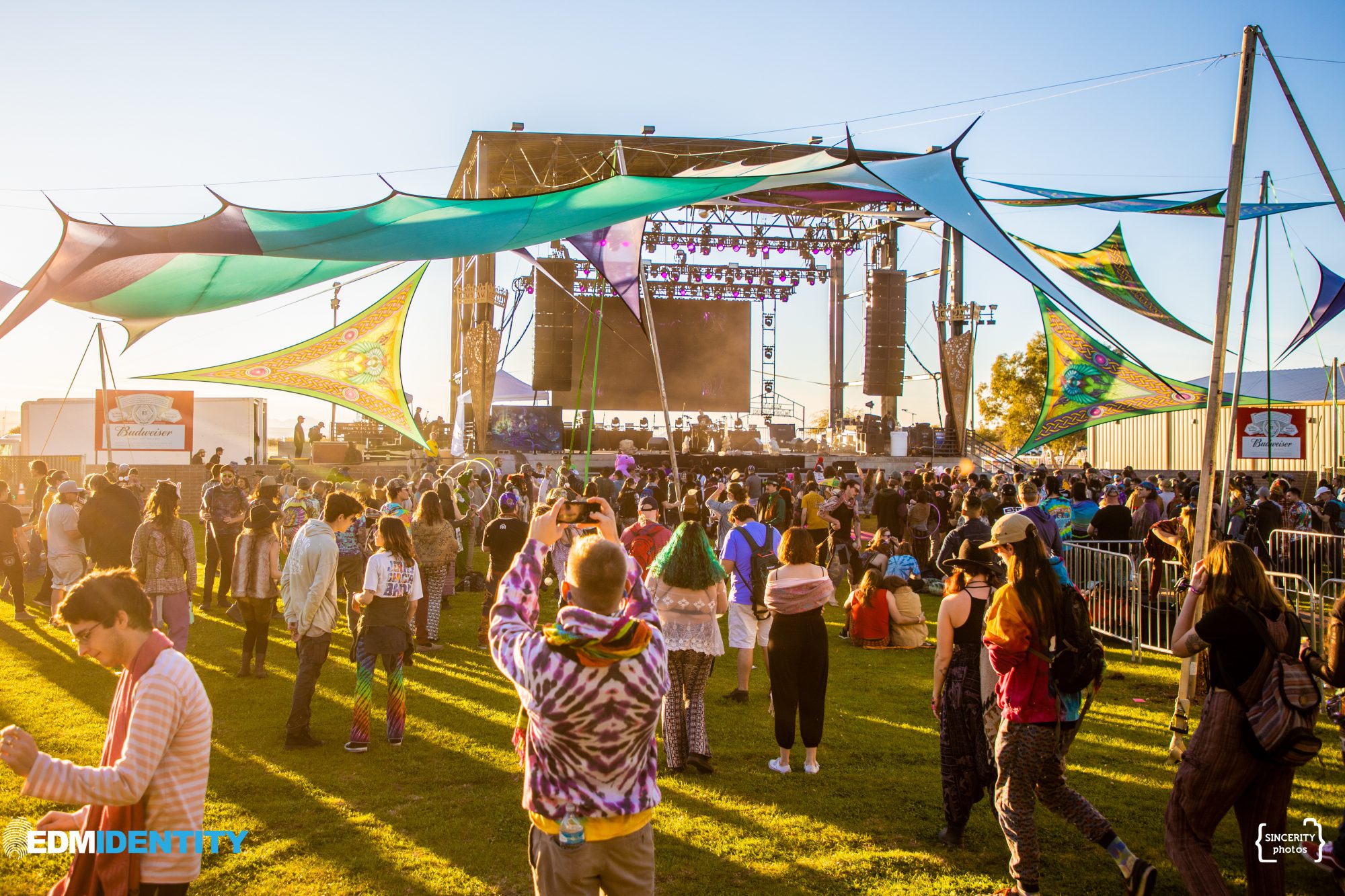 The music was inspiring and artists showcased everything from live instruments and DJ skills to insane visual elements.
Tipper's set was highly anticipated by everyone I had spoken with. His visuals inspired some of my favorite moments on the rail. People just in awe of how sound and visualization seamlessly move creating full sensory art in front of you.
TH3 was a true testament to jam-band musicians. They could not have practiced too many times before improvising with each other in a way that was truly unreal. Many times through solely visual clues each musician knew how to react.
From the banjo to the saxophone, the electric guitar to the violin, and even some fiddles, there were so many instruments played over the weekend. Dirtwire was one of my favorite examples of this for pushing the boundaries with some unique live instruments being used during the absolutely fantastic set.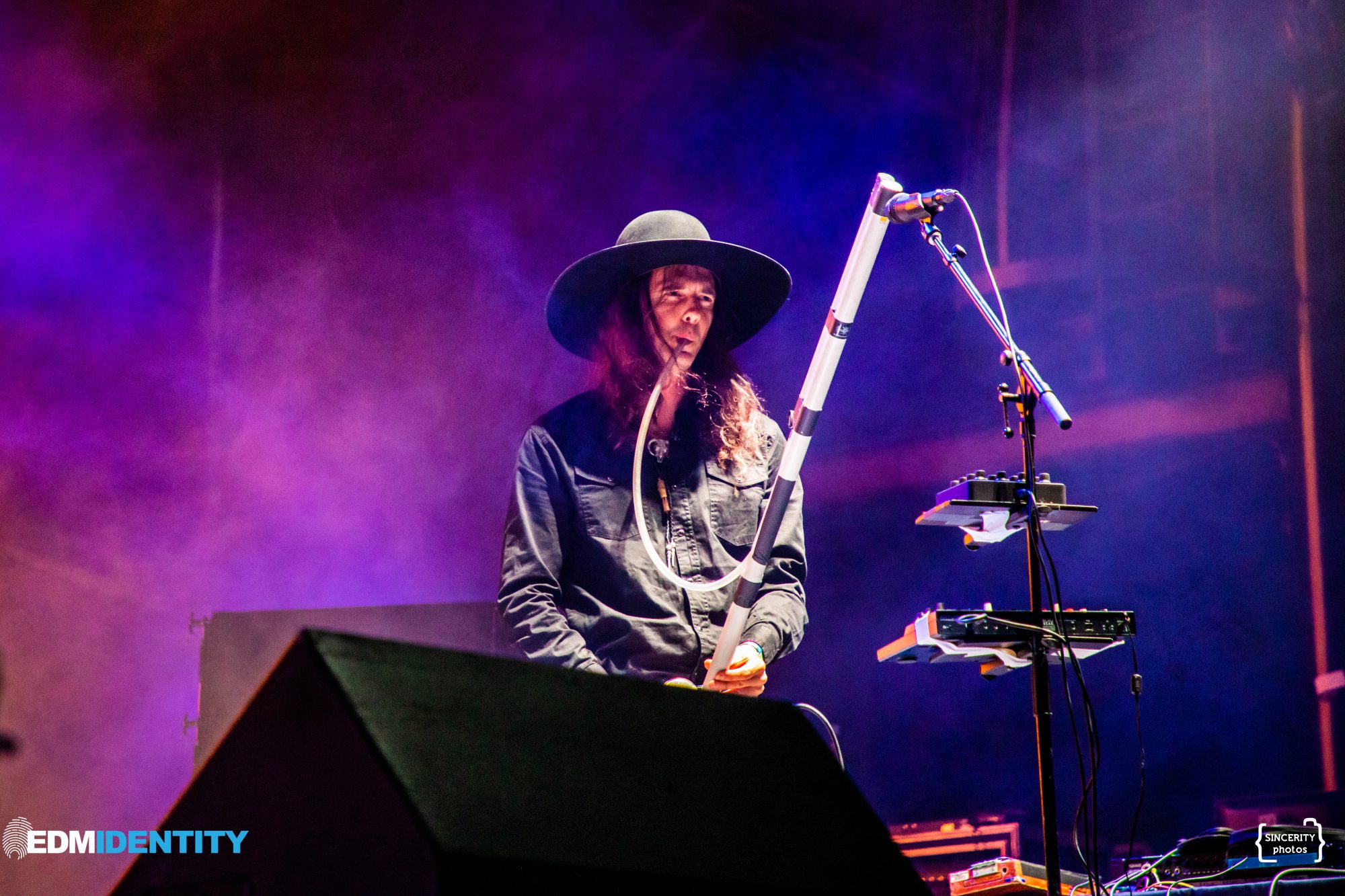 SoDown and Megan Hamilton were my newly discovered favorites.
I had only seen SoDown once before and had barely even heard of Megan Hamilton. Both sets were incredibly fun, played classics blended against the new electronic beat and their own tracks. Everyone around us was dancing and smiling the entire time and it was pure happiness. Most of all I appreciated the Desert Hearts takeover. I love house and techno music and there was hardly any on the lineup so having their sets was the perfect way to end the day.
This year's edition really exemplified an art and music experience that other festivals should take note of.
Throughout the festival grounds were different pieces of art. One art piece had trampolines underneath it and an intricate string spiral above it. An alien box made an eerie return and a new live camera rendering showcased everything in front of it in real-time.
Other notable pieces were a bunch of light up parasols and Compliments Bar. The Compliments Bar was staffed with a group of people dedicated to paying passers-by compliments – a very fun concept to help brighten someone's day. There isn't a better way to describe the positive vibes of the festival than what this one installation put on display.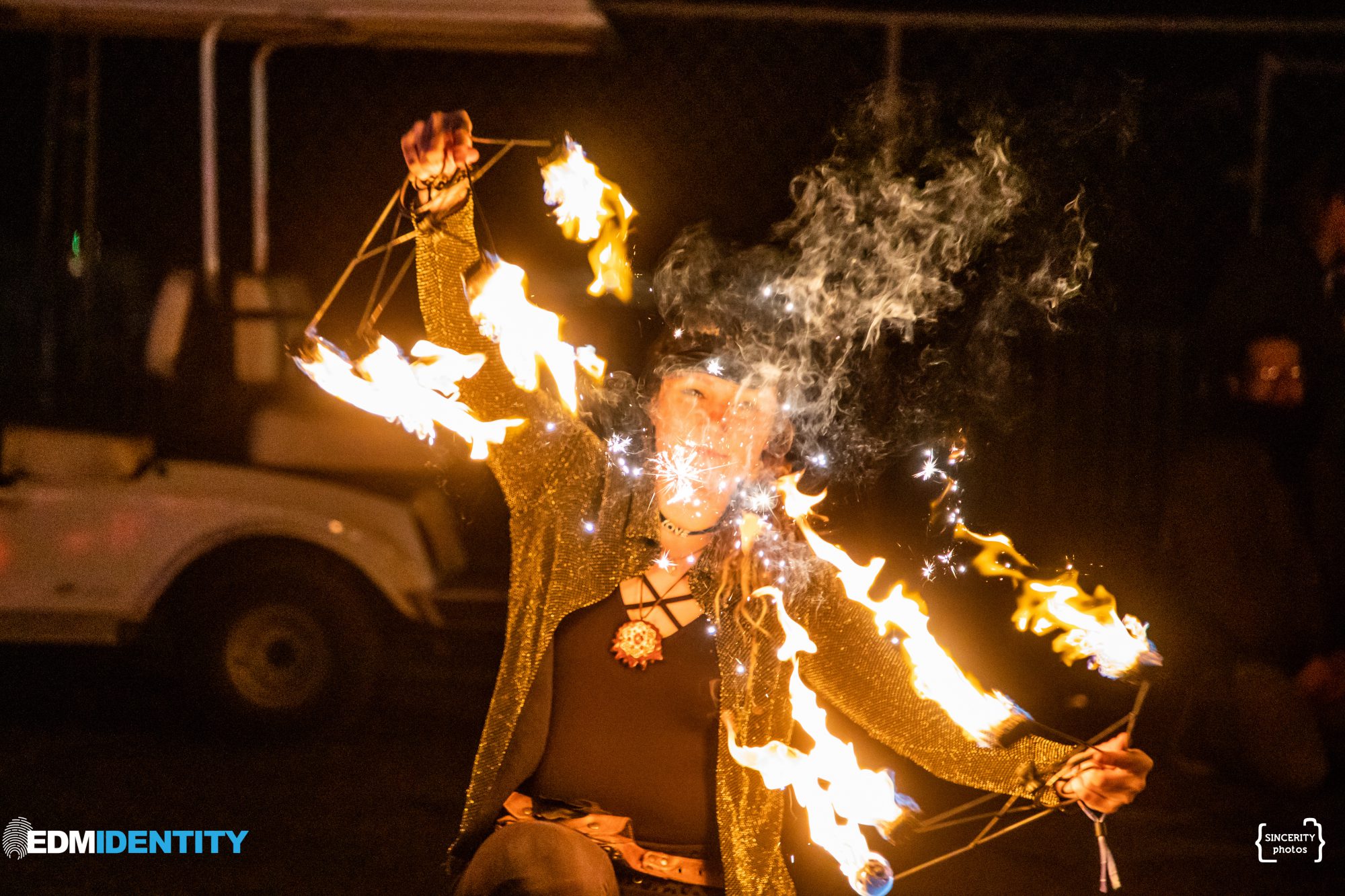 Along the stages and at a couple of areas throughout the festival grounds were performance areas.
By the main stage was an aerial dancer hoop and between the other stages were fire dancers each night as well. Wielding a variety of fire flow items their performances were always captivating. One notable thing I saw was the number of flow artists teaching their flow to others freely. It was beautiful to see so many people willing to share their art with each other and actively participate with one another.
Overall, Gem and Jam really hit the nail on the head in a lot of areas for this year's edition.
Their layout promotes art and audience participation, their music was diverse and fun, and their community is thriving off each other's energy. Each year that I've gone this festival has captured a little more of my heart and this year was no exception. It's a festival that still feels grassroots and community-driven and their inclusive initiatives should be modeled at other festivals.
---
Connect with Gem & Jam Festival on Social Media: