Thinking about taking the shuttles this year to EDC Las Vegas? We've got you covered with the updated routes and pricing info!
---
There are less than 100 days left until headliners from all over the world flock to Sin City for the upcoming edition of EDC Las Vegas. Their 10th Anniversary celebrations are sure to blow the non-existent roof off the Las Vegas Motor Speedway this year and after selling out tickets and camping passes faster than ever the hype has steadily built.
Earlier this week Pasquale Rotella unveiled more exciting news about the upcoming edition of EDCLV as the festival will be utilizing even more space that's been reclaimed at the venue. Now, there's extra info that's surfaced for headliners who plan to take the shuttles to the festival this year.
Details have been unveiled for the Standard and Premier Shuttles and while much of the info remains the same as last year, there have been a few modifications to the routes and pricing. Scroll down for all the info and don't forget that the official shuttles are the only ones that will be allowed to drop off at the venue itself!
Standard Shuttle Passes for EDC Las Vegas 2020 go on sale Thursday, February 13 at 12pm PT and Premier Shuttles will go on sale February 27 at 12pm PT via edclasvegas.com/shuttles!
EDC Las Vegas 2020 Shuttle Stop & Route Map: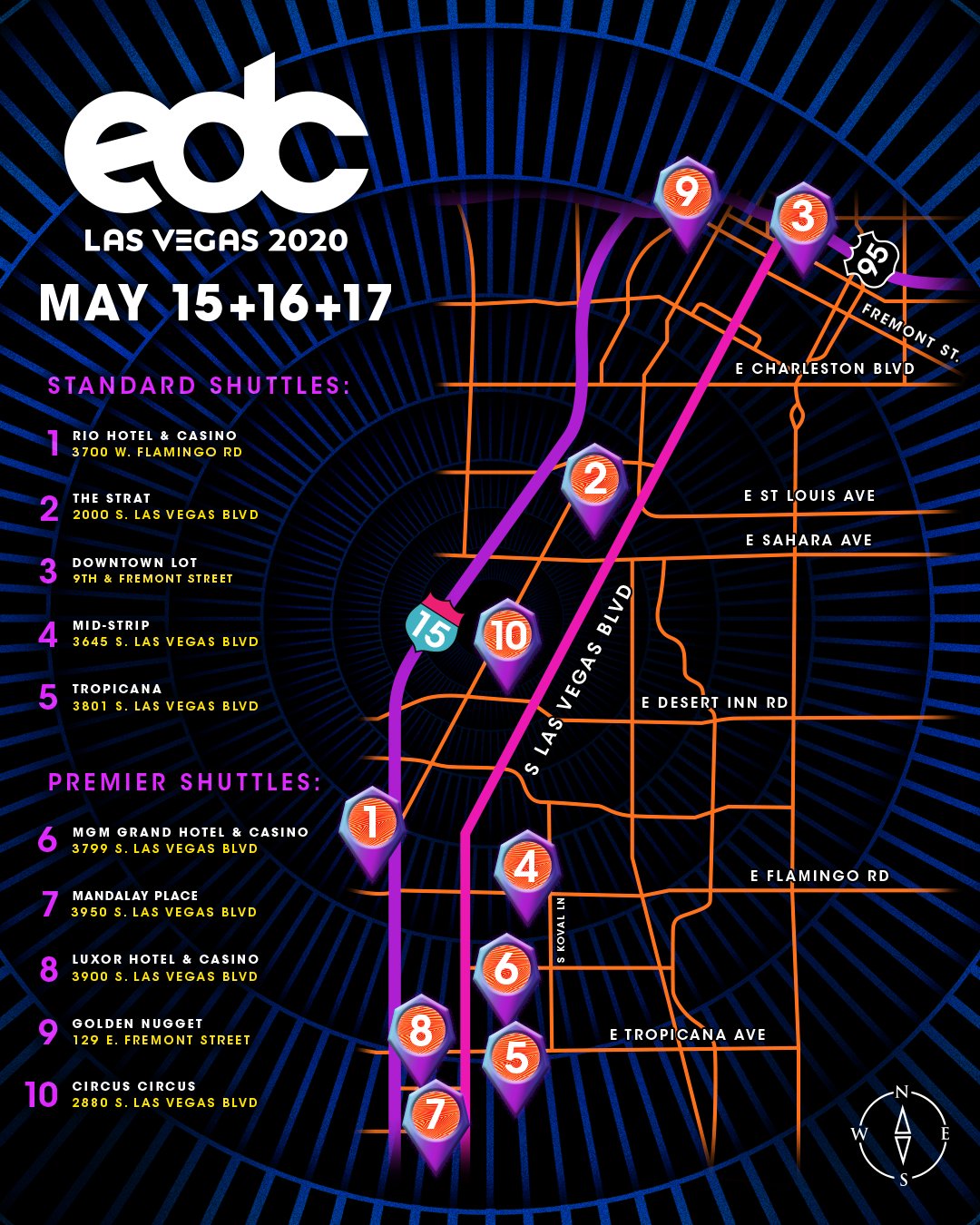 EDC Las Vegas 2020 Shuttle Options
---
Standard Shuttle Details:
Standard Shuttle Passes begin at $99+fees, with stops located at Rio Hotel & Casino, The Strat (North Strip), Downtown, Mid-Strip, and Tropicana (South Strip).
Standard Shuttles will depart from the below locations on an ongoing basis from 6:00pm–11:30pm. Return trip shuttles begin at 3:00am and run until 60 minutes after the music ends each day. Please Note: Shuttles will not run between 11:30pm and 3:00am.
Want to attend the Opening Ceremonies? Head to The STRAT shuttle stop from 3pm to 6pm daily. The option is an add-on during the purchase process for all shuttle pass holders.
---
Premier Shuttle Details:
Premier Shuttle Passes will run $209+fees for Non-Peak Hours and $219+fees for Peak Hours with stops located at the MGM Grand, Mandalay Place, Luxor, Circus Circus, and Golden Nugget. Additionally, the perks of these shuttles include:
Exclusive reserved shuttle departures times each day
Limited inventory available to reduce wait time
Premier merchandise item
Security pre-check prior to your arrival at the festival for expedited entry
Security lane fast-pass access at all inbound (to the festival only) Standard Shuttle stops
Amenities at each shuttle stop, including restrooms and water
Premier air-conditioned lounge and waiting area at the Speedway
On- & off-site EDC Las Vegas Shuttle Support Team dedicated to all EDC Shuttle riders
Premier Shuttles have a different operating procedure than the Standard Shuttles, and run at specific times as opposed to continuously, these can be found below:
Premier Shuttle Departure Times: 6:00pm, 8:30pm, 11:00pm
Premier Shuttle Return Times: 3:00am, 4:00am, 6:00am
Much like the Standard Shuttles, the Opening Ceremonies can be accessed for Premier Shuttle riders as well with the add-on and same pick-up location at The STRAT. Premiere riders who purchase the add-on will have access to expedited loading from 3pm – 6pm at that stop daily.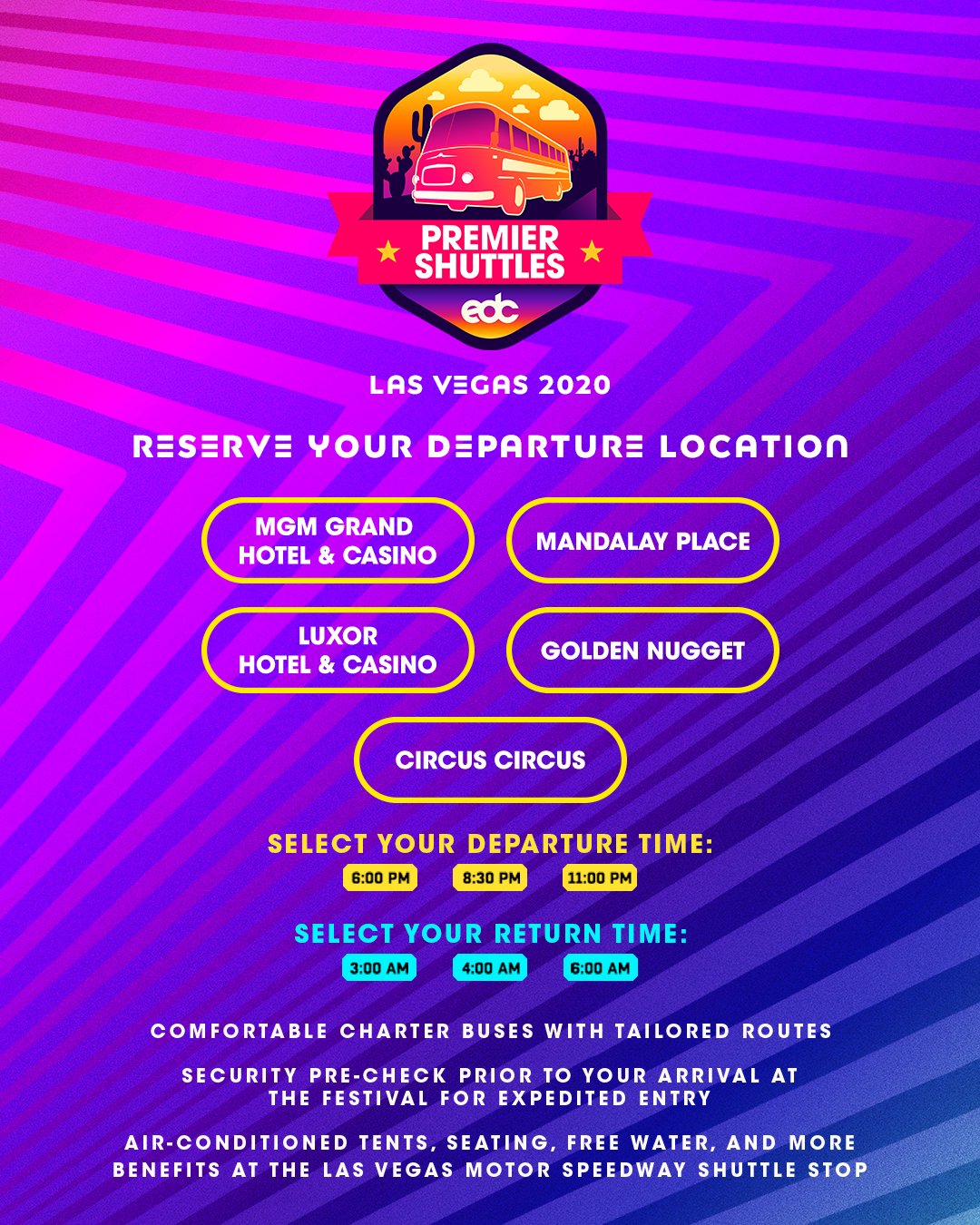 ---
Connect With EDC Las Vegas On Social Media: