The recently announced Luminosity Beach Festival lineup shows why the festival continues to be the mecca for trance lovers around the world!
---
Over the years, Luminosity Beach Festival has become renowned for being a gathering place for trance fans and trance families around the globe. It's no wonder as each year they bring some of the best and most talented acts from across the trance spectrum. This year is no different as the 2020 lineup features some powerhouse names in trance along with a few surprises in store.
When the Phase 1 lineup dropped late last year, the festival had already boasted massive names such as Aly & Fila, Key4050, and Markus Schulz. This tease should have indicated that the amazing beach festival organizers would be pulling out all of the stops, which was exactly what happened in order to secure such a different and phenomenal lineup.
Quite a few things stick out this year that has trance fans very excited to descend upon Zandvoort Beach from June 25 -28. The organizers made the mildly controversial decision to have a Classic stage for only two days in order to make room for a Progressive stage, which will be hosted by Solarstone and John 00 Fleming, for the remaining two. This is a wonderful move as progressive artists are often relegated to play at the start of the festival and are seen by few individuals. This way the likes of Gai Barone, Tim Penner, Jerome Isma-Ae and other progressive artists can be seen throughout the day.
Another change is the introduction of even more hard trance than usual on the lineup. The sub-genre has been poised to have its day to return to the spotlight and Luminosity seems to be leading the charge. The likes of Renegade System, GENTECH, Jordan Suckley, RAM, and more will be playing those hard, fast, driving beats!
Lastly, there will be one more stage host as the seven artists of the VII collective will be hosting on Friday, June 26. This is barely scratching the surface of all the wonderous music that will be heard and the legends such as Tilt, Sebastian Brandt, and more! Honestly, if you're a fan of trance, this is one event you won't want to miss!
Tickets for Luminosity 2020 are on sale now. If you haven't bought yours yet, definitely scoop them up soon via their website! 
---
Luminosity Beach Festival 2020 – Full Lineup: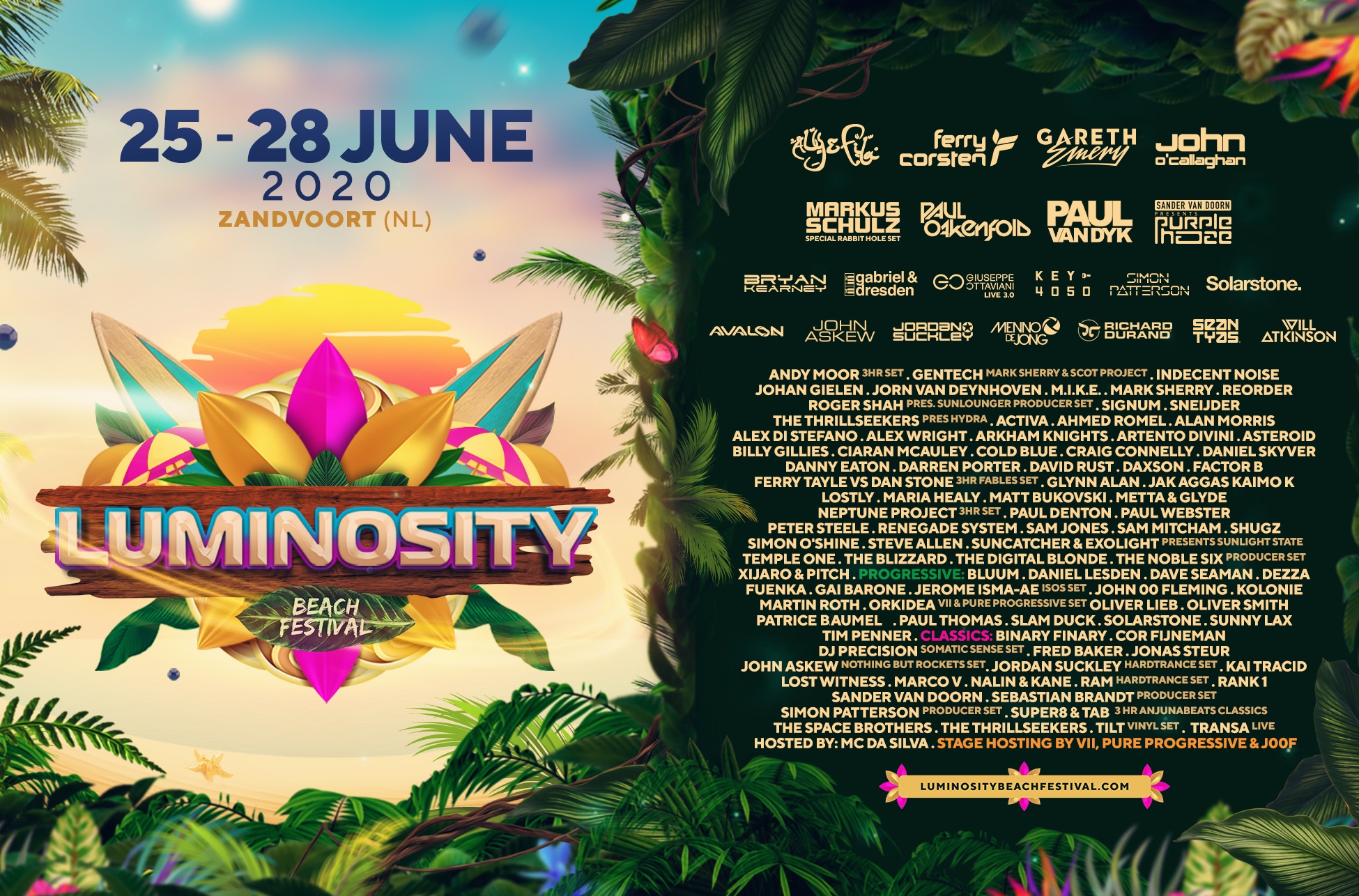 ---
Connect with Luminosity Events on Social Media: