After a successful return in 2018, Audiotistic SoCal brought an even more stacked lineup to help count down the final moments of 2019!
---
The festivities at the end of the decade started off with the return of Insomniac's Audiotistic festival to the NOS Events Center on December 28 in San Bernardino, where fifteen sets were to be played across two stages. With the number of up-and-coming artists, well-known names within the electronic dance music industry, and the amount of rare B2B sets, it's no surprise that Audiotistic SoCal sold out.
Having never been to an edition of Audiotistic before, when I walked I wasn't sure what to expect. I arrived at the festival about an hour after gates opened and were met with some lines for ID Check and security that were a bit lengthy. Once inside, though, I completely forgot about that minor wait time as I was immersed in the vibe of the festival and began my adventure.
Related: Looking for livesets from Audiotistic SoCal? Check our post for the latest that have surfaced!
As we've come to expect from Insomniac-hosted events, the production for Audiotistic SoCal was top-notch.
Much like last year's edition, Audiotistic SoCal kept its two-stage format with Frequency 1.1 being the main stage tent and Frequency 2.2 being the side stage hangar. Both stages featured huge LED screens and a good amount of lasers, blinders, etc. that allowed the artists to showcase their visual shows to their best potential.
At the very end of the stages were LED screens and speakers that allowed people to enjoy the sets from outside of the stages as well, which came in handy with the large crowds. Insomniac also did a very great job of making sure that the sound levels were just loud enough for there to be minimal sound bleed, as well as keeping it at a comfortable sound level where it didn't irritate your ears.
The venue was fenced all around, keeping the rest of the other stages quarantined due to the future invasion of aliens that was expected on New Year's Eve.
The pond in the middle of the festival and was completely decked out with colorful lights of all sorts, making it into the peaceful safe-haven that it always is during any rave day. On the outside of the walls of the heat zone, LED lights took the shape of volume levels constantly going up and down, helping provide that infectious atmosphere.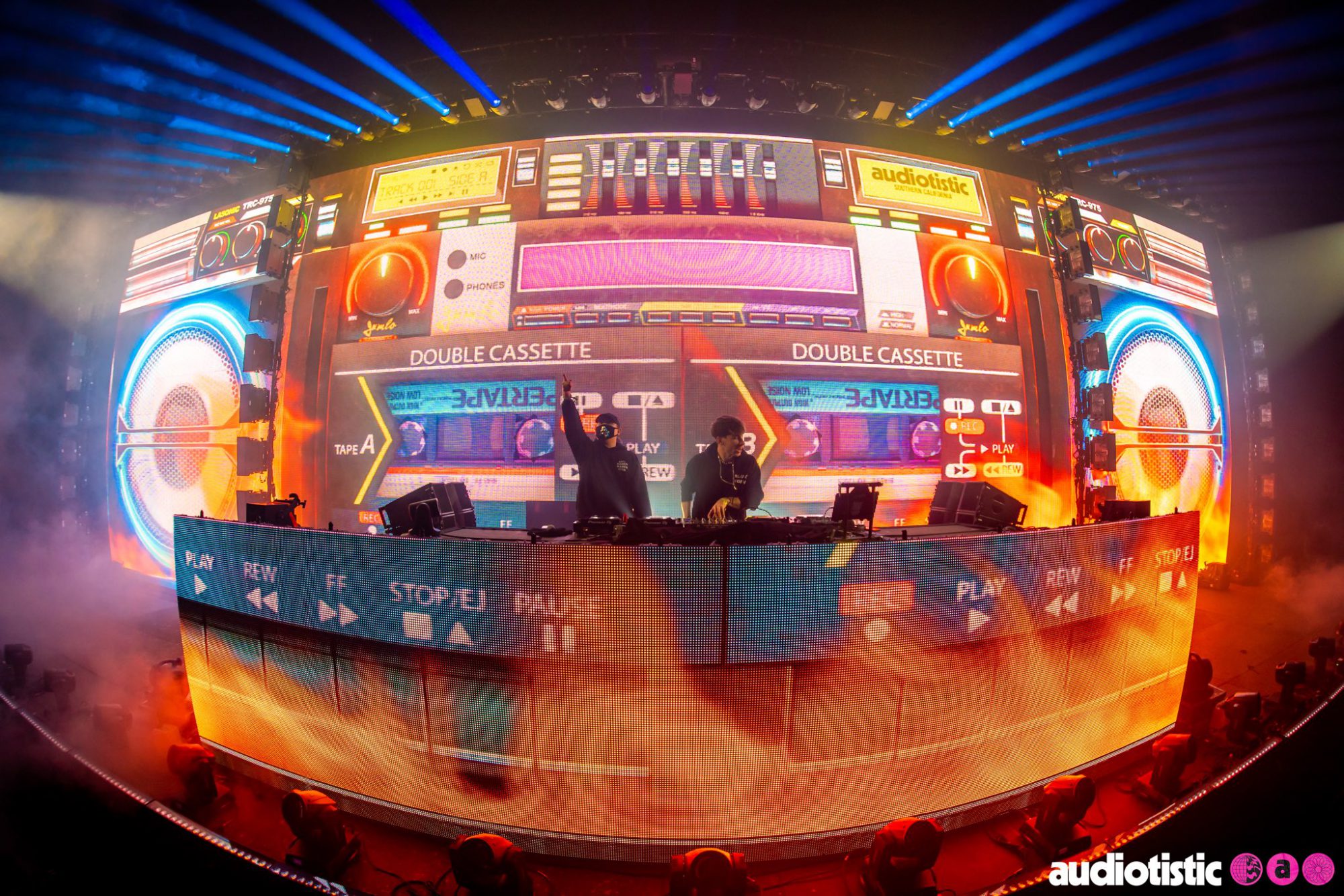 The first set I caught was Blanke B2B LICK, and that set the tone for what was to come.
I had been wanting to catch a set from Blanke for the longest time and this B2B set between two rising stars did not disappoint. It was definitely a performance filled with heavy tunes and truly set the tone for what's to come throughout the night at the Frequency 1.1 stage. Blanke and LICK fed off of each other's energy and played banger after banger, causing the crowd to cheer out of joy, myself included.
One of the last tracks they ended with was "Gorgeous," Blanke's collab with Illenium. Headliners within the crowd screamed the lyrics of the song and clearly were enjoying themselves as well as the company of their rave family.
Next up for me was WHIPPED CREAM, who showed no mercy and threw down the hardest set of the night.
After catching a bit of WHIPPED CREAM's set at the Heineken House at Coachella earlier in the year, I knew I had to catch her play again sometime in the future. And wow, she really knows how to throw down a massive set! She got straight to business and started playing bass banger after bass banger. I had an amazing time just raging and headbanging all throughout her performance, despite a few technical difficulties that surfaced. She even threw in the occasional hip-hop song here and there, and also threw in remixes such as her remix of Cardi B's "Press."
What really caught my attention was when she played "Gritztronics" and really got the crowd going. Another key point of her set was when she played Svdden Death's riddim remix of Fisher's "Losing It." It was my first time listening to this remix life and the energy that it brought to the sea of headliners brought everyone to a higher level. There is no doubt in my mind that her set was my favorite of the night.
From there, Audiotistic SoCal received a NGHTMRE after Christmas.
One of the most anticipated sets of the night from myself and others attending Audiotistic SoCal was NGHTMRE who would deliver the dubstep desires of headbangers attending the event. Intros can really make a performance stand out and as soon NGHTMRE played the edit of "The Mothership" vs. "Fuccboi," it was clear we were in for one hell of a set.
I hung around the back of the crowd during his set in order to catch a breath from the madness but it never let up. NGHTMRE had a strong connection with the crowd throughout the whole performance as he brought his mixture of hip-hop vibes and bass music through his VIP remixes "Redlight," "Cash Cow" and his remix Travis Scott's "Goosebumps." He also brought the feels and a chance to catch a breath of air by playing his remix of Seven Lions' "First Time" and Slander's remix of Post Malone's "I Fall Apart."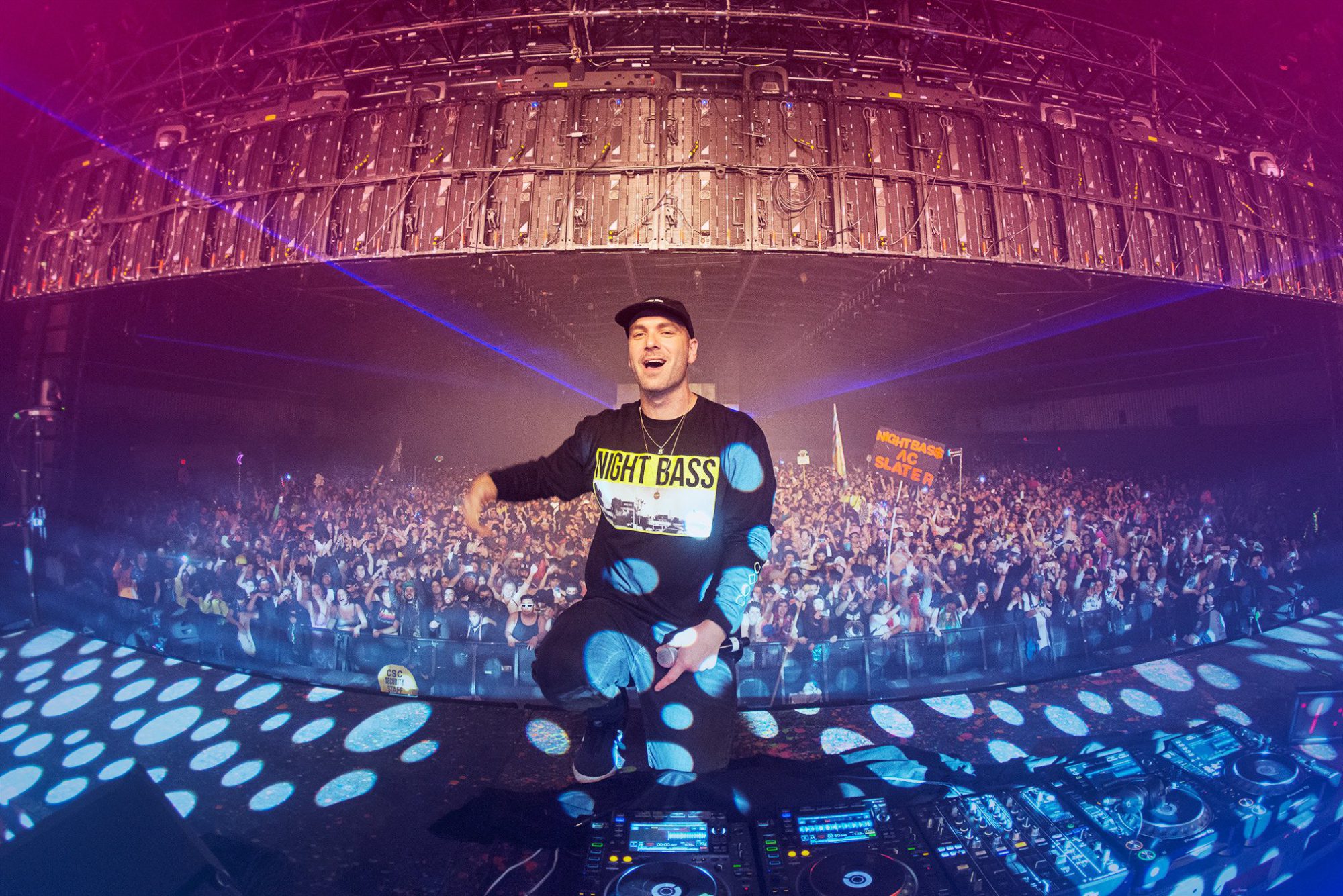 Although the beats at Frequency 1.1 kept me locked there for much of the night, I left for a bit to catch the Night Bass' fearless leader AC Slater throw down.
The Frequency 2.2 hangar was a complete vibe for bass house music. The room was the right amount of light and darkness with the bass echoing all throughout the structure. The Night Bass boss did not disappoint whatsoever. The constant four on the floor beat brought the groove and rhythm of the night.
Towards the end, AC Slater just kept on throwing down plenty of fresh tunes in an onslaught, all of which were fire. Of course, one of the last songs played towards the end was Wax Motif's remix of his track with Chris Lorenzo, "Fly Kicks," which brought the crowd bouncing up and down. His set was yet another solid one that I am glad I had the chance to catch.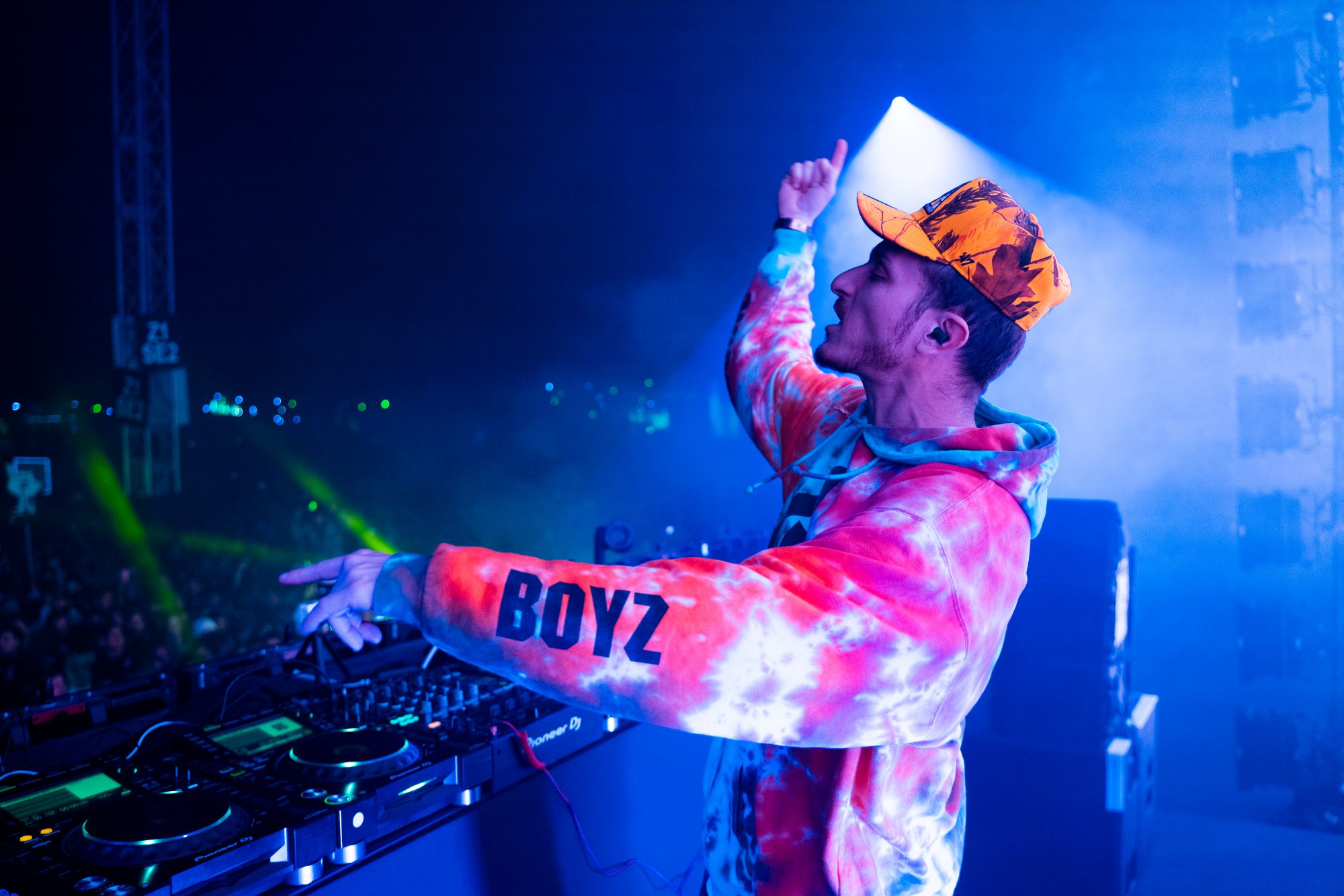 Being the trap and bass house enthusiast that I am, I knew I had to catch Flosstradamus.
Flosstradamus is an artist who truly helped make the trap scene what it is today and 4B and Valentino Khan, who played right before him, paid homage to this as they introduced him to the crowd. His set at Audiotistic SoCal showed everyone why he is one of the greats as his set brought constant energy throughout and featured classics such as "Original Don," "Prison Riot," "Mosh Pit." He also threw in some house tunes in the middle of his set, something that caught me pleasantly by surprise.
#HDYNATION was well and present at the event too as they raged harder with every passing build-up and drop. Towards the end of his set, Floss got on the mic to tell everyone that this is one of his final sets that he is playing for a while to get his head straight and produce more tunes, making it an even more memorable moment.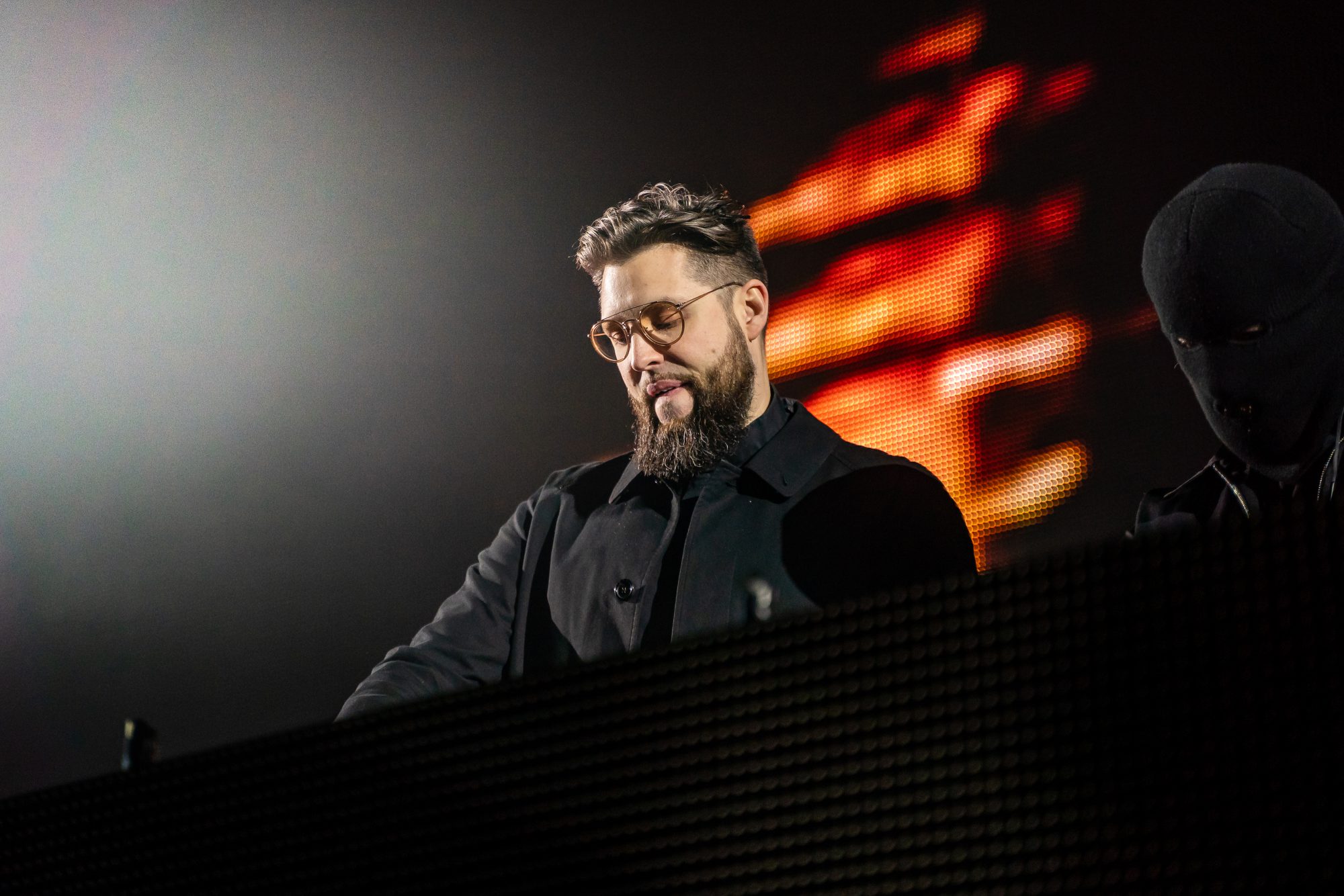 Tchami and Malaa brought the No Redemption house vibes in full force. 
This was one of my most anticipated sets of the night, and it did not disappoint. Individually, Tchami and Malaa are both powerhouses within the dance music scene, but when you put them together under their No Redemption alias you get a legendary set like no other. Their "No Redemption" intro set the tone for their set; a dark, contagious, four on the floor groovy vibe. The visuals that they had behind them also helped set a vibe that no one will be saved from what's to come.
During the middle of their set, I decided to go all the way towards outside the tent to see what the vibe was like there as well. Even outside, people were grooving freely and moving with the beat. It was honestly very enjoyable just to have all this free space and just move around as you wish.
Some key moments for me were when they played Cloverdale's rework of Dizee Rascal & Armand van Helden's "Bonkers," followed by "Made In France," the duo's collab with DJ Snake and Mercer. This moment really brought the energy up like no other, bringing the crowd together to sing and get down. By the end it was clear that no one would be saved from their sins and quite frankly, I think we're all glad we weren't.
Auditotistic SoCal is definitely a festival to catch if you have the opportunity.
While the event may not be as massive as other events hosted by Insomniac, the production and quality of it are still there. I'm also glad that they decided to not bring any hip-hop artists on the lineup this year as well, as there wasn't a break in energy or change in vibe during the night. With it being sold out, there is no doubt in my mind that Audiotistic SoCal will return next year and hopefully, they'll bring a third stage to showcase even more talented artists!
---
Connect with Audiotistic on Social Media: