The city that never sleeps has no shortage of events to celebrate on NYE, but Above & Beyond at a fresh venue in The Bronx was a fantastic end to the decade!
---
As a New Yorker for the last two decades, "what to do for New Year's" is always a big question. The city has never failed to impress me with the top festivities, but most are spendy and, frankly, not worth it when you can find a similar party 364 days of the year at half the price. So what's a New Yorker to do? Well, when I saw that Above & Beyond selected NYC for their NYE-NYD event this year, there were no questions asked.
Tiers aside, GA was about $79 and VIP $175, which are very reasonable price tags for the Big Apple. Plus, to spend my celebration with Anjunafamily meant there would be no shortage of smiles, hugs, dancing, and fantastic vibes, how could I miss that to end the decade?
Related: Didn't spend New Year's Eve with Above & Beyond? You can listen to the set on Mixcloud!
As the event approached and the supporting acts were announced, my excitement only grew. 
A few weeks out from the night, it was announced that Andrew Bayer, Genix, and Nox Vahn were supporting the lineup. Then local artist and friend Wassu was added as well. With "one of our own" set to open, our local Anjunafamily needed to adjust its pre-party to make sure we'd all get there to support him.
Speaking of the NY Anjunafamily parties…
Before I get to the main event, I need to give a shout out to the NY Anjunafamily (of which I am a moderator). The team pulled together a killer pre-party with local and visiting DJ's Ericksii, Dru West, and Kev Blundy. Folks from around NYC, and around the globe came to meet up before the big show. And if that wasn't enough, there was an after-party fundraiser where these performers returned along with Genix and Nox Vahn. It was absolutely epic to have them all to ourselves in a local club basement!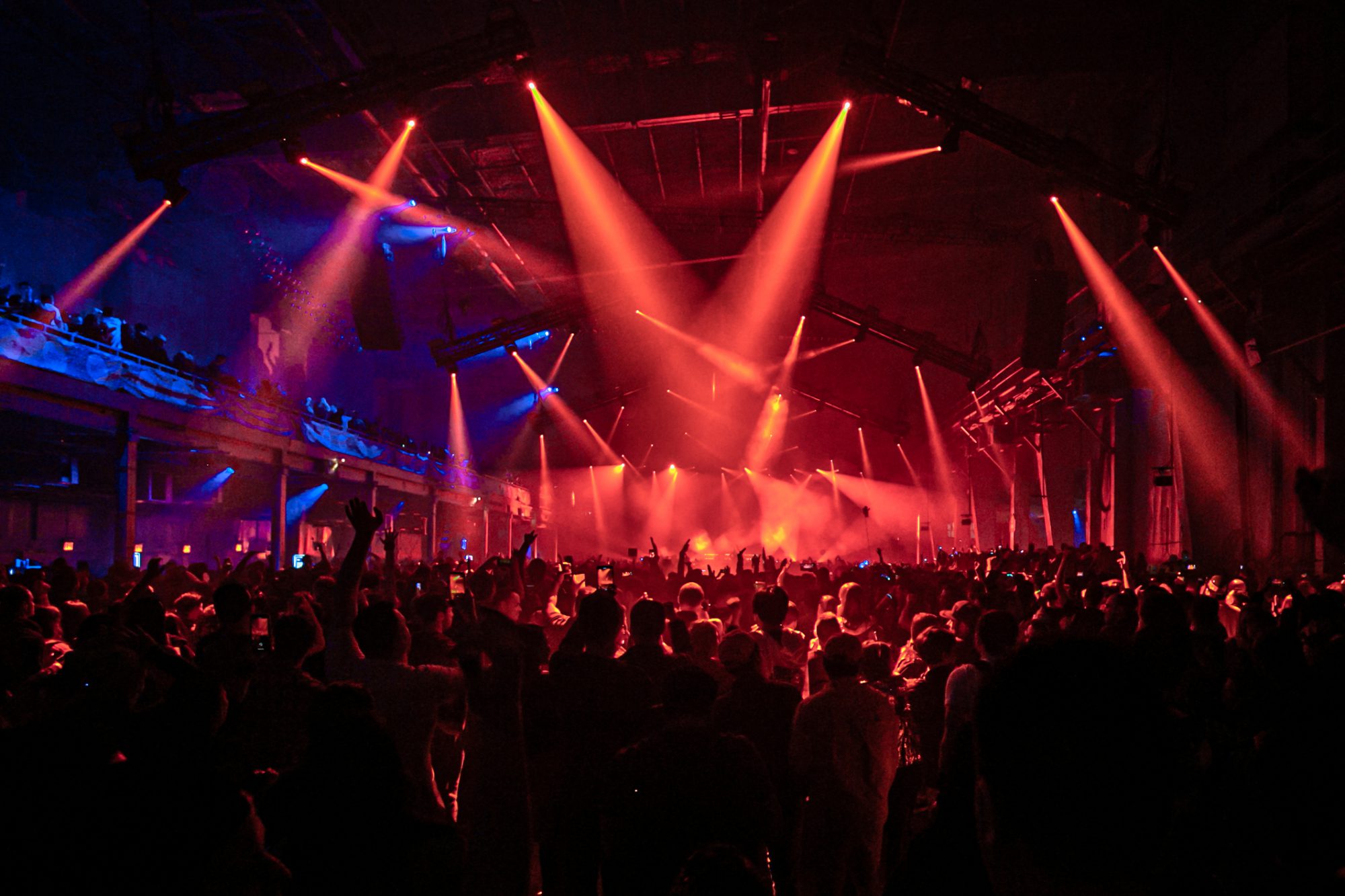 A "new" venue in The Bronx? What gives?
The big unknown about this event was the selection of the New York Expo Center in The Bronx. The venue has been in existence for almost three years, but only a handful of music event were held there to date. Then, in October, the venue hosted Time Warp and in the days before New Year's it hosted Eric Prydz HOLO as well.
While there were a few hiccups through these events, it's clear that the venue is laser-focused on doing what it takes to be the next destination for dance music in NYC. The biggest complaint on New Year's was the long security line for GA ticket holders; but when compared to past NYC venues of this size, like Pier 93/94, wait times of up to an hour have been the norm, so this was no different. On the flip side, the VIP "skip the line" setup was absolutely flawless and worth the upgrade just for that.
The venue, the visuals, the music, the crowd – it was truly alchemy!
My crew arrived halfway into Wassu's set due to traffic on the way to the venue and the unknown logistics once in the area. VIP attendees could enter through their private (and VERY nice) indoor bathrooms which dropped us directly behind the stage. We almost wanted to party from the back, but security made sure to keep us moving to the VIP upper balcony.
Once upstairs I realized my only disappointment of the evening – most of the balcony was for VIP UPGRADES (not standard VIP) so we were shuttled to the back third of the balcony. It wasn't a big deal except that it was never clear that VIP UPGRADE (for an additional $75) or bottle service was the only way to get into that space. Noted for future events!
No matter, because at this hour, the floor was comfortable and we got right up front for our local support of Wassu. His set went from beautiful melodies to a deeper, darker tone that set up Nox Vahn so perfectly. Then Nox Vahn, oh man, his set was so dark and so dirty! The visuals were surprisingly bright during his set and I ultimately found this a perfect foil to the darkness of his tunes. He represents the Anjunadeep sound that feels like my true religion.
As Nox Vahn's set was closing, I was really curious where Andrew Bayer was going to take us next.
Having just seen Bayer headline a few weeks earlier, I knew he could throw down, but then where would that leave Above & Beyond? Well, he opened dark and haunting, and then in typical Bayer style, he then carried us from the depths of darkness to the melodic peaks of tracks like "Tidal Wave" and "Immortal Lover".
During this emotional roller coaster, I realized that I'd been upfront for well over two hours and was out of water. No sooner did I think about this then I saw "roaming bartenders" pushing a trash can full of beer, water, and White Claw available for sale. I may not like paying $7 for a Poland Springs bottle, but when it's delivered directly to you on a crowded dance floor, well, that's pretty great!
When midnight arrived, it was absolute mayhem as we all watched and waited for the countdown and the main event: Above & Beyond!
My last Above & Beyond show was part of an epic '18-Hours in Ibiza' but everything about tonight would be different. This was a crowded warehouse venue for an epic holiday while that was a typical Ibiza open-air party. It was, in fact, entirely different, and just as spectacular, if not more.
First, the Times Square countdown was played on the enormous wall-to-wall video screen. As the clock struck midnight, a massive balloon drop took place as A&B opened with Frank Sinatra's classic "New York, New York." It was probably wise to start with a non-Anjuna track as revelers kissed and hugged and soaked in the moment that started off 2020 together.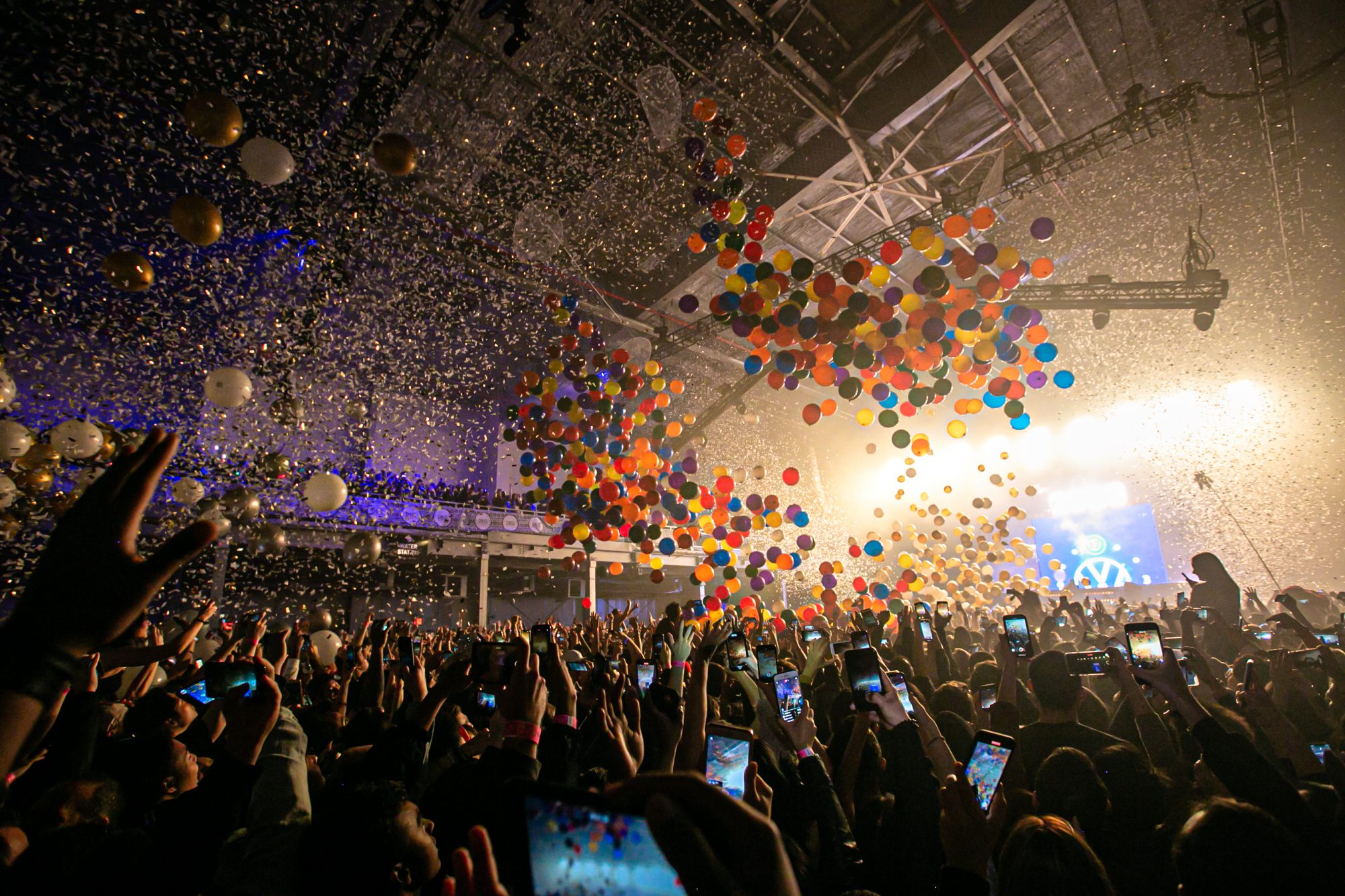 The Above & Beyond set was incredibly melodic and had all the "Auld Lang Syne" feels to usher in the New Year.
I'm not gonna lie – after hearing the Dreamstate SoCal "classics" set, I was secretly hoping for a lot of throwbacks and tracks from the Tri-State era. But, alas, the majority of tracks on the setlist were uplifting vocals and, honestly, that's what New Year's Eve needs. There were group hugs and singalongs throughout with lots of house lights and videos of the crowd on the big screen.
Don't get me wrong, there were some darker curveballs, too – such as "Big Ben vs. Black Room Boy" (a personal favorite) and dancey club tracks like "Red Rocks" and "Waltz" (my two favorite new releases from 2019). Not to mention a truly haunting club ID that I'll be anxiously waiting for release in 2020.
And, seriously, when they closed with Madonna's "What It Feels Like For A Girl" – well, that just sorta summed up all of 2019 and the trek into 2020 for me. My friend Wilson who remained up front all night said, "Oh my god – when they played Madonna the gay in me just melted and I cried my eyes out!" Trust me, Wilson, there wasn't a dry eye to be found at the end of the set, whether gay or not.
Oh, and don't let me forget that a friend who I gifted a ticket to last-minute was in the crew that pushed the button! I'm so happy for her… and totally jealous as well. 😭
And, finally, Above & Beyond left the stage for Genix to close it out – he just blew the roof off the joint!
The closing set from Genix was advertised as 2:00-3:30 AM but I'm told he played till at least 4:00 AM. I ended up departing at around 3:00 AM to head out and get some rest, but that hour of his set was intense.
While Above & Beyond took us on a journey through vocals and synth shifts while maintaining a steady ~128bpm, Genix dialed it up a notch. He threw in some terrifically dirty transitions to keep the crowd dancing and guessing where he'd go next. I'm happy for my local Fam that they had the after-party, cause I think I'd need something to help me come down from the energy Genix was pushing out.
Bottom line – this night that featured some of the best artists on the Anjuna roster and their fearless leading trio was the perfect way to usher in the new decade. If 2020 will be anything like this party, we're in store for a wild and spectacular ride!
---
Follow Above & Beyond on Social Media:
Website | Facebook | Twitter | Instagram | SoundCloud | YouTube