When he's not covering festivals or the latest music releases here at EDM Identity, Logan Garrison takes crowds on a ride with his sets as DJ Lo_G!
---
It was a decade ago that Logan Garrison, better known as DJ Lo_G, first took the stage to spin sets for crowds in the snowy towns of Lake Tahoe and Aspen. Originally spinning sounds in the realm of glitch and bass music, he began to develop a passion for all things house as he returned to his hometown and hasn't looked back since.
Over the years, DJ Lo_G has become a fixture in the Aspen nightlife scene as he has found a home at Belly Up and regularly warms up the stage for some of dance music's biggest artists like The Chainsmokers, Chris Lake, Slow Magic, Nora En Pure, and most recently ZHU.
Joining the EDM Identity team back in 2018, he's dug even deeper into dance music and the festival scene. Whether he's covering events like Mysteryland and shows in Aspen, interviewing artists like Hannah Wants, and reviewing fresh releases, his passion for the entire community shines throughout.
Now, for our first Artist Spotlight of the decade and 200th edition of the EDMID Guest Mix series, we've sat down with Logan to shine a light on this rising star in the scene. Take a listen to the mix below and read on for the full chat to explore how he developed a love for dance music and more!
Stream EDMID Guest Mix 200 || DJ Lo_G on SoundCloud:
---
Hi Logan, thanks for taking the time to chat with us today! Let's start off by digging back into your musical history. Who were some of your first influences and what led to you developing a passion for dance music?
I remember being a freshman in high school when I first fell in love with dance music. Discovering Ultra Music Festival in Miami was the first eye-opening experience, drooling over the lineup and dreaming up ways of how our fifteen-year-old selves would somehow get to Miami. I remember having this mentality of "Oh my god we HAVE to go to this someday."
My friends and I swore we would make it down there, we still have never been [Laughs] but deadmau5 was my first and still is my favorite artist. He has always stood in a league of his own and getting to see him for the first time in 2010 at Red Rocks was truly life-changing for me. That show really set in stone the idea that this is what I wanted to center my life around.
Was there a moment that you first decided that you wanted to become a DJ? What was your rise through the ranks like that has led to you playing clubs like Belly Up Aspen?
I'll never forget the day I was sitting in school during one of my off periods surfing the internet and randomly started shopping for controllers just out of the blue. DJing was kind of the "hot new thing" to do back then and as I was simultaneously falling in love with the music I decided I wanted in on the action myself.
I mustered up the courage to ask my parents for this super cheap all-in-one plastic controller for my 16th birthday and lo and behold they actually went along with it! [Laughs] DJ Lo_G was literally the first name I ever thought of and it actually stuck. I basically only played sets in the privacy of my room or with my homies at that time, but by the time came around to go off to college I was completely obsessed.
I played a bunch of bass music and glitch out in Lake Tahoe during the almost five years I was out there for school. The bass and glitch scene is huge out there so it was fun to cut my teeth in that scene opening up for guys like MartyParty, NastyNasty, and purely by luck Zeds Dead as I got added to the show the night of. These sets were all in dive bars in Reno and South Lake Tahoe and never for more than 50-75 people at a time.
I always had huge X's on my hands whenever I showed up to play as I wasn't even 21 yet and hassled by the staff telling me I couldn't be in there. The promoter would have to come to my rescue me all the time. I never felt the momentum I was building for myself until looking back on it and even though I'm not huge on playing bass and glitch anymore I'm so thankful for those times.
By the time I came back to Aspen, I actually knew what I was doing and was ready to take on my holy grail at the time… Belly Up. After growing up going to shows there it was always a huge goal to get on that stage to spin my own tunes.
Over the years you've had the chance to open for artists like Chris Lake, The Chainsmokers, and most recently ZHU. What has it been like opening for these massive names in the scene and can you share a moment that's memorable?
It has honestly been the biggest dream come true to have the opportunities I've had through Belly Up, so first and foremost I'd like to give the highest thanks to those guys, especially Danny and David Goldberg. They have believed in me since day one and have given me the platform to share my passion with the world. They have literally helped me further my career and it's amazing to keep getting invited back to play with such renowned artists in an intimate space like Belly Up. I am grateful for that every single day.
This summer I was on a show with Nora En Pure and it was Friday night of Labor Day Weekend, which is an insanely busy time here in Aspen as the summer winds down. The show was completely sold-out and I was beyond nervous. Nora has one of the most hectic touring schedules of any artist I know so, in proper Nora fashion she was on the last flight into Aspen for the night and was scheduled to come directly to the club after landing. Well…for whatever reason, her flight couldn't land and after circling Aspen they went back to Denver.
Now, it's Labor Day Weekend, the roads are a disaster with traffic, and she's on her way to the venue. I went on stage at 10:00 only booked to play an hour and clearly she wasn't going to make it in the hour that I was booked to play. With the club being sold out on such a big weekend there's no way we were going to cancel. So I played my scheduled hour and the stage manager came up to me and said "just keep going, she's in an uber from Denver." I thought to myself "Uh what? An Uber? From Denver?? Okay, cool!" as I looked out over the packed club.
I went on to play a three hour set to a sold-out Belly Up crowd before she appeared on stage next to me to take over, truly a dream-come-true moment. Needless to say, she crushed it.
When you have a performance on the horizon, what's your preparation process like? Do you plan your sets out in some capacity or just let the night takeover?
It honestly depends on who I'm spinning with. If it's more of a "locals night" or a b2b with some homies I'll just let the set unfold naturally and ride the vibe that comes in the moment. But if it's a big booking I'll 100% prepare my set. I've always prided myself on knowing how to appropriately warm up a room. Nobody likes it when the opener tries to steal the spotlight and bang it out too heavy too early. So, proper preparation is key to not looking like an idiot. 😉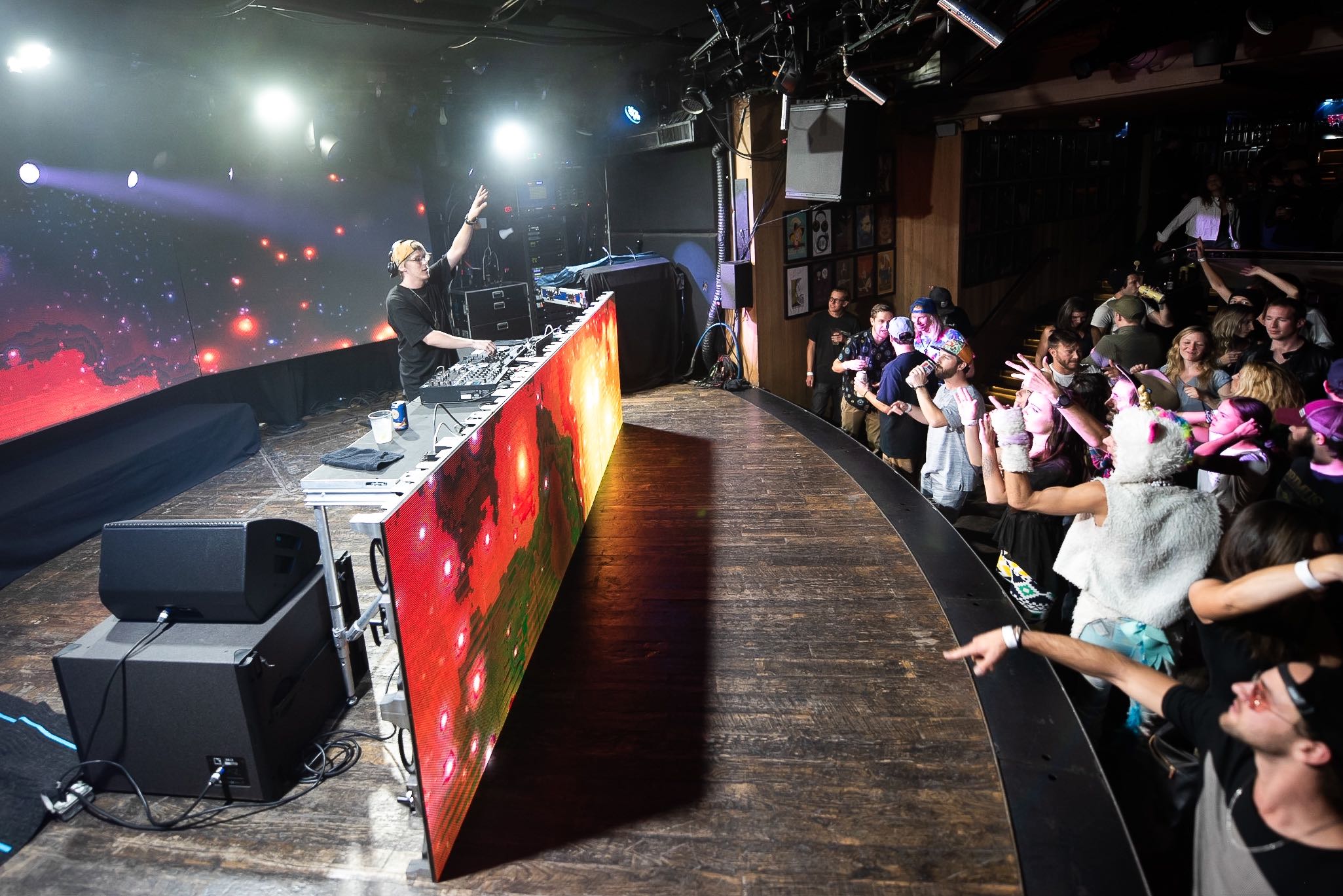 One of the biggest conversations that has come up in the scene lately is the place of opening DJs and how they should approach sets. Which stance do you take, should artists play what they want or set the stage for the night?
Opening DJs are there to warm up the room, set the vibe, and get the crowd hyped for who they paid to see. I believe that openers are 100% within their rights to play great music and not just boring lounge beats, however, it's all about complementing the headliner, setting the vibe, and building the energy appropriately.
Aspen isn't a city that most would think of when it comes to dance music. For someone who hasn't experienced the scene there, what makes it stand out as special?
The intimacy, hands down. Aspen has a bunch of clubs like Belly Up, Bootsy Bellows, and 7908, but regardless of where you go each one puts the artists in your lap so to speak. All of the stages are low and no matter where you are in the room you're going to have an excellent view and good sound. Also, I think a lot of Aspen's music scene has to do with the glamor that comes along with the town's vibe. It's a lavish town filled with great people, an impeccable nightlife in one of the most beautiful settings in the world, what artist wouldn't want to come to experience that for themselves?
Aside from taking the stage to make crowds move, you're also an avid festival-goer as well. Can you share some of your favorite festivals that you've experienced over the years?
Anybody who's close to me knows Coachella is my favorite place. It's the greatest festival in the world if you ask me. [Laughs] I'm really looking forward to this next year as it will be my eighth year. My original squad has recruited four newbies to bring along and blow their minds so that's going to be a blast.
Other than that, I experienced my first CRSSD Festival in San Diego this past fall and oh my god it blew me away. The venue is perfect, not too big, and the crowd is amazing and full of true house and techno lovers. I can not wait to go back and you can meet me at The Palms!
I've also been to Electric Forest twice back in 2015 and 2016 and it is truly amazing, but honestly, it's so damn far to drive from Colorado I'm reluctant to go back. I've been to SnowGlobe four times and that one is a really fantastic time. I love winter so the cold isn't an issue for me, and they always pack an awesome lineup as well.
Mysteryland in the Netherlands is one of the best events I have ever been too. Having gone to support my good friends and fellow musicians Drishti Beats the past two years has been a major blessing. Getting a European perspective on festivals is really different (in a good way) from the people, to the stage designs and the overall vibes it's pretty different from America. This past year was also a great opportunity to see artists like Groove Armada and Eric Morillo who rarely play sets stateside. Definitely get over there if you ever have the chance!
If you could only listen to one artist for the rest of your life, who would they be and why?
Man, that's so tough [Laughs] but let's be real: deadmau5. His music has carried me through some of the best and worst times in my life and I am simply in love with his productions. He's got tracks that can be super chill and blissful, and also some of the heaviest slappers you could ask for. He's coming back to Belly Up for two nights in March and needless to say, I'll be there!
We've just entered the new year and a fresh decade as well, what do you hope to achieve in 2020 and beyond?
I'm really hoping to play some sets out in California. Ideally, San Diego, because the house scene is so insanely rich out there, I need a piece of the action! Other than that, I'm looking to get some original productions under my belt and start exploring some new ideas to keep enriching my sound. As far as DJing goes? There's no end in sight. One show at a time and improve everyday!
---
Follow DJ Lo_G on Social Media:
Facebook | Twitter | Instagram | SoundCloud