Groove Cruise Miami will set sail to the brand new port of Taino Bay in the Dominican Republic on the Celebrity Infinity in 2021! Will you be joining in on the fun?
---
The upcoming sailing of Groove Cruise Miami might be completely sold out, but it's not too late to get the perfect gift for someone you love if you're already thinking about 2021. Today, Whet Travel has announced its epic plans for Groove Cruise Miami 2021 just in time for the holiday season.
If you haven't been on a Groove Cruise sailing yet and love dance music, then it should definitely be on your radar to check out as it features 96-hours of non-stop beats across multiple stages. And if the lineup from the 2020 sailing is any indication, you can be assured that there will be some amazing sets to catch while on board.
Related: Read our reviews of Groove Cruise Miami or Groove Cruise Cabo to learn why this is an event that you absolutely must attend at least once in your life!
Groove Cruise isn't just about the music, though, it's also about the entire experience while onboard and it's one you'll never forget. Not only do you get a non-stop dance party, but you also get a destination vacation with the best family in the scene — the GCFAM!
There's a lot more in store for Groove Cruise Miami 2021, so read on for more details on their new port and upgraded ship. The presale for 2021 might have sold out in only two days but the public on-sale begins December 19 with payment plans available as well.
Follow your inner compass and head over to the Groove Cruise website to prepare to book Groove Cruise Miami 2021, and don't forget to use code "EDMIDENTITY" for a $50 per person discount!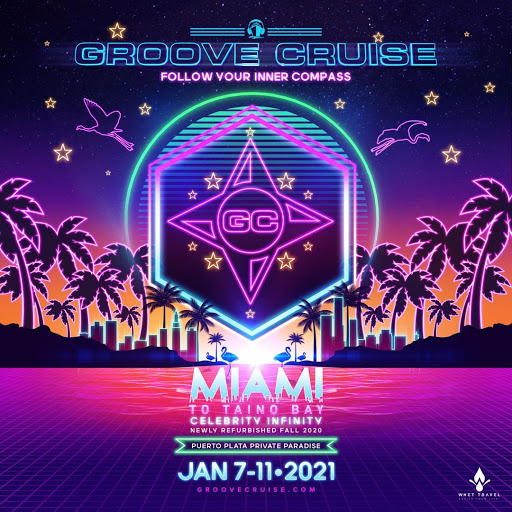 ---
The Celebrity Infinity is set to undergo a $500 million modernization in 2021.
Captains on Groove Cruise Miami 2021 will be on the same ship as the 2020 sailing, the Celebrity Infinity. While it will have the same layout and loveable staff, the ship is set to undergo a $500 million modernization before it sets sail in 2021. These renovations include:
Luxuriously Revolutionized Suites, Restaurants, Bars, Boutiques, and Casino

Travel Weekly's Magellan Gold Awards for The Spa by Canyon Ranch and Penthouse Suite Design

All-New Craft Social Featuring over 40 Craft Beers and Creative Cocktails

The Retreat Sundeck & Lounge envisioned by world-renowned designer Kelly Hoppen, MBE, plus exclusive Luminae Restaurant with Signature Dishes from Michelin-Starred Chef Daniel Boulud
---
In addition to an enhanced experience aboard the Celebrity Infinity, attendees will also be sailing to a brand new destination.
The destination, Taino Bay, is set to be completed in 2020 and is located in Puerto Plata, Dominican Republic. Taino Bay includes a pirate-inspired theme park with thrilling adventures as well as many nearby attractions such as:
Pirate Ship and Village

Panoramic Cable Car

Ropes Course and Ziplining

Lazy River

Wildlife Encounters, Aviary, and Aquarium 

Beach Club 

High-End Spa

27 Charcos Waterfalls

Fortress of San Felipe 

And More!
"2021 is the 17th year of Groove Cruise and is all about brand new experiences. The Celebrity Infinity goes into a head to toe 'Revolution' next fall and it's literally going to be an all-new ship with many upgraded features but with the same layout and staff that we have come to know and love.

Heading to a brand new port, Taino Bay, which no one has ever been to as it opens at the end of next year is as exciting as it gets. The renderings of what is going to be our own private pirate-themed paradise of Taino Bay look unreal and I can't wait to see the costumes for our 'Buccaneer Booty' theme party and 'Spicy Scavenger Hunt!' Nearby 27 Cascades is my favorite adventure in all of the Caribbean and our non-profit Whet Foundation volunteer experience will be very impactful.

I can't wait for the #GCFAM to make new friends and memories to last a lifetime!"

– jason beukema, ceo, whet travel
Are you planning to sail the high seas for Groove Cruise Miami's 2021 edition? Let us know in the comments!
---
Connect with Groove Cruise on Social Media:
Website | Facebook | Twitter | Instagram | SoundCloud | YouTube