Despite some challenges, Groove Cruise nailed it with their 30th sailing and gave attendees an experience they'll never forget!
---
Having been on six previous sailings out of Miami, I wasn't sure what to expect from the West Coast version of Groove Cruise. I knew I'd have fun because it's Groove Cruise so it's impossible not to, but I wasn't sure if I could possibly have as much fun as I've had on previous sailings. I had no reason to be worried. Groove Cruise Cabo ended up being one of the best adventures of my life to date!
While it was originally intended for us to set sail on Wednesday, October 10, we found out the day before that, unfortunately, we wouldn't be able to make it to Cabo due to hurricane Sergio. To be honest, though, I wasn't that bummed out because I knew that I'd still have an amazing time on the ship due to great parties and the amazing people on-board. We were informed that we'd be heading to Ensenada on Thursday instead, a city in Mexico I'd never been to.
Due to this last-minute change, the originally planned schedule for artist set times and events had completely changed. Somehow, Whet Travel was still able to provide schedules on the day of sailing which they printed right after they also found out on Tuesday that we wouldn't be making Cabo. Can you believe that? Talk about a quick turn around time on their part — props to them!
On the day we embarked from San Diego there were a few things that didn't go as planned.
Getting onto the ship took an extremely long time for some attendees. The Pool Deck was not set up on time so there wasn't the typical sail away party that had been scheduled. The Theater stage was not opened on time either. There were logistic issues at the port which caused these delays that were not Groove Cruise's fault. Regardless, I didn't let that kill my vibe! Everything is what you make of it, and the GC Fam on Groove Cruise is truly the best.
Because of the schedule changes and not being entirely sure who was playing, I wandered around most of Wednesday night and caught up with friends from past sailings and met new people. The people are my favorite part of Groove Cruise, so I didn't mind just going with the flow. A couple of sets that stood out to me that night were Carabetta & Doons and Damaged Goods.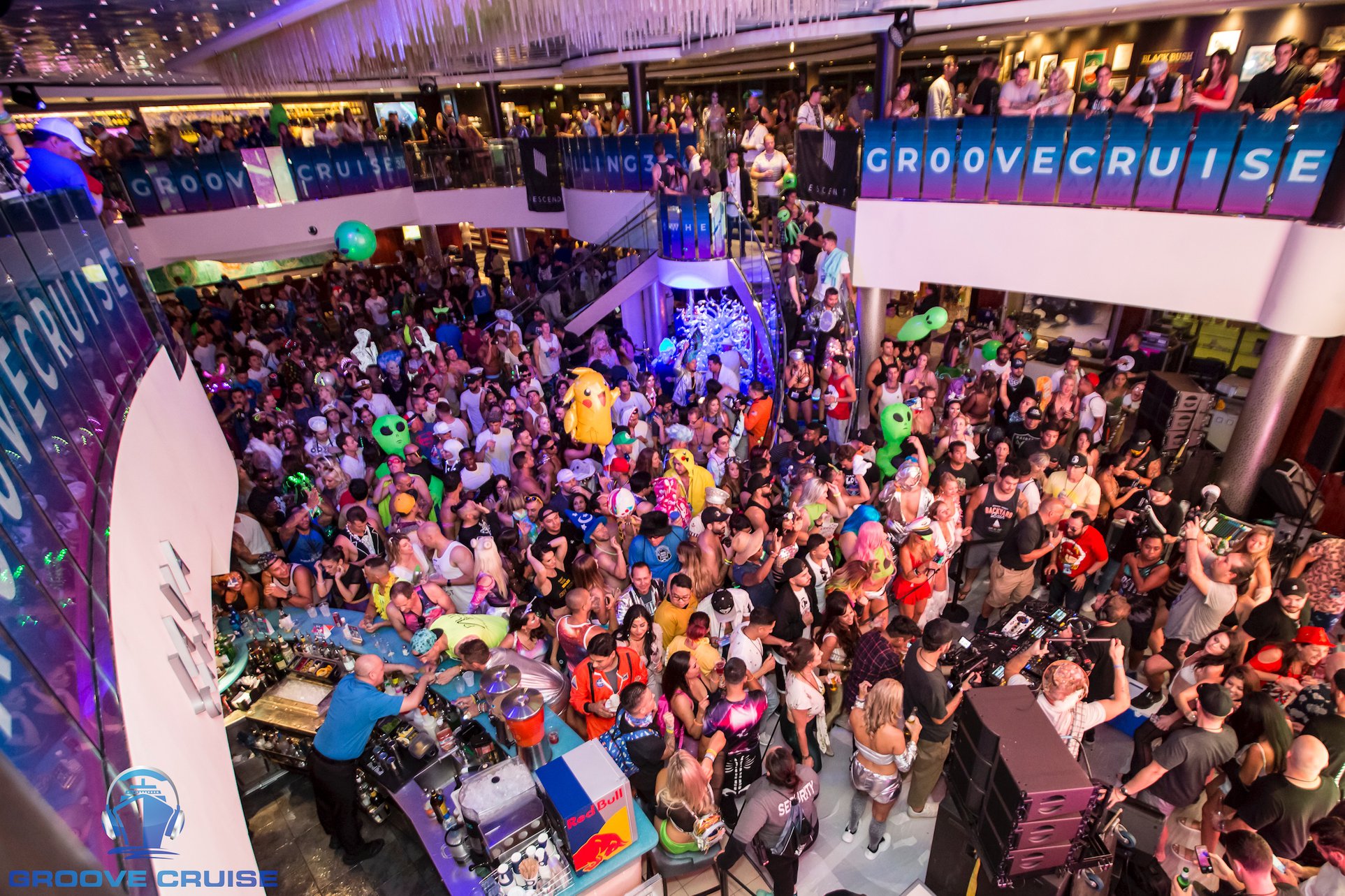 Upon arrival in our new port of Ensenada, I couldn't believe that Groove Cruise pulled off securing such a cool venue on Thursday in such short notice!
Getting off of the boat to head to the land party at Papas & Beer was a breeze per usual thanks to Norwegian. As we walked towards Papas & Beer, I was feeling a bit negative towards the city itself and wondering how the venue we were going to could possibly be any fun given my surroundings. However, once arriving at Papas & Beer, I was impressed!
I know everyone on the Groove Cruise team had to be extremely disappointed they couldn't get attendees to Cabo, but it's not like they could have stopped a hurricane. It was really awesome they were able to accomplish obtaining a cool venue like that in such a little amount of time.
The production was on point, the Papas & Beer staff were very friendly, and Duke Dumont played an awesome set. My only complaints were the very long times it took to get drinks at the main bar and the fact that it wasn't outside in the beautiful weather. But again, in such a short time frame, this was still a stunning pull-off on the part of Groove Cruise.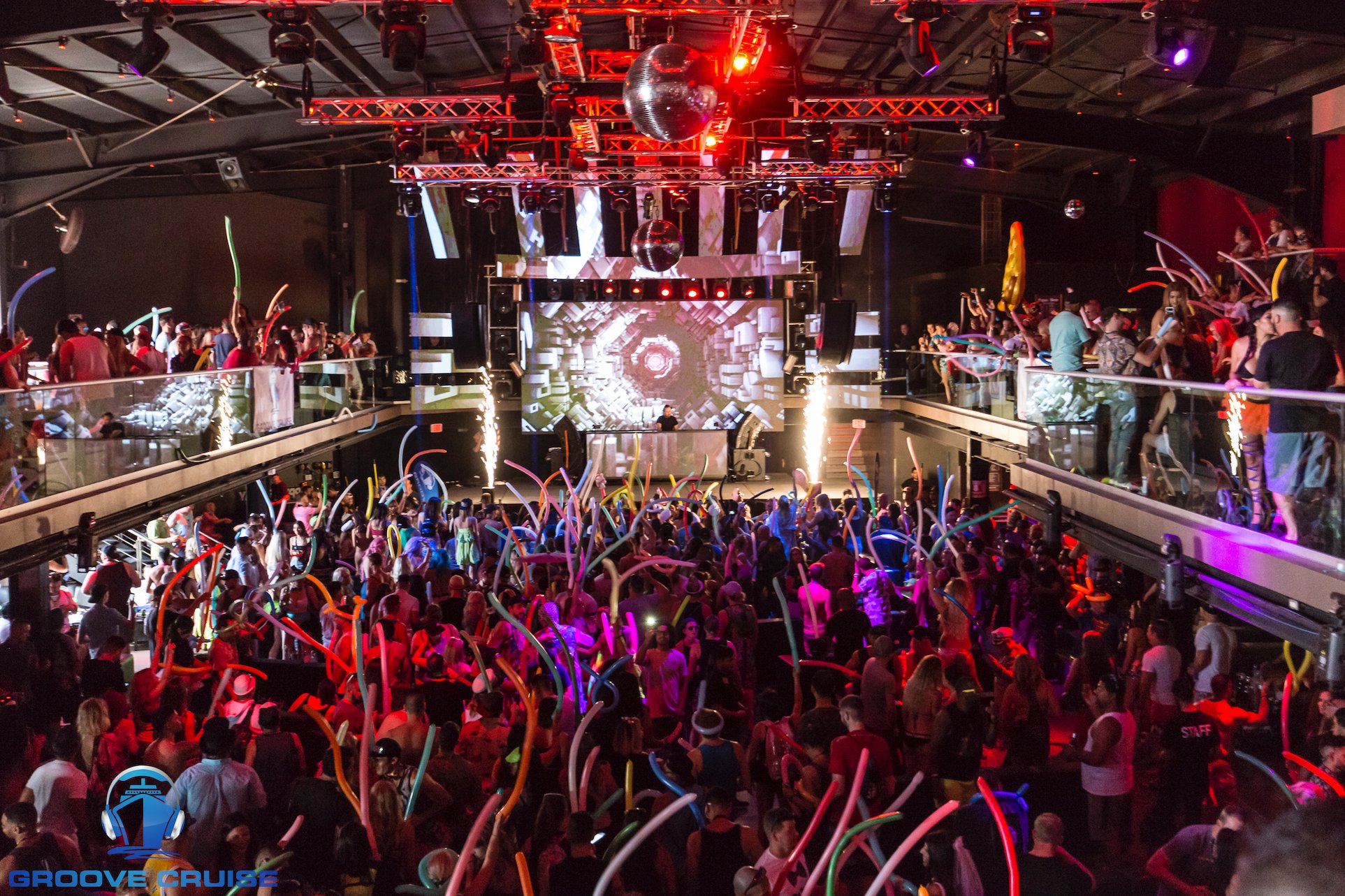 At Papas & Beer and throughout the ship, Neon Owl and Trancefamily SF were selling Groove Cruise themed merchandise in collaboration with Whet Foundation.
The Whet Foundation was created by Groove Cruise founder, Jason Beukema, to help children in need. A percentage of every sailing goes to the foundation, and every dollar that is donated goes directly to the end user. On Groove Cruise sailings, when possible, Jason and his crew and any attendees who want to participate go to orphanages through the Destination Donation program that he created and provide supplies to children in need. They have even brought orphan children on the ship before, some of whom had never felt air conditioning on their skin. It's amazing how charitable Whet Travel is through the their foundation!
After returning to the boat, I was ready for trance so I made my way to Kristina Sky's United We Groove stage.
I found myself wishing that there were more people at the stage. I later found out that a lot of people didn't know where the stage was at this point in the trip and some didn't realize there was a stage on the back deck at all, which is unfortunate because there had been some amazing sets out there so far.
Luccio and Adam Stark warmed up the day followed by Monoverse and then Kristina Sky herself.  After John 00 Fleming and Paul Thomas played a b2b set, Factor B threw down a set that ended up being one of my favorites. He played a mashup of his track "Red Line Highway" and Chicane's "Autumn Tactics", which has been deemed "Autumn Highway", as well as Solarstone's "Seven Cities" and many other great trance tracks.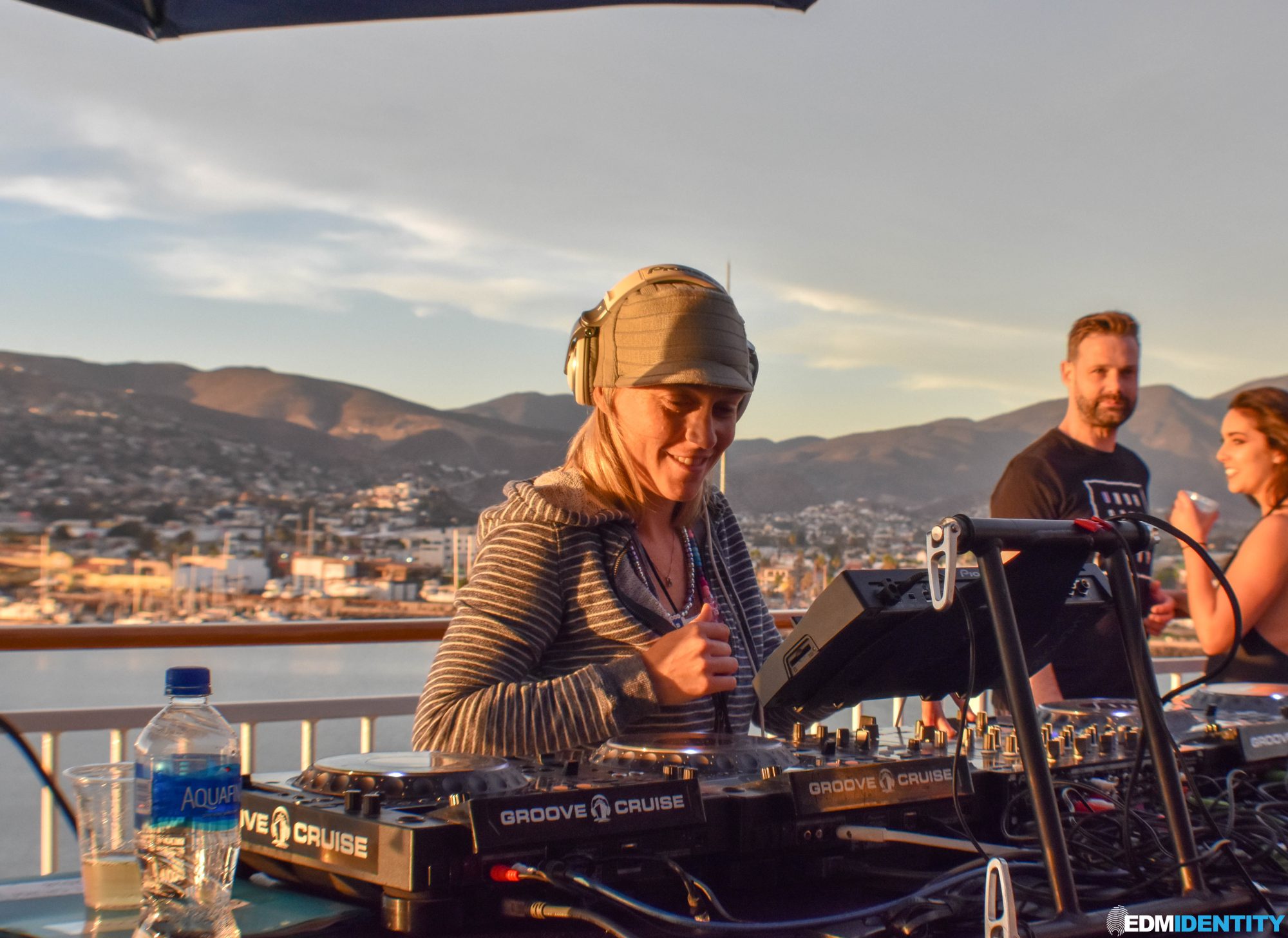 I took a break after this to enjoy one of the restaurants on the Norwegian Pearl — sushi at the sushi bar at Lotus Garden.
The food on the ship was fantastic. I have always loved the Norwegian Pearl because of its layout, food, and the staff that always make for a great sailing, so I was really happy to be on this ship again. I headed towards the theater after eating just in time to catch Cosmic Gate. I was impressed with the on-point production in the theater which consisted of epic lasers and pyrotechnics.
Unfortunately, during Cosmic Gate's set, the power went out in the Theater.
This is the first time I'd experienced something like this happening on Groove Cruise that I can remember, and it was a little disappointing. However, the Whet Travel staff were on top of it and were able to get it back up and running within 20 – 30 minutes. Bossi finished up his Cosmic Gate set and Adam Scott came on to close out the Theater for the night. His set was amazing, and he dropped some of my favorite trance tracks like Roger Shah's "For the One You Love", Bryan Kearney's "All Over Again", and ended with Paul Van Dyk's "Music Rescues Me".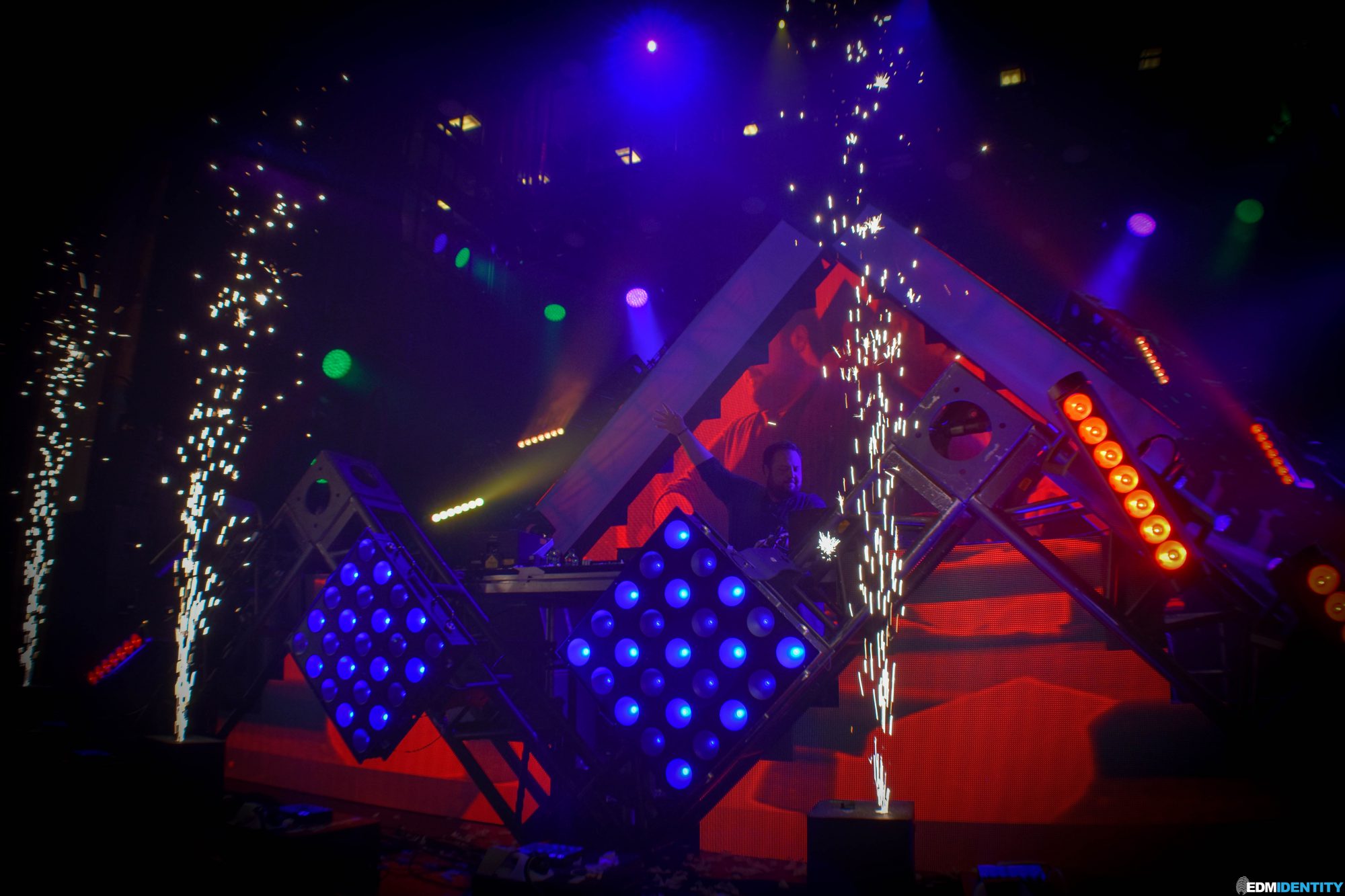 Friday was another day packed with great music and epic vibes.
I woke up and went to the pool deck for the classics trance party. I want to note here that I was disappointed that the pool wasn't covered as I'd normally experienced sailing on the Norwegian Pearl with Groove Cruise. I missed being able to dance in front of the stage with the crowd. I don't know if this was due to the previous logistics issues or if this was on purpose, but either way, I missed the dance floor!
Luccio and Adam Stark opened up the trance classics party and got the crowd moving.
Stark dropped some progressive classics followed up by Adam Scott. He brought the fire with some top trance classic hits like Solarstone's "The Spell", "Castles in the Sky" by Ian Van Dahl, and closed it out with Armin's "Airport Shivers". Next, Cosmic Gate came on for a surprise guest set. Bossi got on the mic and told everyone, "Full progressive set, you're not going to hear any "Exploration" today," which is exactly what was played. Switching up the music, Scooter & Lavelle came on to play a set I thoroughly enjoyed and had a great time during.
That night in the theater was another trance packed evening. Luccio opened up the Theater, followed by Monoverse, Paul Thomas, and John 00 Fleming, all of whom were great. Following their sets was another set by Factor B. After this, I went up and enjoyed a great time in the Haven Suite. The individuals who booked the suite had decks set up and artists like Drums of the Sun, Evan Mark, and Keith Christopher all played in the suite throughout the cruise. It was epic and their hospitality, kindness, and fun party was a highlight of my week and quickly became famous with attendees.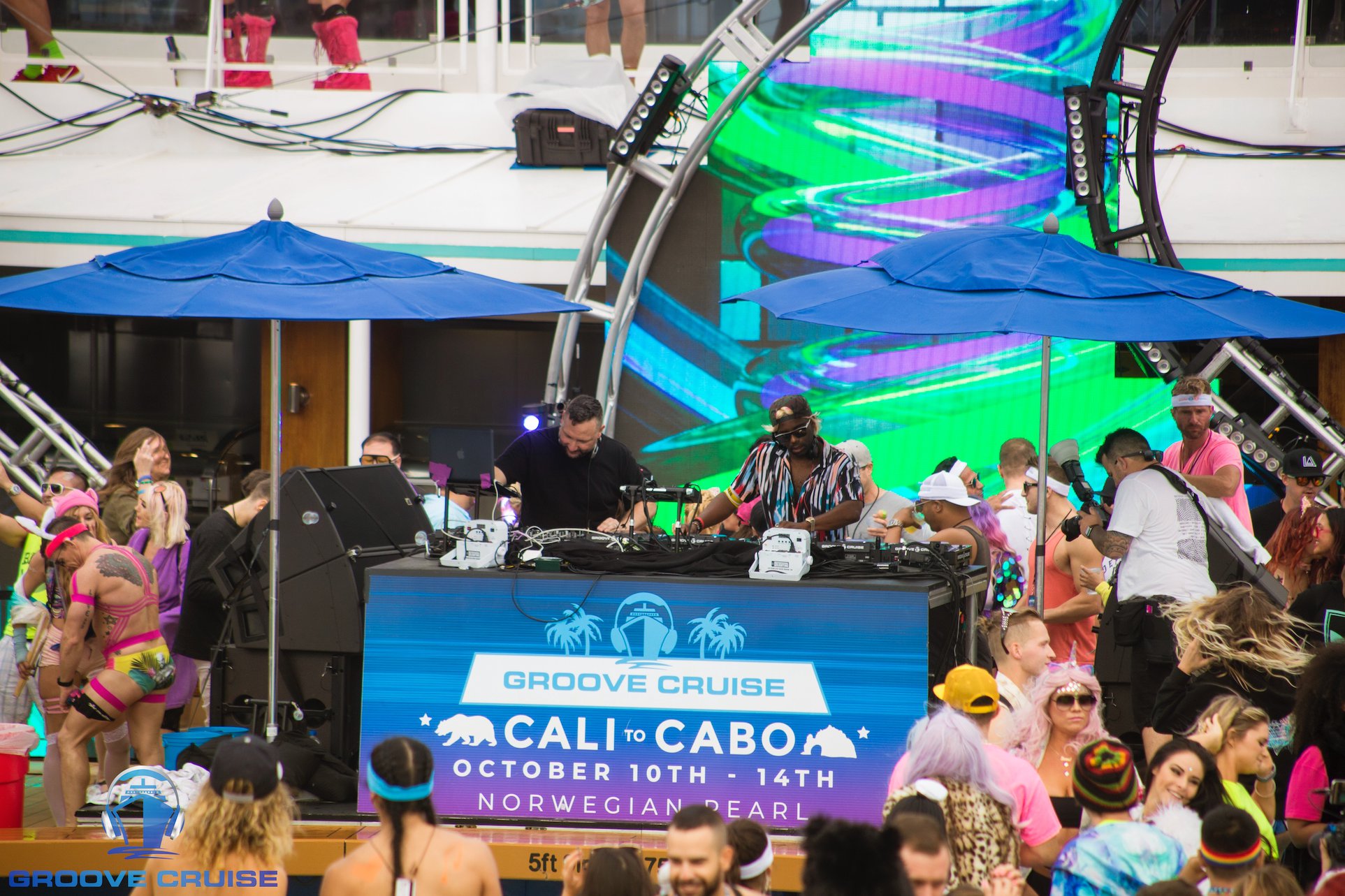 The final day of Groove Cruise is always bittersweet.
I didn't want the fun to end, I didn't want to leave my Groove Cruise family and all of the new wonderful friends I had met, and even though "We're Never Going Home," all good things must come to an end. That being said, I have to say that the last day was one of my favorites. I headed to the back pool deck as soon as I woke up to catch a stellar set from Drums of the Sun followed by Scooter & Lavelle.
From there, I went up to the top deck and enjoyed the artist soccer match that had begun. Due to the artists and individuals competing, it became the "trance versus techno" match. Luccio and Paul Thomas played their hearts out while other artists like Green Velvet took to the stands to enjoy the match. After the match was over (trance won!), I took a nap and then went to catch more trance on the back of the ship again for the Coldharbour branded setup. Mike Efex, Grube & Hovsepian, and Dave Neven b2b Monoverse were all great. Alex di Stefano followed up with some hard trance to get everyone moving.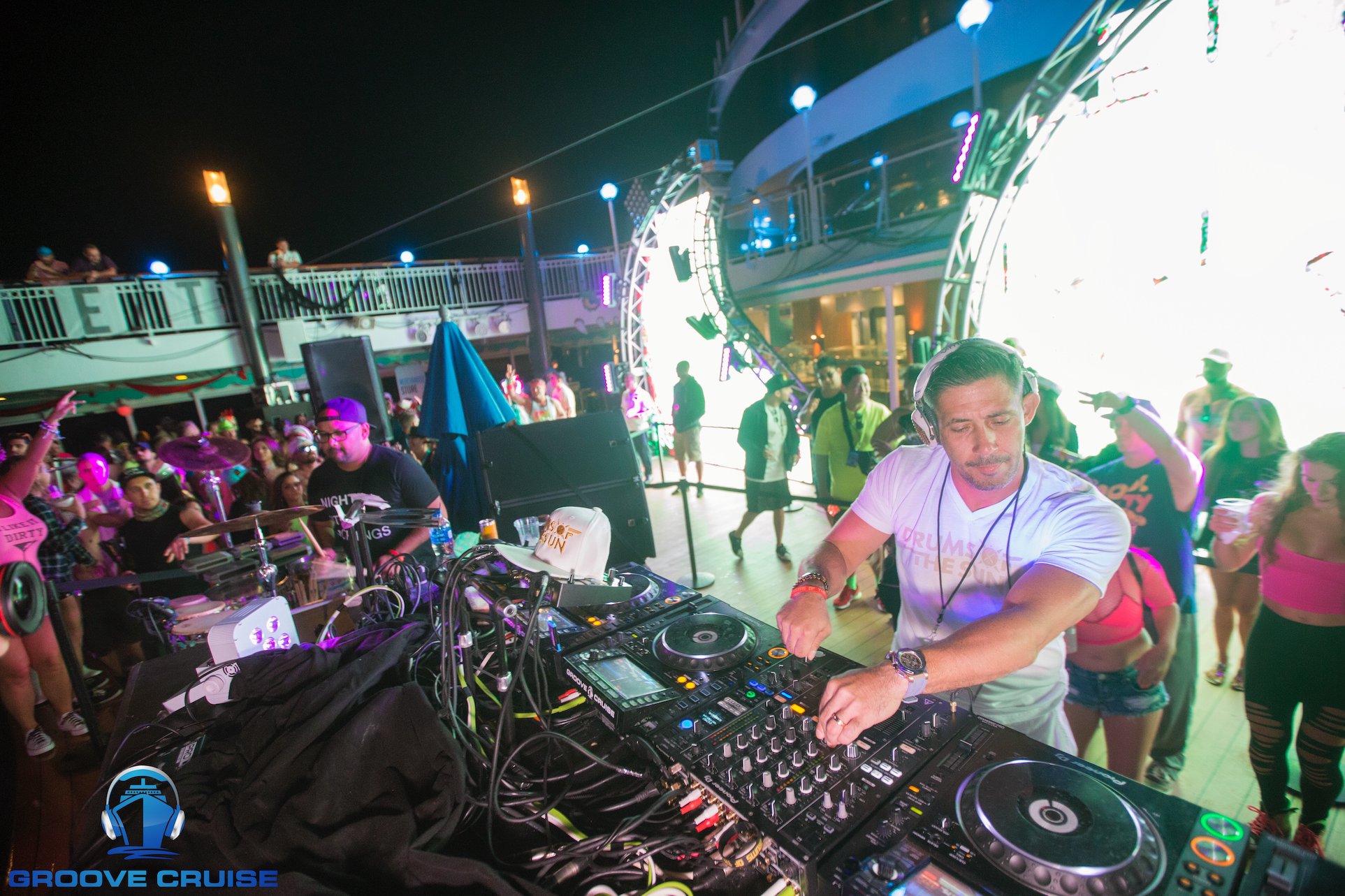 Closing out the Great Outdoors stage, Adam Scott played a Dash Berlin tribute set that became the highlight of my entire Groove Cruise trip.
Unfortunately, Dash Berlin, now going by his real name of Jeffrey Sutorius, was scheduled to play on Groove Cruise Cabo but couldn't make it due to the current legal battle he is enveloped in. Many attendees were disappointed by this, so Adam Scott played a tribute set packed with all of the Dash Berlin classics and favorites. I cried a lot as memories flooded back and I reminisced on what an amazing trip this had been. The back deck was the most packed it had been for the entire trip. There were a lot of Dashers out there to show their support!
The night continued to get better as I finished my Groove Cruise experience with everyone on the pool deck for the classics closing sets.
Offaiah, also known as Michael Woods, played an amazing set and got everyone dancing. For the first time ever, I was able to see Green Velvet and he killed it! His set was the perfect way to end Groove Cruise as he dropped some of his best tracks including "La La Land" on stage in a costume from the movie The Incredibles. Only on Groove Cruise will you catch artists playing their hearts out in costumes all weekend. Looking back, I missed some artists I really wanted to see such as Doc Brown and Bryan Lubliner, however, with so many sets, so much fun, dancing, and little sleep, it's hard to catch everything.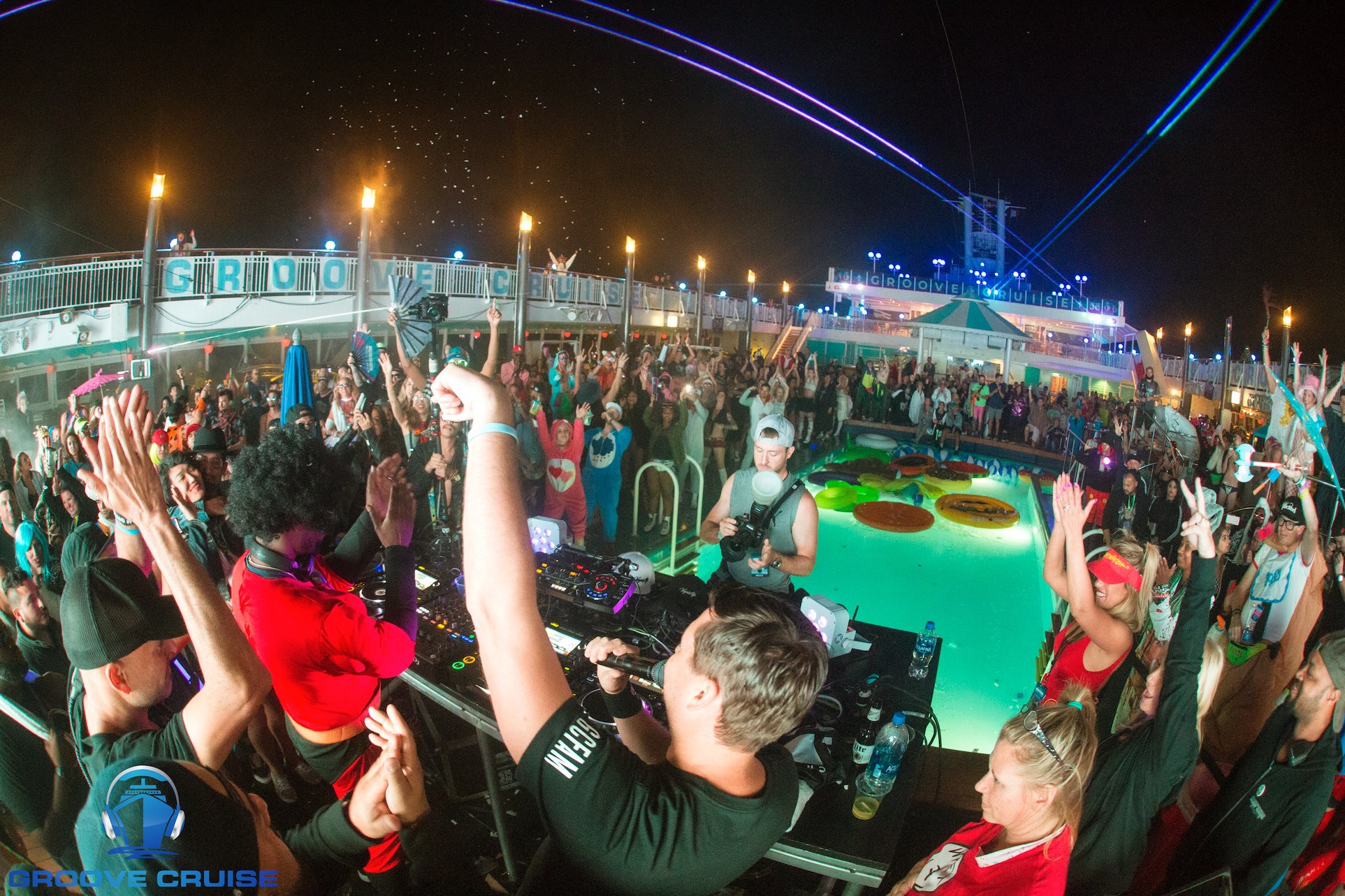 Groove Cruise is the only electronic music event that when you leave you have truly become part of a new family.
It's true and it's one of the main reasons I keep going on Groove Cruise year after year. The GC FAM is made up of some of the most beautiful people I've ever met in my life, and I feel so lucky to have been able to become a part of it six years ago. Despite the logistics issues, the changing of sailing destinations, the messed up schedule due to both of those things, and any other minor things, I had the time of my life on this 30th sailing of Groove Cruise just like I always do. Groove Cruise is so much different from any other event.
As Jason Beukema would say, "The music is everywhere. It's the only event with artist-fan interaction. You'll see the artists hanging out. You'll see them at breakfast. You'll see them at lunch. Everybody's an equal here on Groove Cruise." Not only that, but there are restaurants, showers, toilets, and your bed all within minutes walking distance. It's an event where you can feel accepted no matter what; a place where you can let loose, be yourself, dress however you want, and feel like a kid again.
Groove Cruise isn't like anything you've ever seen before, and if you don't go, you're really missing out on one of the best experiences of your life.
You can still get a room on the almost sold-out sailing happening in January — Groove Cruise Miami. With headliners like Kaskade, Aly & Fila, Hot Since 82, and Markus Schulz on the lineup for the 15th Anniversary of Groove Cruise, this sailing is sure to be one of the best yet. Don't miss out on the opportunity, and save some money by using discount code 'EDMIDENTITY' when you book your room. See you onboard!
---
Connect with Groove Cruise on Social Media:
Website | Facebook | Twitter | Instagram | SoundCloud