All aboard! Groove Cruise Miami 2018 provided the #GCFAM with a brand new destination and ship for the best cruise experience yet.
---
This year, Groove Cruise Miami set sail on a new cruise line and headed to a new destination. For the past five years, we've sailed on ships from Norwegian and Carnival, however, our new adventure took us on Royal Caribbean's Enchantment of the Seas. After months of preparing for costumed theme days and being excited to see my #GCFAM, I was more than ready to head to the Port of Miami and start my adventure.
Getting onto the ship this year was a breeze for me. I thought Royal Caribbean did a great job. Unfortunately, people who purchased the Whet Express pass for faster boarding did not seem to have a good experience with early boarding. However, Whet Travel was very accommodating to those guests that did not feel the pass was worth it which proves how awesome the team is.
Once on board, everyone headed to the pool deck to enjoy the sun and beautiful Miami skyline.
There, DJ Adam Scott was playing my most anticipated set of the weekend: EuroDance Classics. Wow. Can I just say…nailed it? From Alice DeeJay's "Better Off Alone" to Ian Van Dahl's "Will I", his entire set was packed full of classic tracks that brought back memories and had the vibes flowing. Kristina Sky was up next and kept the momentum rolling as everyone met up to dance and say hello to each other, some having not seen each other since the last sailing of GCMIA.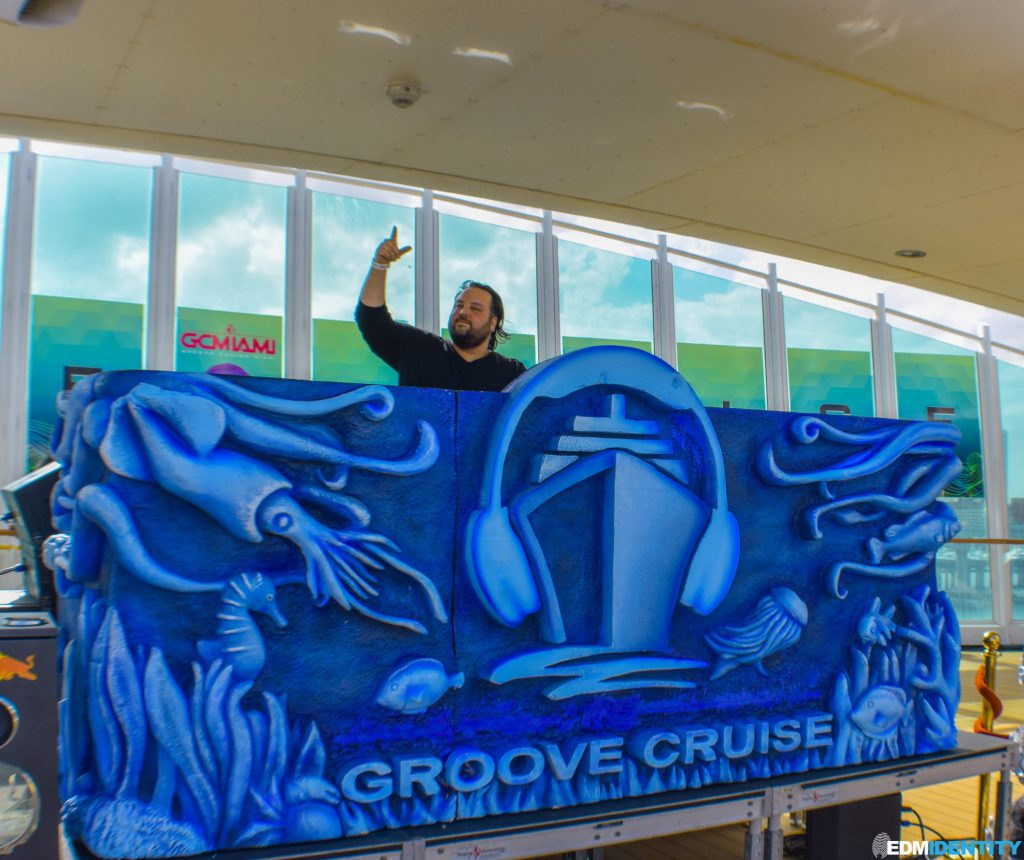 One of the best things about Groove Cruise is the family that welcomes you with no judgments and open arms for a weekend you'll never forget.
Although I hadn't seen some of my GCFAM for an entire year, it was like we'd never been apart. The atmosphere was simply spectacular just like it always is. After the mandatory Muster Drill, Dada Life hit the pool deck for the epic sailing away party, and it was completely bananas.
Unfortunately, not long after that, I began to feel extremely sick. Although it wasn't raining, it was very windy which caused the boat to sway back and forth through the huge ocean swells. In the last six years that I'd been on Groove Cruise Miami, I'd never gotten seasick until that night, and I wasn't the only one!
I tried to attend Dave Neven's set in the Atrium for a bit, where he was absolutely killing it, as well as Markus's open to close in the Theater. The warm temperature in the theater was pretty unbearable, and I couldn't get over feeling nauseous, even with Dramamine, so I ended up going to sleep after getting sick twice and missing most of the first night.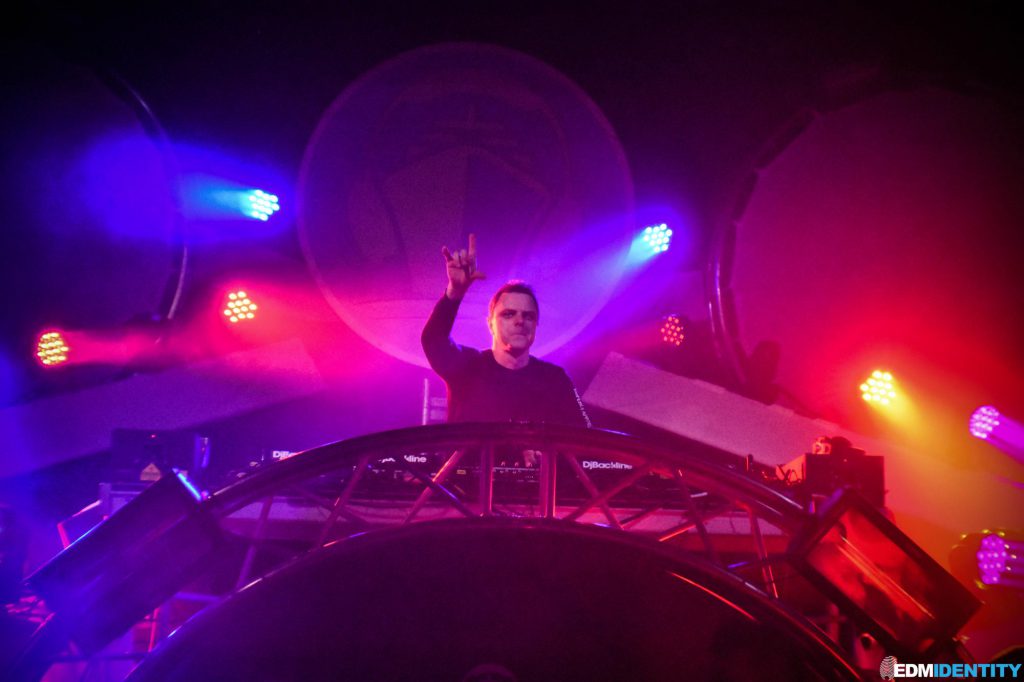 The following day we found out that we would not be able to tender over to the island of CocoCay due to the weather.
The sets that were supposed to be played on the beach were moved around to different areas of the ship. On the pool deck, Kristina Sky, Ilan Bluestone b2b Jason Ross, and Cosmic Gate with Emma Hewitt were all sets that I thoroughly enjoyed. Shiba San played a great set too at Basement Leak on the pool deck. Dancetronauts and Lavelle vs Kristina Sky were sets that I hit up next, both proving to be quite awesome.
The Deck of Denial stage was hosted in the Viking Lounge, which was an extra cost for those looking to attend.
I was extremely disappointed when I found out that Deck of Denial for both Friday and Saturday nights would be an extra charge. I hope that Whet Travel takes attendees' opinions seriously on this. Everyone paid money to be on the boat thinking that all the music onboard would be included.
Charging extra for it simply isn't something that I feel is the "Groove Cruise Way". It splits up friends, not allowing people who may have spent time together to do so. I just don't think this is what Groove Cruise Miami is about, and many attendees felt nickel and dimed because of this as well. Even worse, people who hadn't paid extra were getting in for free which made people feel as if they had wasted money purchasing the Deck of Denial passes.
That being said, I did attend Deck of Denial and the intimacy of the stage is something I can admit that I enjoyed. It was as if the artists were playing in the middle of the crowd. There was a small dance floor, and the artists looked as if they were having a great time. Markus Schulz, Cosmic Gate, and Nifra all killed it!
Being the huge Trance fan that I am, there was no way I was missing trance classics in the Casino.
Adam Scott's trance classics set ended up being my second favorite set of the weekend, my favorite being his EuroDance set from earlier. Packed full of great tracks, everyone in the casino danced and sang their hearts out. My only complaint about the casino was the small bar where service was slow and the temperature inside which made it extremely hot. Dancing in a onesie for the theme for that night in hot temperatures is not comfortable. Though it was hot, the great vibes and awesome music made up for it!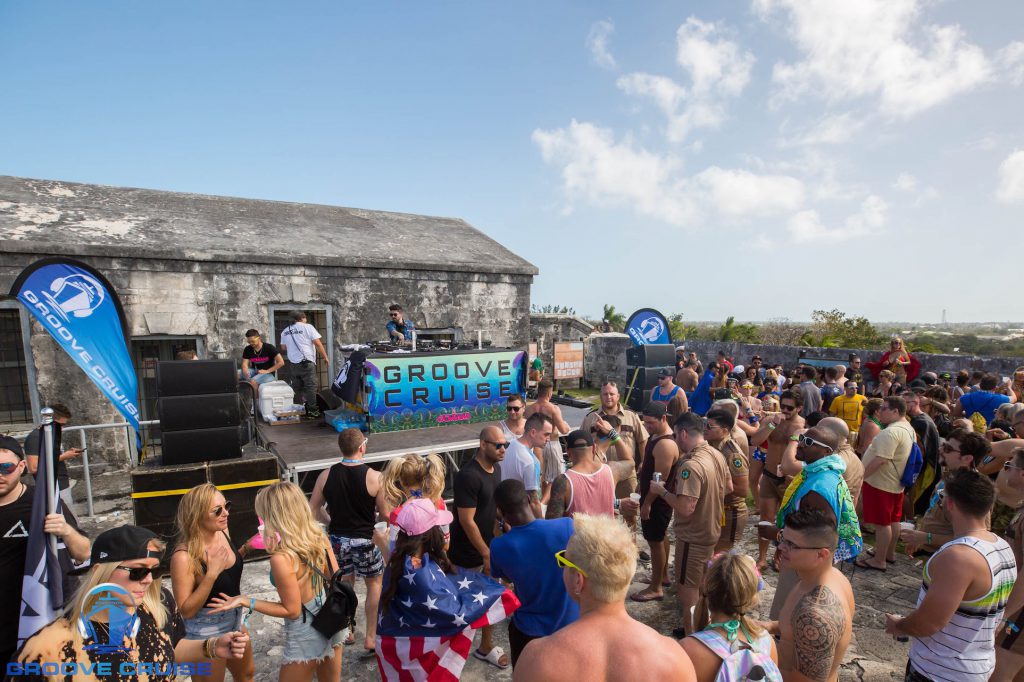 The next day, it was time to wake up and head to Fort Charlotte after the ship docked in Nassau, Bahamas.
Here, Groove Cruise Miami put on a seriously dope party in a historical fort. With an underground stage in caves and awesome music from various artists, this party had to be one of the coolest parties ever to be thrown. There was only one downside, which was that the all-inclusive alcohol package that was offered while onboard the ship did not count here. On top of that, there was no way to purchase any alcohol at all without purchasing a mandatory $60 package just for the fort. This disappointed me as well, and I think that everyone would have appreciated at least having a bar to purchase drinks at.
We decided to leave the fort and enjoy Nassau, hitting up Señor Frogs to have some drinks on the way back to the port. This adventure was a blast. Adam Scott even took over the decks inside the restaurant where they were playing hip-hop, and my crew created our own dance floor. After that, we all headed back to the ship to enjoy that night's festivities.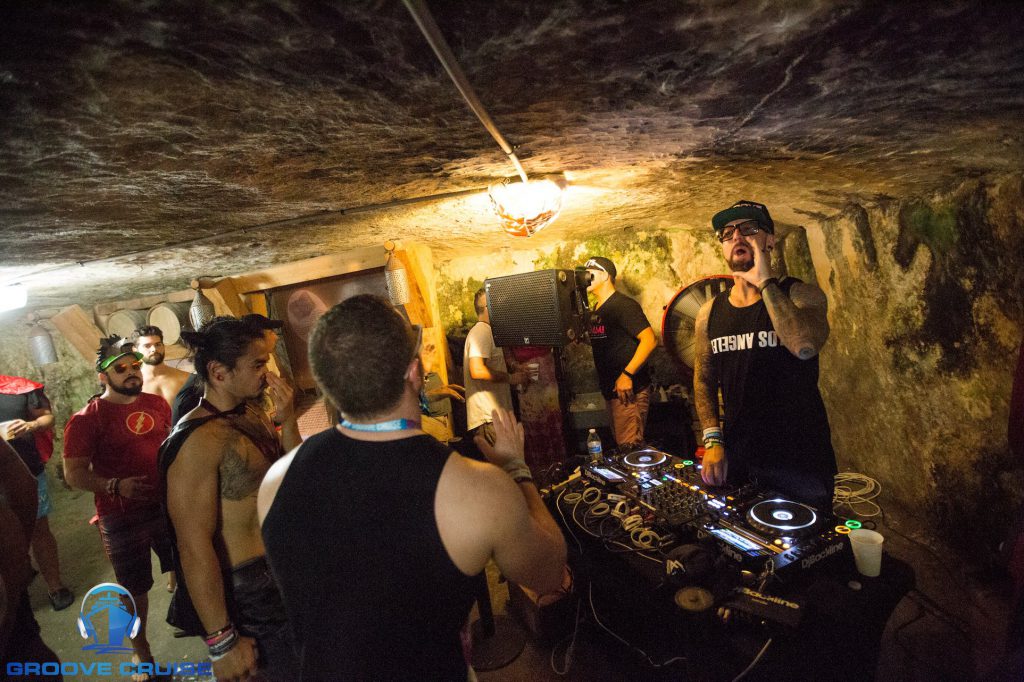 There were tons of great sets on Sunday night as everyone danced around in their gold themed costumes.
The Coldharbour Recordings stage in the Viking Lounge and the Anjunabeats stage in the Theater were off the charts. I adventured more into the Solarium area on Sunday night too where the ceiling was covered, but transparent, with hot tubs underneath. Inside, there were huge inflated igloos with pillows and sheets in the middle where you could lay and chill out while listening to tunes. I thought this was a pretty neat touch and hope to see this again next year.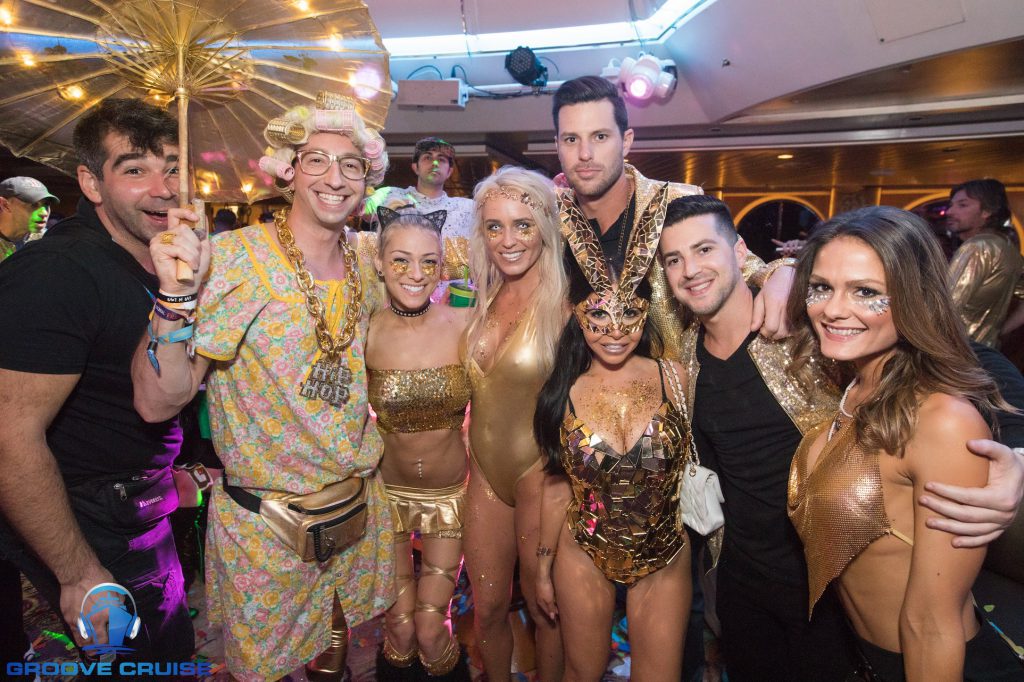 Overall, I had a blast on Groove Cruise Miami despite some small disappointments along the way.
The music, the extra activities with artists like playing Twister with Grube & Hovsepian, and the beautiful Bahamas made for an awesome experience this year. But to be honest, I don't go for the cruise line, the ship, or even the destination. I go for the people, and the people were just as amazing as they have been every year.
For me, Groove Cruise is all about spending time dancing and listening to music with your friends, and no matter what ship you sail out on, you know that the Groove Cruise family is going to make the experience an epic one.
Thank you for all the memories #GCFAM, and I hope to see anyone reading this who hasn't been yet on-board for Groove Cruise Miami next year!
---
Connect with Groove Cruise on Social Media:
Website | Facebook | Twitter | Instagram | SoundCloud