Just as the holiday season is about to start Gem and Jam has announced some incredible additions in their phase two lineup!
---
There are just a couple of months until Gem and Jam Festival makes it's highly anticipated return to the Pima County Fairgrounds. After taking a hiatus last year, Gem and Jam promised to return better than ever and so far they're really delivering on that promise. The festival's first lineup announcement came with a fantastic base of headliners and this second wave of announcements really brings it all together.
The first and most striking addition is the Gem & Jam Grateful Dead Tribute featuring Michael Travis, Jason Hann, Eric Krasno, Mihali Savoulidis, Reed Mathis, and Todd Stoops. If you love those psychedelic vibes and have an appreciation for The Grateful Dead this will not be a set you want to miss. Former Pretty Lights producer, Michael Menert will be bringing his variety of electronica, nu-jazz, and trip-hop to the stage as well. Among the array of more than 25 artists added include Pink Talking Fish, Albert Huxley, Atom and so many other diverse artists.
This is always one of my favorite festivals for the music, the vibe, and the community. It's always during the same week as one of the largest gem conventions in Tuscon and they'll have shuttles to downtown and back again. The variety of artists really sets you outside your normal comfort zone and opens you up to a world of live and electronic music blends that will have you smiling the whole weekend.
Tickets for Gem and Jam 2020 are still on sale now via SeeTickets.us with prices starting at $159. Are you planning on camping? Let us know in the comments below!
---
Gem and Jam Festival 2020 – Phase 2 Lineup: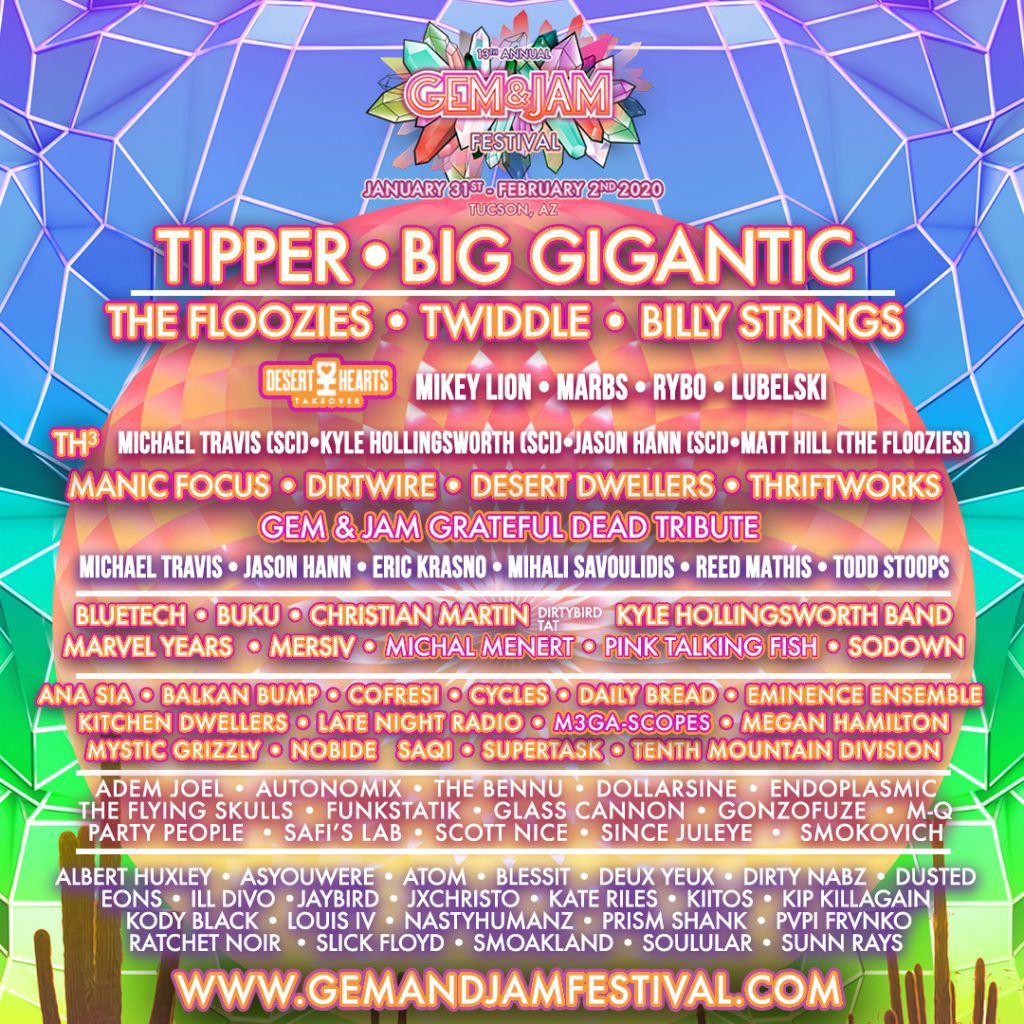 ---
Gem and Jam Festival 2020 – Phase 2 Lineup By Artist:
Tipper
Big Gigantic
The Floozies
Gem & Jam Grateful Dead Tribute**
Twiddle
Billy Strings
Mikey Lion
Rybo
Lubelski
Michael Travis
Kyle Hollingsworth
Jason Hann
Matt Hill (The Floozies)
Manic Focus
Dirtwire
Desert Dwellers
Thriftworks
Bluetech
Buku
Christian Martin
Kyle Hollingsworth Band
Marvel Years
Mersiv
SoDown
Ana Sia
Balkan Bump
Confresi
Cycles
Daily Bread
Eminence Ensemble
Kitchen Dwellers
Late Night Radio
Megan Hamilton
Mystic Grizzly
Nobide
Saqi
Supertask
Tenth Mountain Division
Adem Joel
Autonomix
The Bennu
Dollarsine
Endoplasmic
The Flying Skulls
Funkstatik
Glass Cannon
Gonzofuze
M-Q
Party People
Safi's Lab
Scott Nice
Since Juleye
Smokovich
Michael Travis
Jason Hann
Eric Krasno
Michal Menert**
Pink Talking Fish**
M3GA-SCOPES**
Albert Huxley**
Asyouwere**
Atom**
Blessit**
Deuz Yeux**
Dirty Nabz**
Dusted**
Eons**
Ill Divo**
Jaybird**
JXCHRISTO**
Kate Riles**
Kiitos**
Kip Killagain**
Kody Black**
Louis IV**
Nastyhumanz**
Prism Shank**
PVPI FRVNKO**
Ratchet Noir
Slick Floyd**
Smoakland**
Soulular**
Sunn Rays**
+ More to be announced!
** denotes added in Phase Two
---
Connect with Gem & Jam Festival on Social Media: