My first event with the DC AnjunaFamily was filled with great vibes and amazing music from Above & Beyond and Tinlicker!
---
If you've read my articles published here, you'll know that I'm a die-hard bass music fan. The weirder, the better. What if I told you, though, that I grew to love EDM throughout high school because of artists like Armin Van Buuren and Martin Garrix? My love of bass music didn't take hold until 2018 when I discovered some of my favorites like Excision and Ganja White Night. Now, older and wiser with a renewed passion for trance and big room, I decided to buy tickets to Above & Beyond and Tinlicker at Echostage and spend a night with the DC AnjunaFamily. What followed was nothing but magic.
Although this was my first Anjuna event I had a brief introduction at Electric Forest earlier this year.
On Sunday of Electric Forest this past year, I was in rough shape. Three days in the sun and a mind-melting Bassnectar set the night before had left me exhausted, dehydrated, and badly in need of a detox set. My friends wanted to see Luttrell, so I tagged along. It ended up being the perfect way to start the day, with his dreamy soundscapes bringing me back to life.
While the crowd was definitely on the thinner side due to the early set time, I quickly gained a sense of love and familiarity from them. I watched my friend Kasey meet a complete stranger and come back with an Atlanta AnjunaFamily bracelet, gushing about her newfound friend. It seemed like a really tight-knit community, and I wanted to learn more.
I quickly got that same vibe from the DC AnjunaFamily when I met up with them for the show at Echostage.
I met up with some friends before the show and made it inside in time to catch the second half of Tinlicker. The place was already packed wall to wall! I noticed right away, though, that the crowd shared the same love and energy I had seen from the crowd at Electric Forest. Everyone remained respectful of each other's space while dancing and having a great time! They had some awesome music to dance to, as Tinlicker played a great set and closed with my personal favorite, their remix of Alt-J's "Breezeblocks".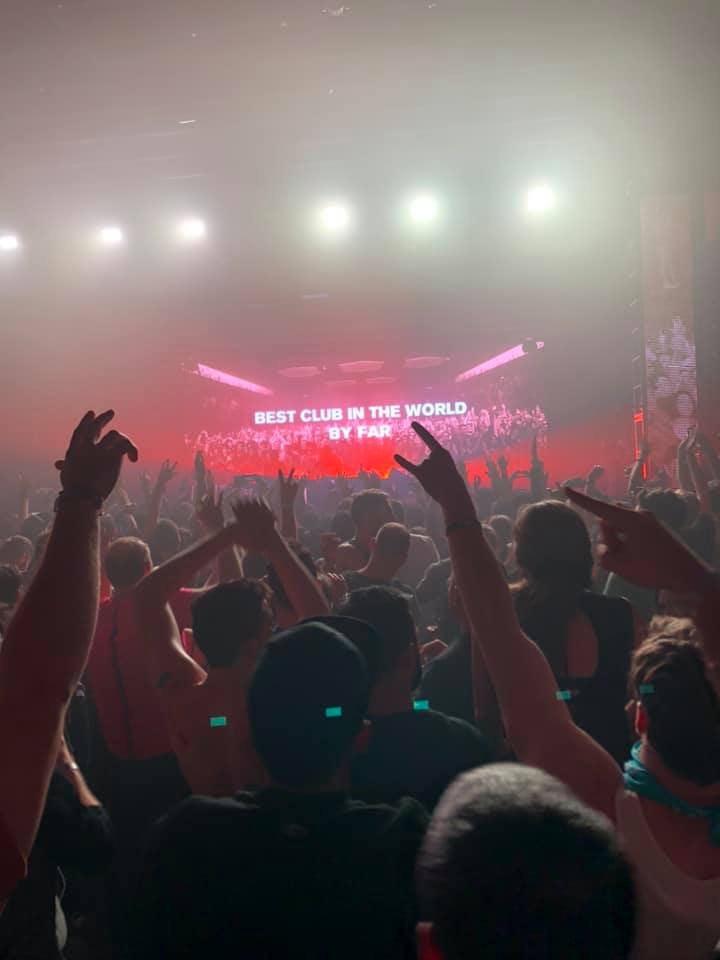 Jono came on first and warmed up the crowd with some deep grooves before Tony joined him on stage.
As Jono Grant got the AnjunaFamily moving, many fans spotted a familiar face waiting in the wings: Tony McGuinness joined in the fun shortly thereafter as the two proceeded to lay down some absolute stunners, including another one of my favorites from them, "Bittersweet and Blue". The production system at Echostage is one of the best on the east coast, and it served Above & Beyond very well.
As the duo dropped "Voltage Control" by Andrew Bayer, a flurry of rainbow lasers cascaded among the entire venue. They ended with two of their most popular anthems in "Northern Soul" and "Thing Called Love", invoking a bit of a big-room vibe as CO2 cannons blasted over the closing tracks. They even left us with a pretty hefty superlative!
Overall, I couldn't have asked for a better welcome into the AnjunaFamily.
I loved the vibes and the music so much that I just couldn't stay away! I'm already planning my next Anjuna show, which could be as soon as this Friday when Andrew Bayer comes to DC! I've had Above & Beyond on repeat since the show and I'm already counting down the days until I get to see them again. Next stop: ABGT 400, wherever (and whenever) that is…
---
Connect with Above & Beyond on Social Media:
Website | Facebook | Twitter | Instagram | SoundCloud | YouTube