Gem and Jam Festival will be returning in 2020 and has announced a flurry of fantastic acts who will be taking the stage on their phase one lineup!
---
After taking a short hiatus last year in 2019, one of our favorite Arizona festivals, Gem & Jam, is ready to return for another round. The 13th edition of this music, art, gem, and mineral themed festival will once again take place at the Pima County Fairgrounds when it returns in 2020. The three-day event will take place January 31 – February 2 once again parallel to the Tuscon Winter Gem Show!
Slowly but surely the festival organizers dropped the first offering of artists who will be performing over the weekend and it is already packed with some quality talent that will draw crowds. Tipper will undoubtedly bring a visual masterpiece alongside his bass-fueled trip/glitch-hop signature sound. While Big Gigantic is sure to stun us with his ever beautiful saxophone skills.
Related: Want to see how the previous edition of Gem and Jam went down? Check out our favorite things from the 2018 edition!
Also joining these headliners will be the Desert Hearts Crew members, Mikey Lion, Marbs, Rybo, and Lubleski, ready to throw down all the techno, house, and love. Whether you're looking for drum and bass, experimental, or just some jams to vibe out to, this first announcement has got you covered.
Tickets for Gem and Jam 2020 are on sale now via SeeTickets.us with prices starting at $159. Grab your passes now and let us know if you'll be attending in the comments!
---
Gem and Jam Festival 2020 – Phase 1 Lineup: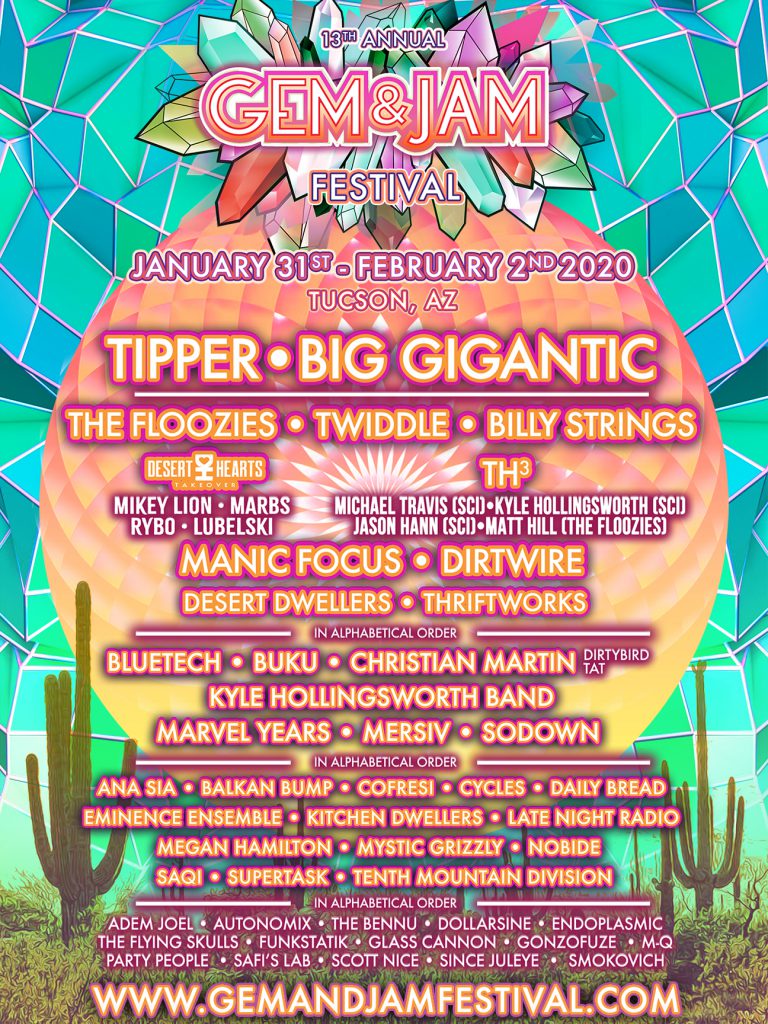 ---
Gem and Jam Festival 2020 – Phase 1 Lineup By Artist:
Tipper
Big Gigantic
The Floozies
Twiddle
Billy Strings
Mikey Lion
Rybo
Lubelski
Michael Travis
Kyle Hollingsworth
Jason Hann
Matt Hill (The Floozies)
Manic Focus
Dirtwire
Desert Dwellers
Thriftworks
Bluetech
Buku
Christian Martin
Kyle Hollingsworth Band
Marvel Years
Mersiv
SoDown
Ana Sia
Balkan Bump
Confresi
Cycles
Daily Bread
Eminence Ensemble
Kitchen Dwellers
Late Night Radio
Megan Hamilton
Mystic Grizzly
Nobide
Saqi
Supertask
Tenth Mountain Division
Adem Joel
Autonomix
The Bennu
Dollarsine
Endoplasmic
The Flying Skulls
Funkstatik
Glass Cannon
Gonzofuze
M-Q
Party People
Safi's Lab
Scott Nice
Since Juleye
Smokovich
+ More to be announced!
---
Connect with Gem & Jam Festival on Social Media: