With the expansion of the festival grounds and additional day, EDC Orlando proved to be one of the best ways to end the festival season this year.
---
As someone who has attended nearly every festival that Insomniac has thrown in the United States, EDC Orlando was always one that alluded me. Whether it was a lack of people to take the trip across the country with me, being short on some money at the time, or its proximity to Escape: Psycho Circus, I had never been able to make the trip to Orlando to check it out.
This year, after the announcement that the festival would be expanding to add a third day, I decided that the time might be right for me to attend. I thought to myself that an extra day and expanded venue would definitely make the trek more worth it and when Insomniac delivered a stellar lineup on top of that, it pushed me over the edge. From there, the planning commenced as I searched for some flights.
It's always exciting to experience a festival for the first time and EDC Orlando would be no different.
After getting my bearings for a few days in town and exploring the city a bit, I was ready to get to dancing on the first day of the festival. Arriving early so we had ample time to explore the grounds before the crowds began to show up, we were inside the festival in a quick and painless manner.
Once I was inside the exploration began as Christopher and I toured the grounds and began to plot the new (and improved) layout. I enjoyed how spread out the stages were because it typically led to little to no sound bleed. The closeness of kineticFIELD and neonGARDEN did cause some sound bleed to occur, but it was easily fixed by simply moving closer to the tent or deeper into the field.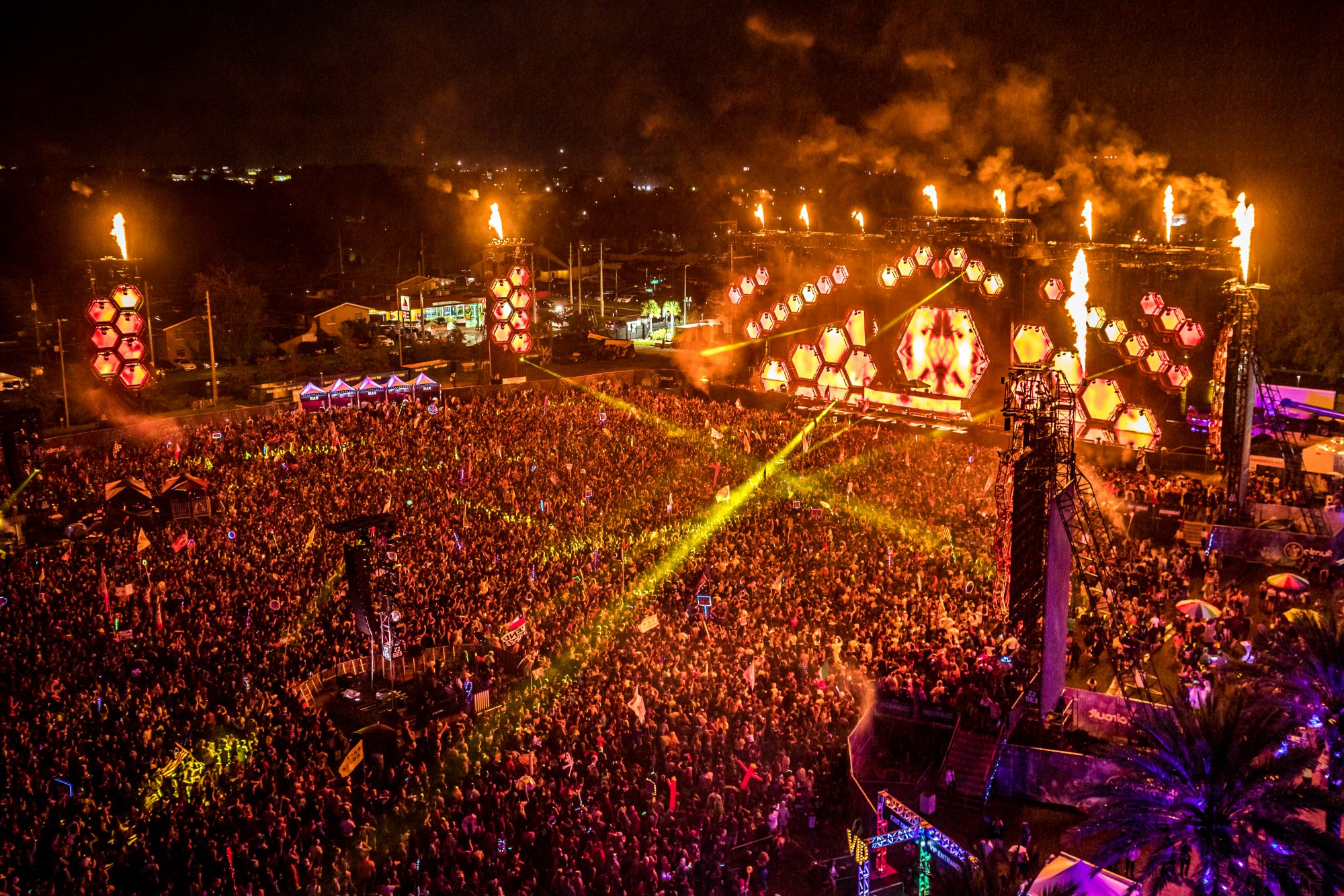 Even though EDC Orlando increased in size, I also appreciated that it only took a few minutes to get from stage to stage.
If I wasn't vibing with a set I could easily leave and not miss much on the way to a different one. The lengthiest trek was between circuitGROUNDS and neonGARDEN but it never caused much of an issue for me, aside from a few tough decisions to make on the last day of the festival.
Speaking of the stages, the kineticFIELD and stereoBLOOM stages were practically identical to their counterparts at EDC Las Vegas. The neonGARDEN stages was housed in a tent and once it was dark out it provided an escape from the festival where if you were deep enough in the crowd you could almost imagine it was a hot, sweaty, packed club instead. As for the circuitGROUNDS stage, that one may have been my favorite of the bunch with its panels and the powerful lasers it emitted during some of my favorite sets, but more on that later.
I was also stoked to see that Insomniac brought the Wide Awake Art Car, the Pixel Forest, and plenty of art pieces that previously had a home at EDC Las Vegas.
I actually preferred the new layout of the Pixel Forest more than the one I experienced in May and the entire area felt more immersive. The art cars gave headliners some extra beats to dance to all weekend long with a lineup curated by mau5trap along with some slots for rising stars in the scene as well.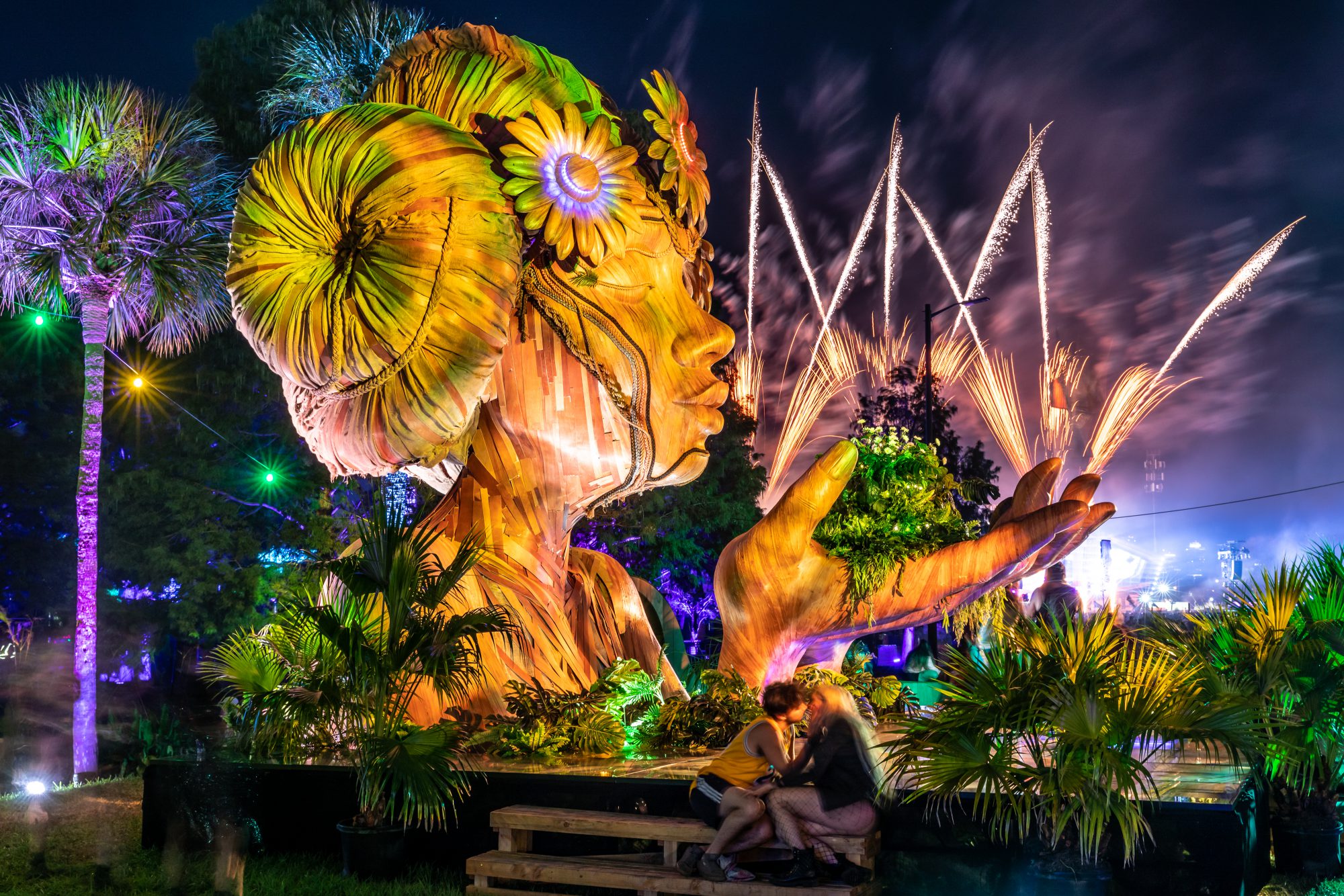 It wouldn't be the Electric Daisy Carnival without some rides and tasty food items to grub down on.
Even if I am terrified of them and didn't go on any myself, the lines for the Ferris Wheel and other rides were almost always packed with headliners looking for a thrill. There was also a healthy number of options when it came to what to eat inside. Of course, I gravitated toward the Grilled Cheese food truck a few times for good measure, you know, just to check on the consistency of their service.
Drink prices were fairly standard compared to any other Insomniac-hosted event I've been to, so expect to have some extra money saved up if you plan to grab a few beers or cocktails. The free water was easily accessible and also predominately free of lines whenever I passed by as well.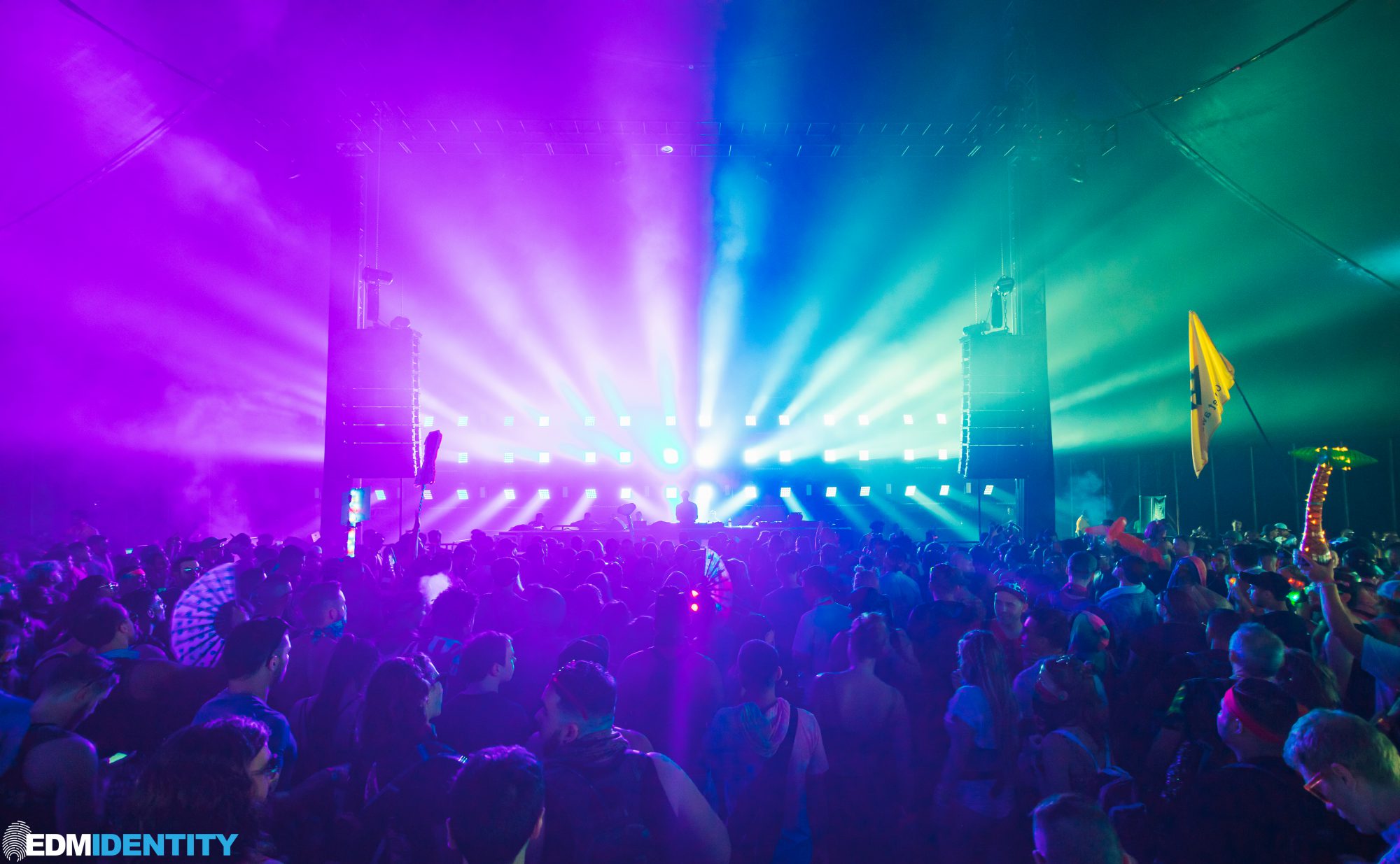 When Insomniac says an event is guaranteed to happen "rain or shine," they mean it.
The downpour of rain on Friday would've soured the mood if it wasn't for the fact that the artists playing continued to absolutely dominate their sets. It did highlight the lack of coverage that you could hide under throughout the entire venue, so perhaps adding some extra structures would help in the future.
Inevitably, attendees either braved the rain, flocked to the neonGARDEN tent, or simply left entirely when they had enough of being wet. Personally, some of my fondest moments at festivals have come from braving the elements so getting drenched was well worth it. I'd even say that the rain made the event better for me because it gave me the full spectrum of how quickly the weather can change in Orlando.
My own interaction with other attendees always was positive and it was clear that PLUR was very much present at the festival.
Don't let the reports of theft sway your thoughts on how the rest of the crowd really was at EDC Orlando this year. While it is terrible that people like this continue to show up to events and steal from others, they are only a small portion of the festival and don't indicate the vibe that was really present.
I never encountered anyone, attendee or staff, who was rude or causing a serious issue that would be concerning. There were numerous conversations struck up between myself and others about artists and the festival itself, kandi was being traded, people were dancing away, and it seemed as if most everyone was happy. Granted, some people may have been a bit grumpy because of the rain, I didn't attend a ton of bass sets, and I always stuck towards the back of the crowd, so as always, your mileage may vary.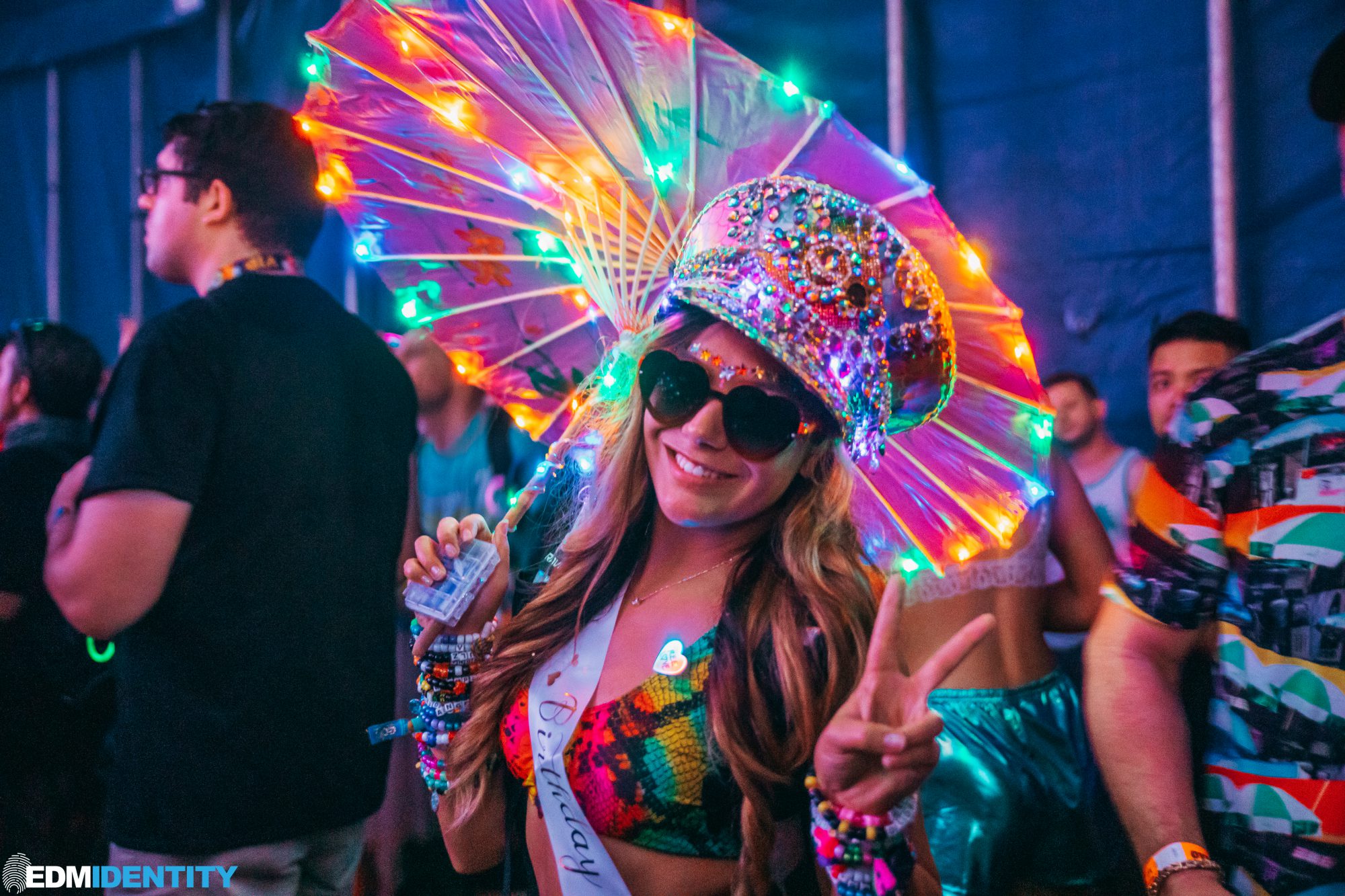 With such a packed lineup filled with talented artists, who were some of the ones that stood out the most?
The first day of the festival provided plenty of quality sets to dance during, even if Mother Nature wasn't playing nicely. Due to the rain (and my love for house and techno) a good portion of the day was spent at the neonGARDEN. Yotto stole the show on that lineup for me, but I was also left impressed by Tiga b2b DJ Tennis and Loco Dice. I willingly stood in the rain for Kaskade and deadmau5, both of whom delivered some solid performances as well.
Day two brought better weather and a number of conflicts, so I found myself bouncing between sets often. It all began with some vibes from EDX and i_o at kineticFIELD before touching down at stereoBLOOM for OFFAIAH and VNSSA. From there I caught some of Bart Skils, Julian Gray, and Callie Reiff before heading over to techno goddess ANNA. Wanting to wander, I found a home at No Mana's set which was one of my favorite from the entire weekend and then I finished off the night with Enrico Sangiuliano and Above & Beyond.
The vibes continued to roll on during the third day of EDC Orlando with even more artists that kept me dancing the entire time. Solardo, CamelPhat, and the first part of Gorgon City were absolutely fantastic. Over at circuitGROUNDS, I got down and dirty to some Nora En Pure and Chris Lake before catching some trance vibes with John Askew and satiated a bass craving by catching RL Grime. But the prize of the night has to go to Eric Prydz and ZHU who both brought some serious heat to the stage.
Reflecting on the weekend as a whole, I felt that making the trek from coast to coast was entirely worth it.
Although I hadn't attended previous iterations of EDC Orlando, I'm glad that I made the decision to go this year. It was a breath of fresh air to experience something brand new and make some new friends along the way. While there is no way you could compare it to something as grandiose as EDC Las Vegas, I feel that Insomniac has proven that they're dedicated to the community in Orlando and I hope to see them continue to grow this festival with each passing year.
If this year was any indication of what's in store for their 10th Anniversary in 2020, then EDC Orlando is a festival that should be on your radar. With tickets for the upcoming edition already on sale and plenty of time to plan, I can't wait to see what Pasquale and the Insomniac team have up their sleeves next November.
---
Connect with EDC Orlando on Social Media: