We sat down with Breathe Carolina to chat about the release of DEADTHEALBUM, a ten-track release that's their first full length album in five years.
---
Breathe Carolina is an instantly recognizable name for music fans across several genres. With their first releases coming in 2007 and becoming a staple of Vans Warped Tour during the years after, Breathe Carolina found success making unique electronic-influenced music that touched genres like post-hardcore and electropop. Following the release of their 2014 album Savages, Breathe Carolina soon progressed to a more EDM-friendly sound and has since been welcomed into the EDM community with open arms.
DEADTHEALBUM celebrates yet another career milestone for Breathe Carolina. They've consistently released singles and EPs throughout the years, and this is their first LP while strictly producing dance music. Rather than focusing on the big drops and party atmosphere that Breathe Carolina does so well, this album brings us ten tracks with a smooth, pop feel.
What stands out most to me on DEADTHEALBUM is the way Breathe Carolina once again decides to make music that utilizes lead singer David Schmitt's vocals. There's no instrumentals or crazy festival tracks on the album. Every song is a complete production from Schmitt and Tom Cooperman that combines smooth vocals on top of a well-produced, catchy arrangement that feels right at home in today's EDM world.
We spoke with David and Tom about the album release, their favorite memories from 2019, and what lies ahead for the duo. Stream and purchase DEADTHEALBUM on all platforms and read on to get a glimpse inside the minds of Breathe Carolina!
Stream Breathe Carolina – DEADTHEALBUM on Spotify:
---
Let's start off by looking back on your transition into dance music. In what ways have you grown as artists since you first started producing the genre?
David: Definitely better producers! We're always learning and figuring out new ways to do stuff. Once you really get into dance music, you realize how many styles there are. It's cool to take and learn from other genres and different vibes. 
Tom: Another thing is, we've become much more self-sustaining. When we started getting into dance music, we really took control of everything. We took control of our business, our socials, our music, our artwork, everything. It was cool to do that and grow along the way. 
Was that part of your decision to focus more on dance music? 
D: Yes and no. We always kind of made dance music, we just sang over it. Focusing more on EDM was just a natural progression for us. We were already in that world in a weird way.
T: It didn't have much to do with the business side of it. We made the Savages album, and it went #1 on the Dance charts. We realized our sound was really dancey, so we decided to try making a dance song, and then try working with a dance label. We just evolved. We thought it was a cool thing to try, and then, labels like Armada and Ultra wanted to work with us.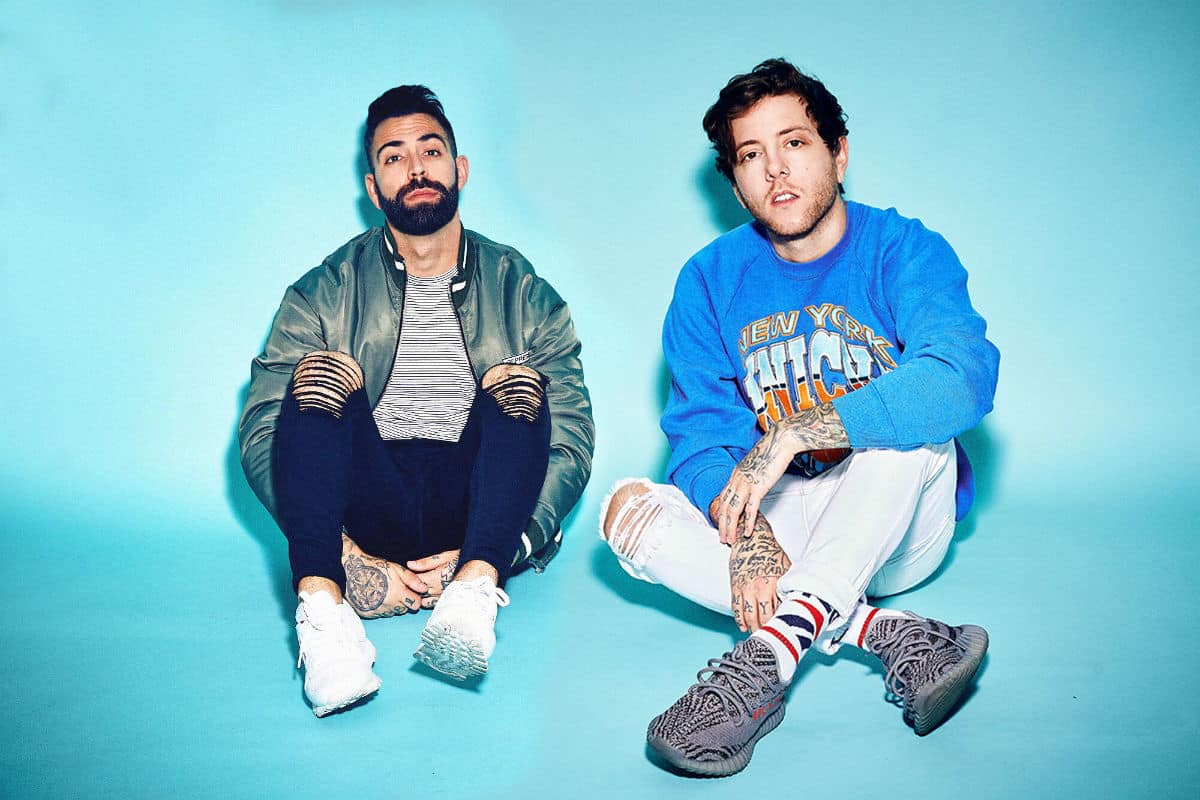 You just released DEADTHEALBUM on Spinnin' Records. What has their support meant to you throughout your career?
T: It's on Big Beat / Atlantic in America and Spinnin' in the rest of the world. They've been awesome. They were one of the first ones in the dance scene to really believe in us, and they always support us when we want to try something new.
The release was preceded by three singles: "Drive," "Like This," and "Too Good". How did you guys make the decision to once again implement David's vocals on all of these tracks?
D: We didn't really have a set decision of what we would do or whether to make a whole album. We were just in the studio one day, and I sang a song, then a few others. Once we had five, we decided it would be a whole album. 
All three tracks have a distinct, vocally driven pop feel. Can fans expect a similar vibe on the rest of DEADTHEALBUM? 
D: Everything has a similar vibe for the most part! The whole album has a really cohesive feel.
Dead: The Tour recently kicked off in Amsterdam, and next you're headed to China to celebrate the album release. You're spending New Year's Eve there too. Can you share some of your thoughts on the growing market for dance music in China? What is it like playing there?
D: I love it. The first few times you go, it can be a bit overwhelming. But we've really grown to love the people, the environment, the food, everything. They love to have a good time and party, and it's always a great time. 
When we go to China, we always know what we're gonna get. They have the most energy, they stay out super late, and it's one of the best places to party.
T: Their production is out of control too. They have the best venues. There's no place that touches China. Everywhere we've ever played there is on another level.
Along with several trips to China, you've played shows all around the world this year. What are some of your favorite memories from 2019?
D: Making the album. It was a long process coming up with all of the ideas for it, the videos, and having so much hype around one body of music. 
T: We also had a mini-tour with Bassjackers. We did like eight shows with them and called it "BreatheJackers". That was a really cool part of the year too. It was fun because Bassjackers were some of the first DJs to fuck with us at all. We actually first met when they attended one of our band's shows. We went out that night, and we've basically talked like every day since then. That was around six years ago. Now, we have three songs together, and it was awesome to go on tour with our best friends.
Following the release of the album, what does Breathe Carolina have planned for 2020 and beyond?
D: More touring and new shows! We have some acoustic versions and remix packages of DEADTHEALBUM. And we'll have a few more releases; we're still working on new music. 
T: Same old, same old, only bigger!
---
Connect with Breathe Carolina on Social Media:
Website | Facebook | Twitter | Instagram | SoundCloud