City Hearts Festival brought all of the glittery, house and techno weirdness to DTLA, but two days just wasn't enough!
---
When I heard that City Hearts Festival was making its return to DTLA I knew I couldn't miss it. As a cult follower of Desert Hearts, one of my favorites events by them was the first City Hearts Festival in 2017. It was colorful, lively, and just a little too short. After missing 2018, I thought this beautiful fest was a one-hit-wonder, but when they announced that it was returning and expanding to two days, I couldn't have been happier.
So I eagerly made a group chat, rounded up my DH family, and even convinced a few Desert Hearts virgins to experience my favorite festival scene. And when Saturday finally rolled around I packed my camera, put on my dancing boots and headed downtown to El Pueblo de Los Angeles Historical Monument.
Related: Check out the full photo gallery for City Hearts Festival on our Facebook Page!
Finding parking was rough, but short lines and security made up for that quickly.
On the first day, I planned to arrive earlier to scope out the setup and get a feel for the grounds. Parking was tricky because there was a marathon that morning on an adjacent street and workers repaving another. It seemed as though almost every surrounding street was blocked.
As I got closer to the venue, I could hear the bass thumping and the tops of art structures beginning to peak above the gates. A small tease to what I was missing. Luckily my brother was live painting the event, so he got there very early and mapped out a parking strategy for me. After circling the park a few times, I landed in a parking lot and headed to the gates.
To my surprise, there was virtually no line to go through security on either day. I have seen some grumpy festival security in my experience, but the guards moved quickly and were actually friendly. I was welcomed by the familiar charm and energy of the DH workers at the box office so checking in for my wristband was a breeze. I was in! 
Going to a music festival in the middle of a functioning city is quite the juxtaposition to Desert Hearts' other festival.
I am so used to going away to the middle of nowhere to let my freak flag fly and festivals are usually a complete 180 from my normal life. Since City Hearts Festival was just a short drive away from home it created a vibe of its own and definitely had its benefits. I loved being able to call my friends if I lost them (service is rare at most events), sleep in my own bed, upload and edit my photos, and recharge for the next day.
A festival smack-dab in the middle of the city also meant that you have all the attendees who have dressed the part, covered in rainbows and sequins (the types of people you can't double-take to get another look at) among the regular people of LA trying just to make their way to Union Station across the street.
It was pretty funny seeing the looks we were getting and even before entering I probably answered the question, "What's going on over there?" three times. After my quick explanation, I heard from one middle-aged woman say to her friends, "Ah no, that's way too much bass for me," as I walked away. Hmm… can't relate.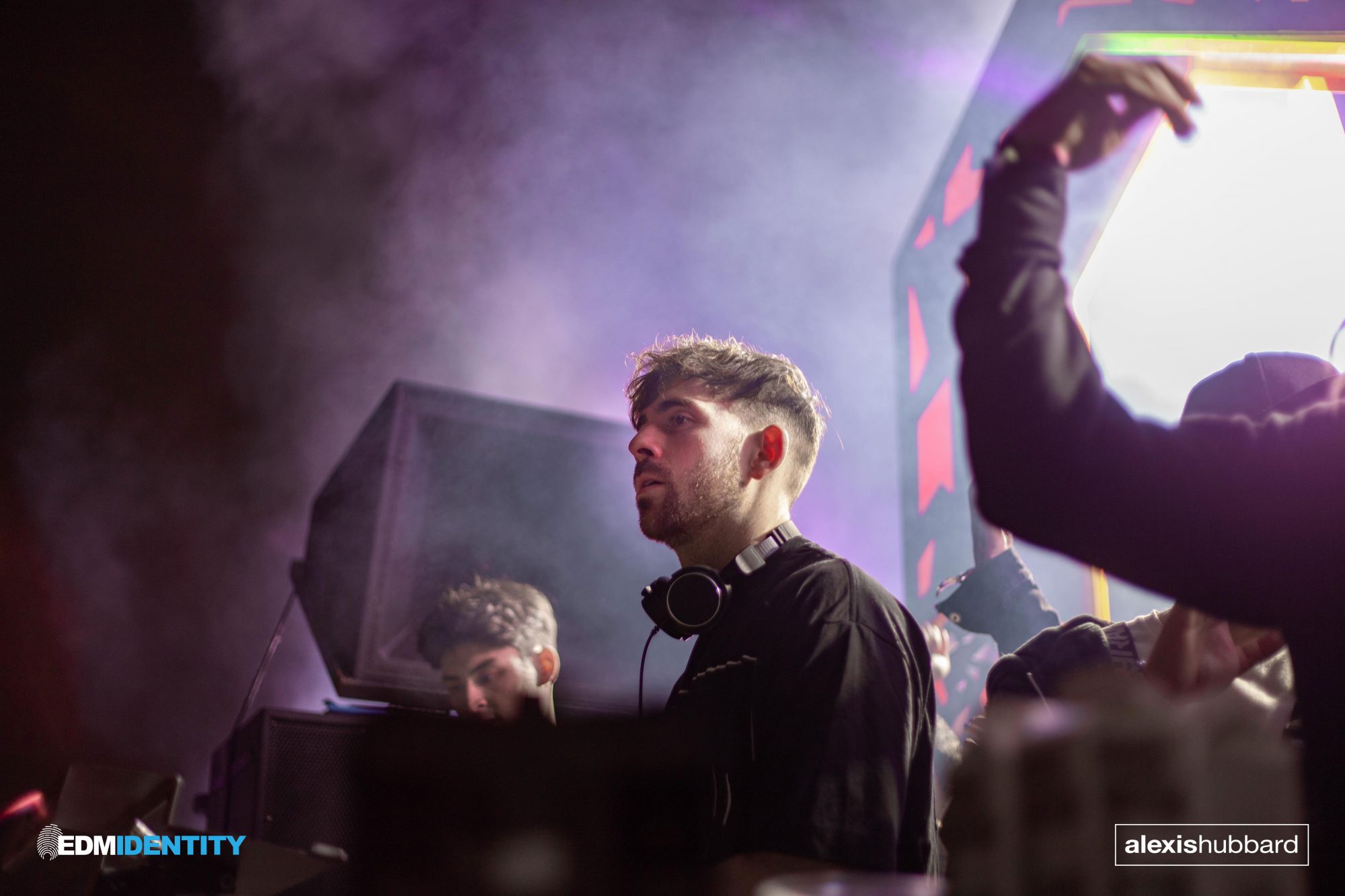 House, Techno, I loved it all.
I was blown away by the incredible music I experienced this weekend. This year each of the core Desert Hearts Crew made up of Lee Reynolds, Mikey Lion, Marbs, and Porky, teamed up with one of their favorite artists to play back to back sets with both days. I've never seen a better lineup by DH, and it was awesome to see the main crew scattered throughout both days. As a sucker for some good house and techno, I felt right at home, but there were some specific sets that majorly stood out to me.
The first set that started off my weekend on day one was Marbs B2B Evan Casey B2B Rinzen. These three are all part of DH's new label Desert Hearts Black. As they spewed dark and mysterious techno beats, the day turned into night and really set the mood for the evening. This new label is clearly making its mark and their sounds alone could hold a festival of its own.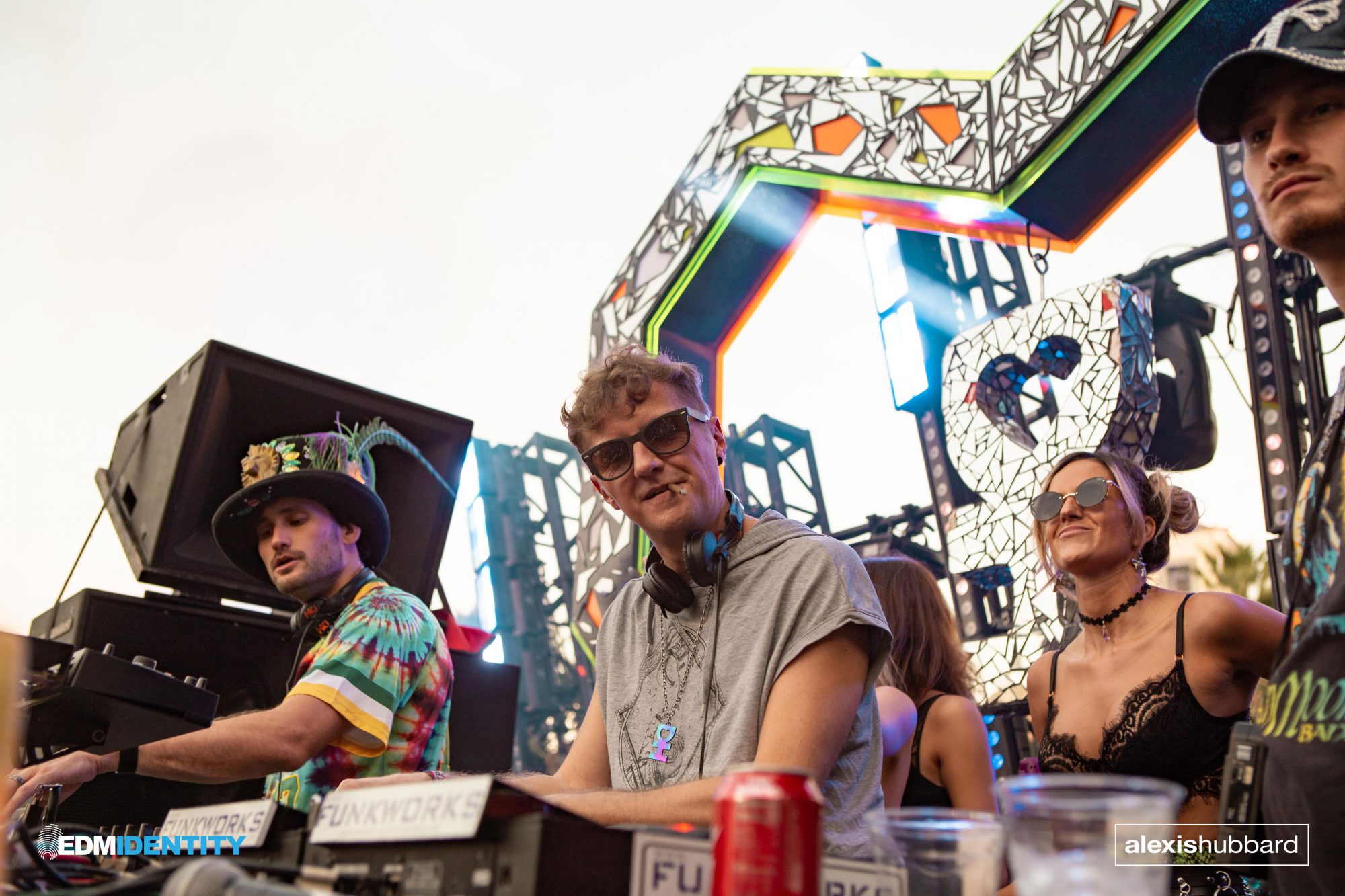 On Sunday, Andreas Henneberg B2B Mikey Lion injected the party with their infectious energy.
I have loved every set I've experienced with each of them alone so when I saw they were playing together I couldn't wait. Both legends in my eyes, these two did not disappoint. Their music set the vibe for the iconic fashion show, and no one could keep still to their beats. It was truly so much fun to watch the two play together.
Finally, my favorite set was by Patrick Topping, who closed out the weekend and absolutely killed it. His setlist was full of funky, booty-shakin' tracks including one of my favorites featuring the use of Indian vocals. It seemed as though he revived life back into everyone, just as it was time to leave the fest. I can't wait for his set to be released so I can keep reliving it!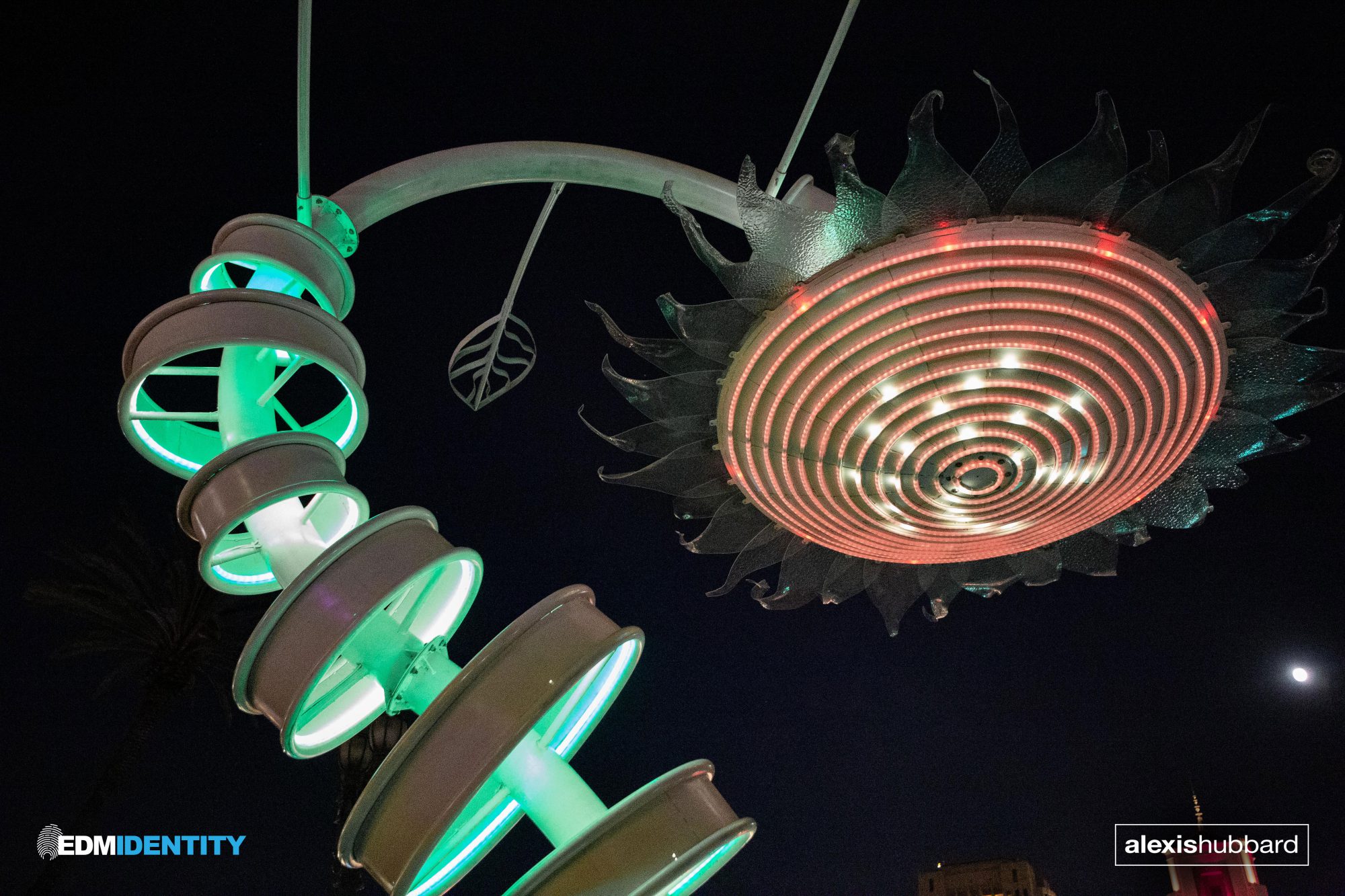 While all that dancing is what we came to do, I was happy to take a break and experience what else City Hearts Festival had to offer.
Burning Man camps Pile Palace and Savage Hearts saved the day by setting up cozy resting zones to recharge while stepping away from the chaos of the party. Lying under an inflatable rainbow surrounded by cushions and stuffed animals I met so many new people. It reminded me of why I love this community so much. It felt good to be in this familiar, uplifting, and safe environment while still in the heart of LA.
Another thing I love about Desert Hearts is their dedication to showcasing unique artists.
Their Dreamscape Collective team always brings together a carefully curated list of artists to live paint at DH events. My brother, Ian Hubbard, has been live painting his psychedelic Biomech pieces with DH for years and is actually the reason I have been to so many events with them.
I was also happy to see some larger art structures I've experienced in past events. Some of my favorites were the return of a fuzzy, bug-like platform named Byte, which makes for a perfect elevated dance floor as well as the very photogenic giant neon sunflower towering over the crowd.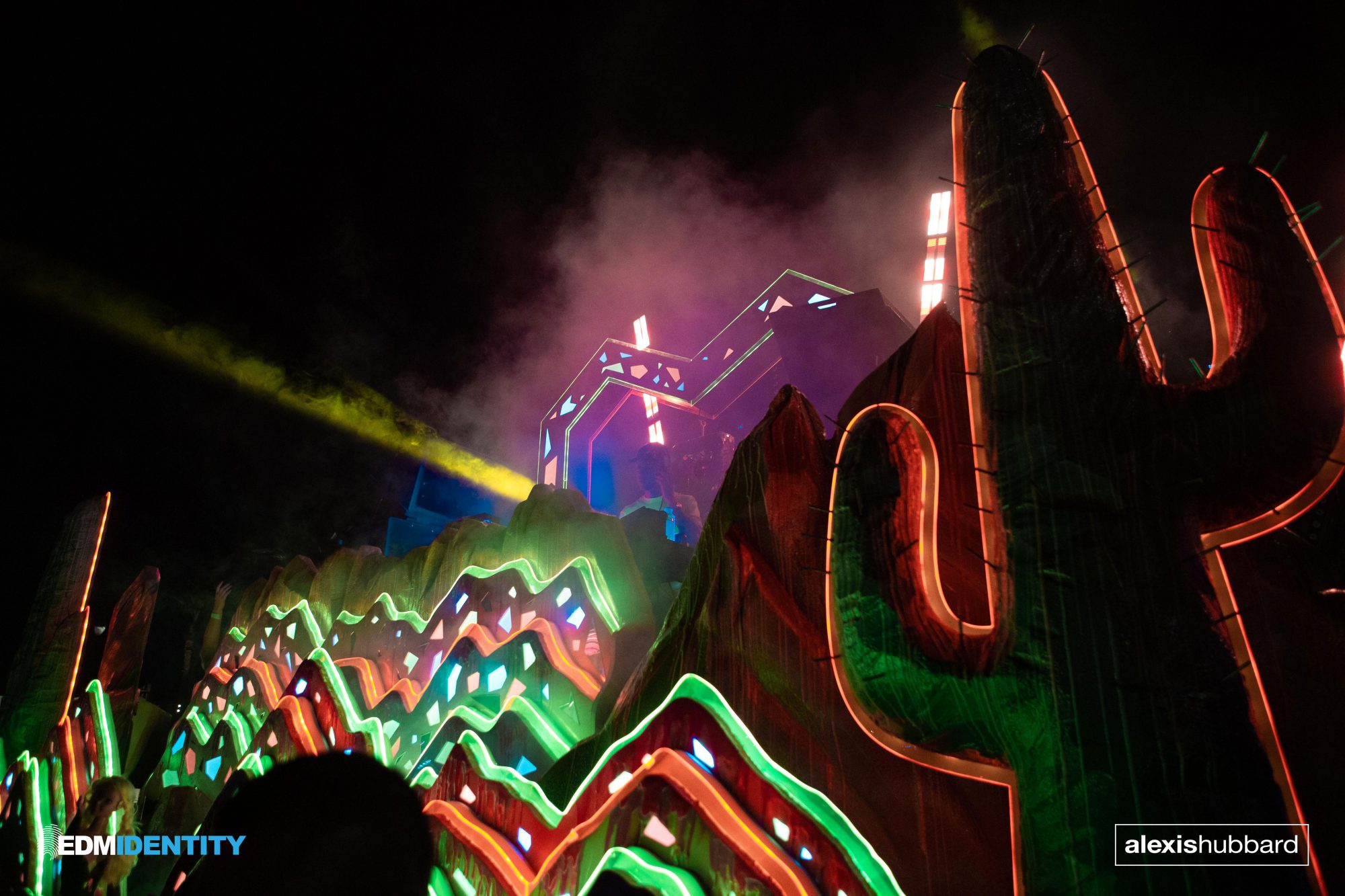 Along with the new location came a brand new stage!
From past DH events, their stages have varied from woven rope and wood structures to minimal LED hearts. But this stage absolutely blew the rest out of the water. The front was made up of two giant cacti and neon desert mountains glowing with LED lights. The backdrop was beaming with lasers along with a geometric heart and their famous disco DH. This was by far my favorite stage I've seen with them. It framed the DJs perfectly and made for some insane photos!
Dear City Hearts Festival, please don't make us wait another two years for the next!
I would definitely say that this weekend was a success and matched the rare energy I thought I could only find hidden at Desert Hearts Festival. They managed to bring a piece of the desert to the heart of Los Angeles and really created an escape from what I know downtown to be.
This festival holds its own among my favorite festivals. It's short, sweet, and packs a punch. I'm also happy to report that the new friends I introduced to this scene are hooked, and are already planning their next DH fest. I hope to see City Hearts Festival return in 2020, and maybe even as a three-day event? Crossing my fingers!
Connect with Desert Hearts on Social Media:
Website | Facebook | Twitter | Instagram | SoundCloud | YouTube