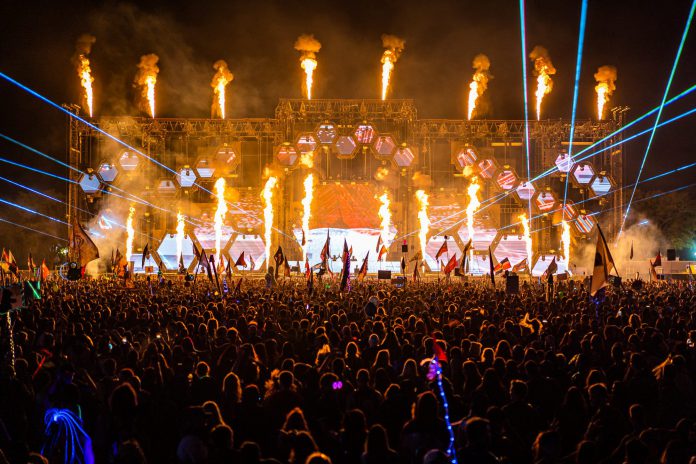 Did you have a blast at EDC Orlando this year and want to relive some moments? Miss out on some sets due to the rain? Check out these livesets!
---
EDC Orlando ruled the East Coast over the past weekend as the festival expanded the event from two to three days and increased the footprint of the grounds. Despite the rain on Friday, over 200,000 attendees made their way to the Tinker Field over the course of the weekend to experience all that the festival had to offer.
Not only did EDC Orlando feel bigger, the added day allowed for more artist performances with so many big names performing at Tinker Field than ever before. We saw epic performances from artists like Timmy Trumpet, deadmau5, Kaskade, Eric Prydz, and Excision among others.
With so many different artists, you're bound to run into a set time conflict here and there. Lucky for you, live sets from the historic 2019 edition of EDC Orlando are finding their way online. Don't forget to bookmark this page as we update all of the live sets we can find and mark your calendar because EDC Orlando will be returning in 2020 on November 13-15.
What was your favorite set from last weekend? Who surprised you the most? Let us know in the comments! Also feel free to join in on the conversation on Facebook!
EDC Orlando 2019 Livesets
---
13
SoundCloud | Mixcloud (Partial) | YouTube
---
3LAU
SoundCloud | Mixcloud (Partial) | YouTube
---
Adam Auburn
SoundCloud | Mixcloud | YouTube
---
Adventure Club b2b Bear Grillz
SoundCloud (Partial) | Mixcloud | YouTube
---
Afrojack
SoundCloud (Partial) | Mixcloud (Partial) | YouTube
---
Alison Wonderland
SoundCloud | Mixcloud (Partial) | YouTube
---
Andrew Rayel
SoundCloud | Mixcloud (Partial) | YouTube
---
ATLiens
SoundCloud | Mixcloud (Partial) | YouTube
---
Bart Skils
SoundCloud | Mixcloud (Partial) | YouTube
---
Black Tiger Sex Machine
SoundCloud | Mixcloud | YouTube
---
BIJOU (Corona Electric Beach)
SoundCloud | Mixcloud | YouTube
---
Blunts & Blondes
SoundCloud (Partial) | Mixcloud (Partial) | YouTube
---
Born Dirty
SoundCloud | Mixcloud (Partial) | YouTube
---
Calyx & Teebee
SoundCloud | Mixcloud (Partial) | YouTube
---
CamelPhat
SoundCloud | Mixcloud | YouTube
---
Charlotte de Witte
SoundCloud | Mixcloud | YouTube
---
Chris Lake
SoundCloud | Mixcloud | YouTube
---
CID
SoundCloud | Mixcloud (Partial) | YouTube
---
Cosmic Gate
SoundCloud | Mixcloud (Partial) | YouTube
---
Deorro
SoundCloud | Mixcloud | YouTube
---
Diplo
SoundCloud | Mixcloud (Partial) | YouTube
---
EDX
SoundCloud | Mixcloud (Partial) | YouTube
---
Eric Prydz
SoundCloud | Mixcloud | YouTube | YouTube #2
---
Fiin
SoundCloud | Mixcloud (Partial) | YouTube
---
Gorgon City
SoundCloud | Mixcloud (Partial) | YouTube
---
Habstrakt
SoundCloud | Mixcloud (Partial) | YouTube
---
Hallucinate
SoundCloud | Mixcloud (Partial) | YouTube
---
Jauz
SoundCloud | Mixcloud | YouTube
---
John Askew
SoundCloud | Mixcloud | YouTube
---
Juliet Fox
SoundCloud | Mixcloud (Partial) | YouTube
---
Kaskade
SoundCloud | Mixcloud | YouTube
---
Layton Giordani
SoundCloud | Mixcloud (Partial) | YouTube
---
Lost Kings
SoundCloud | Mixcloud (Partial) | YouTube
---
Mihalis Safras
SoundCloud | Mixcloud (Partial) | YouTube
---
Nitti Gritti
SoundCloud | Mixcloud (Partial) | YouTube
---
Noizu
SoundCloud | Mixcloud | YouTube
---
OFFAIAH
SoundCloud | Mixcloud (Partial) | YouTube
---
Party Favor
SoundCloud | Mixcloud (Partial) | YouTube
---
R3hab
SoundCloud (Partial) | Mixcloud | YouTube
---
Rezz
SoundCloud | Mixcloud | YouTube | YouTube #2
---
Riot Ten
SoundCloud | Mixcloud (Partial) | YouTube
---
RL Grime
SoundCloud | Mixcloud | YouTube
---
Salvatore Ganacci
SoundCloud | Mixcloud | YouTube
---
San Holo
SoundCloud | Mixcloud | YouTube
---
Sean Tyas
SoundCloud | Mixcloud (Partial) | YouTube
---
Seven Lions
SoundCloud | Mixcloud | YouTube
---
Sian
SoundCloud | Mixcloud | YouTube
---
Simon Patterson
SoundCloud | Mixcloud | YouTube
---
Slander
SoundCloud | Mixcloud (Partial) | YouTube
---
Solardo
SoundCloud | Mixcloud (Partial) | YouTube
---
Steve Aoki
SoundCloud | Mixcloud (Partial) | YouTube
---
Svdden Death
SoundCloud | Mixcloud (Partial) | YouTube
---
Timmy Trumpet
SoundCloud | Mixcloud | YouTube
---
Tsunami
SoundCloud | Mixcloud | YouTube
---
Wax Motif
SoundCloud | Mixcloud (Partial) | YouTube
---
X&G
SoundCloud | Mixcloud (Partial) | YouTube
---
Yellow Claw
SoundCloud | Mixcloud | YouTube | YouTube #2
---
Yotto
SoundCloud | Mixcloud (Partial) | YouTube
---
Yultron
SoundCloud | Mixcloud | YouTube
---
Zeke Beats
SoundCloud | Mixcloud | YouTube
---
Zhu
SoundCloud | Mixcloud | YouTube
---
Connect with EDC Orlando on Social Media: