Stay in the know ahead of Adult Swim Festival this weekend with this essential info including the set times, what not to bring, and more!
---
As Adult Swim Festival rounds the corner, we are getting more and more excited to experience what they have in store for us! For their first time at the new Banc of California Stadium, no doubt this year will take it up a notch. From a Rick and Morty season premiere to Captain Murphy, there's a little something for everyone.
Related: Are you hyped for Adult Swim Festival this year? Check out our playlist to get a taste of the artists taking the stage!
With their set times released and the festival just days away, you're probably already planning out your weekend. To ease any festy stress, we've put together some essential information including set times, directions, parking, and security do's and don'ts!
Adult Swim Festival 2019 Essential Info:
Dates: November 15-16, 2019
Hours: Fri, Nov 15: 5pm-11pm PST. Sat, Nov 16: 1pm-11pm PST
Ages: 18+
Venue Address: Banc of California Stadium. 3939 S Figueroa St, Los Angeles, CA 90037
Tickets: Purchase HERE
Facebook Event Page: RSVP HERE
Acceptable Forms of Identification for Entry
You must present a government-issued valid photo ID at the Main Entrance in order to enter. This includes valid Driver's Licenses, Passports, social security cards, basic resident register cards, alien registration certificates, certificates of the intellectually Disabled, or the residence card issued by a public institution.
This is an 18+ event. Persons under the age of 18 years old will not be permitted. Infant and small children will also not be permitted.
---
Adult Swim Festival 2019 Set Times: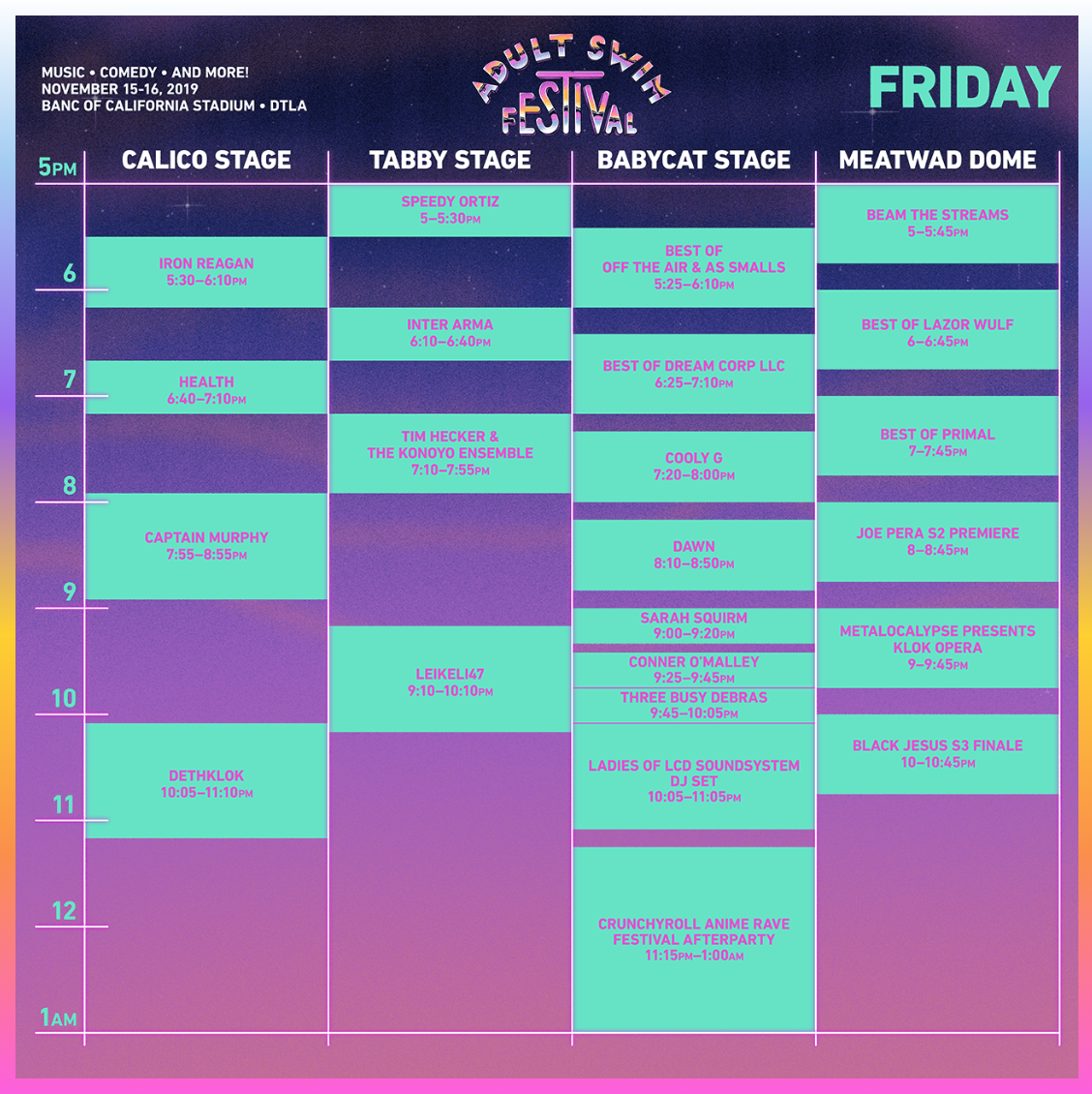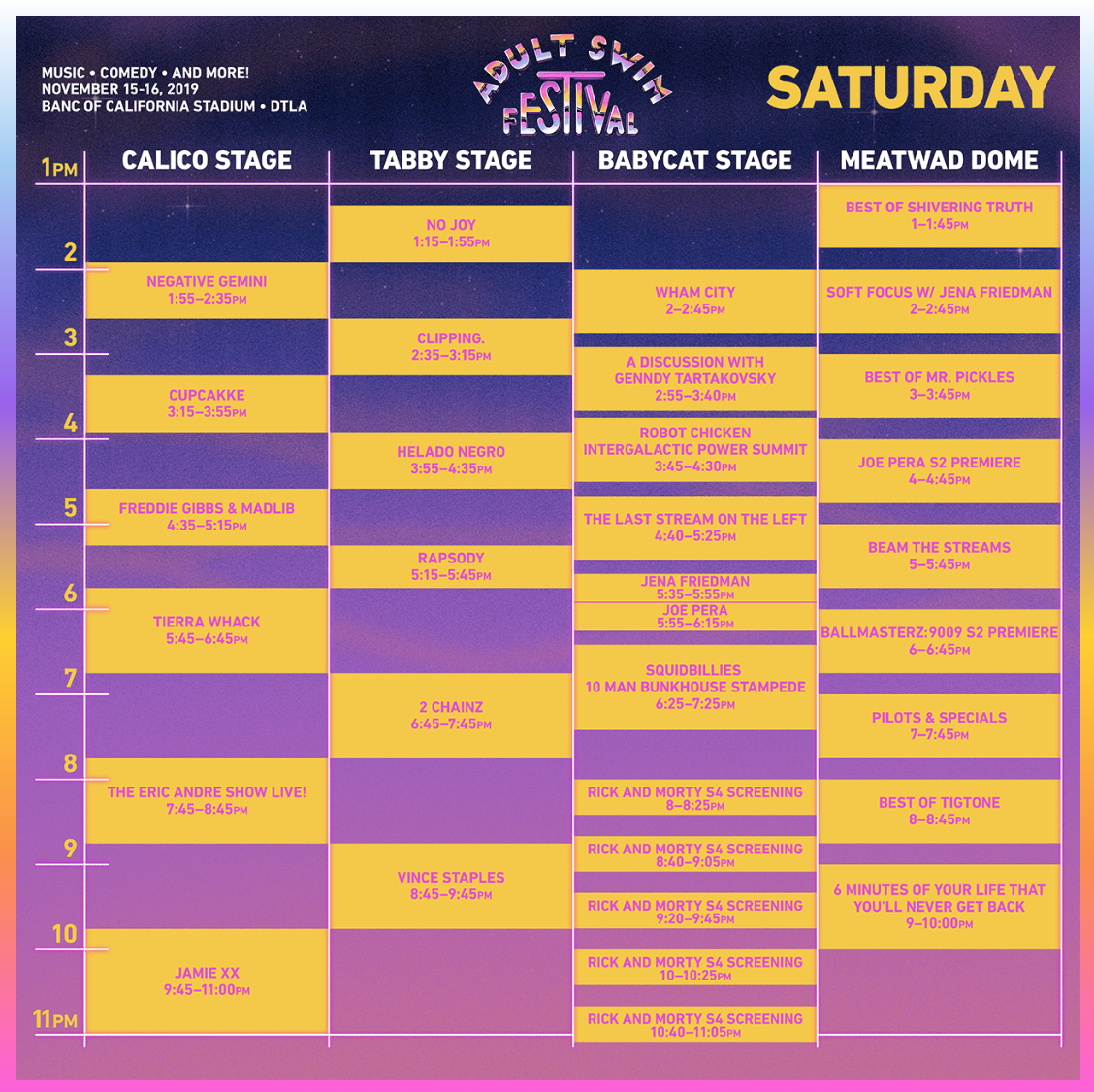 ---
Adult Swim Festival 2019 Map:
Coming Soon!
---
Adult Swim Festival 2019 Directions and Parking Info:
By Car:
From the North, take Exposition Boulevard or Martin Luther King Jr. Boulevard southbound off-ramps from I-110 freeway.
From the South, take Martin Luther King Jr. Boulevard or 37th Street northbound off-ramps from I-110 freeway. Lot 6 parking entrance is located on Hoover Avenue off Martin Luther King Jr. Blvd.
By Metro:
From the Expo Park/USC Station, walk along Kinsey Drive or Victory Walk to South Coliseum Drive toward Banc of California Stadium.
---
Adult Swim Festival 2019 Do's & Don'ts:
Prohibited Items
Alcohol and illegal drugs
All bags, including clear bags, backpacks, and purses, that are larger than 12″ x 6″ x 12″
Animals (except service dogs to aid guests with disabilities)
Any type of marketing collateral such as pamphlets, product samples, etc.
Balloons
Beach balls, Frisbees, markers, brooms, skateboards, rollerblades, skates, etc.
Clothing containing wires, batteries or other electronic components
Coolers, outside food, outside beverages (except for a single factory-sealed plastic water bottle no more than 20oz), bottles, cans, flasks, alcohol, etc. (Food and beverage needed for medical reasons will be permitted with prior approval.)
Drums & drumsticks
E-cigarettes and vaporizers
Explosives, pepper spray, tear gas, etc
Folding chairs
Items containing adhesive (i.e. stickers, decals, etc.)
Laptops
Loud noise-making devices such as air horns, whistles, plastic horns, megaphones, vuvuzelas, etc.
Objects that can be thrown or viewed as projectiles
Professional camera equipment, tripods, Go Pros, etc.
Register tape, streamers, and confetti
Selfie sticks
Umbrellas
Unmanned and remote-controlled aircraft system
Water guns, toy/replica weapons, squirt bottles, flag/banner poles, etc
Weapons of any kind, fireworks, slingshots, smoke/stink bombs, laser pointers, etc.
2-way radio devices
At the discretion of Banc of California Stadium Management, any other item determined to be prohibited.
Permitted Items
Empty and clear plastic reusable water containers with attached lids
Sunscreen
Standard camera without detachable lenses
Chapstick or lip balm
Medications with a name on the bottle matching photo ID, excluding medical marijuana
Blankets, jackets
Small clutch bag or purse approximately the size of a hand, with or without a strap
Bags in compliance with the clear bag policy
---
Clear Bag Policy:
Banc of California Stadium has a clear bag policy in order to provide a safer environment for attendees and will consequently, also expedite entry into the stadium. The policy affects the type and size of the bags permitted into the stadium, not the items (keys, makeup, combs, phones, wallets, etc). It is encouraged attendees bring bags that meet the following style and size limits that are permissible:
One bag that is clear plastic, vinyl or PVC and does not exceed 12″ x 6″ x 12″, or
A one-gallon clear plastic storage bag (Ziploc bag or similar)
---
Reminder To Mind Your Belongings:
Unfortunately, many people have reported pickpockets, bag slashings, and theft of wallets, smartphones, purses, and other valuables during this festival season. While this small number of bad apples in the bunch doesn't define an entire crowd, there are opportunistic people who come to these events to take advantage of unsuspecting partygoers and it's important to be mindful of your valuables while at Adult Swim Festival.
Looking for tips to keep your belongings safe? Check our post highlighting some ideas!
---
Connect with Adult Swim Festival on Social Media:
Website | Facebook | Twitter | Instagram | Facebook Event Page