Monstercat veterans RIOT release their most epic project to date: Dogma Resistance, a full-length album that's paired with a comic book.
---
LA-based duo RIOT is well known for their Monstercat releases full of forward-thinking bass music. With a sound that brings together everything from progressive melodies to heavy basslines, they have been on bass music fans' radar for quite some time. Now, the Israeli-born Tom Davidson and Daniel Magid are taking on their biggest project yet: a storyline-based, fully immersive sonic journey known as Dogma Resistance. The full-length album is accompanied by a comic book created in collaboration with HERØ, a company that's previously worked with NGHTMRE and several festivals.
Starting off with "Overture 1990," RIOT instantly set an epic cinematic tone for Dogma Resistance. What follows is a heavy onslaught of bass music. "The Mob," "Aiwa," "Overkill," and "Jungle Fury," all previously released as singles, are the backbone of the album. The duo even includes a nu-disco bonus track called "Take That," and I especially like the dubstep and drum n bass hybrid "Disorder (Rebirth)."
In our interview below, RIOT tells us all to listen to the album from start to finish and to allow ourselves to create a personalized storyline behind the music. Currently on the Monstercat Uncaged Tour with Gammer and Tokyo Machine, RIOT is finishing off 2019 strong.
Dogma Resistance is available now on all platforms. Listen below, pre-order a signed comic book, and read on for our thoughts and an interview with RIOT!
Stream RIOT – Dogma Resistance on Spotify:
---
You've been working on Dogma Resistance for over a year and a half. What are some of the challenges that you faced along the way, and what does your debut album release mean to you?
We've been working on and off on this album for two years now actually. This is hands down the most challenging process we've been through. Endless writer's block and even more deadlines that we've missed (sorry Monstercat, we love you) because we didn't agree to compromise on the quality of the tracks and the story behind it. We're most excited to let the listeners into our brains and have them be able to experience the full story in its final form. We grew and evolved as individuals working on the project, and the album symbolizes that journey.
What are the themes of Dogma Resistance? What was your vision when creating the album, and what are some of the styles that you explore on it?
This album has no rules nor genres. Dogma Resistance to us is the story of resistance against the machine in different dimensions and different eras of time. But, whatever storyline you conclude from our art means more to us than anything. Giving fans and people the freedom to express themselves creatively through our art is what drives and fuels our passion for music.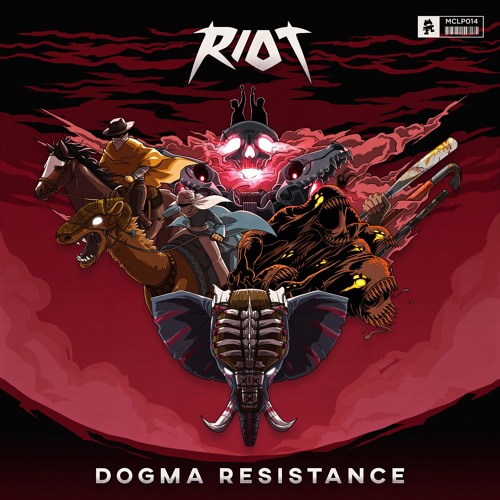 What are your individual stories that both of you imagine when listening to the album from start to finish?
You'll just have to read the comic to find out 😉
Tell us about the decision to release the comic book along with the album. Where did that idea first start, and how much input did you have while working with HERØ?
We always knew we wanted to bring the Dogma Resistance story to life, and the opportunity to work with HERØ on this project was presented to us by our team at the beginning. Through countless meetings and discussions, we found that working hand in hand with HERØ would be a great and easy fit as the creativity just flew.
Being able to put our story into a motion graphic novel was a really unique and cool experience as well that we will never forget. Working hand in hand with another creative team that fully gets your story and vision is something we never thought could happen.
If there's one more thing you'd like to say to your fans, what would it be?
We love you. We appreciate you. Thank you for your patience and continuous support! THE MOB is stronger than ever, we're taking over! LET'S START A RIOT!
---
Connect with RIOT on Social Media:
Website | Facebook | Twitter | Instagram | SoundCloud