Carl Cox, Duke Dumont, Zeds Dead, Knife Party, and plenty more have been announced for the upcoming edition of EDC Mexico. Will you be there?
---
Each year, thousands of headliners from all over Mexico and the rest of the world descend upon Mexico City to dance the day away at EDC Mexico. Hosted at the Autódromo Hermanos Rodríguez, the now three-day festival has continued to solidify its spot as the second-largest edition of Insomniac's flagship on the planet as they team up with their partners South of the border, OCESA.
After announcing that EDC Mexico would be adding another day of madness to the mix to dominate the weekend of February 28 – March 1 the hype could only grow higher with the lineup. Today, we have received word on exactly who will be playing, and it's filled to the brim with a range of talented artists like Carl Cox, Zeds Dead, Armin Van Buuren, Don Diablo, Lady Faith, and Knife Party.
Other standout artists featured on the lineup for EDC Mexico include Born Dirty, Headhunterz, Jax Jones & Martin Solveig Present Europa, VNSSA, Kayzo, and ZEDD. There will also be a bevy of local artists as well who show off what the dance music scene in Mexico is all about, so check out the full list of artists below and let us know who you're most excited to catch in the comments!
Tickets for EDC Mexico 2020 are available now via their website. After announcing such a stacked lineup if you're planning to attend we definitely recommend grabbing tickets soon!
---
EDC Mexico 2020 Lineup: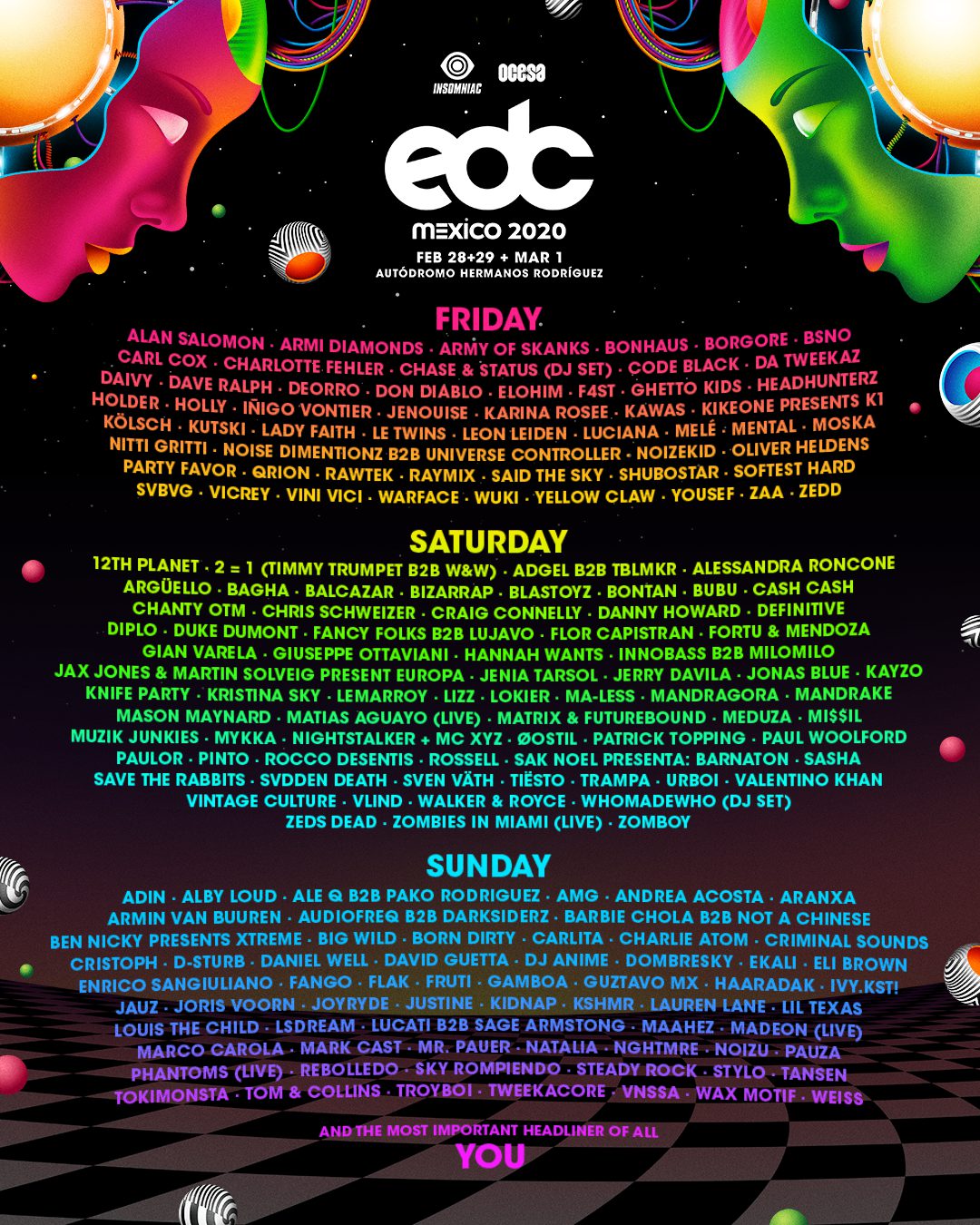 ---
EDC Mexico 2020 – Lineup By Artist:
12th Planet
2 = 1 (Timmy Trumpet B2b W&W)
Adgel B2b Tblmkr
Adin
Alan Salomon
Alby Loud
Ale Q B2b Pako Rodriguez
Alessanra Roncone
Amg
Andrea Acosta
Aranxa
Argùello
Armi Diamonds
Armin Van Buuren
Army Of Skans
Audiofreq B2b Darksiderz
Bagha
Balcazar
Barbie Chola B2b Not A Chinese
Ben Nicky Presents Xtreme
Big Wild
Bizarrap
Blastoyz
Bonhaus
Bontan
Borgore
Born Dirty
Bsno
Bubu
Carl Cox
Carlita
Cash Cash
Chanty Otm
Charlie Atom
Charlotte Fehler
Chase & Status (Dj Set)
Chris Schweizer
Code Black
Craig Connelly
Criminal Sounds
Cristoph
D-sturb
Da Tweekaz
Daivy
Daniel Well
Danny Howard
Dave Ralph
David Guetta
Definitive
Deorro
Diplo
DJ Anime
Dombresky
Don Diablo
Duke Dumont
Ekali
Eli Brown
Elohim
Enrico Sangiuliano
F4st
Fancy Folks B2b Lujavo
Fango
Flak
Flor Capistran
Fortu & Mendoza
Fruti
Gamboa
Ghetto Kids
Gian Varela
Giuseppe Ottaviani
Gustavo Mx
Haaradak
Hannah Wants
Headhunterz
Holder
Holly
Iñigo Vontier
Innobass B2b Milomilo
Ivy.kst!
Jauz
Jax Jones & Martin Solveig Present Europa
Jenia Tarsol
Jenouise
Jerry Davila
Jonas Blue
Joris Voorn
Joyryde
Justine
Karina Rosee
Kawas
Kayzo
Kidnap
Kikeone Presents K1
Knife Party
Kölsch
Kristina Sky
Kshmr
Kutski
Lady Faith
Lauren Lane
Le Twins
Lemarroy
Leon Leiden
Lil Texas
Lizz
Lokier
Louis The Child
LSDream
Lucati B2b Sage Armstrong
Luciana
Ma-less
Maahez
Madeon (Live)
Mandragora
Mandrake
Marco Carola
Mark Cast
Mason Maynard
Matias Aguayo (Live)
Matrix & Futurebound
Meduza
Melé
Mental
Mi$$il
Moska
Mr. Pauer
Muzik Junkies
Mykka
Natalia
Nghtmer
Nightstalker + Mc Xyz
Nitti Gritti
Noise Dimentionz B2b Universe Controller
Noizekid
Noizu
Oliver Heldens
Øostil
Party Favor
Patrick Topping
Paul Woolford
Paulor
Pauza
Phantoms (Live)
Pinto
Qrion
Ratwek
Raymix
Rebolledo
Rocco Desentis
Rossell
Said The Sky
Sak Noel Presenta: Barnaton
Sasha
Save The Rabbits
Shubostar
Sky Rompiendo
Softest Hard
Steady Rock
Stylo
Svbvb
Svdden Death
Sven Väth
Tansen
Tiësto
Tokimonsta
Tom & Collins
Trampa
Troyboi
Tweekacore
Urboi
Valentino Khan
Vicrey
Vini Vici
Vintage Culture
Vlind
VNSSA
Walker & Royce
Warface
Wax Motif
Weiss
Whomadewho (Dj Set)
Wuki
Yellow Claw
Yousef
Zee
Zedd
Zeds Dead
Zombies In Miami (Live)
Zomboy
---
Connect with EDC Mexico on Social Media: