The North Park Observatory was packed with GRiZ fans and not only did we get to dance the night away but we all walked away much happier as well.
---
When GRiZ announced that he'd be making his way to San Diego for a show on his Ride Waves tour I was through the moon with excitement. Tickets went on sale and moved quickly even with it being held on a Tuesday, but before I knew it the show was just days away and I was more than ready for some of his positive vibes.
Arriving at the venue a little after 7pm, the line moved at a moderate pace and we were inside in no time. The Funk Hunters had just started and were blasting the crowd with some fantastic beats as well. We stopped by the merch booth to browse what was available and were impressed by the colorful offering of flat bill hats, long sleeve shirts, and bandannas. A bar separated the merchandise booth from The Liberators booth on the other side of the venue.
The Liberators are GRiZ's street team and responsible for "preaching the good word of GRiZ".
Anyone that signed up to receive text messages from GRiZ was notified in advance that they should stop by for a special gift, which ended up being some delicious taffy. They were also responsible for the raffle and fundraiser for Seven Mile which is the non-profit organization in Detroit that uses music, arts, and coding education to empower students. It's a non-profit that is dear to GRiZ's heart and one that he has donated countless instruments and funds to throughout his years as a musician.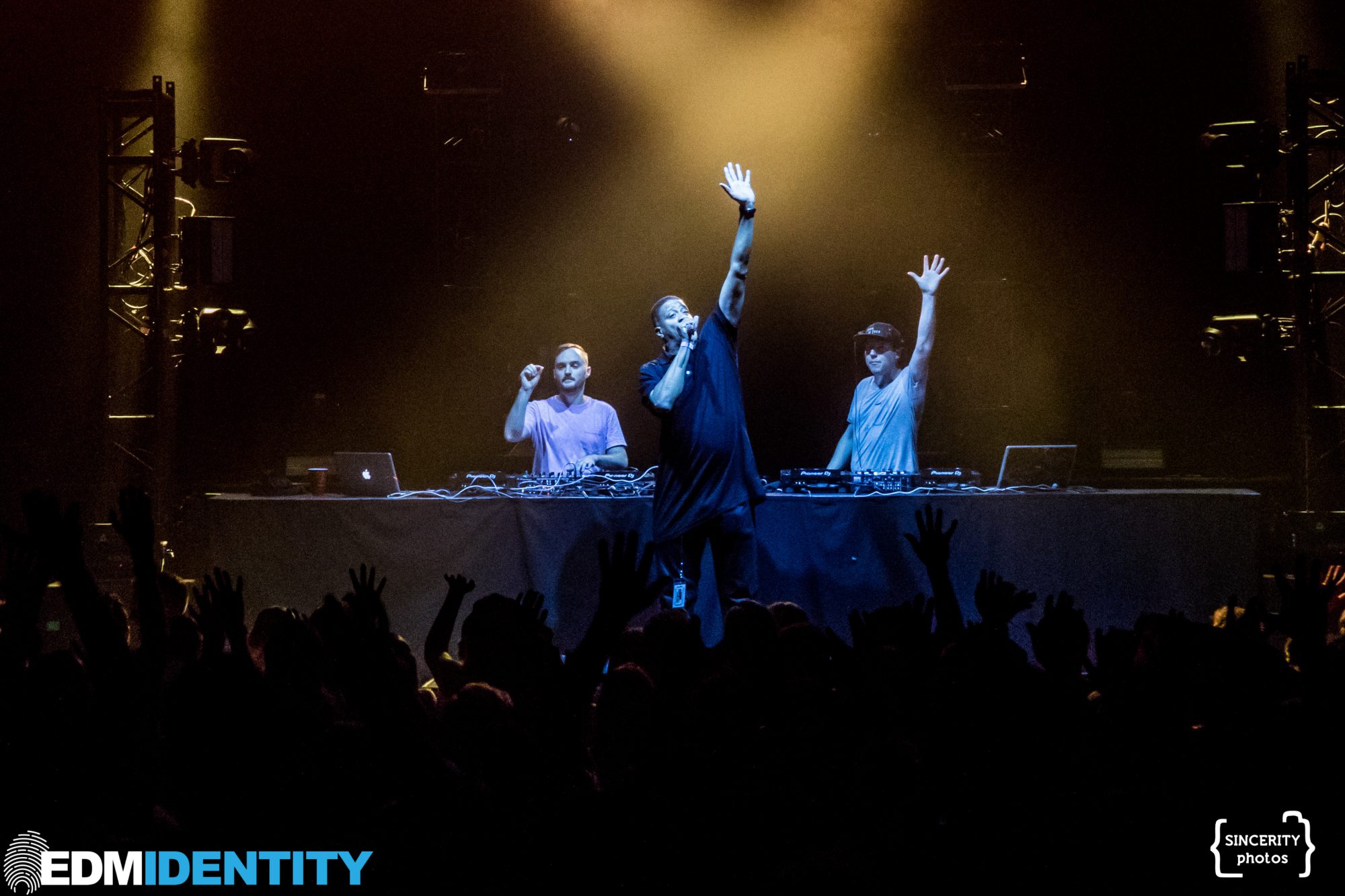 My attention flipped back to the music because The Funk Hunters were really killing it.
Playing a variety of tracks that really got us dancing then to top it off they brought out their friend Chris to rap live over their tracks. It was the perfect opening for GRiZ and it was obvious that they were having just as much as fun as we were in the crowd. They thanked us as we cheered and then asked if we were ready for GRiZ to which the whole cheered louder.
Everyone clearly loved GRiZ's music but also had a genuine appreciation for how warm and welcoming he was as a person.
By now the theater was packed from the rail all the way to the back. My group of friends and I passed the time by going back to The Liberators table and taking a photo with their Ride Waves picture frame. I talked to some of the team about how many times they've been able to catch the tour and what made them want to get involved. The answers varied but had a unifying component: the positive message that GRiZ promotes.
The lights began to dim and we knew it was time for what we had all been waiting for. We wandered back up to the front just in time for the man himself to walk out. GRiZ looked so happy looking into the crowd and everyone was just as excited to see him. He walked back to his laptops to get the show started. The lights came on and away we went. His musical style is always varied and the live nature of his show was off to a great start as he grabbed his saxophone.
His set included two singers, a rapper, a trombone player, trumpet player, and lasers that I've never seen at the that venue before.
Many of the tracks came from the Ride Waves album, however, he did play "GRiZtronics" and "I Like That" – two songs I really love right now. The show just continued to build the energy in the crowd and every where I looked everyone was genuinely happy. It was like the positive vibes were rolling off the stage and filling the room.
GRiZ closed with "It Gets Better" and the room went wild! The whole room in unison yelling "I know, I know, It Gets Better" was so moving I started tearing up, tears of unbridled joy. He thanked everyone and walked off the stage. The lights were still off and we clearly were not ready for the night to end. A GRiZ chant was started and we patiently waited for the encore.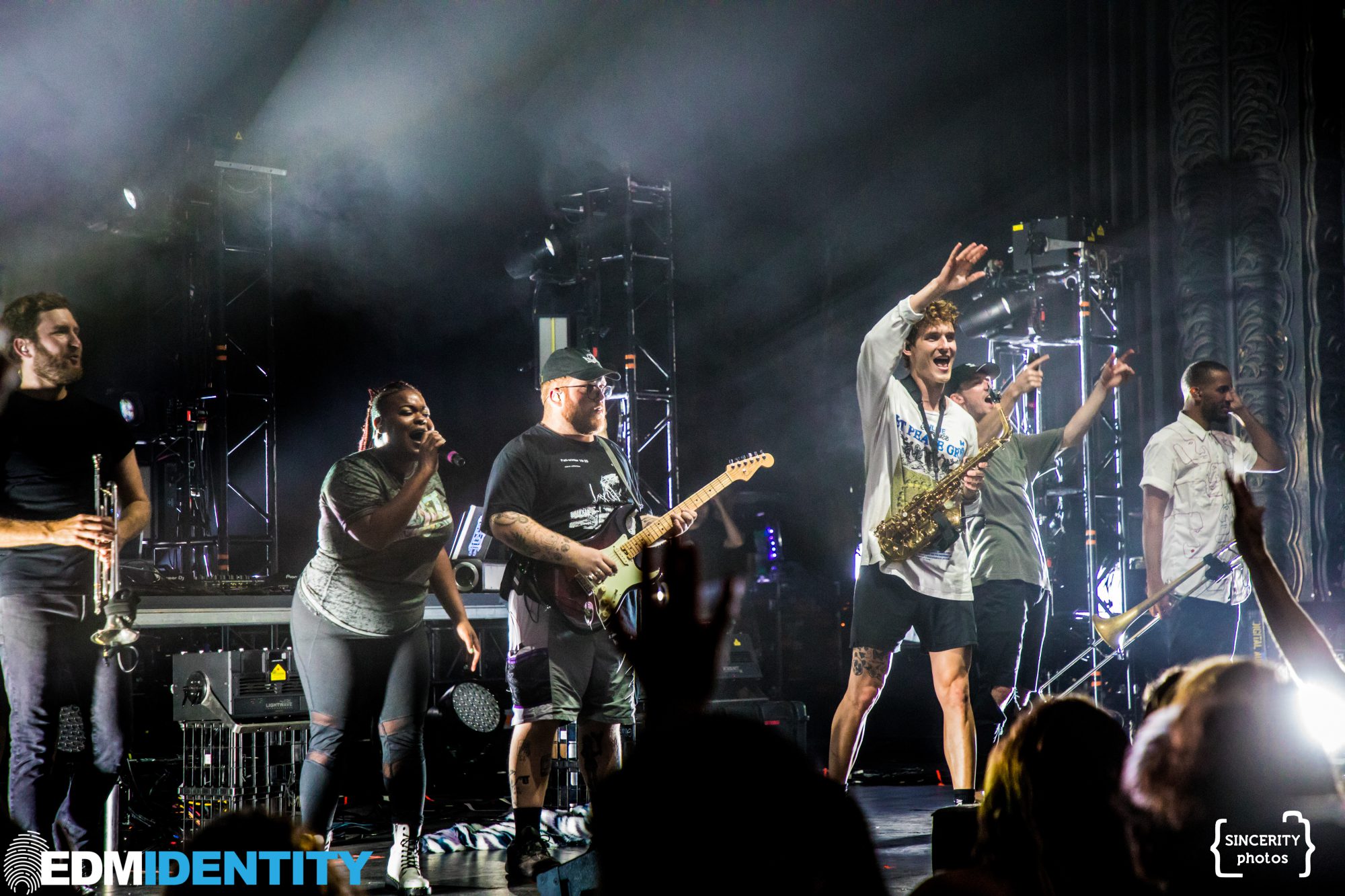 It wasn't long before he came back out and started one more track, "Find My Own Way".
The instrumentals in this song are so powerful and hearing the words live with a saxophone is an experience you absolutely need in your life. As the song came to a slow close, applause and cheers erupted throughout the room as GRiZ smoothly played his saxophone. He went down the line and introduced his whole team ending with himself, "My Name is GRiZ and we love y'all."
Groups around me hugged and clapped with smiles so big you couldn't help but smile with them. I am beyond stoked that I was able to catch this show and leaving the venue I was filled with so much energy. This was such an amazing experience I know that I'll have to catch GRiZ again, hopefully this year!
Be sure to check out our Facebook album for more photos from the show!
---
Follow GRiZ on Social Media:
Website | Facebook | Twitter | Instagram | SoundCloud | YouTube