On Saturday, November 9, join Fatboy Slim at Sound Nightclub as he makes his first LA appearance in five years! 
---
I'll go out on a limb and say that if you're a fan of electronic music, you've certainly at least heard the name Fatboy Slim. The words iconic and legendary get thrown around a lot but this artist truly embodies both of these adjectives. Norman Quinton Cooke is an English DJ and producer who rose to fame in 1995. In 1999 he gained international acclaim from his track "Praise You" and the rest is history. On Saturday, November 9, Los Angelinos are in for a treat as Fatboy Slim graces the stage of Sound Nightclub!
For those unfamiliar, Fatboy Slim is known for his big beat sound that blends electronica, acid, and breakbeat with numerous styles on the electronic music spectrum. His sound remains uniquely his, especially in the current genre-conforming era. Aside from his unique style, Fatboy Slim stands out as he does not adhere to the "rules" of the craft. His inventive approach to big beats brought him a unique accolade in 2008: he was awarded the Guinness World Record for releasing the most Top 40 singles under different names.
I was first introduced to Fatboy Slim during my late elementary/early middle school days via my older sister. I was obsessed with "Praise You" and its accompanying video and devoured other songs on the You've Come a Long Way, Baby album such as "Right Here Right Now" and "Weapon of Choice". Later on, I continued with tracks such as "Star 69" and "Birds of Prey" among others. Despite the fact he's played at multiple festivals over the years, including my first opportunity to see him at EDC 2015, I've never attended an intimate show of his or even one in LA, I won't be missing this one!
The last time he descended into LA was 2014 – a special stop at The Shrine Auditorium on his tour, so who knows when he next he'll be on our side of town? If you're a fan of his tunes or just interested in his style [I mean – he coined the "Eat, Sleep, Rave, Repeat" anthem] what better way to enjoy than in an intimate club setting with space for only 650 other supporters?
Tickets for Fatboy Slim's upcoming show at Sound Nightclub are moving fast. Grab yours today via Dice.fm!
---
Sound presents Fatboy Slim – Essential Info:
Date: Saturday, November 9, 2019
Ages: 21+
Hours: 10pm – 4am
Venue Address: 1642 N Las Palmas Ave, Los Angeles, California 90028
Tickets: Purchase HERE
Facebook Event Page: RSVP HERE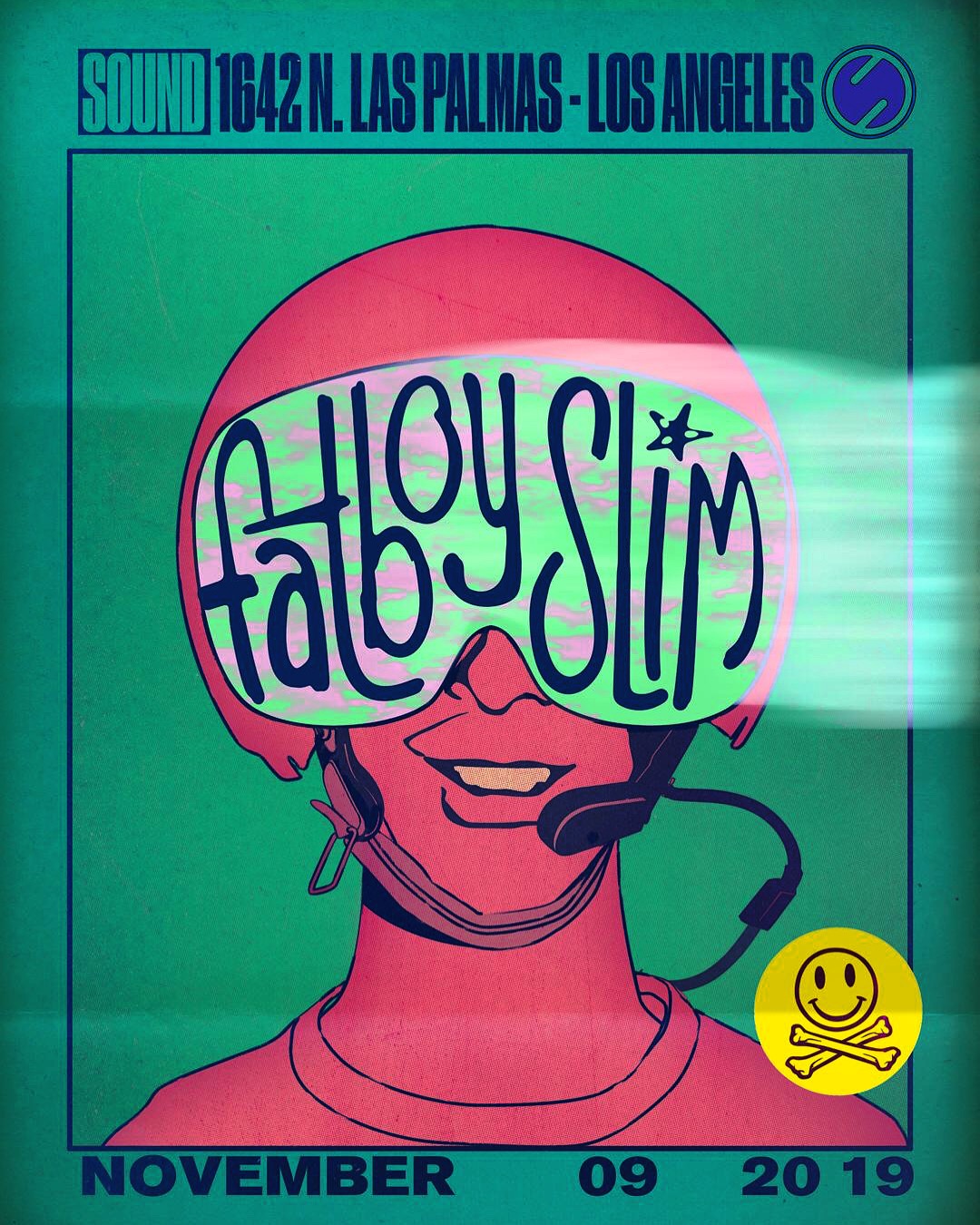 ---
Connect with Fatboy Slim on Social Media:
Website | Facebook | Twitter | Instagram | SoundCloud | YouTube