Suwannee Hulaween has added even more fuel to the fire with names like Tycho, Mija, Justin Jay, Break Science, and more to complete the 2019 lineup!
---
If you were wondering where to spend your Halloween this year, look no further, because the answer is most definitely Suwannee Hulaween. A haven for music and nature lovers alike, Hula has been humbly taking the cake for six years and is back at it again for a raging round.
Taking place October 24-27 in Live Oak, FL, Hulaween offers an outstanding spectrum of talent, showcasing everything from the festival's host The String Cheese Incident – who fluctuate from folk to live electronic music in a mere second – to heavyweight champions like Bassnectar and the dirtiest of the birds like Walker & Royce.
As if this wasn't already going to be the festival of fall when the initial lineup dropped in late July, the new artist additions have made it even easier to solidify your commitment to crushing the freakiest edition of Suwannee Hulaween thus far. Tycho, Mija, Justin Jay, Break Science, Marc Rebillet, Levitation Jones and more have joined the bill, confidently completing the 2019 lineup.
Related: Check out the experience we had at Hulaween in 2018 and read our review of the festivities that went down over the course of the weekend!
In addition to this exciting news, Hulaween has also announced the theme for this year's extravaganza – which will be in celebration of all things 90's, so prepare to be taken down memory lane via kooky costumes and dazzling decorations strewn around the one-and-only Spirit of the Suwannee Music Park.
Tickets for Suwannee Hulaween 2019 are on sale now and with the lineup additions today they'll surely be moving quick. Don't sleep on making this the festival you attend in the fall and grab tickets and camping passes now via their website!
---
Suwannee Hulaween 2019 Lineup: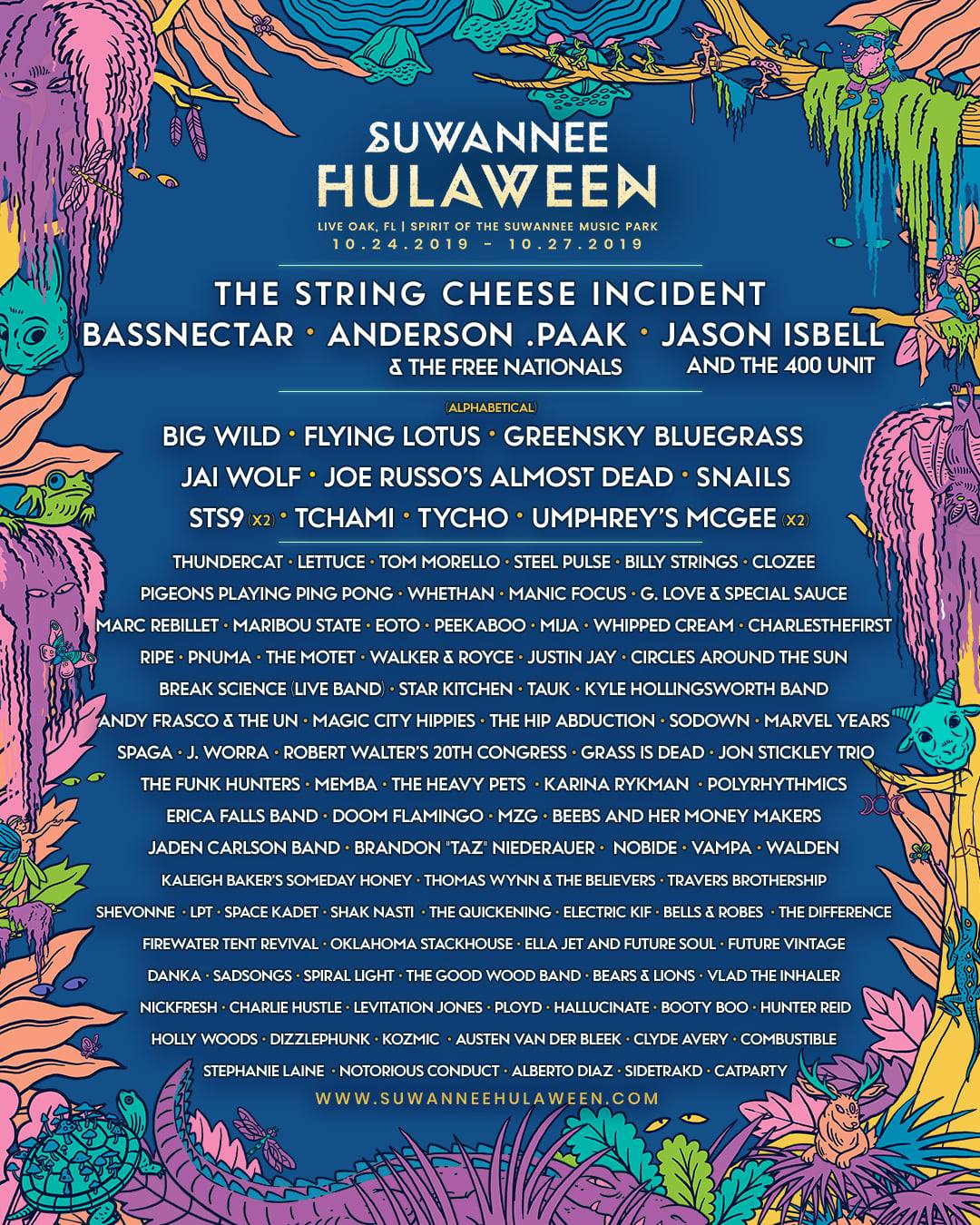 ---
Suwannee Hulaween 2019 – Lineup By Artist:
The String Cheese Incident
Bassnectar
Anderson. Paak & The Free Nationals
Jason Isbell and The 400 Unit
Big Wild
Flying Lotus
Greensky Bluegrass
Jai Wolf
Joe Russo's Almost Dead
STS9 (two sets)
Snails
Umphrey's McGee (two sets)
Tchami
Tycho
Thundercat
Lettuce
Tom Morello
Steel Pulse
Pigeons Playing Ping Pong
Billy Strings
Whethan
CloZee
Manic Focus
G. Love & Special Sauce
Marc Rebillet
Maribou State
Eoto
Ripe
Peekaboo
Mija
Whipped Cream
Charlesthefirst
Pnuma
Justin Jay
The Motet
Circles Around The Sun
Walker & Royce
Star Kitchen
Tauk
Kyle Hollingsworth Band
Break Science Live Band
Andy Frasco & The Un
Magic City Hippies
The Hip Abduction
SoDown
Marvel Years
Spaga
J. Worra
Robert Walters 20th Congress
Grass is Dead
Jon Stickley Trio
The Funk Hunters
Memba
The Heavy Pets 
Karina Rykman
Polyrhythmics
Erica Falls Band
Doom Flamingo
MZG
Beebs and Her Money Makers
Jaden Carlson Band
Brandon "Taz" Niederauer
Nobide
Vampa
Walden
Kaleigh Baker's Someday Honey
Thomas Wynn and the Believers 
Travers Brothership
Shevonne
Space Kadet
Shak Nasti
The Quickening 
Electric Kif
The Difference
Firewater Tent Revival 
Oklahoma Stackhouse
Ella Jet and Future Soul 
Future Vintage
Danka
Sadsongs
Spiral Light
The Good Wood Band 
Bears & Lions 
Vlad the Inhaler 
Nickfresh
Charlie Hustle 
Levitation Jones
Ployd
Hallucinate
Booty Boo
Hunter Reid
Holly Woods 
Dizzlephunk
Kozmic
Austin van der Bleek 
Clyde Avery 
Combustible 
Stephanie Laine
Notorious Conduct 
Alberto Diaz
Sidetrakd
Catparty
Bells & Robes
LPT
---
Connect with Suwannee Hulaween on Social Media: