Suwannee Hulaween is well known for being a delightfully weird and spooky Halloween festival with a loyal following, and this year was my opportunity to join the family. 
---
It's a common characteristic of music festivals to make people who attend feel welcome and cared for, and at the same time provide a space to unwind and let loose to great music. Even before coming to my first Suwannee Hulaween, all I'd heard was good things from anyone who'd been before. The devotion of its attendees was stronger than most festivals I've heard of, and this really piqued my interest. My excitement rose as costumes were planned, bags were packed, and engines started, and before I knew it my friends and I were surrounded by beautiful Live Oak country.
Journeying to the Suwannee Hulaween turned out to be graciously stress-free and smooth, with a simple transition from travel to being settled in.
I count myself lucky to live only three hours away from the Spirit of the Suwannee Music Park, and for my first time with a camper in tow, it was a nice and easy drive. The park is well-marked and easy to find, with a bustling, everything-you-need gas station right outside appropriately dubbed the "Busy Bee."
We arrived on Tuesday evening to our reserved RV spot, and so we were able to beat the lines and flew through check-in. However, those lines got up to almost two hours long for some of our friends arriving Wednesday night into Thursday, so we weren't alone in our eagerness.
While a bit pricey, the reserved hookup with water and electricity was an absolute lifesaver throughout the weekend. For our friends who chose primitive camping, it was a first-come, first-serve kind of situation where campers filed in and staked out their home base for the weekend. Thankfully, most of the camping areas were nestled in the woods, where it was shady, cool, and ideal for tents and hammocks.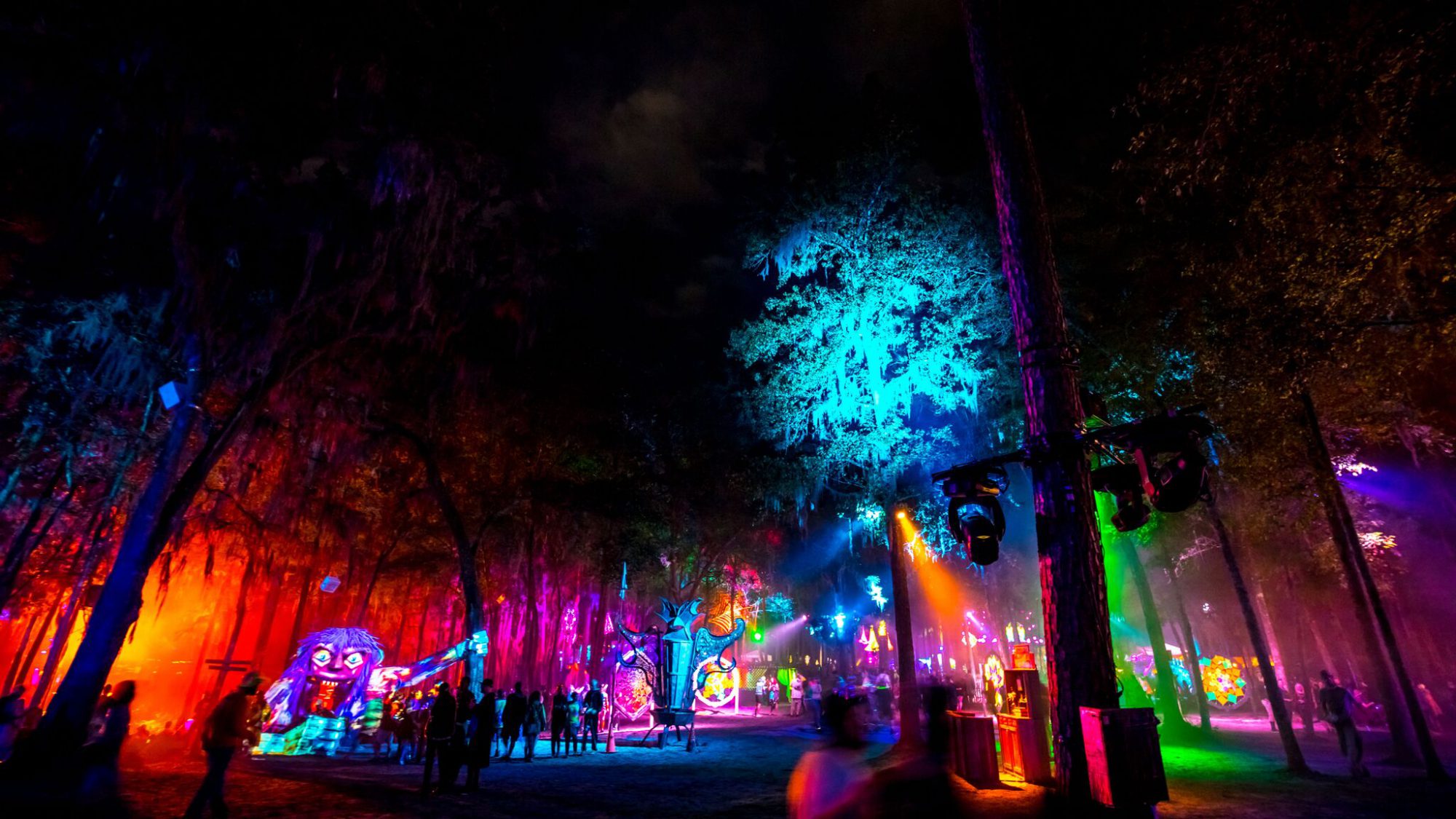 For a massive 800+ acre park, the layout of the festival was better than I had expected after experiencing the truly horrible long walks to and from campsites at my first camping festival earlier this year.
Our campsite was relatively close to all the action, with only about a ten-minute walk to the nearest stage. Overall, the stages, shops, and attractions were mostly centered and campers filled in all around, making the walking distances manageable. Perhaps one of the most impressive feats of the weekend was the staff's ability to keep the bathrooms stocked and cleaned very well for a music festival — a remarkable feat for which I give the Suwannee serious props.
After settling in, we started to explore and were able to see a lot of the behind the scenes of the setup and production that goes into Hulaween, giving us a proper appreciation for all the hard work it requires. All this exploration left us hungry, though, and the food and drink booths were not about to leave us hanging. Among my favorites were the biscuits, pizza, and Asian booths located far too close to my campsite for my wallet's comfort, so be prepared to spend on food, because the smells will pull you in relentlessly.
Beer and cocktail booths were located conveniently near each stage and I was pleasantly surprised at the short lines and friendly service I found everywhere I went. Taps are also spread throughout the park to refill water bottles and hydration packs. And if you forgot anything important or didn't pack right? There's plenty of shops along one of the main roads selling all kinds and colors of clothes, costumes, hoops, hydration packs, and other amenities. And if you don't find what you need there, there's also a general store located right across the street from the main stage too.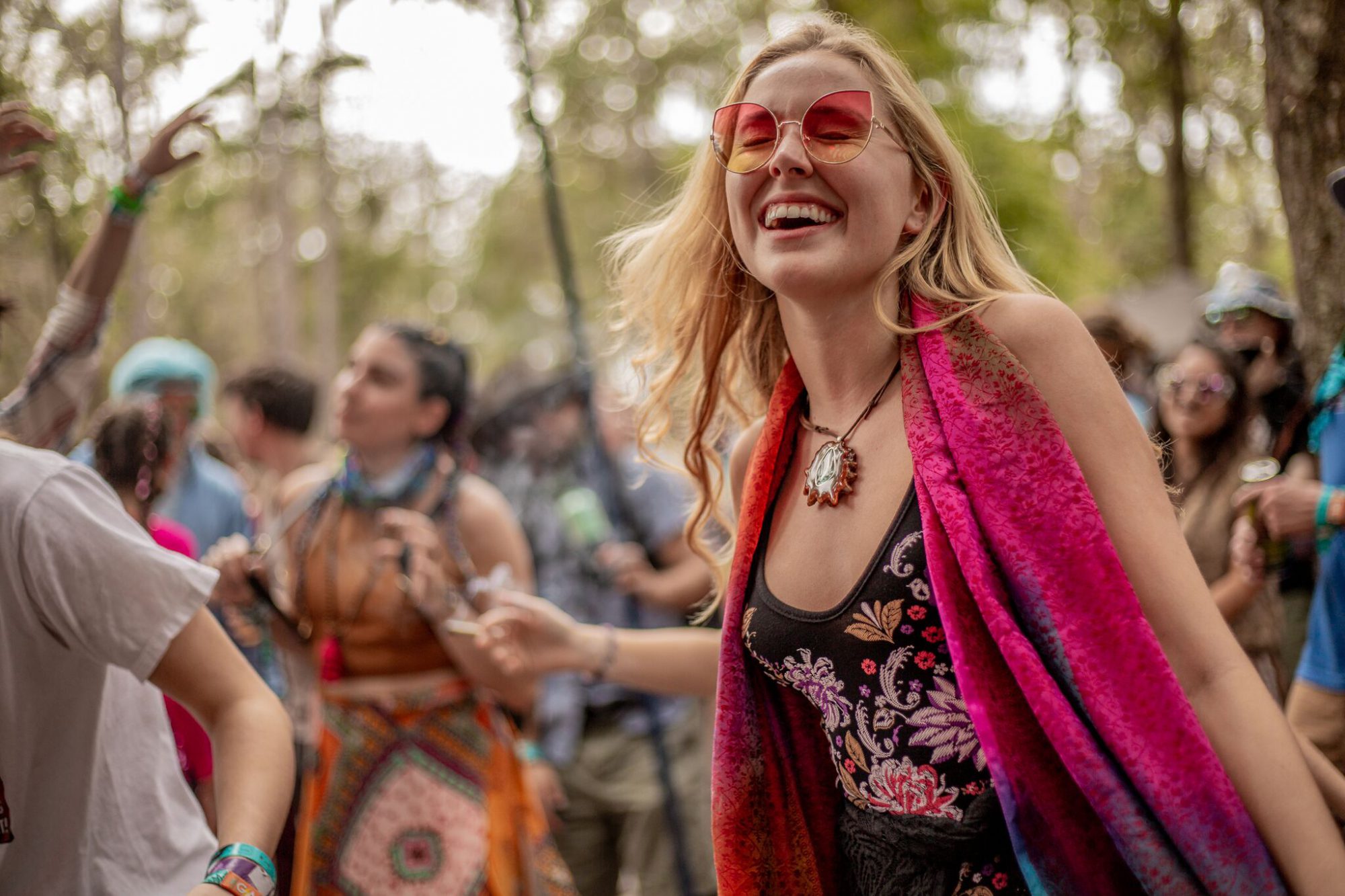 With everyone prepped and stocked for the weekend to come, Thursday rolled around and showed me what a real festival pre-party should be like.
There's no question that Suwannee knows how to party, but this year they showed that they know how to pre-party just as well. With every stage but the Meadow (the main stage) open and packed with artists big and small all day long, it really didn't feel like a typical pre-party, but more like another full day of the festival.
Contributing to this feeling was probably the fact that it felt like the bulk of people showed up throughout the day on Thursday, with everyone in great spirits and ready to get down. More than twenty artists were scheduled to play, including two sets each for Sound Tribe Sector 9 (STS9) and Joe Russo's Almost Dead. We first made our way to the tucked away Patch stage to see the first set of STS9. While they didn't go too crazy for this earlier set, seeing the Tribe perform again set a good tone for the rest of the evening.
Much later we caught electronic artist Minnesota, who really impressed me for my first time hearing him. Unlike some artists, his beats never left you in the same place for too long, and he kept his music engaging, refreshing, and fun to bounce around to. But by far my favorite performance of the night had to be Lettuce over at the Amphitheater stage. It was a perfect setting for them, and it felt like everyone had a great view. They threw in plenty of their classic tracks like "Phyllis" and had the whole crowd dancing, but they really outdid themselves when they ended with a Lettuce-style remix of the Michael Myers theme song that had everyone in the Halloween spirit.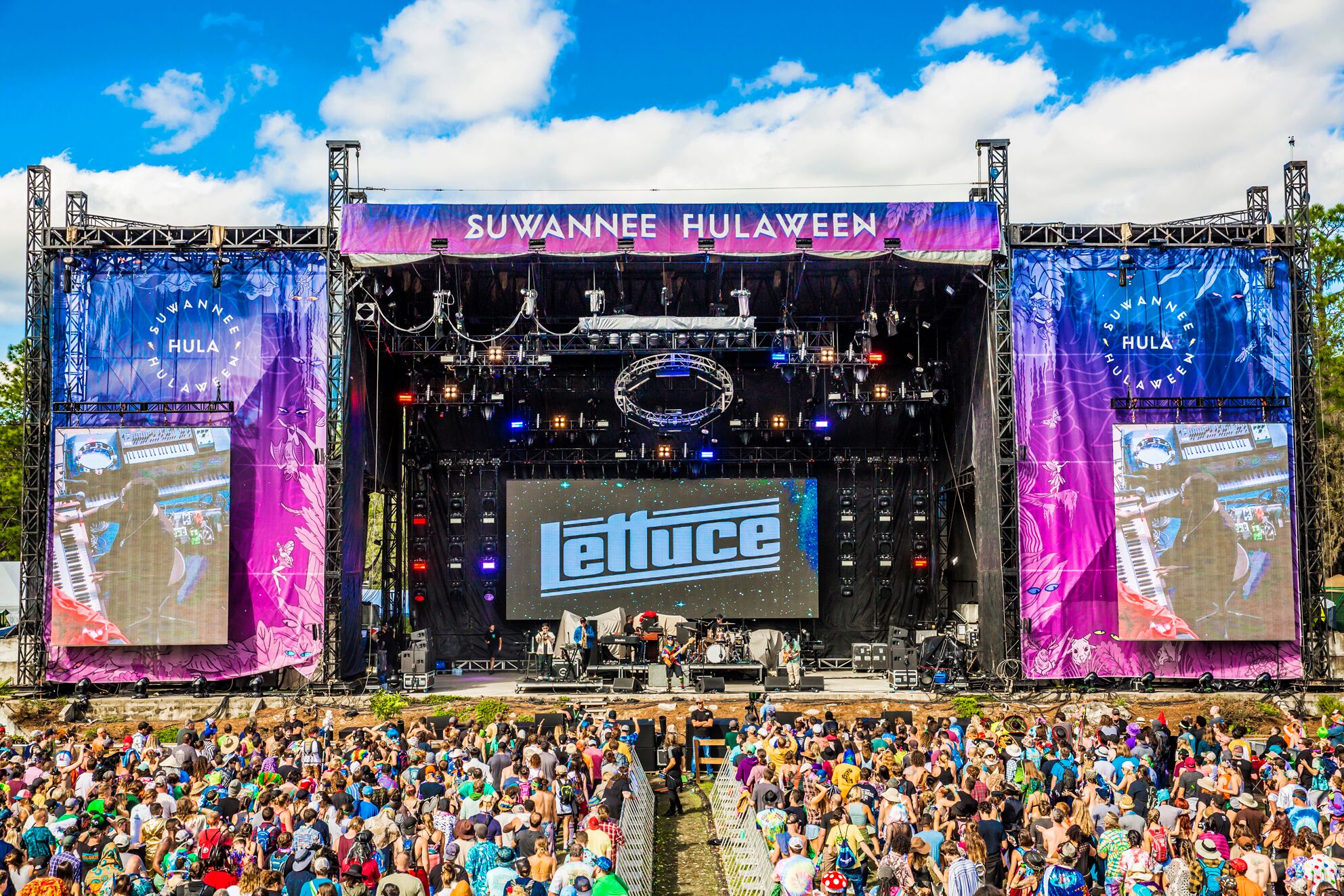 The first official day of Hulaween didn't hold anything back, and the heavy hitters were out to play.
Even though Hulaween went as hard as they did for the pre-party on Thursday, they didn't dare let anyone think they were slowing down on Friday. Hitting it off was a sunset performance by Snakehips where the electronic duo broke out the crowd favorites that got everyone moving like "Ignition", "The Buzz", and "This is America", and a some of their originals, such as my personal favorite, "Don't Leave".
But when the sun went down and the full moon came out we really started to get down and dirty(bird) at the Spirit Lake Stage with house DJ Justin Martin, and I still haven't quite gotten his "Set it Off" remix out of my head yet. He had the whole crowd moving in unison to his beats.
Still buzzing off of the last set, we walked the short distance over to the Amphitheater to hear REZZ keep the flow going with her dark electronic style music and grimy tracks like "Edge". The trippy circular light-up glasses added an edgy vibe to her persona that I personally loved. As much as I would have loved to stick around with REZZ for a while more, we still had to fight the masses to get a spot to see ODESZA over at the Meadow.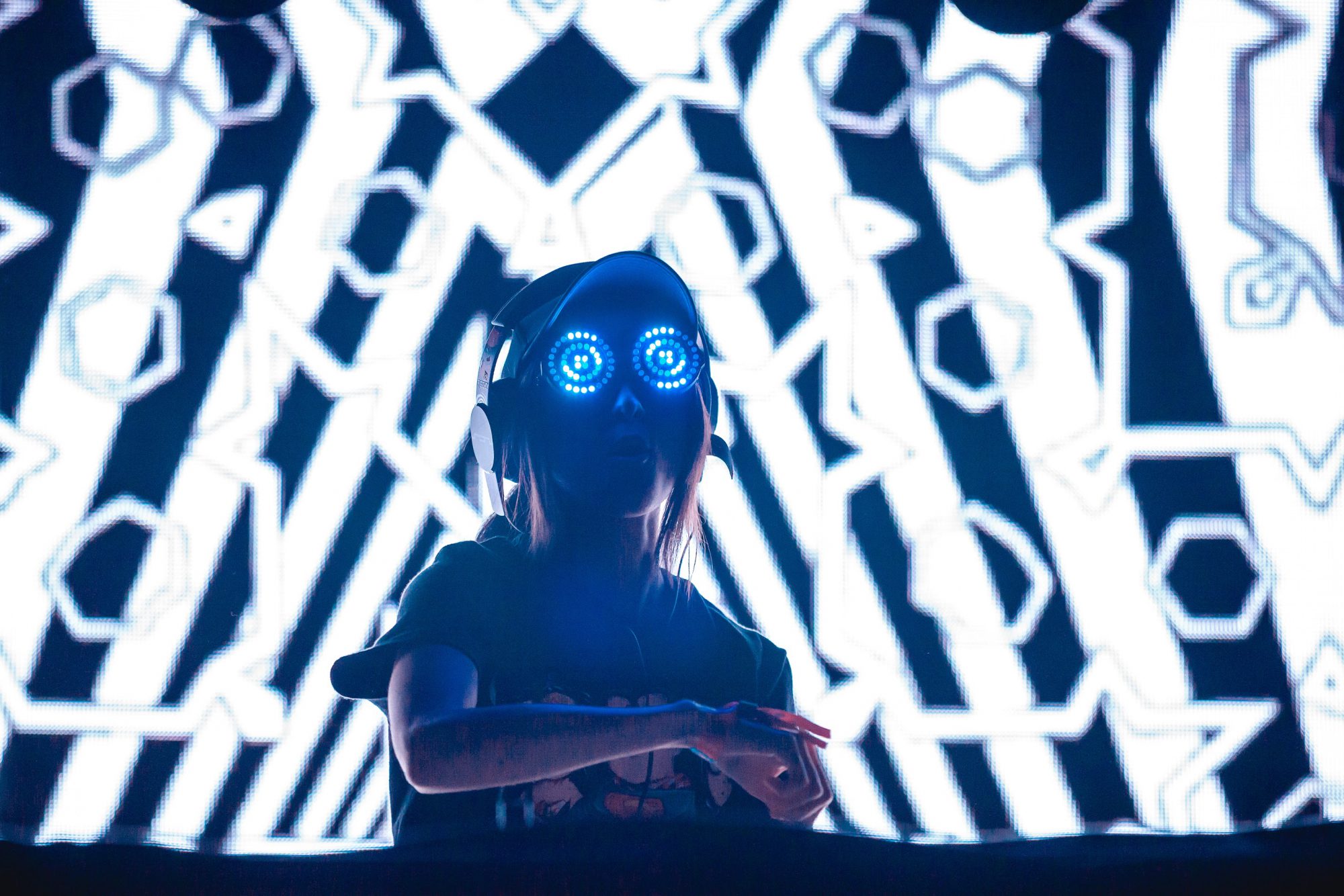 There wasn't any time to spare in between these last three sets and we were desperate to keep the packed night going.
With ODESZA being one of the fastest growing names in the industry right now, it shouldn't have surprised me to see a crowded main stage, but I don't think I could truly comprehend how many people were at that set. Even standing as far back as we were, there were masses of people milling around farther back still.
But the duo hasn't gotten as popular as they are without good reason – they put on one hell of a good show. Lights, lasers, confetti, and fireworks adorned their performance as they and their drumline busted out some of their biggest hits like "Higher Ground", "Loyal", and "It's Only". Thoroughly satisfied, I could only wonder what Saturday would be like for a festival that kicked off as strongly as Suwannee did on Friday.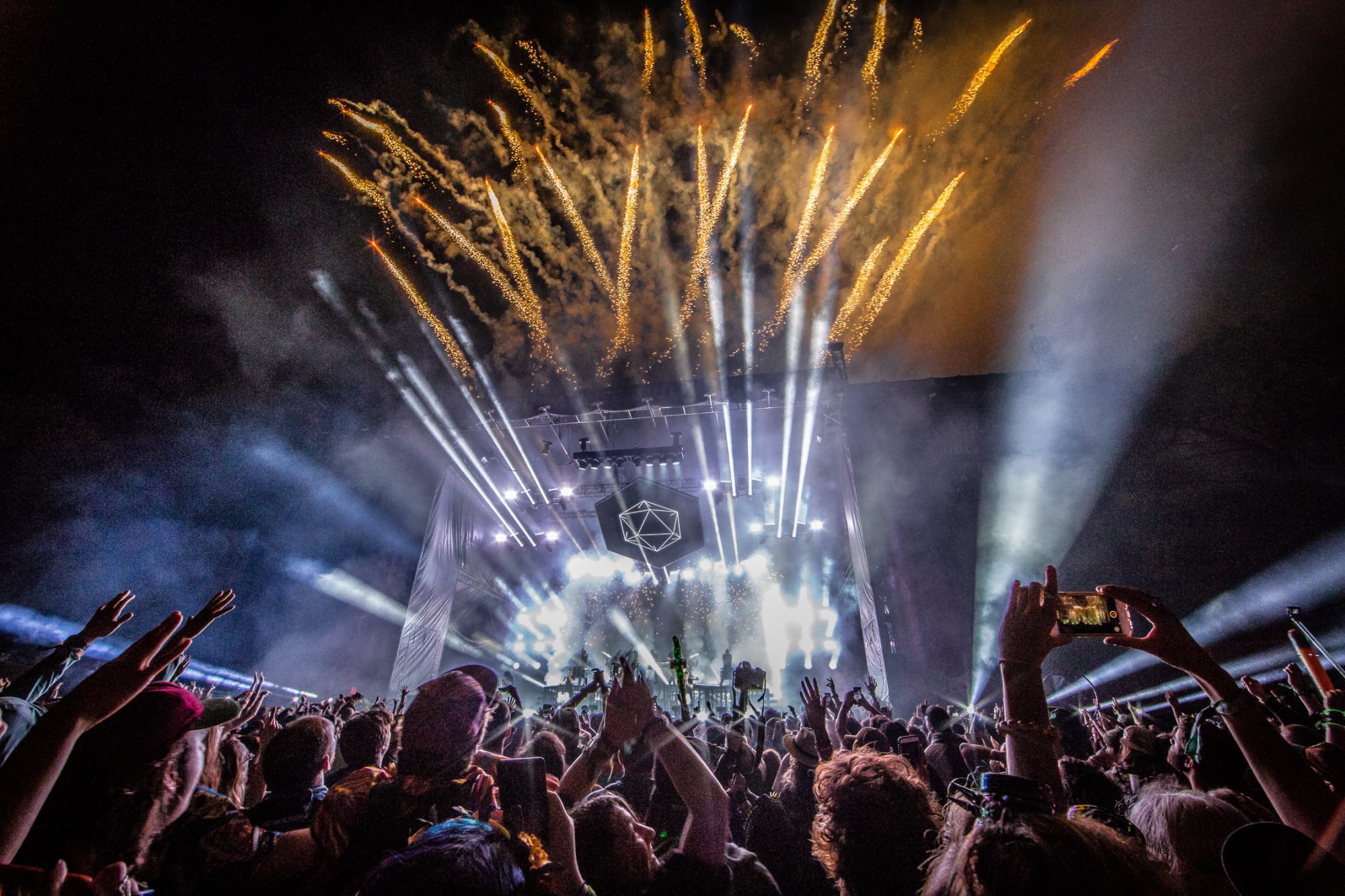 Saturday brought about new faces and old favorites that crushed every minute of their sets as Hulaween continued to exceed my expectations.
Saturday blessed us with more great weather and an even cooler breeze, and my group and I made some new friends and laid back to watch The String Cheese Incident play on the grassy slopes in front of the main stage. The Cheese seemed to be holding back for their special Halloween set later that night, but the jams were just right for the occasion. When we finally roused ourselves, we stopped by the Amphitheater to see the hype around TroyBoi. I have to say I was pretty impressed, especially with the crowd he drew; I hadn't yet seen that stage so packed during the day like he had it.
With no destination until the Meadow later that night for Cheese, my boyfriend and I wandered for a while and stumbled across a girl by the name of SOSUPERSAM who was tearing up the Spirit Lake Stage and obviously drawing a crowd with popular dance remixes that caught everyone's attention. She was smiling constantly and had such a positive energy that we stuck around until the end of her set, with time to spare to make it to main stage to see The String Cheese Incident perform their Halloween set. And to say that they didn't disappoint would be the understatement of the year.
The Cheese honored all the ladies with their "Women of the Galaxy" theme and brought out powerhouse guest singers like Rhonda Thomas, Jen Hartswick, and Lisa Fischer. We couldn't help but sing our hearts out right along with their covers of "Valerie" by Amy Winehouse, "Respect" by Aretha Franklin, and "Heartbreaker" by Pat Benatar. But probably the best surprise was when they brought out Ann Wilson of Heart herself to sing "Barracuda" for us.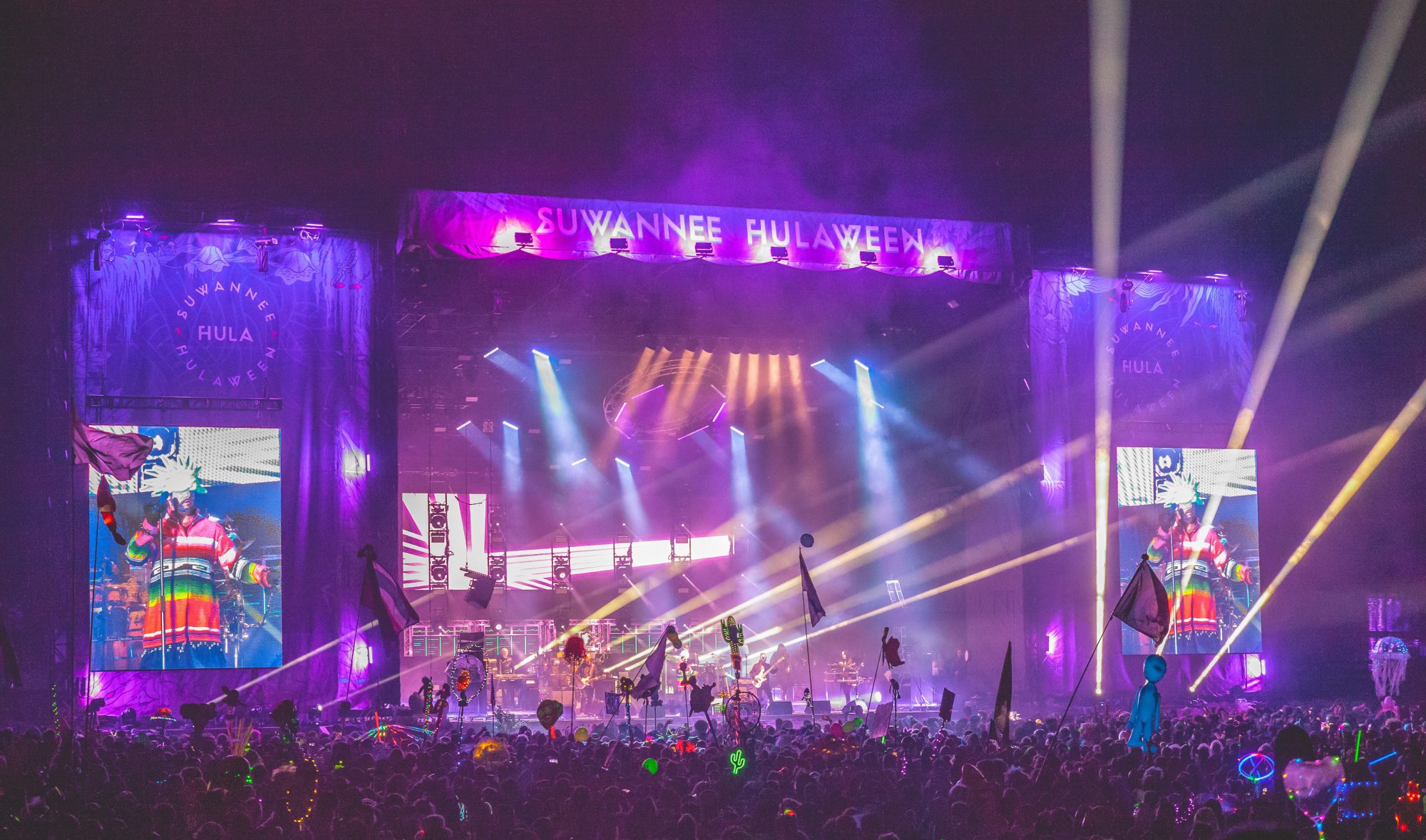 Switching up themes a bit toward the end of the set, everyone's inner space nerd came out when, in honor of Hulaween's "Creatures of the Galaxy" theme, the Cheese threw in the theme songs from Close Encounters, Star Wars, and Star Trek. Accompanying these were massive parade-style spaceship-shaped floats that appeared from behind the stage to float over the ecstatic crowd while a fireworks display topped off this incredible performance.
But our night wasn't over yet. With a quick stop back at the campsite for several more layers of clothes and blankets to protect against the plummeting temperatures, we returned to the main stage for Jamiroquai. I only knew a little of their music but had been recommended by several people to check out their live performance. The lead singer's white spiked headpiece was an interesting talking point but overall they put on an energetic and enjoyable show that had me singing along to their songs like "Little L" and "Cosmic Girl".
By the time it was over though, I was ready to see one of my absolute favorites, CloZee, tear up the Spirit Lake Stage. This incredible French artist has mastered her unique style that is all at once elegant and refined as well as organic and cultured. The first time I saw her, she played at sunset at Okeechobee Fest where she blew me away right from the start. But for Hulaween I honestly think that her music and style would have been much more appropriate at a bigger stage better set up for large crowds and viewing like the Amphitheater instead of Spirit Lake stage, where there wasn't enough space for everyone to enjoy her set as comfortably as they should've been able to.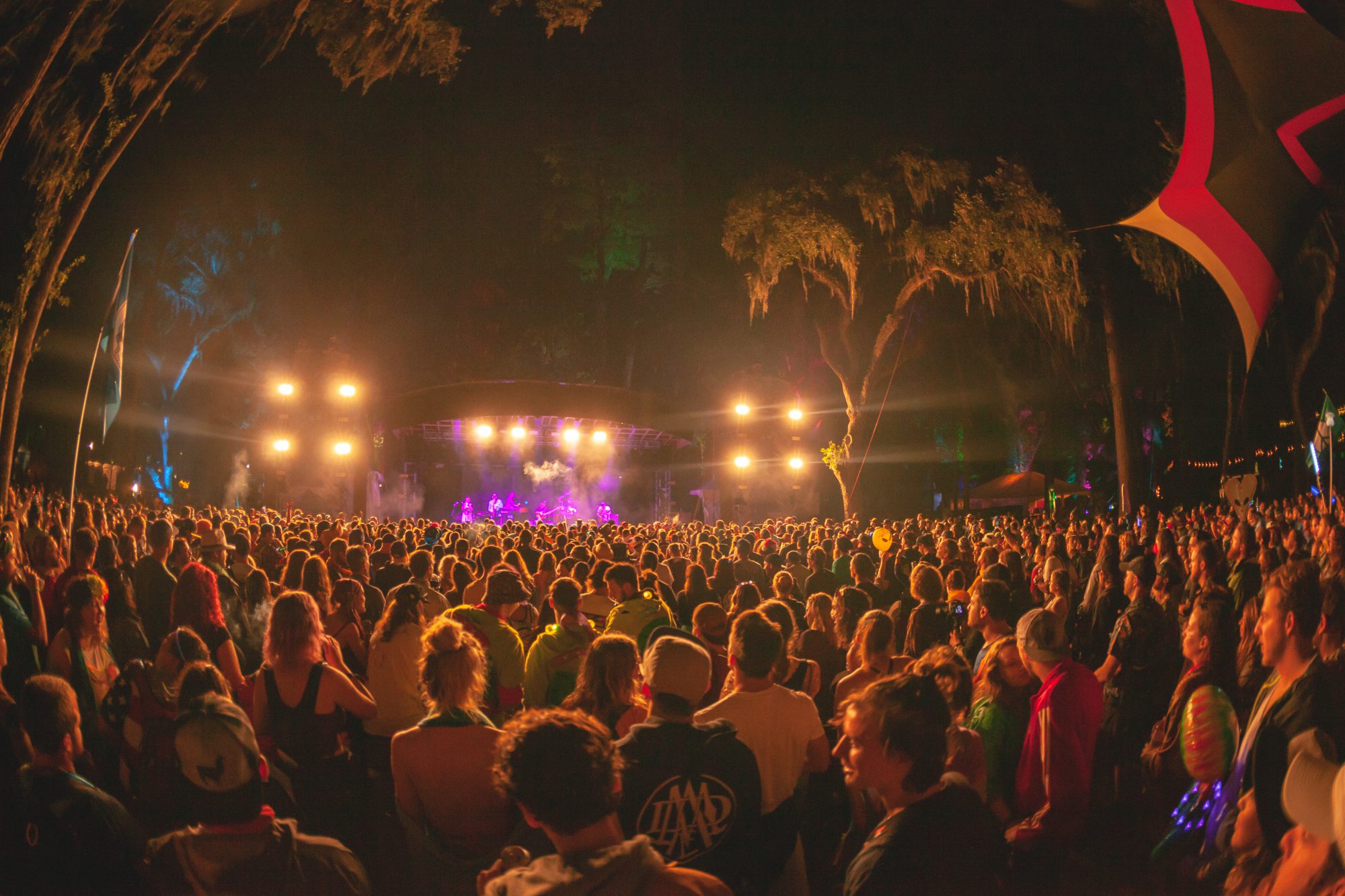 As the inevitable last day was upon us, the Suwannee chilled out and jammed during the day, only to come back to life again at night.
Sunday afternoon saw a major slowdown in everyone's attitudes, and an almost sleepy haze descended as we all fought to recuperate from the whirlwind of events leading up until then. My friends and I grabbed a tapestry and kicked it on the ground to watch Sunsquabi at the Patch stage.
Having never heard them before, I was curious to see their apparently unique take on live electronic music and was pleasantly surprised. Their music style was one that you could stand up and dance with just as easily as you could sit down and sway: a perfect medium. Our lazy streak continued, and we stayed put to see The Polish Ambassador just half an hour later. He surprised some people by bringing out a full band to play with him this time, and we hung out to listen to his mellow genre.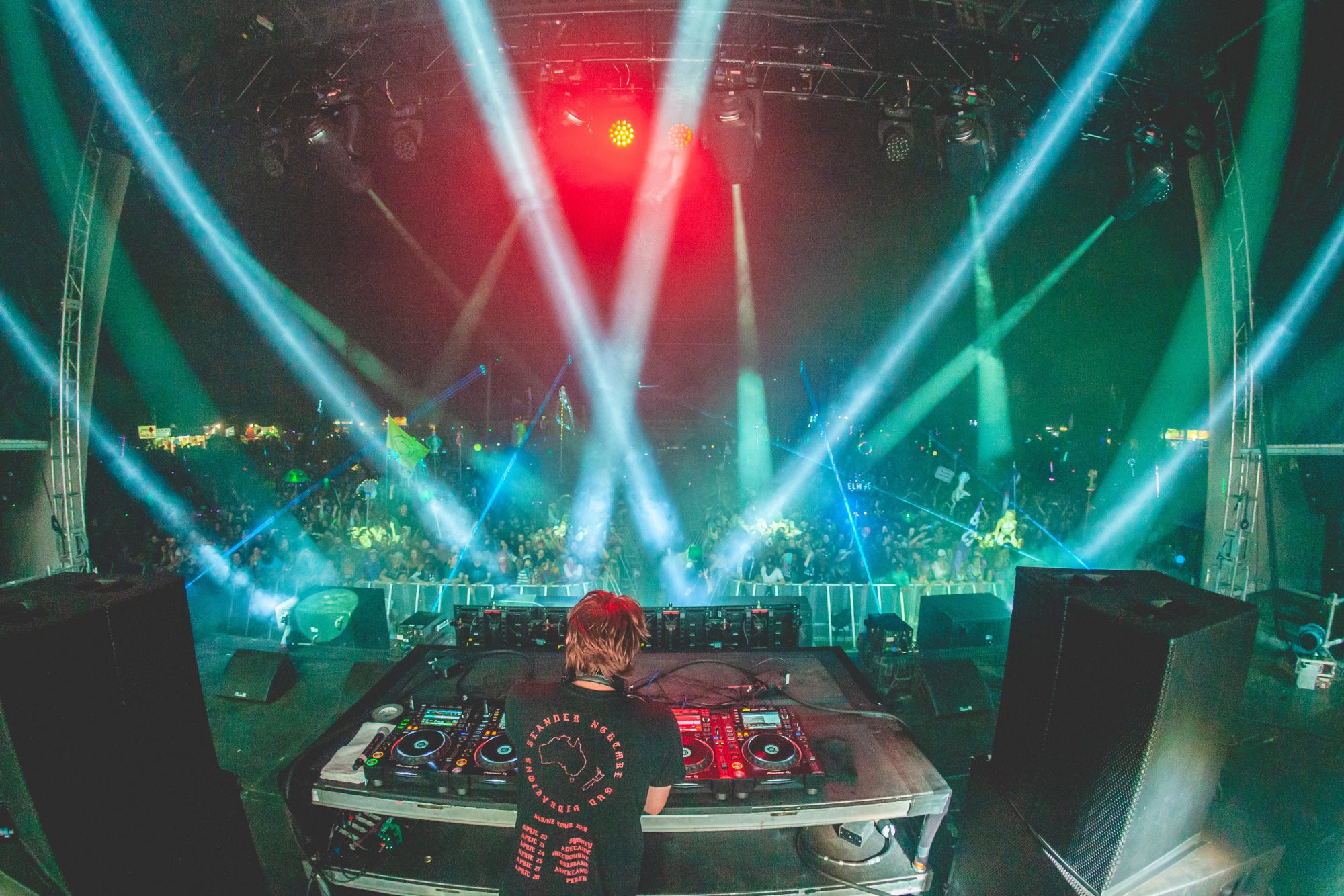 Night time fell and over at the Patch, NGHTMRE was determined to bring the Suwannee back to life.
Intense is the first word that came to mind for NGHTMRE's set; intense and chaotic. For most of the beginning and the end of the set, he captured everyone's attention and brought out that last-night-of-the-festival energy within us. But there was a while in the middle where it felt too unorganized to even try to dance; similar to Illenium's set at Okeechobee, the highs and lows, the rises and drops came and went without warning while everyone confusedly struggled to catch up to wherever the beat is. Thankfully at the end, he brought all of us back onto the same page with tracks like "Limelight" and his most popular, "GUD VIBRATIONS" and ended out strong.
The last three sets of the night were a bit of a scheduling mess, as three headliners, Turkuaz, Gramatik, and Janelle Monae, were all scheduled to play at the exact same time at three different stages. For a newcomer to Hulaween like Janelle Monae, this seemed unfair, as people were more likely to go see familiar artists instead. Being pretty familiar with her awesome work, I was disappointed at the turnout for her set and think it could have been a lot better for a main stage artist.
Nevertheless, she put on a vibrant and powerful vocal and visual performance that made me glad I came to her set. All of her popular tracks like "I Like That", "Make Me Feel", and "Django Jane" off of her recent album Dirty Computer had her crowd feeling empowered and energized. Janelle Monae was a perfect candidate to close out a festival characterized by the same themes of strength, community, and empowerment that she embodies.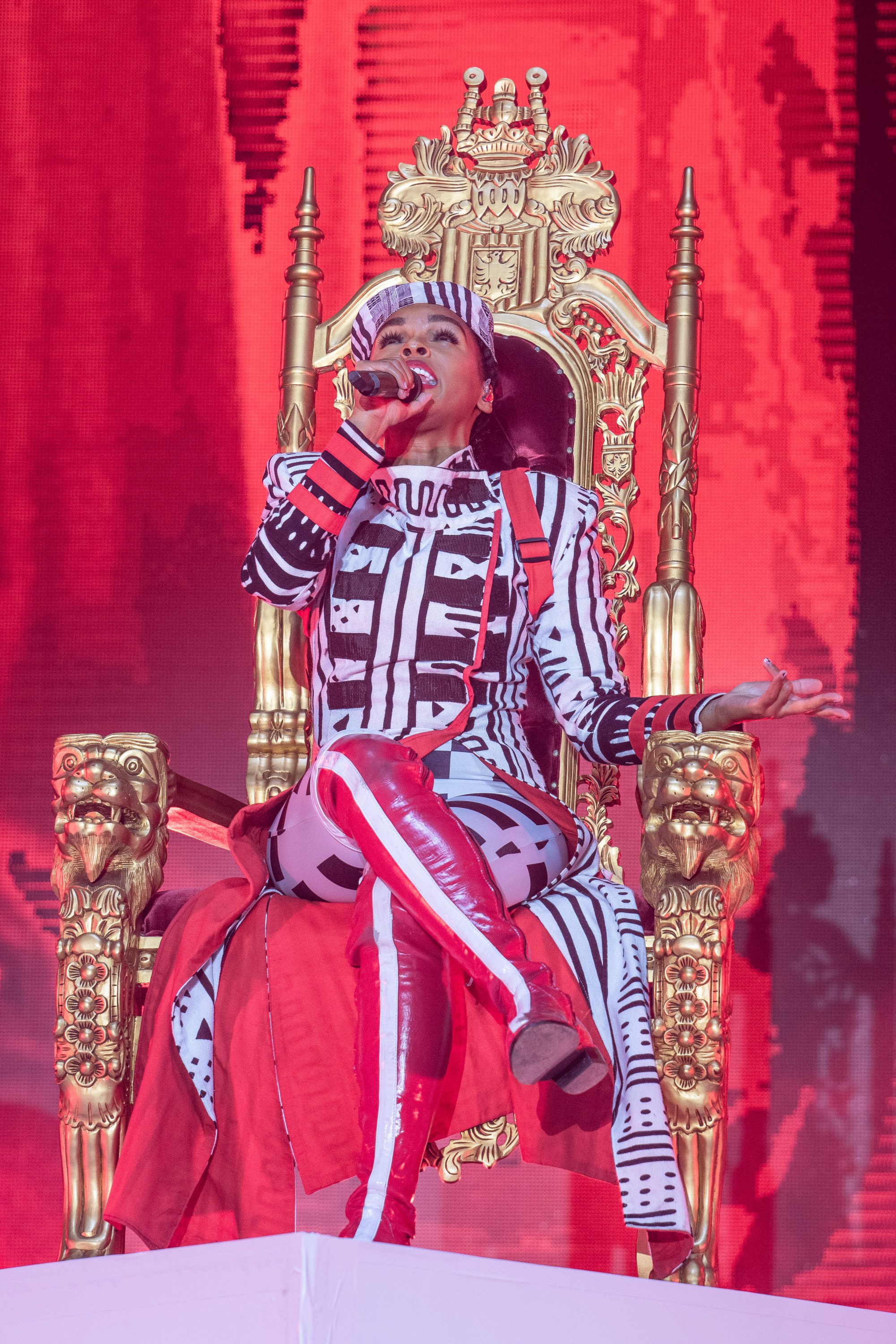 In the end, it turns out that what makes the Suwannee so special is more than just the art and artists you'll find there.
It's no secret to me now why Hulaween is considered one big family. The instant you enter its atmosphere, you're constantly surrounded by breathtaking natural beauty. Looking at overall production, setup, and experience, it's undeniable that Hulaween has once again risen to the occasion and surpassed expectations, but it's the truly extraordinary people that make this production so much more than just a music festival.
One of my favorite things about this festival was that from start to finish, I never felt anxious or pressured to experience everything before it was too late. Despite being somewhere I'd never been, coming to the Suwannee felt more like coming home than going out. It was a truly unique experience that made me so incredibly sad to leave but with a greater excitement to come back next year and rejoin my new Hulaween family.
---
Connect with Suwannee Hulaween on Social Media: