Stay abreast with this essential info so that you can shake what your momma gave you at the upcoming edition of Dirtybird's Birdhouse Festival!
---
In a few short days, the Dirtybird flock will descend upon the shores of Lake Michigan to deliver the second annual Birdhouse Festival! The new venue features ample grassy areas and stunning views of the Chicago skyline. In addition to the always stellar house music vibes, street-fair style games and activities should make the second installment of the Birdhouse Festival one for the record books!
To help you get ready for all the fun with the Dirtybird Fam this weekend, we've compiled all the essential info you need to go. Read on for the set times, easiest routes to get to the festival, what not to bring with you to the event, and plenty more!
---
Birdhouse Festival 2019 Essential Info:
Date: Saturday, September 7, 2019
Hours: 2PM – 10PM CDT
Venue Address: Lakefront Green – 2401 N Lake Shore Dr, Chicago, Illinois 60614
Tickets: Purchase HERE
Facebook Event Page: RSVP HERE
---
Birdhouse Festival 2019 Set Times: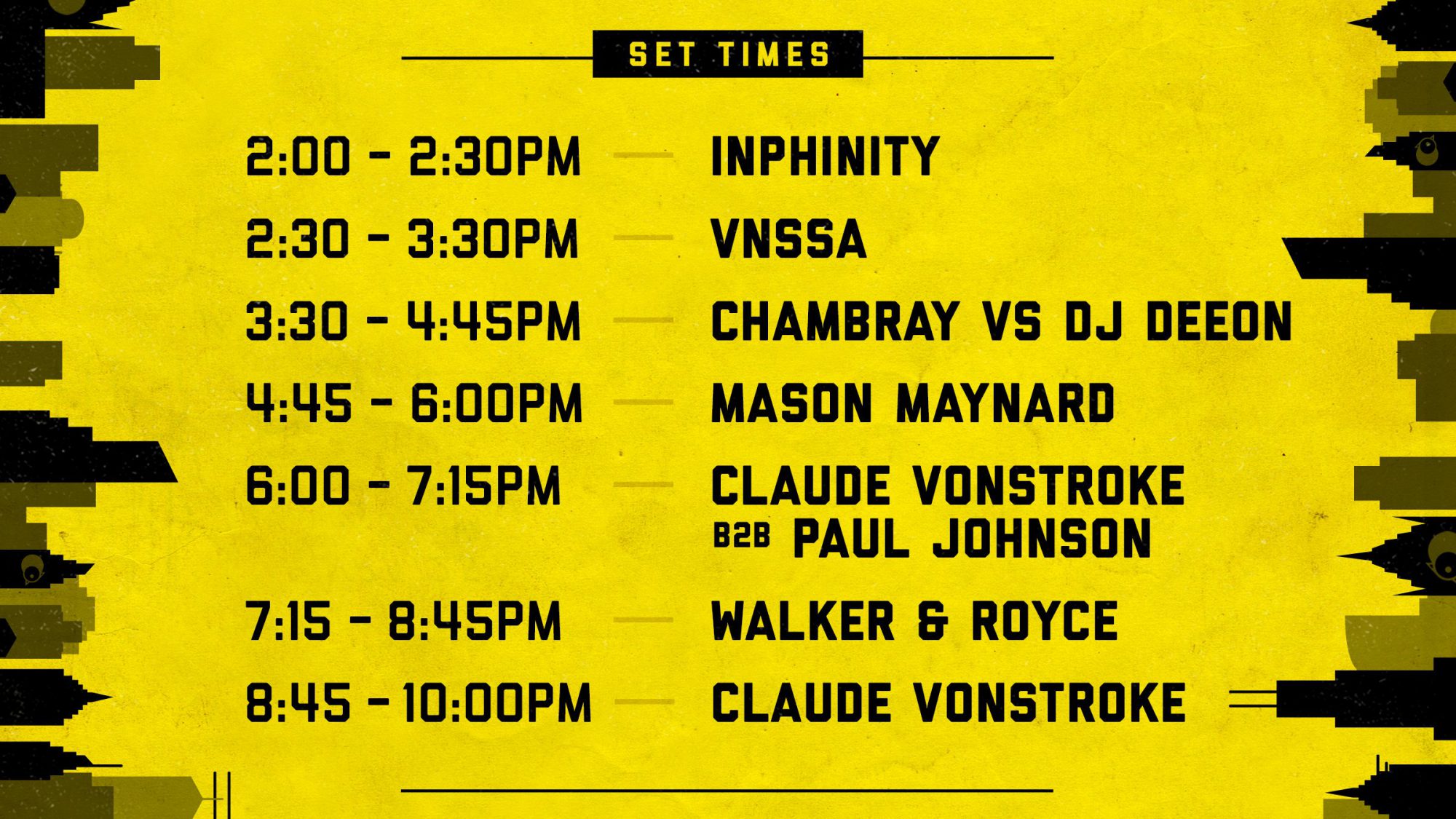 ---
Getting to Birdhouse Festival 2019:
React Presents strongly encourages attendees to use the CTA, rideshare (Uber/Taxi/Lyft) or bike.
CTA Bus:
Route 76 (Nature Museum Stop, walk 5 min)
Route 74, 151 or 156 (Stockton & Fullerton Stop walk 5 min)
CTA 'L' Train:
Fullerton Red Line Stop, Then take Fullerton Bus (Route 74, 10 min ride)
Uber / Taxi / Lyft:
Pick-up/drop-off is at Fullerton & Canon. Enter "Fullerton Ave. & Cannon Dr." as your destination in the app and instruct your driver to let you off at Fullerton + Cannon intersection. Then it's a brief walk east on Fullerton to Lakefront Green.
Driving (Parking):
Paid: Lincoln Park Zoo Lot at Fullerton + Canon
Street: North of Fullerton on Canon or Stockton
---
Birdhouse Festival 2019 Do's & Don'ts:
Prohibited Items
NO glass in any form
NO weapons of any kind including knives or sharp objects (including spiked jewelry)
NO paint of any kind including paint markers and spray paint
NO pens or markers
NO illegal substances, drugs or drug paraphernalia of any kind (including medical marijuana)
NO oils or salts
NO prescription drugs that are being shared with others
NO products that are being used or may be used for an unintended purpose that could be hazardous to your health or the health of others
NO opened or unsealed cigarettes or tobacco products
NO pre-filled Vape pens (See Allowed list for Vape specifics)
NO large chains
NO metal spikes
NO laser pens, pointers or similar light device
NO frisbees
NO opened tampons  – MUST be factory sealed
NO pacifiers
NO opened/ unsealed over the counter medications/vitamins or eye drops
(Can request certain OTC from on-site medical.  See Allowed list for details on Prescription drugs)
NO vending without permit allowed
NO bicycles, scooters, go-carts, ATVs, skateboards, rollerblades or skates
NO animals or pets (Service Animals/ Guide dogs okay with valid credentials)
NO coolers
NO outside food or beverage (Other than Water, see Allowed list)
NO Masks
NO open containers
NO Bota bags (clear Camelbaks are allowed, empty upon entry, with clear pouch)
NO Large bags: Nothing larger than a medium-sized purse or average-sized school backpack
NO aerosol cans, regardless of content
NO flammable products or materials including fireworks, explosives or projectiles
NO water guns or misters
NO chairs or hammocks
NO flyers, stickers, posters
NO drones and/or other similar flying apparatus
NO sleeping bags
NO professional cameras, recording equipment or detachable lenses
NO selfie sticks
NO tactical gear or clothing resembling police, SWAT, security or Public Safety
NO musical instruments of any kind including whistles
NO glow gloves or sticks
NO stuffed animals or dolls
NO flag poles (See Allowed list for flags and totems details)
NO Native American Headdresses
NO inflatables furniture or balls
NO Balloons or Chinese lanterns
NO item that can be used as a means to disturb the peace, endanger the safety of the crowd and/or inflict damage to people.
NO spray or aerosol sunscreen (See Allowed list for sunscreen details)
Permitted Items
Water – One (1) Factory sealed clear plastic personal serving-size bottle
Clear plastic personal sized container for water – must be empty upon arrival
Camelbaks – must be empty upon arrival and have clear pouch that comes out of pack (Botabags are not allowed)
Factory sealed cigarettes
Empty Vape Pens with factory sealed vape cartridges
Single use factory sealed Vape Pens
Sealed cosmetic products (max. 3 oz or 90ml)
Sunglasses
Hats
Fanny packs, medium or small purses, cynch-bags and average sized school backpacks
Factory sealed lip balm
Factory sealed gum and or mints (NO CANDY)
Factory sealed cream-based sunscreen (no aerosol or spray sunscreen allowed)
Umbrellas
Hand-fans
Recreational cameras, Point + shoot cameras, Go-Pros, disposable cameras (No Go-Pro sticks, professional cameras or detachable lenses)
Hula Hoops
Poi Instruments as long as the materials are SOFT. Any poi instrument with hard materials will be denied upon entry
Flags (but no flag poles)
Blankets
Lighters
Service animals
Person with disabilities, or service animals in-training, must be wearing appropriate apparel and must possess current credentials from an accredited service animal school
Prescription & OTC Medications
Prescription medications are allowed only in the original prescription bottle. Any persons attempting to bring in prescription medication must have valid government issued identification that matches the full name printed on prescription; pills in bottle must match description printed on prescription. If a person has mixed pills in a single prescription container, or if a person is attempting to enter with pills in a non-prescription container, medical representatives should be involved to make the final determination on if pills should be allowed into the venue.
Over the counter (OTC) medications are allowed providing they are new and in original factory sealed container.
Totem Guidelines
Flags, Decorated Pool Noodles, and Totems that DO NOT contain metal pieces, sharpened elements, or are capable of being pounded into the ground or hurting others.
Made from a lightweight material (foam, PVC, etc.).
Poles must not contain any solid metal pieces. Decorated pool noodles recommended.
Any item deemed dangerous, promoting illegal activity, or hate speech will not be permitted.
Totems are subject to inspection.
---
Reminder To Mind Your Belongings:
Unfortunately, many people have reported pickpockets, bag slashings, and theft of wallets, smartphones, purses and other valuables during this festival season. While this small number of bad apples in the bunch doesn't define an entire crowd, there are opportunistic people who come to these events to take advantage of unsuspecting partygoers and it's important to be mindful of your valuables while at Birdhouse Festival.
Looking for tips to keep your belongings safe? Check our post highlighting some ideas!
---
Connect with Dirtybird on Social Media:
Website | Facebook | Twitter | Instagram | SoundCloud