Yaeji brings her hip-hop-inspired Korean American style back home to Brooklyn to party with local producers at Yaeji Presents: Elancia.
---
At the meeting point of Williamsburg and Bushwick in Brooklyn, Yaeji is hosting Yaeji Presents: Elancia in the newly minted epicenter of NYC nightlife. Elancia is a warehouse rave in the truest sense, and locals will be flocking to get into this little known performance space to check it all out.
What's old is new again in the NYC party scene and this event is all about New York and celebrating the locals. Yaeji is so locally focused that she sports the website domain www.yaeji.nyc. And even after touring practically every global region this year, she's still focused on throwing a party "of and for" locals, stating "Elancia is my love letter to the parties, DJs and friends that make New York my home."
The 1896 is a unique, configurable space and we can't wait to see what's in store for us on September 6. 
This space is a modern warehouse space in every sense. It's cavernous and raw, but it's also a legal event venue with all the necessary accommodations like bathrooms, numerous well-marked exits, and an outdoor courtyard for brief escapes from the party. But what really makes it most interesting are the numerous rooms that can be kept separated or combined depending on the goals of the promoter. With Yaeji at the helm, we expect that a variety of performers will be spinning concurrently in each room.
Let's not forget how vocal Yaeji has been about safe and inclusive spaces. As stated on the event page:
"Elancia is an intentional space for all individuals to share space consciously, respectfully and without prejudice.

Homophobic, racist, transphobic, or discriminatory behavior of any kind will NOT be tolerated"
And, of course, Yaeji will curate this party with her unique, hip-hop inspired, Korean American sound.
For those unfamiliar, Yaeji's signature sound is to weave Korean and English vocals together as if they are one language. If that's not interesting enough, to those that don't speak Korean, those lyrics sound like an added layer of instrumentals rather than words. The result is an almost hypnotic state for the listener where body and mind are inside the music. If there's anything critical to say it is only that sometimes we get so caught up we forget to dance! Pro tip: don't forget to dance.
If you are in the New York area, don't miss this special event. Tickets are available now via DICE!
Want a taste of what's in store? Check out Yaeji's video for One More on YouTube:
---
Yaeji Presents: Elancia – Essential Info:
Date: Friday, September 6, 2019
Hours: 10:00 PM – 5:00 AM
Venue Address: The 1896, 592 Johnson Ave, Brooklyn, NY 11237 [MAP]
Tickets: Purchase HERE
Facebook Event Page: RSVP HERE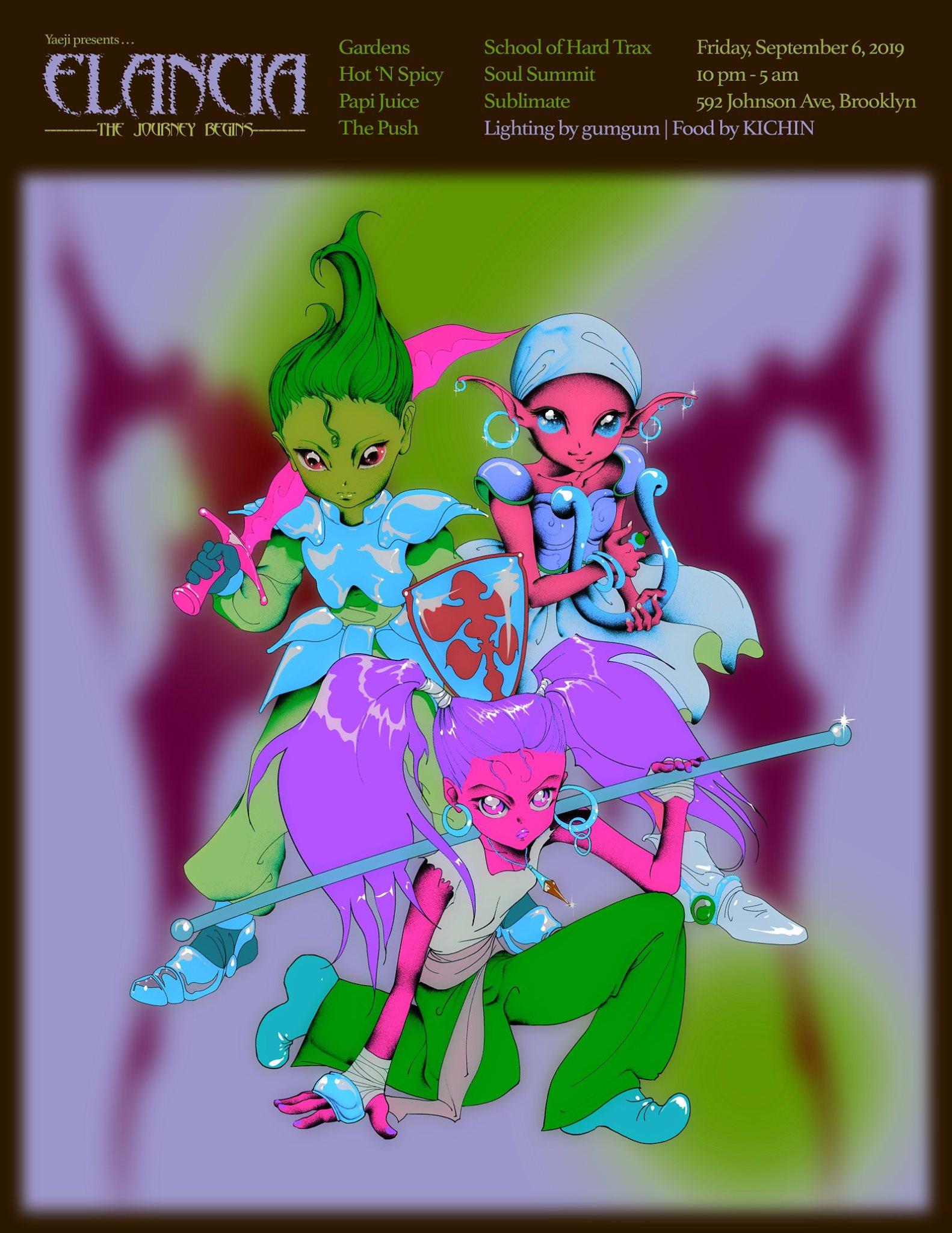 ---
Connect with Yaeji on Social Media:
Website | Facebook | Twitter | Instagram | SoundCloud