Black Caviar took some time to chat about their musical leap of faith, their quest for the perfect bounce, and upcoming releases after their set at HSMF19!
---
Troy Hinson and Jared Piccone, better known as house duo Black Caviar, have been on quite the come up this year. Dropping a handful of releases that we've grooved out to, the duo has also taken the stage at major festivals like HARD Summer over the course of the summer. 
With a wide variety of influences that range from The Beastie Boys to Fatboy Slim, they've truly blossomed as artists who aren't afraid to experiment and bend genres how they see fit. Their exploration in the electronic space can be seen on tracks like "El Camino" and "Coco," or even their latest collaborations with G.L.A.M. on "Alright Alright, Okay" and "Zonin'' that were released earlier this year.
Now with over half the year behind us all, it is more clear than ever that this dynamic duo is showing no signs of slowing down anytime soon. With some fresh music in store, upcoming sets in support of Loud Luxury on their Nights Like This Tour this fall, and plenty more on the horizon, we caught up with Black Caviar to chat. Check out some of their latest tunes below and read on for our interview with them!
Stream Black Caviar's Alright Alright, Okay / Zonin on Spotify:
---
Hey Black Caviar, thanks for taking the time to sit down with us here at HARD Summer! You just performed at the Harder Stage, how was the vibe of the crowd and what was going through your minds while you were on stage?
Troy: Surprisingly amazing.
Jared: Yeah, we kind of couldn't believe it. We're like, we go at 1:50 in the afternoon, which is like peak time. It's hot and you're playing like we're not going to play to anybody but you know by the time we were done it was pretty full so we were pleasantly surprised.
Troy: That's one of the things that's awesome about this culture is we were just here to smile and have fun.
Your journey to getting here has been quite the storied one that started in a bowling league and even included some food truck action. What led to you both inevitably becoming Black Caviar and throwing everything you've got at the music industry?
Jared: I think we just kind of gave up on life. We had nine to five jobs and we were just like… we don't know what to do, so we decided to start making dance music.
Troy: We had no idea that this was actually going to happen, so I think that makes it that much more exciting. Because we really shouldn't be here, we would be working our old jobs.
Jared: I was a used car salesman right before this.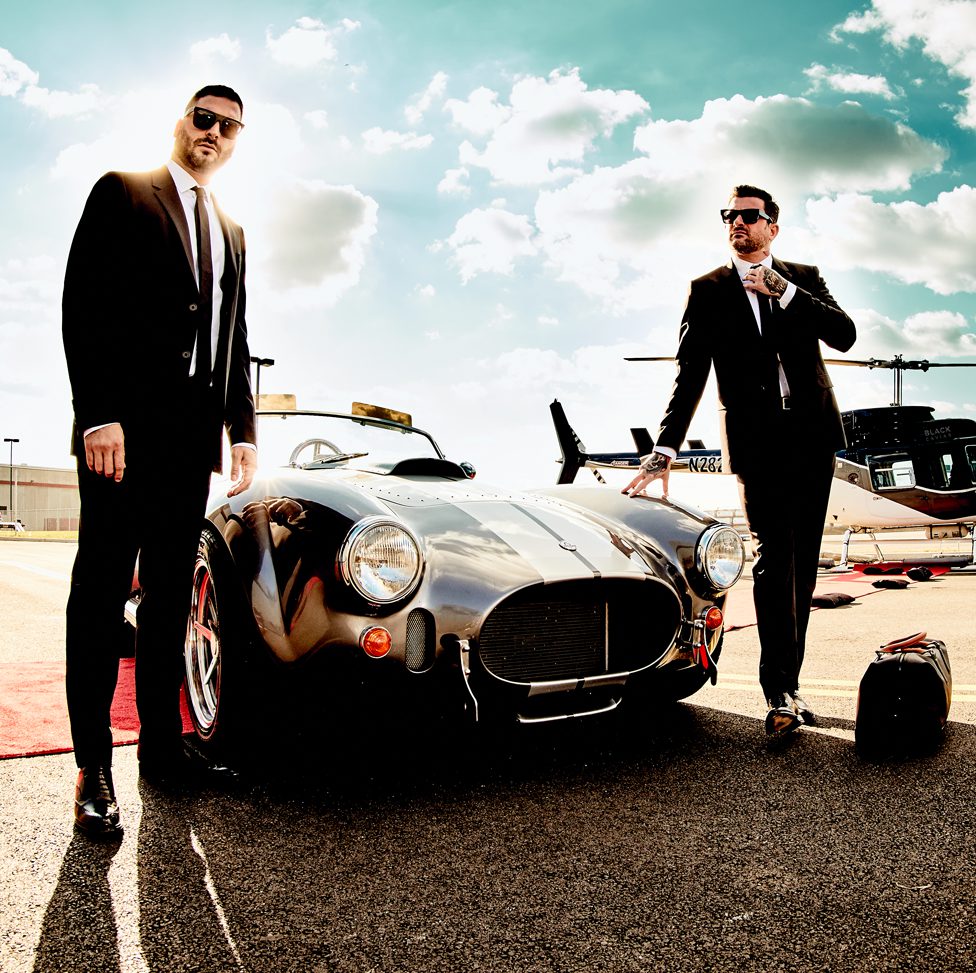 Building off that, what has been the biggest struggle that you've faced so far in your careers in the music industry so far, and how have you overcome it?
Jared: I would say trying to lose weight so we didn't look like fatsos on stage.
Troy: You know, we started playing and everybody's said: "oh, we love your dad bods." So yeah, I would say was probably the biggest obstacle. I had to get a cool sculpt, I don't know if you know what that is, but they freeze fat on your body. I had my tits frozen to try and eliminate some of the fat, so luckily my moobs are a little bit in a better place.
Something that stands out about your sound is the "perfect bounce". How do you achieve that in your releases and live sets?
Jared: I don't know the science behind it, but I do know that sometimes it takes a really long time. Sometimes it happens right away and sometimes we sit there all day. We'll say "this note isn't in the right spot," and we will argue about it. Sometimes it's the most subtle little changes in the song that make you go 'ooooh'.
Troy: There's no science to it, that's what's crazy. It's literally like you have to feel in your soul.  You know it right when it hits. We literally have great songs that just aren't bouncing and we can't do anything with it. It's the quest for the eternal bounce, I guess is the way to say it.
Speaking of your music, you just released your two singles "Alright, Alright, Okay" and "Zonin" with G.L.A.M. What was the production process like behind those singles and how did you guys decide to work with G.L.A.M. on the track? 
Jared: A friend of mine is her manager at Republic Records. We were just speaking to her saying we were looking for an artist and she played four or five of them. Then she played G.L.A.M. and even though it was only ten seconds of her song and we were like that!
Troy: She sounded like Missy Elliot and we knew we had to work with this chick. So we got in the studio with her and we're working on this beat, and she just didn't do anything for like two hours. She was just like on her phone and we thought, "what the hell is this?"
Jared: I didn't know what to do.
Troy: I said let's go and she literally got to the mic and was like Pwooooosh. We did a song with her called "Killa Shit Funk". The other ones "Alright Alright, Okay" and "Zonin" were all from that session. So we literally had one session with her and she gave us so much material, we were able to write two other songs. She's an incredible talent.
Jared: She's incredible.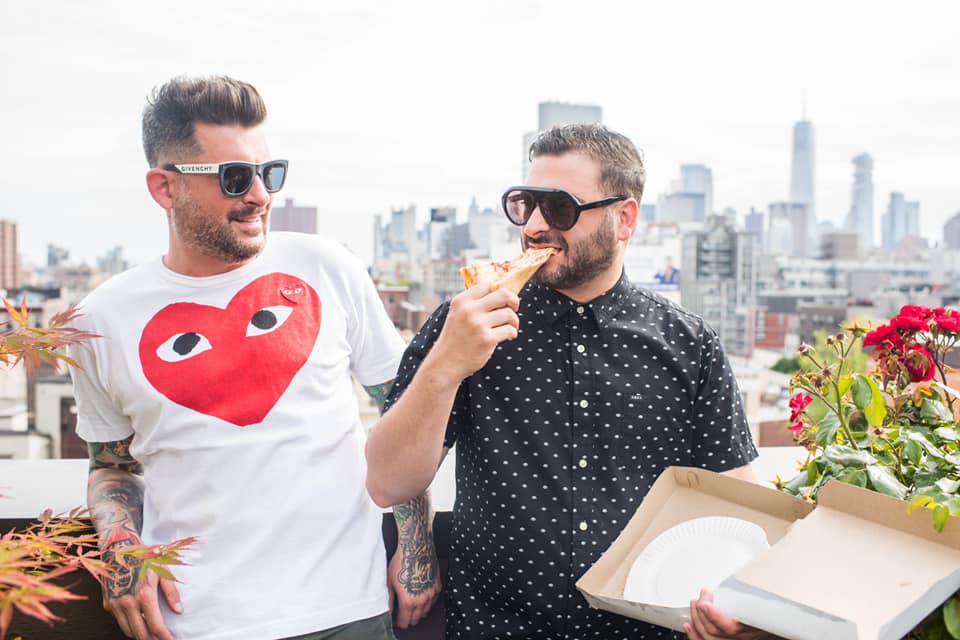 Your track with Blackway, "What's Up Danger," was part of the Academy Award-winning Spiderman: Into the Spiderverse. How did this tune come about and what was it like for you guys to hear your work in a feature-length film?
Jared: Pretty overwhelming. We were both signed with the same label, we're both on Universal, and they do a lot of soundtracks. So they came to us and said, "write a custom song, Blackway's going to do the lyrics, you guys make the record," and we all got together. It took eight months of going back and forth with the movie company but that was really an interesting, once in a lifetime opportunity.
Troy: We had written like hip-hop tracks but nothing theatrical. So we did the track, we sent it in, and then we didn't hear anything for like a month. And we thought, "oh, they might just not use it" But then it was coming out and then it was in an eBay commercial.
Jared: Yeah eBay did one of those like combo commercials to buy Spiderman stuff on eBay. They used the song and McDonald's had it too. It just went from zero to ten really quick a month before the movie came out and now it's its own track that's become a gold record. It will be our first gold record as Black Caviar.
Troy: It still feels surreal. It doesn't feel like anything real, that's actually happening, you know. But we're so grateful.
You've had a busy 2019, releasing those singles we mentioned previously and also releasing your remix of Bazzi's "Paradise", are you working on any new music now that you're excited about and can share with us?
Troy:  Yeah, well, we have a collab with GTA coming out in two weeks, we're really excited about. And then we have two songs coming out on Insomniac certainly later in like October and something coming on Heldeep which were excited about.
We got a bunch of other songs too that we're really excited about It's just trying to figure out what the release date is and stuff like that. It might go into next year, but I think next year, like early next year, we got some fire on the way.
Since you've been touring all summer and visiting new cities like Chicago, Toronto, Dallas, Philadelphia, has there been any place or venue in particular that stands out as extra memorable?
Troy: It's funny because we're still so new to this, you know what I mean? We've only really been taking this seriously for a year and a half. So every time we play it was the best time we've ever had.
Jared: You called me out once, you were like "You know you say that every show Jared," but then Troy will say "that's the best show, that's the best show!" It's just the fact we get to go do it is exciting enough, every show is our favorite.
Troy: I can tell you about our worst show recently. We played a festival that was on these camping grounds, a weird mom and pop festival, I've never seen anything like it. So we went on early on Friday and there was just mud everywhere. The PA system went out and had to reboot it, everybody's things are washed out, there was no catering, there was no cell service… It was one of those things that was just okay, but then you play something like this and it just all evens itself out.
Jared: Yeah, I mean, as far as our favorite, I'm not sure I can do one right now. I just remember ones like Grasshopper Underground in Detroit. Dope spot and it was like one of our favorite we've done besides a couple of headline shows. But the fact that we can play a show and sell tickets and people come still blows our minds.
You're stuck on a desert island and each of you have one thing that you've brought. What are they?
Jared: So definitely some kind of weapon to get food. Personally, it's holding up food. I don't know if its a gun or a knife or something to harvest you know. Then number two then is I'm going to bring weed. Yeah. I'm not trying to not smoke weed. I smoke a lot of pot, I'm not just going to be out there alone and not high.
Troy: So we've got weapons so we can kill and weed.
Finally, you'll be joining Loud Luxury on the "Nights Like This" tour to close out the year. What are you looking forward to most in the second half of 2019 and beyond?
Jared: I really can't wait to release all this music. We have a lot of music but sometimes things can slow down and you're trying to figure out what's next. We're just getting our ducks in a row and I feel like towards the end of this year and next year, it's gonna get super rapid. We're pretty much going to be releasing music as fast as we can if that makes sense. I'm probably most excited about that.
Troy:  Yeah, I'm really excited to be doing Black Caviar stuff, but I'm also really excited to try to get I'm doing stand-up. So I'm really trying to get my stand up career going. I just kind of want to do it all and eventually you know, we're going to incorporate it into Black Caviar where it's gonna be like a multi-faceted comedic audio experience.
Jared: I didn't know we were going to talk about this but yeah, he's doing stand up, and I do magic. At some point, we would like to do that during the show and I'm not sure how we're going to work it in yet.
Troy: 2020 is going to be our year for sure.
Jared: We kind of would be like the Penn and Teller of dance music.
Troy: Shout out Penn and Teller!
Jared: So yeah, Penn and Teller b2b Black Caviar collab 2020 you heard it here first!
---
Connect with Black Caviar on Social Media:
Website | Facebook | Twitter | Instagram | SoundCloud | YouTube