Despite the high temperatures, Hard Summer Music Festival continued to grow, improve, and showcase itself as a top tier festival this year!
---
Tens of thousands of attendees braved the heat and returned to the Auto Club Speedway in Fontana, California for two days of dancing, music, and fun at HARD Summer Music Festival! The two-day event featured six stages of beats across a variety of genres including hip-hop. Whether you were a headbanger, a house head, or just wanted to dance there was something for everyone.
Related: Looking for live sets from HARD Summer this year? Check out our post with the ones that have surfaced so far!
The last few years we've seen Hard Summer continue to grow and evolve as they try to deal with the ever-increasing summer heat and logistics of a growing crowd. They have improved the overall festival once again made it a contender in the running for the best to attend in SoCal during the season. While there were many things to experience and see at Hard Summer these were my top five components that made it a memorable event.
Five Things We Loved About Hard Summer Music Festival 2019
---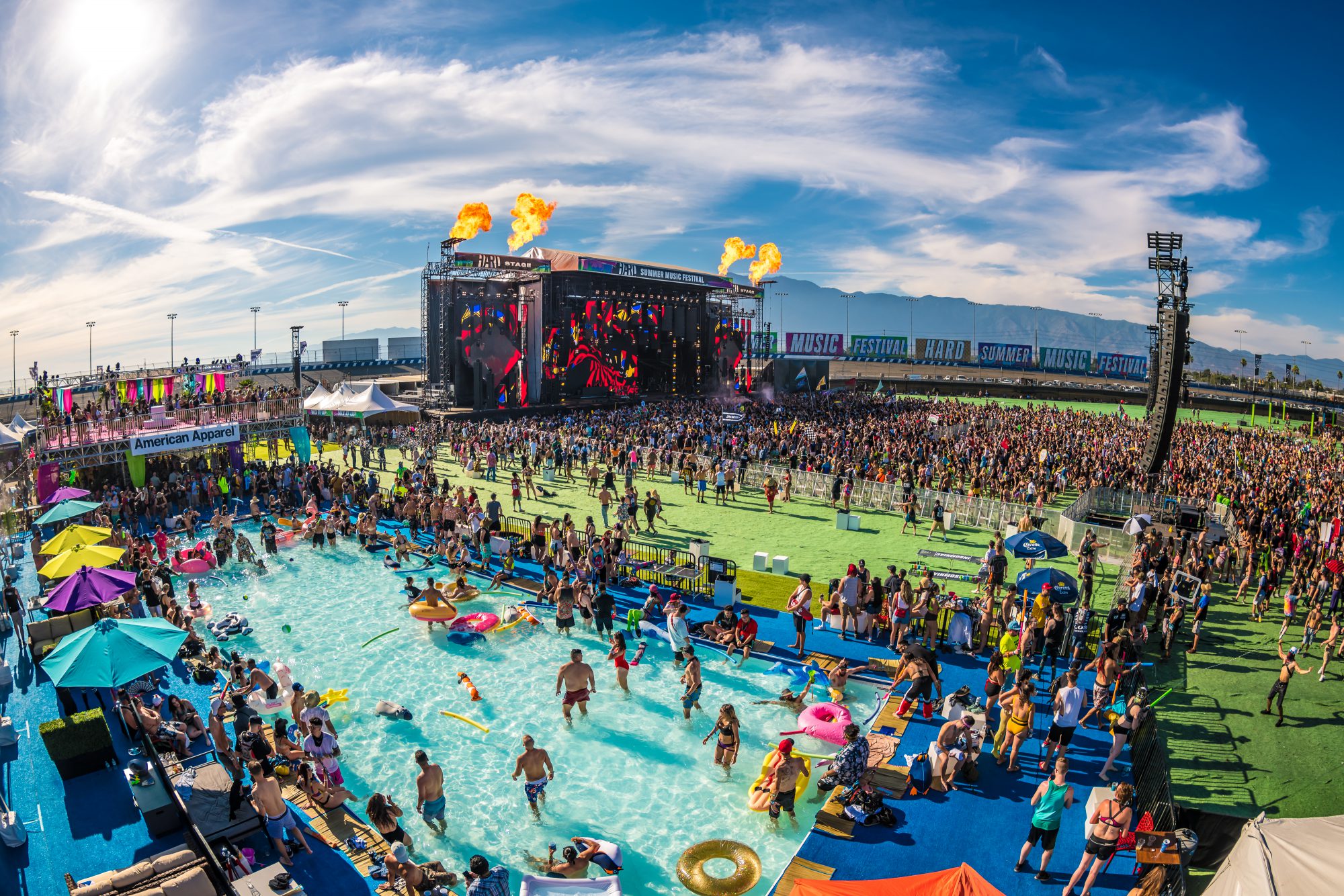 More Shade, Water Features, and No Dust
As we walked into the venue one of the most noticeable additions was the green felt-like cloth now covering a majority of the grass. The felt was bolted directly into the ground and spanned the pathways between stages. This massive change essentially eliminated the dust we experienced last year. The only drawback was that by the end of the night some of the fabric had lifted off the ground creating some special tripping hazards, but it was well worth not being choked by dust.
Multiple times we got asked, "what stage is that?" in reference to Shady Lane and the question was very understandable considering how much bigger it was from last year. The extra mist prevented you from seeing the end and thus it very well could have been a stage.
Additional shade structures could be found at the backs of both the Hard and Harder stages as well as an extensive network of misting fans between stages. With temperatures in the hundreds and the sun not setting until 8pm every piece of shade, airflow, and water feature helped beat the summer heat.
---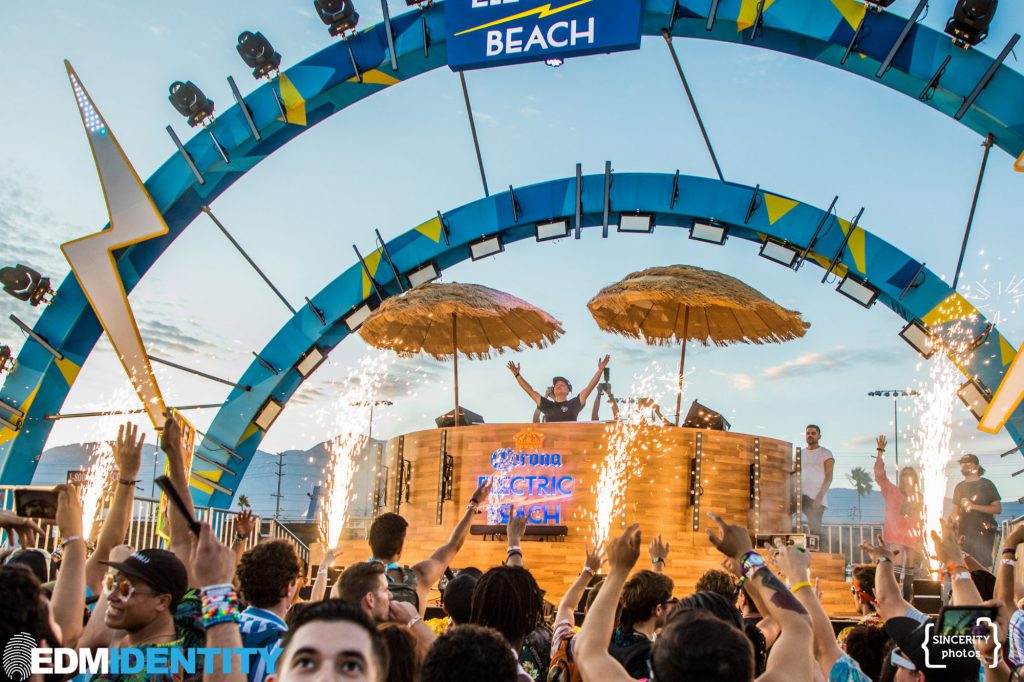 Chilling at the Corona Electric Beach Stage
Sand covered the entire area while Corona flags provided shade for a real beach house vibe. The lineup for the stage could only be found on the app but it was packed almost the entire weekend. Along the sides were the VIP cabanas and beach balls continually bounced all over the crowd. By the entrance, the Corona reps were selling beer and offering spray paint tattoos in vibrant colors.
The stage production included CO2 cannons, sparklers, and a variety of flashing lights. The whole place felt like a beach party the entire weekend. Sets like Justin Martin and Ookay both overflowed but it didn't stop the party. We've seen this stage before but it really helped capture an essence for Hard Summer that really stood out as a good time!
---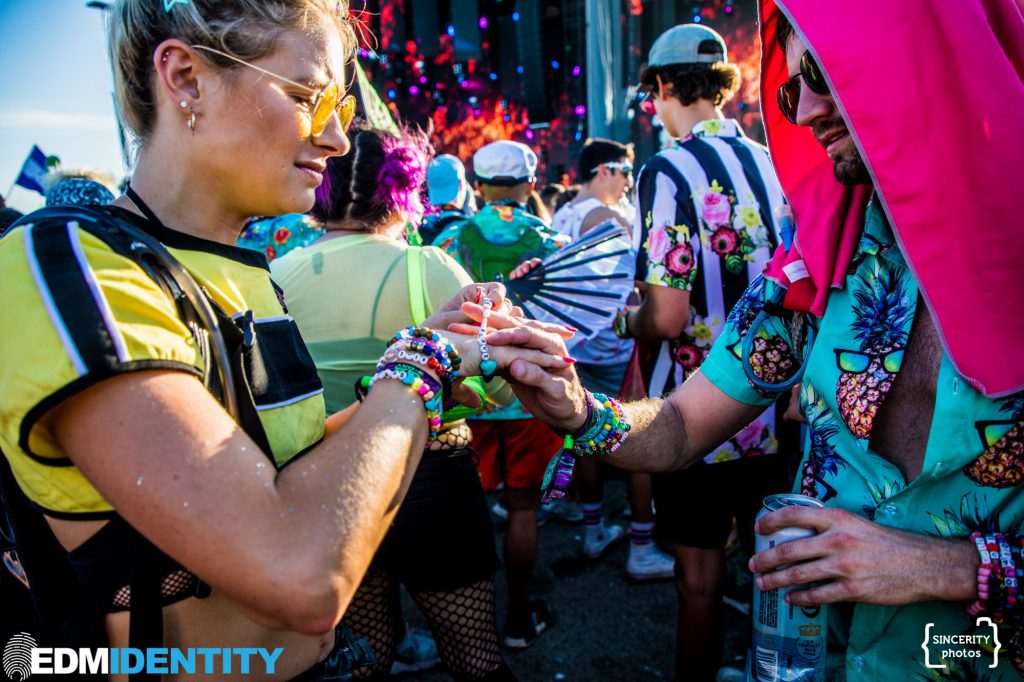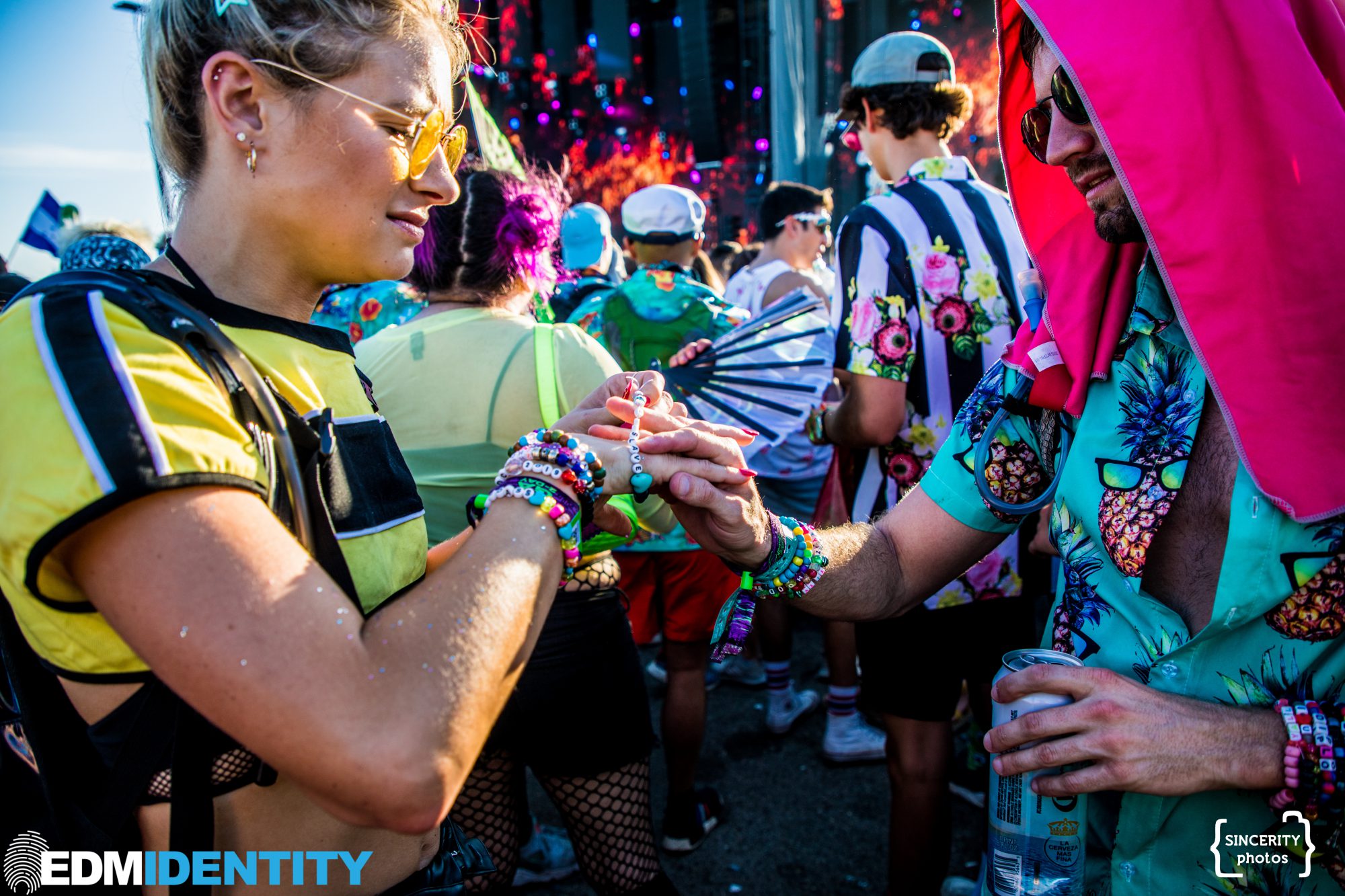 The Friendly Vibes
Historically, Hard Summer has been known to be "a festival, not a rave." For years it was a festival that you could not wear kandi at and in fact, most rave-wear was either confiscated or banned entirely. While I don't think that kandi single-handedly brought good vibes to this year's edition of Hard Summer, there is something to be said for people attending with the explicit intention of sharing something of themselves. Multiple times throughout the day I witnessed friendships emerge through kandi, conversations, and even just the act of fanning each other.
While we were at Corona Beach House the man in front of us had been trying to catch a beach ball for a while. When he finally had caught it another attendee unaware of how long it had taken to catch the beach ball smacked it out of his hands into the air. The disappointment was visible on his face and the other attendee immediately realized he had made a mistake. He quickly apologized and the two strangers embraced. I wouldn't say that Hard Summer has always had a reputation for attracting PLUR vibes, but this year it definitely felt like it was emerging.
---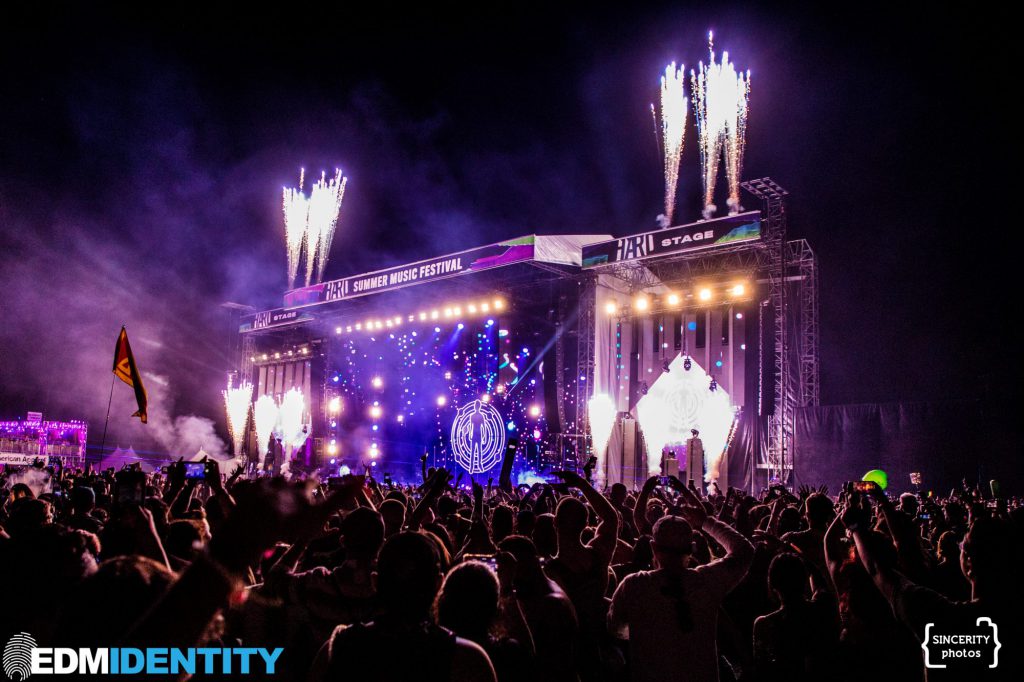 Kid Cudi
The last time we caught Kid Cudi performing was back at Coachella this year. Having taken a break from touring or performing this year we were all excited to see what he would deliver and we were not disappointed. He opened with many of his classics to which we all sang along and then finally played "Erase Me".
After singing it once through the chorus, he stopped and told us he had a tasty remix from Steve Aoki. The collaboration was born out of his work on the movie Bill and Ted and he debuted it for exclusively for Hard Summer. Not only did the remix breathe new life into a crowd favorite but Kid Cudi went on to announce a new album and a tour coming to a city near us next year!
---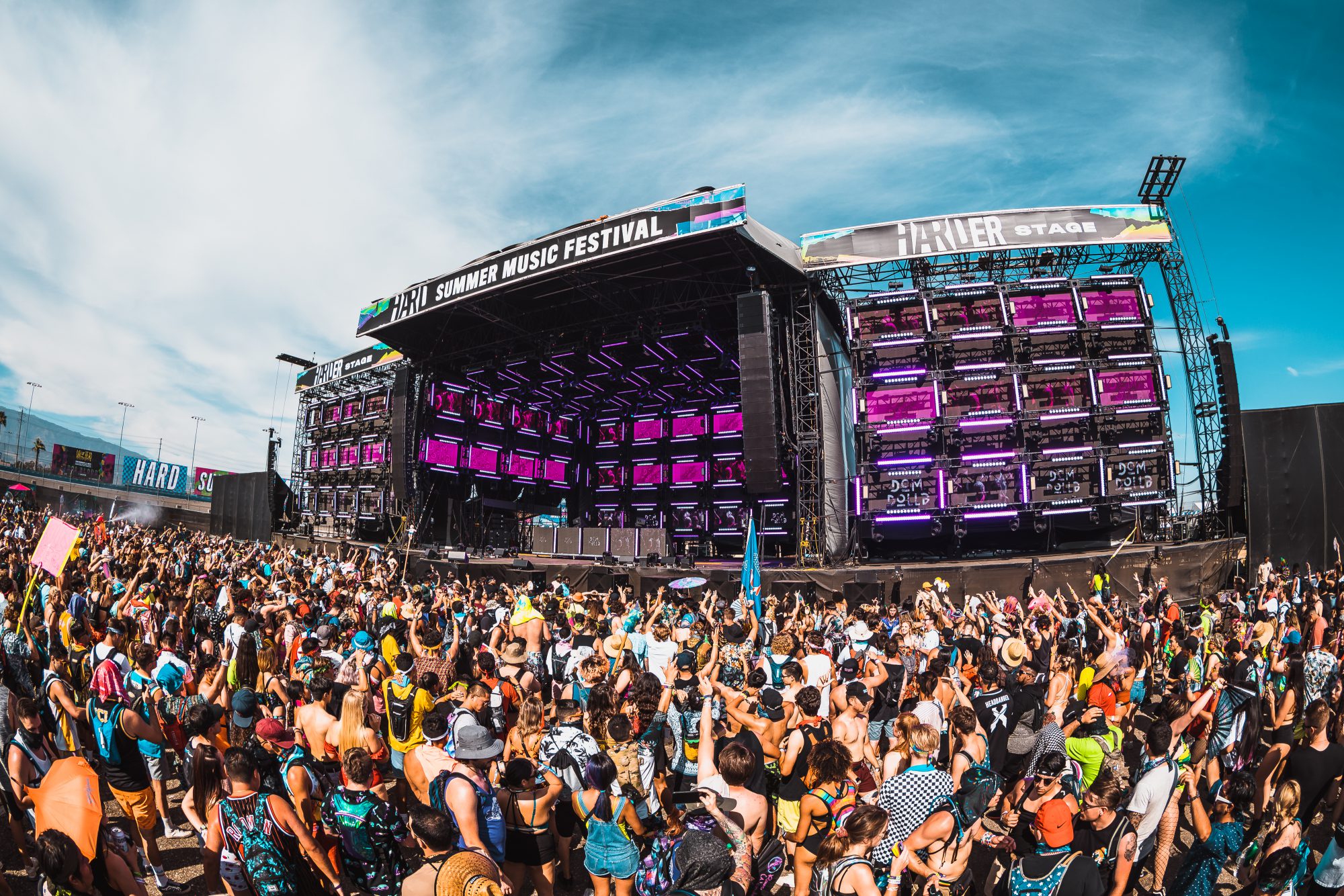 The Many B2B's Which Are Becoming A  Hallmark of Hard Summer
The past two years of Hard Summer have had some outstanding b2b sets many of which have been unexpected and this year was no exception. We had DJ Snake b2b Malaa, Tchami b2b Zhu, Flux Pavilion b2b Netsky, Excision b2b Nghtmre (with a special appearance by Slander), Atrak b2b Yehme2, and Flosstradamus b2b 4B.
Each back to back set offered a different type of combination between the artists. My personal favorite was the Tchami b2b Zhu a duo I would not have expected to put together but worked really well. They took turns playing tracks of each other but with the undertones of their own signature sound which blended perfectly together highlighting each artist's musical talents.
What were some of your favorite moments from Hard Summer Music Festival? Let us know in the comments below!
---
Connect with HARD Events on Social Media: