Ultra Music Festival recently committed to continuing its 'Mission: Home' environmental protection and sustainability campaign at next year's event and beyond.
---
Ultra Music Festival, one of the world's largest gatherings of electronic music attendees, announced its continued commitment to its 'Mission: Home' program after the campaign's sweeping success in 2019.
The 'Mission: Home' sustainability campaign brought unprecedented shifts in internal operations while encouraging vendors, employees and attendees alike to work together to reduce the festival's environmental impact. Some of 2019's most notable achievements included the reduction of 526,000 single-use plastic items and the diversion of 60,360 pounds of waste through recycling and composting efforts. 
Related: Ultra Music Festival has announced its dates and ticket details for 2020. Check out our post for more information! 
Local environmental organizations gave Ultra Music Festival an unprecedented overall first-year sustainability grade of 'A' in 2019. 
In an unbiased, third-party report detailing Ultra's achievements in sustainability, VolunteerCleanup.org, Surfrider Miami and Debris Free Oceans collaborated and graded the festival's initiatives. Of the 19 initiatives that received an individual grade, 14 received a grade of A- or higher for an overall grade of A. According to the report, Ultra performed most strongly in its signage and messaging, Leave No Tracy policy, ban of polystyrene, management of venue litter, and overall outreach campaign. 
"Ultra Music Festival sets the bar in festival greening. We were thrilled that the venue appeared exceptionally clean. There were enough waste stations, appropriate messaging, and volunteer staff to establish the social expectations which the attendees followed." 

– volunteercleanup.org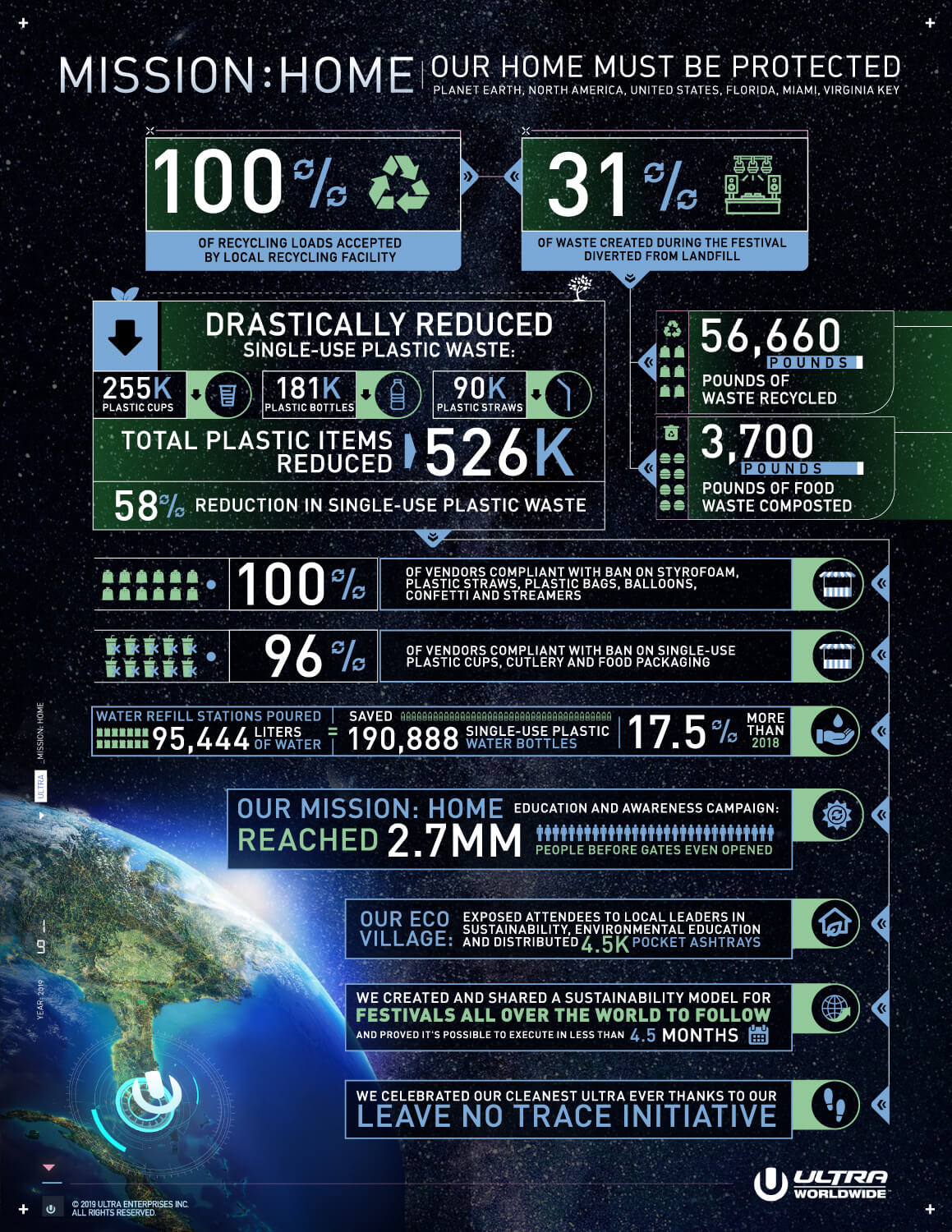 Thanks to its Leave No Trace program and widespread education and awareness campaign, Ultra celebrated its cleanest festival ever.
Ultra's robust 'Mission: Home" environmental protection campaign reflects the company's firm commitment to sustainability for 2020 and beyond. Engaging all vendors, crew, and attendees, Ultra successfully phased out single-use straws, cups, food packaging, cutlery, confetti, balloons, styrofoam, and streamers at this year's event. They even distributed free pocket ashtrays to mitigate cigarette litter, an often unrecognized yet significant source of waste.
Most impressive was Ultra's widespread environmental and sustainability awareness campaign. This included powerful social media content that reached 2.7 million people before the gates even opened. Furthermore, the festival did a fantastic job of spreading positive and inspirational through signage and lighting displays, reaching approximately 60,000 attendees per day.
Ultra Music Festival has set the bar high, giving festivals worldwide a sustainability model to emulate.
In next year's edition of Ultra Music Festival, we hope to see the 'Mission: Home" program continue to thrive. Moreover, we hope the campaign will instigate improvements in other areas of sustainability, such as the number and strategic location of water refill stations and the repurposing of food waste into compost.
---
Follow Ultra Music Festival on Social Media: