Turn back the clock to 2014 and bring on the nostalgia with Lane 8's shimmering deep house tune, "Nothing You Can Say" featuring Lucy Stone.
---
Incorporating an emotional blend of beautiful, melodic instruments with his undulating beats, Daniel Goldstein, aka Lane 8, has forged a truly distinct sound that is free of comparison. Spending hours on end becoming lost in Lane 8's enthralling musical journeys has become a part of my daily ritual. However, one track that consistently earns a spot on my repeat list is "Nothing You Can Say".
A collaboration featuring the idyllic vocals of Lucy Stone, this track was released back in February of 2014 on the Anjunadeep label. One of Daniel's first string of releases with Anjunadeep, this collaboration, along with a handful others, repeatedly topped the Hype Machine charts and earned him the support of BBC Radio 1. It offers an incredible depth of feeling for the listener with its beautiful vocals, synth plucks, and flowing rhythm.
Since then, Lane 8 has made waves in the house genre with his own album releases, Rise and Little by Little, building a powerful momentum for his distinct blend of sounds. More recently, Lane 8 introduced a new label and events concept, This Never Happened. Removing the distractions of phones and photo-taking, these special gatherings cultivate an environment where fans are encouraged to experience the moment in its purest form and forge lasting connections with one other.
Even after countless plays, "Nothing You Can Say" always leaves my soul soothed and my heart glowing. 
I've had the privilege of seeing Lane 8 almost ten times now, and when he incorporates tracks like this one into his sets, the sound takes me back on a nostalgic, dream-like journey that calms the mind, body, and soul. Lane 8's sounds have evolved since 2014, integrating styles ranging from techno, deep house, and progressive house, but this iridescent track will always be a gem in my heart!
Stream Lane 8 – Nothing You Can Say (Original Mix) [feat. Lucy Stone]:
---
Lyrics:
Send me to the darkest side of town
Sinking further into solid ground
I'm running circles as I start to count
The streets are empty, beating heart unwound
There's nothing you can say
to change my mind
There's nothing you can do
that I haven't tried
When even the lines that keep us out of sight break in two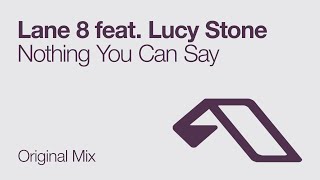 ---
Follow Lane 8 on Social Media:
Website | Facebook | Twitter | Instagram | SoundCloud | YouTube