The Project Z battlefield was filled with a wild mix of bass music and hard dance that created the perfect place for some summer fun.
---
It was the Fourth of July weekend and I didn't really know anyone else who would be joining me, but I was more ready than ever to enter the battlefield that was Project Z. Stoked to get a dose of bass and hard dance in, I made my way up to the NOS Events Center and could feel the energy levels within me grow as I approached the venue.
Arriving just about an hour past gates opened, the line for parking was moving in an extremely slow manner and ended up taking nearly an hour for me to get a spot. From there, I headed to Will Call and then to the actual entrance. After waiting a few minutes in line, people from the front began to head back towards me, saying "if you're 21 and over" this isn't your line, so I joined them in the next one over.
I figured that the separation would mean I would be receiving a wristband to avoid an ID Check once inside the venue itself, but this was not the case. Instead, I would still have to go to yet another line for an ID Check which really rendered the separation at the front to be irrelevant. After all the confusion and delays in getting in, I was just happy to finally be inside the venue and able to start my experience at Project Z.
Upon entry, I immediately noticed the Triarch stage as I began my exploration of the venue.
Soothslayer was just wrapping up his set and I made a note that this is where I needed to come back later when FuntCase was playing. As I continued my initial exploration of the festival there were a variety of decorations that caught my eye. LED cubes stacked on top of each next to a post-apocalyptic, chrome plated art car, and a variety of color changing rods all at the very back of the Bassrush stage.
Beyond the decorations were plenty of food trucks, along with the merch booth and lockers as well. 
Insomniac always does a great job at bringing in some tasty eats and there was a broad variety of food available. There were options ranging from Asian fusion and BBQ to Mexican and Mediterranean as well. I also can't forget about the ice cream sandwiches made with donuts that were a perfect dessert for the high temperatures that day.
While we weren't planning on grabbing a locker for this event when my friend's phone died we headed over there to see if renting one of their charging ones would be an option. Luckily as he was talking to the locker attendees, Jasmine, a complete stranger, overheard his plight and said she had just gotten a locker and would put his phone in it to charge.
Part of me was shocked that a complete stranger would do this and a part of me wondered if we would ever see Alex's phone again. In a testament to the PLUR vibes at Project Z, we got it back safe and sound just before the Adventure Club set that we closed with!
Related: Looking for some live sets from Project Z this year? Check out our post for the ones that have surfaced so far!
Looking for some bass action, we went deep into the crowd for Mastadon and it was hot and heavy!
It was so hot during the Mastadon set that I was sweating as hard as the crowd was headbanging. This was actually my first time seeing him and I was left impressed as his heavy splits and screeching breaks had the whole crowd going wild. I would definitely see his set again! We stayed for Midnight Tyrannosaurus, Riot Ten, and FuntCase, and each set felt like it was getting heavier and heavier. By the time FuntCase started, I was officially drenched in sweat but the energy of the crowd was still going wildly strong.
That was the point when mosh pits really began to open up in multiple places.
I have a love-hate relationship with mosh pits, most of the time I don't really get it and if I have my camera in the crowd I avoid them like the plague. That being said, it was nice to see ravers being kind to each other in the pit for once. There were three times that I saw people get knocked to the ground but immediately grabbed by other moshers. I also witnessed multiple people choose the edge to protect those of us that did not particularly want to participate.
I love interactive art, but having interactive games at the event like laser tag took things to a whole new level!
It was around the time that Liquid Stranger started that I wanted to check out the laser tag warehouse. The line had been long all day and while it seemed to be moving fairly quickly, but sadly I never was able to make it in without missing more of the music. Although I didn't have time to actually play laser tag, it looked really fun which was confirmed by other attendees who had made it inside. I just couldn't miss seeing the epic b2b set between Gammer and k?d though!
Dubbed the Laven, the hardstyle stage was absolutely booming with sound. The stage itself was comprised of giant LED panels with the iconic Basscon face mask floating in the center. I'm not a huge fan of hard dance so I wasn't really sure what to expect, but this b2b had me smiling the entire time. They even dropped a mix of Moana's "How Far I'll Go" that I have been obsessed with since the event!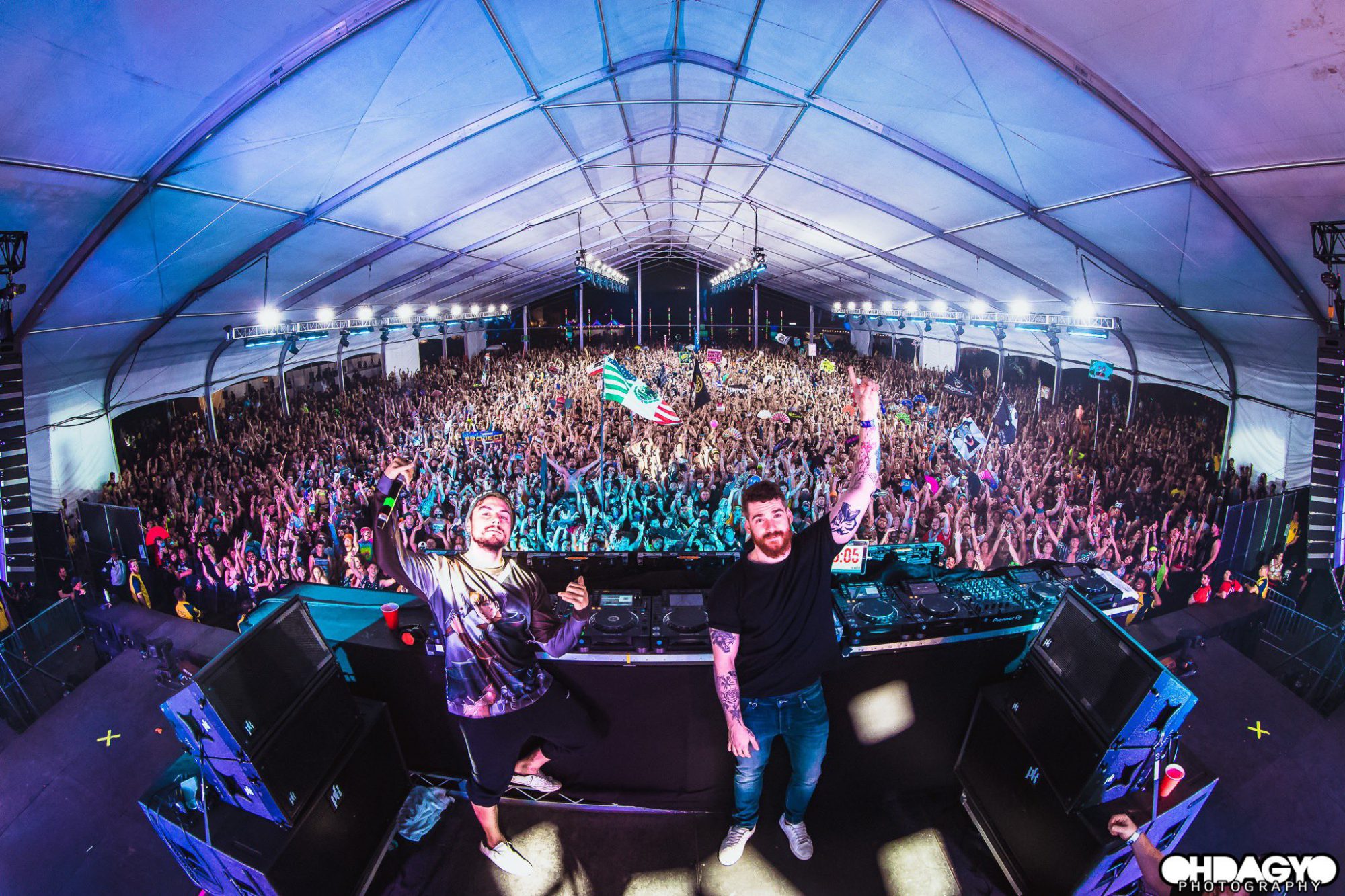 Finally, it was time for my favorite artist on the lineup, Adventure Club!
I was beyond stoked to have Adventure Club act as the perfect bookend to our night, and they definitely delivered a massive set at Project Z. Playing a set that wasn't their typical sound, they showed off their ability to mix a variety of styles and take listeners on a real journey. During their set, they dropped a mix of San Holo's "Light" that I thought was absolutely beautiful and heavy along with a number of other tunes that the crowd went wild for.
There was definitely some confusion from some members of the crowd though, as two girls stopped to ask who was playing and didn't believe me when I told them it was Adventure Club. I can understand their confusion but am also super supportive of artists who choose to mix it up, especially after the extra heavy sets I spent most of my day listening to.
After a long day full of heavy sets and headbanging, I was satisfied and definitely ready to rest my feet.
We did, in fact, spend a few minutes on the way out of the venue to catch some of FuntCase's Drum & Bass set, which was truly fire. It made me wish I would have had more time to spend at that stage, but my feet were telling me otherwise by the end of the night.
Overall I was very happy with the experience I had at Project Z this year. The blend of bass music and hard dance with quality production elements and some vibes that were out of this world made this the epitome of a good time. After attending the two previous editions I hope to see this festival come back in 2020 and beyond as I'll surely keep it in my list of must-attend events during the summer.
---
Connect with Project Z on Social Media: