The new graphic novel Claptone reveals the origin story behind everyone's favorite Fantast-ic producer.
---
Claptone is an enigma. He consistently produces best-in-show groovy house music and plays hundreds of shows a year, each of them fun, different, and always an absolute party. Today, he announced something new for his fans with the launch of an all-new superhero-style comic book, which portrays the mysterious DJ and producer as the protagonist.
Simply titled Claptone, the eight-part graphic novel tells the story of a masked entity who is sent to save the population of a far-flung planet from The Suppressor, who is using his nauseating sound to control the masses. In the story, he teams up with the mysterious Manufacturer and the Sound Force trio to fight off evil and perform a sound ritual. Will Claptone succeed in freeing the village and fighting off evil (and terrible music) for good? I'm not sure – we'll have to read to find out. 
What I am sure of is that this graphic novel is a great continuation of an already compelling narrative. Claptone has done an incredible job of creating a persona that focuses on the music, including the whimsy surrounding his intoxicating beats. Claptone is romantic, an escape, an idea that at his shows, you are permitted to be free. It's only natural we want to know the origin story of our beloved hero.
The comic book was written by Krishna Devasabal and drawn by artist Vee Ladwa. They worked for months with Claptone to finalize this story and introduce some new and surprising characters into the Claptone Universe. Previously Ladwa worked with the artist on postcard designs, as well as the stop motion video for his track "Animal."
The graphic novel is available now via Claptone's website and comes with some sweet new merch with motives from the comic. If you're looking for a deeper connection to his music check out our review of his album Fantast as well!
Enter to win a copy of Claptone's Comic Book and more!
Win a Copy of the Claptone Comic Book, T-Shirt, and 'Fantast' CD!

---
Watch the teaser video for the comic book on YouTube:
---
"Like all of us, I always wanted to become a superhero. Now my dream – at least in this graphic novel – came true! Told you I've got magic powers ;)"

Yours truly,

sonic superhero CLAPTONE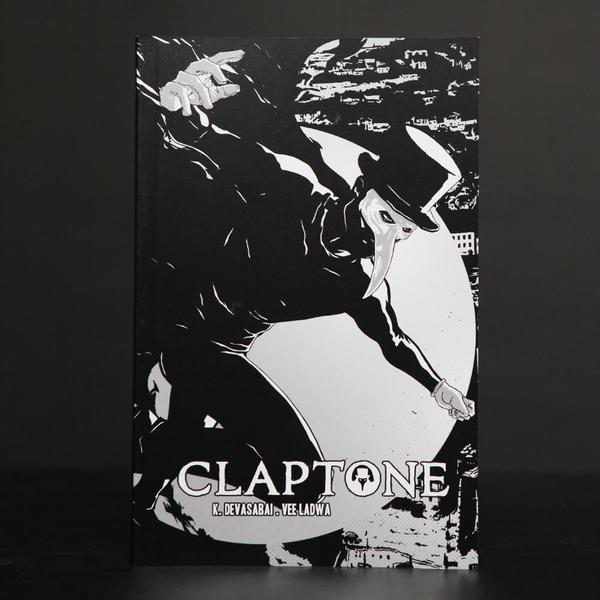 ---
Follow Claptone on Social Media:
Website | Facebook | Twitter | Instagram | SoundCloud