Roukin stopped by to chat about his roots in the '90s rave scene in England, his recent releases Best Of You and Walk With Me, and plenty more!
---
Born in the United Kingdom but now calling Los Angeles his home, house music artist Roukin has been carving out his niche in the scene. Getting a true start in the original rave scene back in the early '90s, over the years he's taken that know-how and blended with modern techniques to craft his style that's in a perpetual state of evolution.
After focusing heavily on his career as an actor for many years, Roukin has set his sights on dominating the decks as a mainstay at iconic nightclub Avalon Hollywood. Aside from his work as a DJ he's also taken the reins of his own radio show, LA Underground, while also releasing some work from the studio like the Walk With Me and Best Of You EPs.
Gaining some serious momentum in 2019 already, we caught up with Roukin to chat about past experiences in the scene, how he fell in love with dance music, and so much more. Take a listen to his exclusive guest mix below and read on for some insight on this house music artist today!
Stream EDMID Guest Mix 173 || Roukin on SoundCloud:
---
Hi Roukin, thanks for taking the time to chat with us today! Let's start off by chatting about your new EP, Best Of You. What was the inspiration behind the release and how did the production process compare to Walk With Me? 
Thanks for having me! It's such a treat to be chatting with you. Best of You was a collaboration with Hobbs (UK), a brilliant DJ/Producer based in Manchester. We met on a DJ retreat last year in Ibiza and hit it off. We worked on several ideas together on the island and once we returned home, pinged versions back and forth. One of us would lay down an idea, share the project and then the other would move it forward, send back and go again.
We were really lucky to gel as producers because you really can't work that way with just anybody. With us, it's always about the music and never personal, so neither of us are offended by a change. It was a special week for us as artists and we were inspired to write some music that reflected that feeling.
The first track we finished was Game Plan, a real sunset at Cafe Mambo vibe. Doorly signed it to Reptile Dysfunction, which was a dream come true and Marco Carola just played it in Ibiza two weeks ago, so it's really come full circle which is so exciting. Right after that, we finished the other two tracks that became Disco Nights and Best of You, which PEZNT signed as an EP to Black Soul Music, another sublime spot for the tracks.
Walk With Me was a completely different process because the idea was so personal and involved digging a bit deeper emotionally. So that was me just burrowing away in my studio in LA for nights on end.
On Walk With Me, "Twisted" saw you team up with NiTasha Jackson who provided some stunning vocals. What first brought you two together to work on the tune?
We met whilst I was filming in Richmond, Virginia. She approached me about working on some visual content for her latest album and when I heard her voice, I knew I had to work with her at some point. When I wrote the lyrics for Twisted I felt she would nail it but she really took it somewhere I wasn't expecting. 
Since the EP is all about taking a leap of faith and trusting your gut, can you share a moment from your own life where you've done just that?
I have taken so many leaps of faith over the last 20 years. In relationships, in work and lifestyle. I am not afraid of failure. I think that anything worth having begins with a leap of faith. Most recently I moved my entire life to Los Angeles. I've moved many times over the years living in London, New York, Virginia and now, here. I wanted this to be my last move, so threw everything at it, with no guarantees. It's really paying off now but at the beginning, it cracked open that chasm that led to the tracks.
You also host your own radio show L.A. Underground. What is your favorite part about hosting a show and what sort of planning do you go through ahead of each episode?
I absolutely love making the show. We are blessed in Los Angeles because the underground scene is so gracious and welcoming. My favourite thing is meeting so many incredible people from the LA scene and finding out what makes them tick and what inspires them as artists. It's infectious when people speak about their art and what something means to them (in this case the Underground House scene) and I always come away from interviews energised.
In terms of planning, I am about three shows ahead and always have my eyes peeled for potential guests at parties. I honestly look for artists that I am personally curious to know more about and usually that translates to it being interesting on the other end.
It was back in 1994 that you first began your path down the road of being a DJ. What were your first impressions on the early rave scene in the UK and how did you ultimately decide to start spinning vinyl? 
It was such an exciting time. I have two older brothers who would come back from warehouse raves with mixtapes. We were close to Liverpool and Manchester so it was a lot of hard house, trance, and some of the Chicago sound too. I would 'borrow' the tapes and take them to school and listen with friends. The music just spoke to me. I found it so cathartic, like everything I wanted to let out could be done through that music. I still have that feeling now.  It hits me right in the gut.
Whilst I love so many genres of music, no other music makes me as excited as House Music. One of my brother's best friends had turntables in his garage and later became a pretty successful DJ, playing with the likes of Jeremy Healy, Alistair Whitehead, and a very young Steve Lawler. We all used to hang in the garage together and his younger brother and I learned together, surrounded by the best of the best, in terms of vinyl. We had to wait our turn to get on the decks but when we did, we went for hours and hours. The neighbours wanted to kill us!
Is there anything you miss about the '90s era of raving that you wish would make a comeback in the modern era? 
I was too young to go to The Hacienda but I was right in the middle of the dancefloor when Cream in Liverpool was booming and I honestly don't think anything can match what happened in that club. I saw every one of the top flight DJs of the time from Sasha to Roger Sanchez and Carl Cox to Danny Tenaglia. I was a regular through Yousef's residency, Paul Oakenfold's, Steve Lawler's… the list goes on.
We traveled the country going to all the other amazing clubs at that time in the UK, like Sankeys in Manchester, Gate Crasher in Sheffield, and Mint in Leeds. Each club had its own vibe but some things they had in common. The DJ had only just been made front and centre. Nobody had phones that did anything other than making calls so they were put away. Everyone was on the same level. I don't even remember being aware of VIP areas, it was just full-on commitment to letting everything out on the dancefloor and riding the wave of the scene as it started to take over the world.
As a raver, I never once felt I didn't fit in or that I was better than anyone else. It just felt like a massive family, in on the same secret and it was visceral and explosive. I do miss some of the rawness that existed then because it was everywhere but even now, with the right crowd, on the right night, it still can feel just like it did then. If it didn't I wouldn't still be interested. The scene is incredibly exciting right now, it's just that the beginning was a different kind of exciting because nobody knew what was possible.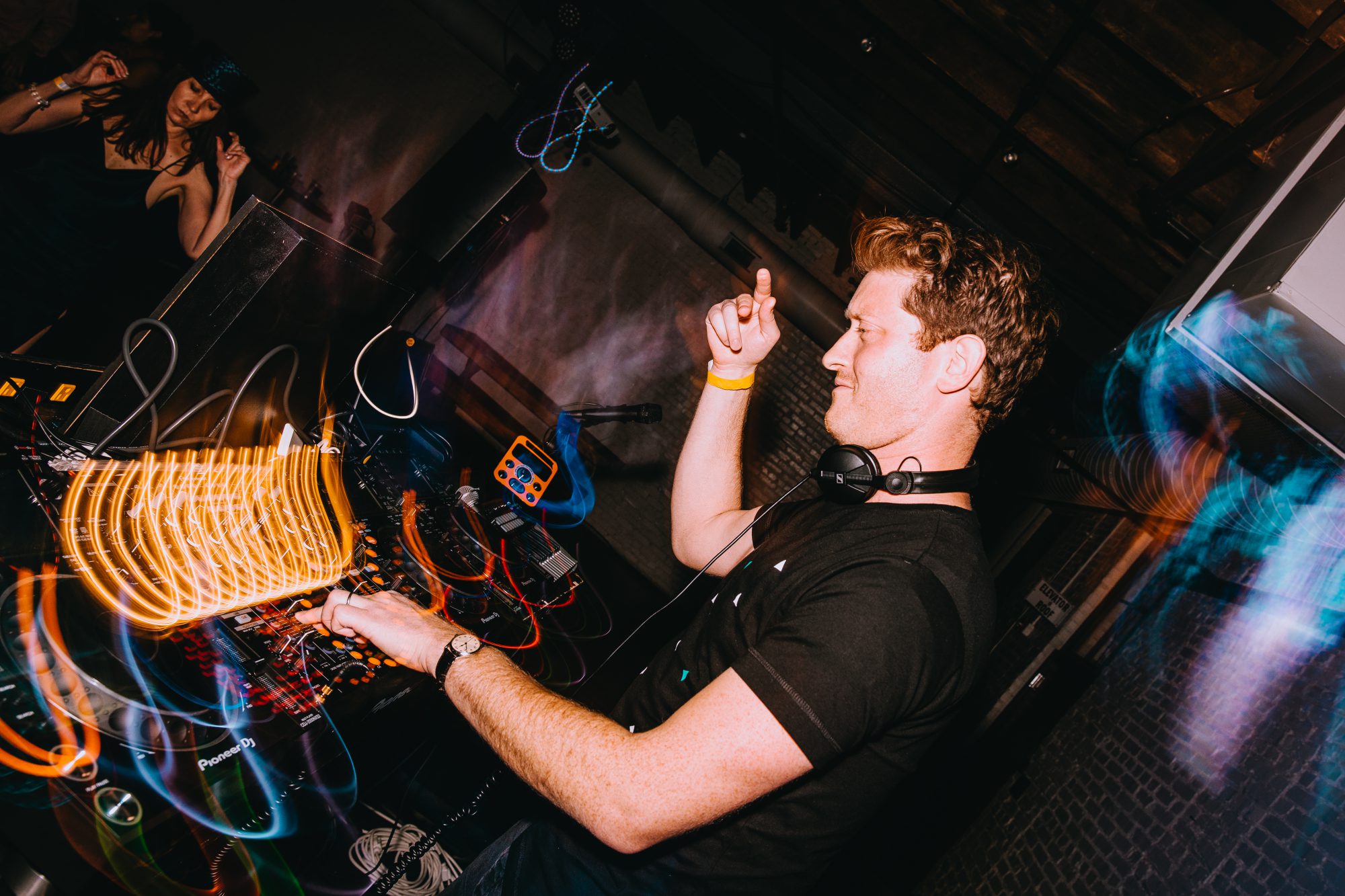 If you could give a piece of advice to an artist who is just now getting their start in the scene, what would it be?
I have been DJing since 1994 but I am really only just getting my start on the LA scene, so this is still relevant to me right now. There are a few things that I think are crucial to surviving as an artist in any scene:
Do what you say you are going to do. If you promise you'll be somewhere/ do something/ support something-  be there and do it.
Be authentic at every turn. That means allowing yourself to take risks and be vulnerable. Nobody wants to hear you trying to replicate anybody else. If you are genuinely excited about the sound you are making and you are authentically sharing it, other people will be too.
Be 'actively patient'. Be relentless in honing your sound and your ability to express it but commit to patience and know that any overnight success has years of preparation behind it.
Aside from your life as a DJ and producer, you're also an actor as well! How do you manage your time between both gigs and has either side of your career helped the other in a way you didn't expect?
My schedule is tight, as the two things are constantly going on at the same time. I run out of hours every day of the week but I schedule my day down to the hour to clearly devote time to one thing or the other. It's really nice when I play gigs now because there are always a bunch of people who are primarily showing up because they know me from TV that ordinarily wouldn't go to a House Music event. They wind up having a great time and it's so satisfying to have that crossover of support.
In 2001, I decided to put all of my attention on my acting career and that took the main focus. I was always picking up gigs throughout the years but three years ago I wrote and directed a short film about a DJ in New York (The Break). This led to starting my own party Voltage and everything really steamrolled after that. That union of the film world and the music world was incredibly satisfying and something I am developing further now. 
Finally, it's a late night in LA and you just got done playing a groovy set at Avalon. Where are you headed to grab a bite to eat before heading home and what's the order? 
This is a three-pronged answer! If it's a before a 2am finish I am back in my beloved Los Feliz and hitting Fred's 62 for an Impossible Burrito. Later and I will stop at either 101 Coffee Shop for a blackened chicken sandwich with EVERYTHING on it or Pattaya Bay Thai for a red curry with jasmine rice. If we venture into afterhours territory, all I have to do is go home… my wife makes THE best eggs this side of the equator. Seriously stop this, I am getting hungry just talking about it!
---
Follow Roukin on Social Media:
Website | Facebook | Twitter | Instagram | SoundCloud