Get to know Two Friends this week in the latest edition of The Lowdown!
---
Two Friends is a duo composed of Matt Harper and Eli Sones based out of Los Angeles. Putting a unique spin on house music, with their "soul house" branding, they became well known for their viral remixes of "Trap Queen", "I Miss You" and "Cool". Originally joining forces in High School, these literal two friends have turned into two rising stars in the electronic music scene. Not only have they grown a serious fanbase throughout the West Coast, but also support from major artists like The Chainsmokers, Tiesto, and Krewella. We sat down with the guys to chat about their music and more, check it out!
Stream Two Friends & Exit Friendzone ft. Natalola – Overdose on SoundCloud:
---
Beginning your careers making music in senior year of High School, what brought you guys together to form Two Friends?
We actually met in middle school, when we were 12 or 13 years old. I think it was in Mr. Casteneres' history class. We became best friends pretty much right away. Fast forward six years and we are seniors in high school and about to graduate, we kinda were just like 'uh you love music, I love music, wanna make music together?' Eli had done mash-ups for a couple of years and Matt always had played guitar and was like the worst one in our school choir. So our backgrounds somewhat complimented each other, and we knew that whatever we decided to pursue together it would be fun since we were best friends anyway.
Describing your sound as "Soul House", what were your influences in developing it?
Soul House is what we've been coining a lot of the stuff we've released within the last year or two. Lots of live instruments, whether it is guitar, sax, drums, and more, as well as lots of fun/emotional piano melodies. 'Forever' was actually the first song we worked on with this vibe in mind, but it just took a while to get out so a bunch of remixes passed it in release order. Definitely more soul house coming, but also some totally different stuff from us. More than excited to share.
Incorporating live instruments in your tracks helps set you apart from other artists. Do you incorporate, or plan on incorporating these elements in your live shows?
Yes! We've already begun that transition, and it's gone really really well. We've had an unreal saxophonist accompany us to play over some of our remixes that include sax. And we've brought out ktpearl, the vocalist on 'Forever,' to sing live and also perform a cover of another song. Both of those were a lot of fun, and it's definitely something we plan on incorporating more and more.
I absolutely love your remix of Blink 182's track "I Miss You" and The Killers' "Mr. Brightside". What led to you remixing those two tracks?
Those are songs where every time you hear it, not only do you want to sing along the whole time, but it takes you back to a time in your life or a place or a feeling. We thought it would be fun to bring those songs back and put our own twists on them, and based off the reaction so far, it seems like we made a good call. Those have been such fun ones to play out recently.
Do you have a specific process in selecting tracks for your podcast, Friendly Sessions?
To be honest, not really haha, it kind of changes every time. We just choose songs we've been jamming to recently, throw in any of our new releases, see if our producer friends have new
releases that we can help support, and of course include a few demos from our promo inbox. Because that's one of the goals of Friendly Sessions,  to shine as much of a spotlight as we can on up-and-coming producers since we were in their position not too long ago and we know the grind. But the main overall goal is to just share good music and good vibes with our audience!
Having released tracks "Forever" and "Overdose" on Armada Trice, what has it been like receiving support from one of the leading electronic music labels?
Working with Armada has been awesome. That's one of those things where when we first started, we could only dream of releasing tracks on one of the top labels, and now it's a reality. Just goes to show you what hard work and dedication and a vision can do!
Playing shows all over this year, do you have a memorable moment you can share with our readers?
There are too many memorable shows and moments to list, and we feel so lucky that we are able to say that about our job. There's nothing like having a crowd sing along to one of your songs and see them go nuts with you. But for a memorable funny moment… at a recent show we had brought a lot of Two Friends t-shirts with us and were planning to toss them out to the crowd towards the end. The plan was that Matt and one of our best friends named Andrew would go out to the front of the stage to toss them out while Eli stayed in the DJ booth to hold down the fort.
But I guess the security guards weren't aware of this plan, and even though Andrew was standing right next to Matt helping him toss out the t-shirts, I guess they thought he wasn't with us, and they tackled him HARD from both sides and dragged him off-stage. Luckily Andrew's a trooper and he was totally fine, but I guess next time we'll make sure we tell the security who's with us haha.
What is in store for fans of Two Friends in 2017 and beyond?
Two Friends is headed to to the next level. Much more original music, more remixes, more touring, more collaborations. We'll keep doing our Big Bootie mix series and our Friendly Sessions podcast series and of course all our stupid funny videos and jokes. Just bigger and better in all facets of Two Friends. 2016 has been such an awesome year for us, and we just hope to capitalize on the momentum and keep working our asses off to put us in the best possible position for success. We cannot wait for what 2017 holds in store, gonna be a fun ride.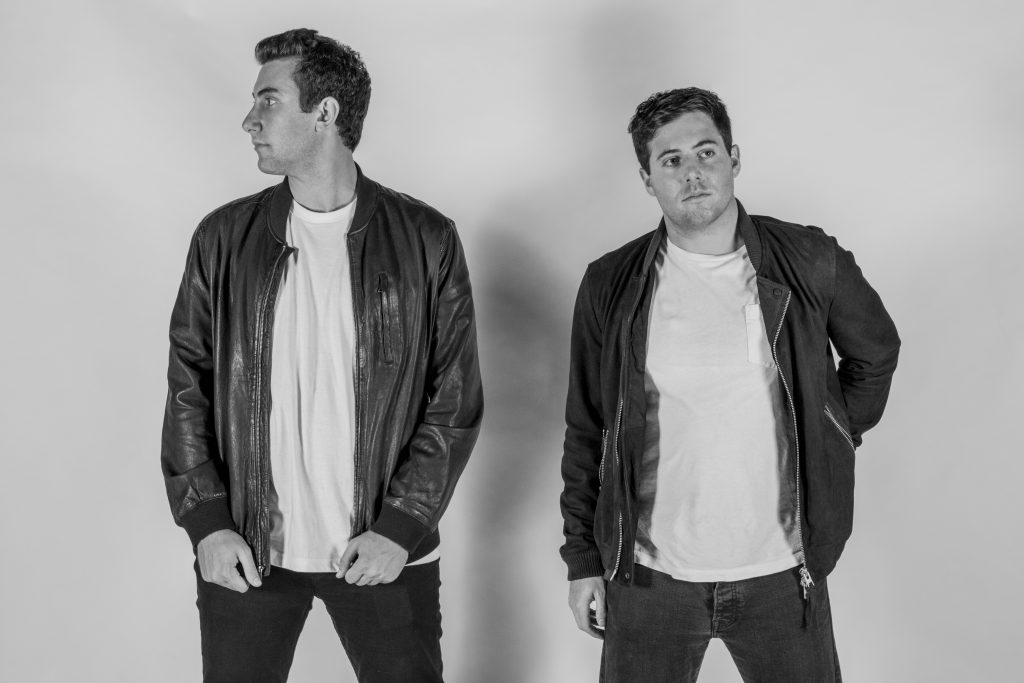 When you aren't producing music or playing shows, what do you do in your free time?
We try to make the most of our free time since it's becoming more and more limited. We like to organize sports with our friends, basketball, football, a new one we've been playing called Spikeball etc. We're obsessed with fantasy football too. In fact, we're playing each other this week in a grudge match. We'll see if Two Friends continues to exist after the outcome of this matchup…
Finally, what are your favorite flavors of ice cream?
Matt: Mint Chip.
Eli: Coffee. And Phish Food. And peanut butter cup. And mango sorbet.
---
Connect with Two Friends on Social Media:
Website | Facebook | Twitter | Instagram | SoundCloud