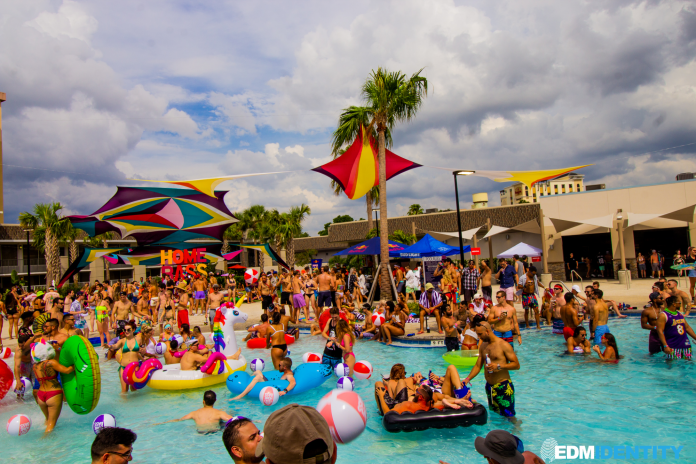 The debut edition of Home Bass Summer had its fair share of hurdles but the epic beats and quality vibes carried it across the finish line.
---
After years of getting groups of dance music lovers to travel and stay together, Home Bass embarked on a mission of throwing their own festival that wasn't connected to another entity. Dubbed Home Bass Summer, they took over the Avanti Palms Resort & Convention Center on June 7-10 for their debut edition. With powerhouse label takeovers from Wakaan, The Prescription, Dirtybird, and Desert Hearts, this weekend was shaping up to be a stellar one for dance music lovers in Orlando.
Home Bass Summer started off right, as the check-in process was a rather seamless experience for those who arrived early for the weekend. After our bags were placed in our rooms and we were ready to party, though, things started to steer a little bit South as it was clear that Mother Nature wasn't going to play nice over the course of the weekend. Inevitably much of the music was relocated inside the convention center all weekend long, but everyone rolled with the punches to make this weekend a memorable one.
Friday evening got everyone in full-on party mode as What So Not headlined the night to start the weekend off with a bang.
Over the course of the night, we were were able to enjoy sets from rising stars like GAWP and Noizu before one of our favorite Aussies took the stage. It was great to hear some epic trap tunes like his collaboration with RL Grime, "Tell Me," to get things moving before the late night shenanigans ensued. In fact, the entire venue was blasting off with dance music from rooms across the entire resort.
It wasn't just the rooms that these epic throw-downs were going down in either. Hallways, balconies, right outside the elevator – you name it, there were people partying there. You could look down from your room's window and see fully equipped DJ setups complete with booming bass, professional sound, and accompanied by some savage kid wrecking the decks to an intimate crowd.
Even headliner Dr. Fresch had his own impromptu rager in a jam-packed hotel room, instilling some mild Boiler Room vibes. The room may have been dimly lit, but the energy in there was beaming from everybody. You can imagine how loud it was in almost every part of the hotel 24/7 so shout outs to security for putting up with the ruthless shenanigans.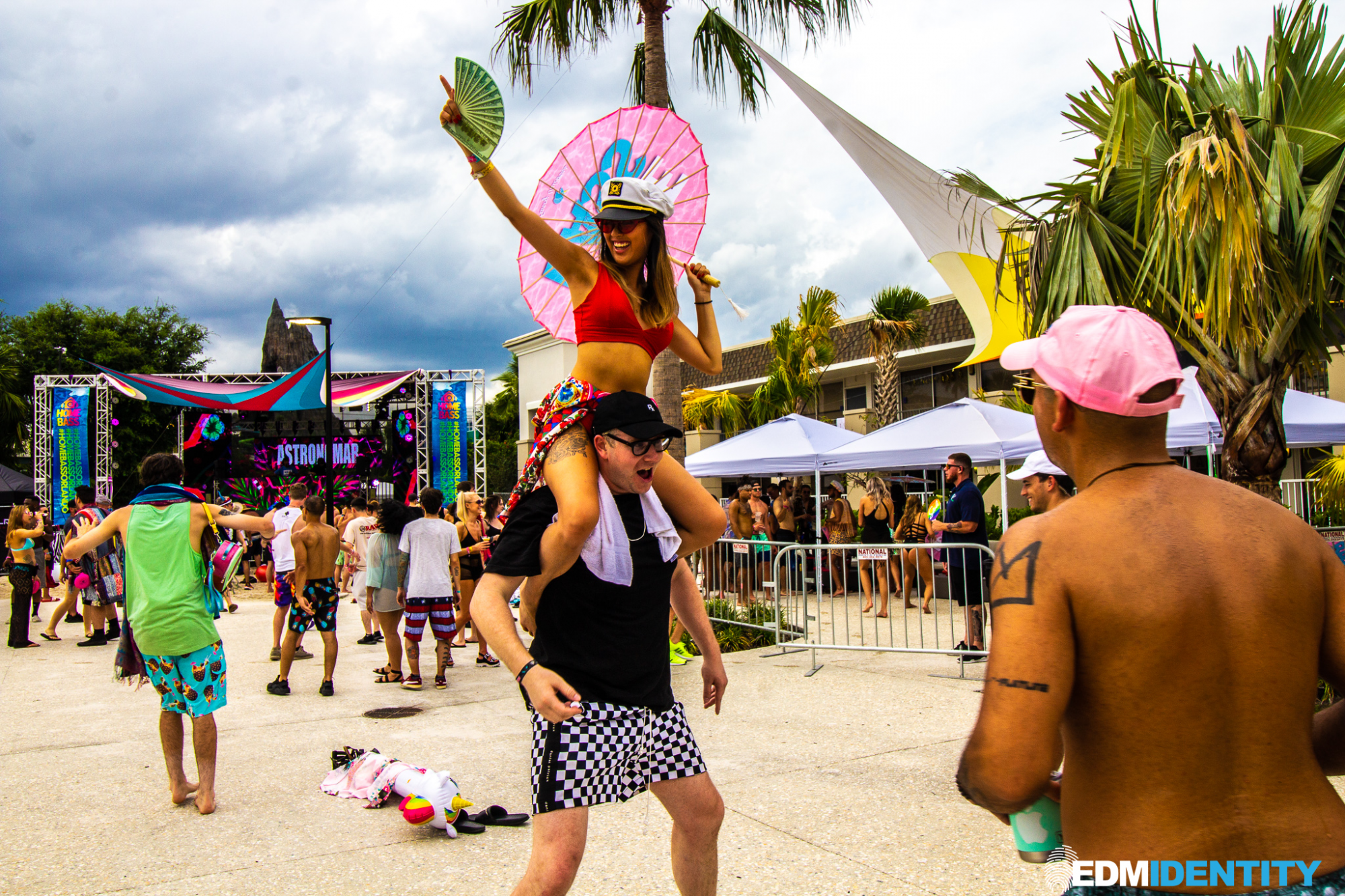 While Home Bass Summer was supposed to be a tropical oasis it quickly turned into a tropical storm instead, forcing most of the pool party sets inside to the convention center.
Even though there was a downpour outside the party still prevailed, just with a little more sweat than anticipated. Jack Beats, known for their signature wobbly style, throbbing basslines, and overall massive UK sound, had the whole resort bouncing relentlessly and truly set the tone for the day parties during the weekend.
Luckily, Dr. Fresch saved some energy from his wicked hotel room party the night before for his main performance. He dished out some delectable doses of bass house, even dabbling into some hip-hop vibes for a little switch-up. The Prescription Records showcase continued to get crunk as Damaged Goods took the reins, bringing with him his signature South Beach sexiness via energetic synths and feel-good melodies.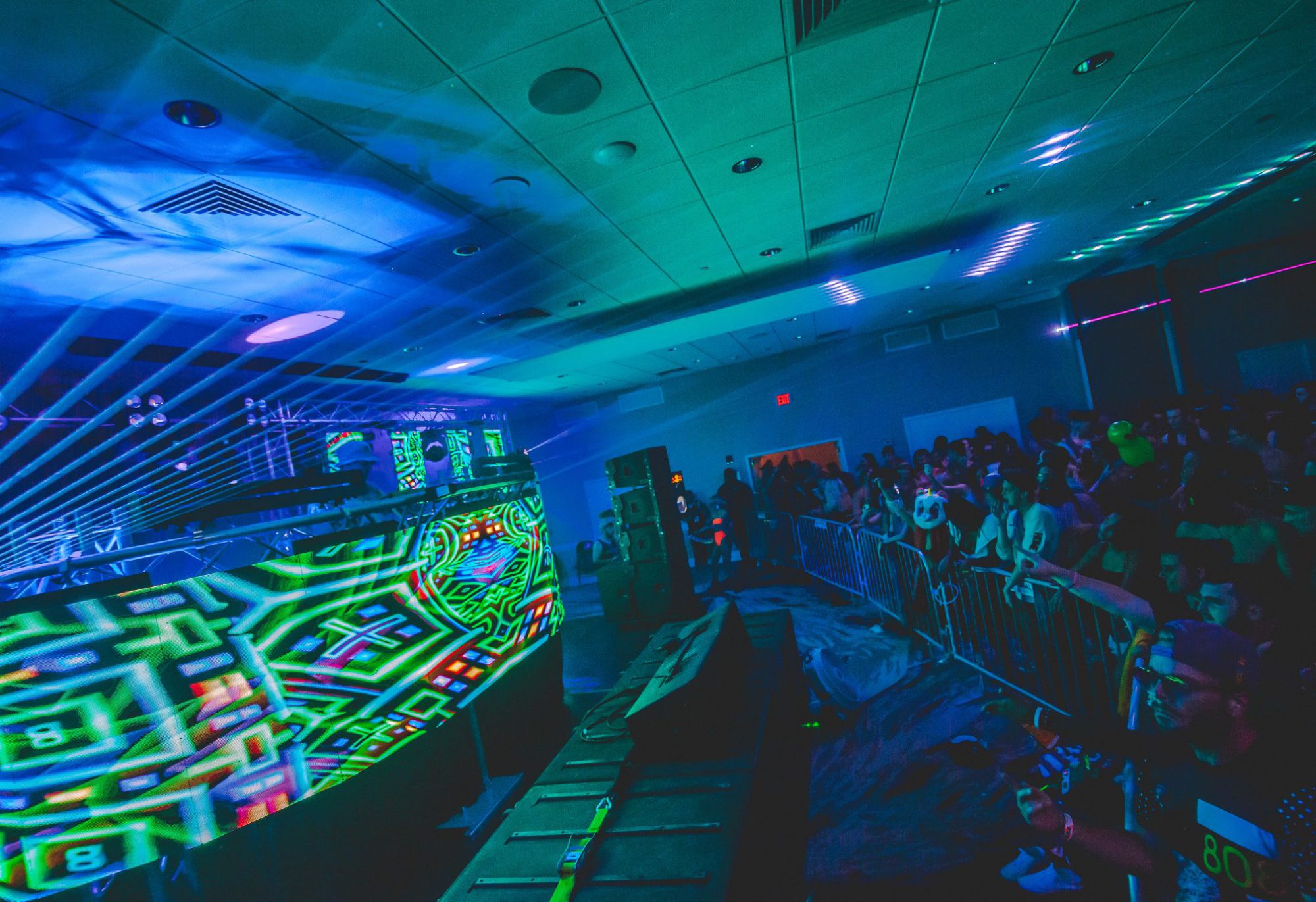 A short-but-sweet break was taken before the ever-wonky, bass-fueled Wakaan Records takeover dominated the night.
I can't stress enough how blessed we were to have a shower and air-conditioned room in such close proximity to the venues, they were a godsend over the course of the weekend. After a quick cool-off and some much-needed refreshments, we boogied over to the music.
Things were getting hot and heavy (literally) in the convention center as the sound of Wakaan roared through the resort. Big-league beatboxer Honeycomb had attendees baffled as they witnessed his ill execution, crushing a rendition of Bassnectar's "Blow" that had the headbangers displaying their grimiest expressions. Heavyweights LUZCID, LSDREAM, and Shlump all performed one after another later in the evening, giving the one flimsy rail at the front of the crowd a serious run for its money.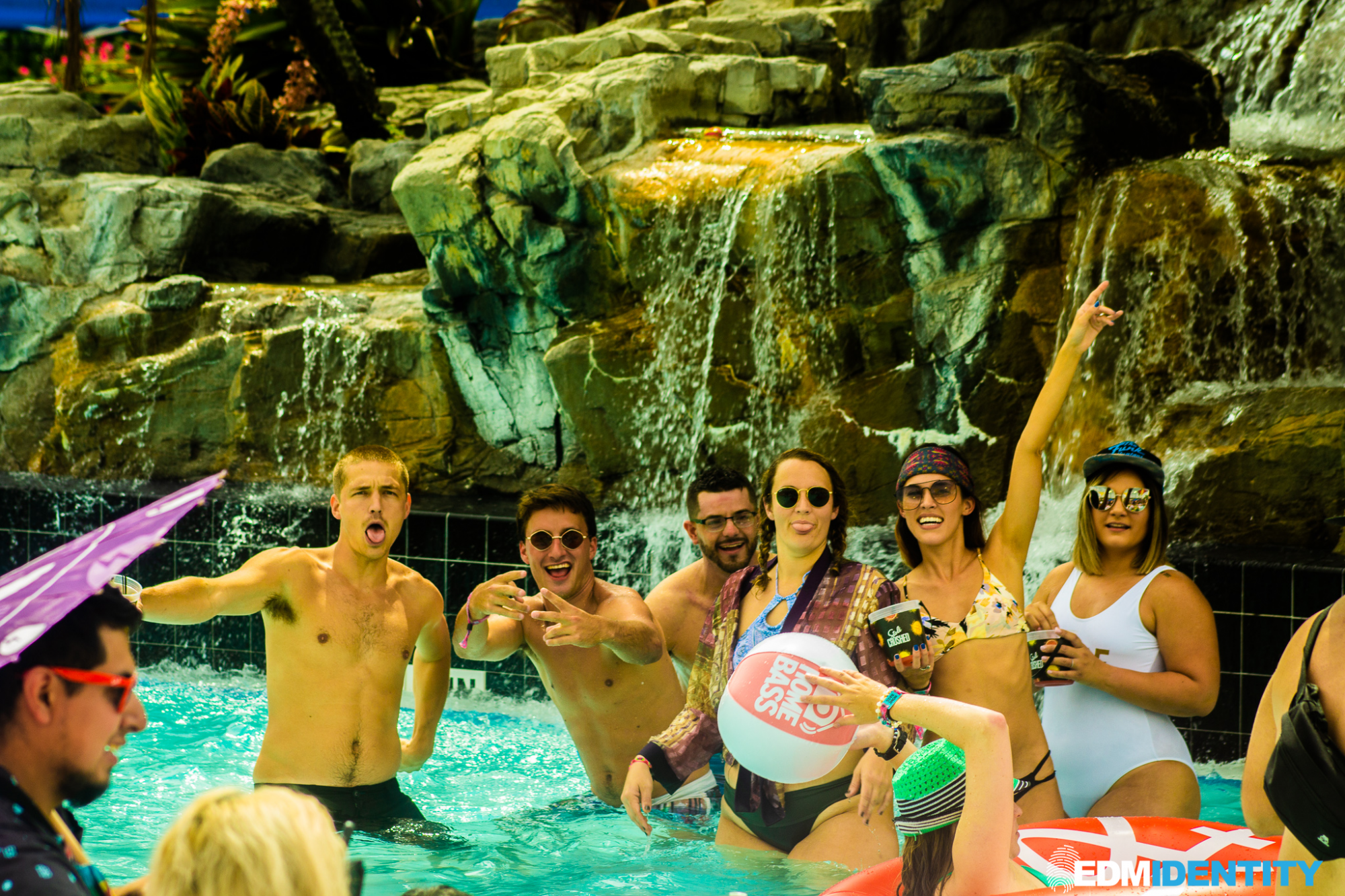 Sunday fun-day was a smooth transition from the madness that went down during Saturday night's festivities.
Dirtybird fans were just beginning to flock to the pool for J.Worra and Christian Martin when looming clouds and droplets of rain relocated the party inside yet again. But no act of God could stop this powerhouse label from giving the people what they want and the abundance of bucket-cocktails and booties kept the poolside spirit alive even while inside.
Kill Frenzy, Ardalan, and Justin Martin brought some funky, ghetto tech-house sets that tore up the dance floor for hours on end. Fearless leader of the flock Claude VonStroke sealed the deal during his thunderous closing set, leaving us all begging for more beats to groove away to. Thankfully, there was much more house to be heard during that evening.
From late Sunday into the wee hours of Monday morning we were serenaded by the soothing and sultry sounds of the Desert Hearts takeover.
House and techno ricocheted throughout the grounds and entranced listeners more and more with each track played. Desert Hearts founders Mikey Lions and Lee Reynolds were glowing as they basked in the rave-state, knowing that a handful of attendees in the crowd had also just been to the Desert Hearts Festival earlier this season. They closed out the event with a b2b set that took things to the next level.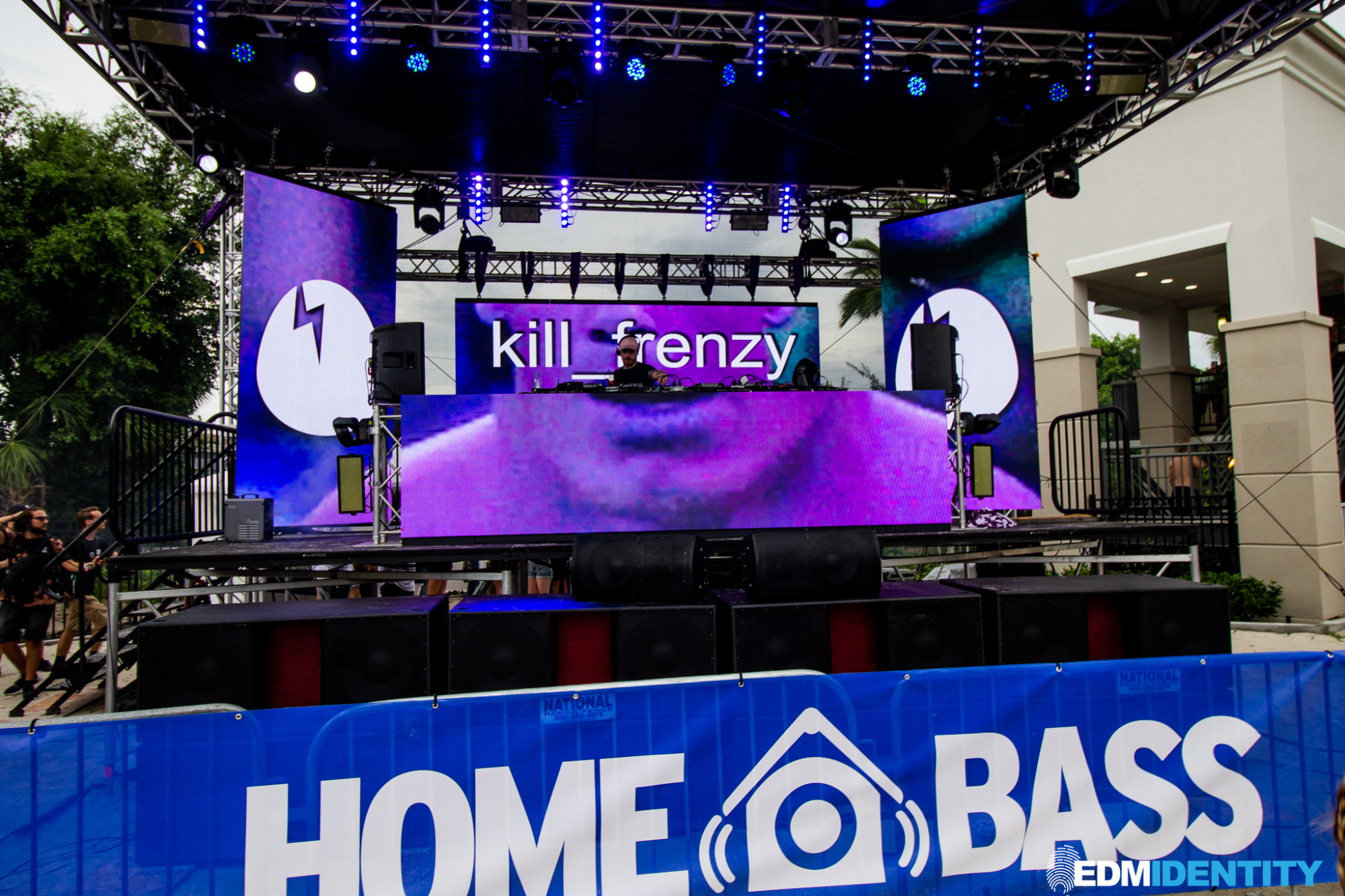 As the sun was about to creep up on the final morning of Home Bass Summer, there was one more stop that had to be made before face-planting in bed.
Word got out that an up-and-coming crew by the name of A 40 Oz. Collective was hosting a heater of an after-party in one of the poolside hotel rooms. Everyone crammed into this haven for underground bass, where some diabolical DnB was initiating two-stepping frenzies from wall-to-wall. We shook out our last shreds of energy and trekked back to the room for the final time, marking the end of a truly magnetic weekend.
Overall, the debut edition of Home Bass Summer was a success and full of lasting memories.
While a mixture of problems did surface over the course of the weekend at Home Bass Summer, attendees and staff stuck it out for a wet and wild experience at Home Bass Summer. The entire event was stocked full of tasty tunes no matter what stage (or hotel room) they were blaring from and the curated takeovers were precisely what the Orlando scene needed. Hopefully, future editions continue to bring packed lineups and great vibes to Orlando, and we can't wait to see where they go from here.
The Music Festival Trips team is also keeping those post-event blues at bay with their upcoming edition in November during EDC Orlando that is set to take over the newly-renovated Grand Orlando Resort. Let us know in the comments below if we'll see you there!
---
Connect with Home Bass on Social Media:
Website | Facebook | Twitter | Instagram