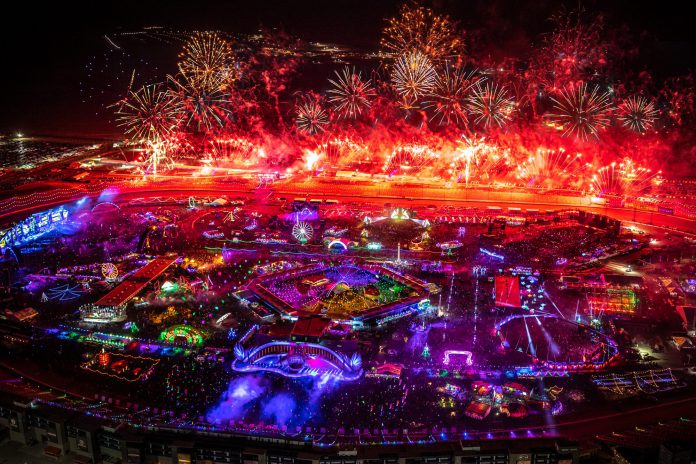 Let's dive under the electric sky again and celebrate EDC Las Vegas 2019 with these livesets!

---
Another year, another EDC Las Vegas with multiple stages and art cars filled with goodness and beats! As always, who would not want to relive all the fun, sun (okay, less sun this year), and beats of the three-day experience out in Las Vegas? The world of dance music never feels the same after an episode of Electric Daisy Carnival, so whether it was the FOMO or you just want to recapture the beauty you spent under the canvas of the Electric Sky, we've got you covered with all the sets we can find!
Blacked out links have been taken down or haven't surfaced yet. Please help us out and comment if you see any other links that have gone down or even ones we've missed!
What was your favorite set from last weekend? Who surprised you the most? Let us know in the comments and feel free to join in on the conversation on Facebook!
Also huge shoutout to the r/electricdaisycarnival community for sourcing many of these links!
Related: If you need to recapture 2018 or 2017 just click the links!

EDC Las Vegas 2019 Livesets
---
13
SoundCloud | Mixcloud | YouTube
---
4B
SoundCloud | Mixcloud | YouTube
---
Above & Beyond
SoundCloud | Mixcloud | YouTube
---
Adam Beyer
SoundCloud | Mixcloud | YouTube
---
Adam Beyer x Cirez D (EDC Week)
SoundCloud | Mixcloud | YouTube
---
Alan Fitzpatrick
SoundCloud | Mixcloud | YouTube
---
Alesso
SoundCloud | Mixcloud | YouTube
---
Alison Wonderland
SoundCloud | Mixcloud | Mixcloud #2 | YouTube
---
Alison Wonderland (Art Car Set)
SoundCloud | Mixcloud | YouTube | NSFW SOURCE
---
Aly & Fila
SoundCloud | Mixcloud | YouTube (Partial)
---
Angerfist
SoundCloud | Mixcloud | YouTube
---
Armin Van Buuren
SoundCloud | Mixcloud | YouTube
---
Arkham Knights
SoundCloud | Mixcloud | YouTube
---
ARMNHMR
SoundCloud | Mixcloud | YouTube
---
ATTLAS b2b Rhett
SoundCloud | Mixcloud | YouTube
---
Audien
SoundCloud | Mixcloud | YouTube
---
Ben Nicky Xtreme Live
SoundCloud | Mixcloud | YouTube
---
Blacklizt (ZHU)
SoundCloud | Mixcloud | YouTube
---
Bonnie X Clyde
SoundCloud | Mixcloud | YouTube
---
Boombox Cartel
SoundCloud | Mixcloud | YouTube
---
Bryan Kearney
SoundCloud | Mixcloud | YouTube
---
CARTA b2b YÅKO
SoundCloud | Mixcloud | YouTube
---
Charlotte de Witte
SoundCloud | Mixcloud | YouTube
---
Chris Lake (Cosmic Meadow)
SoundCloud | Mixcloud | YouTube
---
Chris Lake (stereoBLOOM)
SoundCloud | Mixcloud | YouTube (Partial)
---
Claude VonStroke
SoundCloud | Mixcloud | YouTube
---
Craig Connelly
SoundCloud | Mixcloud | YouTube
---
Cut Snake
SoundCloud | Mixcloud | YouTube
---
D3V
SoundCloud | Mixcloud | YouTube
---
D8 Me
SoundCloud | Mixcloud | YouTube
---
Dack Janiels (Camp EDC)
SoundCloud | Mixcloud | YouTube
---
Danny Amaya (Camp OG)
SoundCloud | Mixcloud | YouTube
---
Darren Styles
SoundCloud | Mixcloud | YouTube
---
David Gravell
SoundCloud | Mixcloud | YouTube
---
David Guetta
SoundCloud | Mixcloud | Mixcloud #2 | YouTube
---
Deadmau5
SoundCloud | Mixcloud | YouTube | YouTube #2
---
Declan James
SoundCloud | Mixcloud | YouTube
---
Deorro
SoundCloud | Mixcloud | YouTube
---
Dillon Francis
SoundCloud | Mixcloud | YouTube
---
Dillon Nathaniel
SoundCloud | Mixcould | YouTube
---
Diplo
SoundCloud | Mixcloud | YouTube
---
DJ Gunny (Camp OG)
SoundCloud | Mixcloud | YouTube
---
DJ Isaac
SoundCloud | Mixcloud | YouTube
---
DNMO
SoundCloud | Mixcloud | YouTube
---
Doc Brown
SoundCloud | Mixcloud | YouTube
---
Don Diablo
SoundCloud | Mixcloud | YouTube
---
Drezo
SoundCloud | Mixcloud | YouTube
---
Edward Mero (Camp OG)
SoundCloud | Mixcloud | YouTube
---
Ekali
SoundCloud | Mixcloud | YouTube
---
Elephante
SoundCloud | Mixcloud | YouTube
---
Eric Prydz
SoundCloud | Mixcloud | YouTube | YouTube #2
---
Excision
SoundCloud | Mixcloud | YouTube
---
Ferry Corsten Presents System F
SoundCloud | Mixcloud | YouTube | YouTube #2
---
Fisher
SoundCloud | Mixcloud | YouTube
---
Frostbyte
SoundCloud | Mixcloud | YouTube
---
Ganesh
SoundCloud | Mixcloud | YouTube
---
Gareth Emery
SoundCloud | Mixcloud | YouTube
---
Gentech
SoundCloud | Mixcloud | YouTube
---
Geo
SoundCloud | Mixcloud | YouTube
---
Ghastly
SoundCloud | Mixcloud | YouTube
---
Giuseppe Ottaviani
SoundCloud | Mixcloud | YouTube
---
Gorgon City b2b Camelphat
SoundCloud | Mixcloud | Mixcloud #2 | YouTube
---
Greco (NYC)
SoundCloud | Mixcloud | YouTube
---
Green Velvet b2b Skream b2b Mason Maynard b2b Solardo
SoundCloud | Mixcloud | YouTube
---
Happi
SoundCloud | Mixcloud | YouTube
---
Hekler
SoundCloud | Mixcloud | YouTube
---
Illenium
SoundCloud | Mixcloud | YouTube
---
i_o
SoundCloud | Mixcloud | YouTube
---
Infekt b2b Mvrda b2b Samplifire
SoundCloud | Mixcloud | YouTube
---
Jase Thirlwall
SoundCloud | Mixcloud | YouTube
---
Joyryde
SoundCloud | Mixcloud | YouTube
---
JS2 – J. Splat b2b Daemia
SoundCloud | Mixcloud | YouTube
---
JSTJR
SoundCloud | Mixcloud | YouTube
---
KANDY
SoundCloud | Mixcloud | YouTube
---
Kane Michael
SoundCloud | Mixcloud | YouTube
---
Kayzo
SoundCloud | Mixcloud | YouTube
---
Kendoll
SoundCloud | Mixcloud | YouTube
---
Kewk (Camp OG)
SoundCloud | Mixcloud | YouTube
---
Layton Giordani b2b Bart Skils
SoundCloud | Mixcloud | YouTube
---
Lil Texas
SoundCloud | Mixcloud | YouTube
---
Liquid Stranger
SoundCloud | Mixcloud | YouTube (Partial)
---
Loud Luxury
SoundCloud | Mixcloud | Mixcloud #2 | YouTube
---
Luca Lush
SoundCloud | Mixcloud | YouTube
---
Lucati
SoundCloud | Mixcloud | YouTube
---
Martin Garrix
SoundCloud | Mixcloud | YouTube
---
Medasin
SoundCloud | Mixcloud | YouTube
---
Mister J (Camp OG)
SoundCloud | Mixcloud | YouTube
---
Nero
SoundCloud | Mixcloud | YouTube (Partial)
---
NGHTMRE
SoundCloud | Mixcloud | YouTube
---
Nick Ledesma
SoundCloud | Mixcloud | YouTube
---
Niko Zografos
SoundCloud | Mixcloud | YouTube
---
Nitti Gritti
SoundCloud | Mixcloud | YouTube
---
Noizu
SoundCloud | Mixcloud | YouTube
---
Oolacile
SoundCloud | Mixcloud | YouTube
---
Party Favor
SoundCloud | Mixcloud | YouTube
---
Pass The 40
SoundCloud | Mixcloud | YouTube
---
Paul Denton
SoundCloud | Mixcloud | YouTube
---
Paul Oakenfold
SoundCloud | Mixcloud | YouTube
---
Phiso b2b Definitive
SoundCloud | Mixcloud | YouTube
---
Quix
SoundCloud | Mixcloud | YouTube
---
Rezz
SoundCloud | Mixcloud | YouTube
---
RL Grime
SoundCloud | Mixcloud | YouTube
---
RJ Van Xetten
SoundCloud | Mixcloud | YouTube
---
Ruben de Ronde
SoundCloud | Mixcloud | YouTube
---
Salvatore Ganacci
SoundCloud | Mixcloud | YouTube
---
San Holo
SoundCloud | Mixcloud | YouTube
---
SayMyName
SoundCloud | Mixcloud | YouTube
---
SKREAM! b2b Rusko (Old Skool Dubstep Set)
SoundCloud | Mixcloud | YouTube
---
Skrillex
SoundCloud | Mixcloud | YouTube #1 | YouTube #2 | YouTube #3
---
SLANDER
SoundCloud | Mixcloud | YouTube
---
Snails
SoundCloud | Mixcloud | YouTube
---
Space Corps
SoundCloud | Mixcloud | YouTube
---
Steve Aoki
SoundCloud | Mixcloud | YouTube
---
Sub Zero Project
SoundCloud | Mixcloud | YouTube
---
Subrhythmic
SoundCloud | Mixcloud | YouTube
---
SVDDEN DEATH
SoundCloud | Mixcloud | YouTube
---
Sychosis
SoundCloud | Mixcloud | YouTube
---
Tails
SoundCloud | Mixcloud | YouTube
---
Tchami x Malaa [No Redemption]
SoundCloud | Mixcloud | YouTube
---
Technoboy
SoundCloud | Mixcloud | YouTube
---
The Prophet
SoundCloud | Mixcloud | YouTube
---
Tiesto
SoundCloud | Mixcloud | Mixcloud #2 | YouTube
---
Timmy Trumpet
SoundCloud | Mixcloud | YouTube
---
Tokimonsta
SoundCloud | Mixcloud | YouTube
---
Tritonal
SoundCloud | Mixcloud | YouTube
---
Tweekacore
SoundCloud | Mixcloud | YouTube
---
Valentino Khan
SoundCloud | Mixcloud | YouTube
---
Vincent
SoundCloud | Mixcloud | YouTube
---
Volac
SoundCloud | Mixcloud | YouTube
---
W&W
SoundCloud | Mixcloud | YouTube
---
Wasted Penguinz
SoundCloud | Mixcloud | YouTube
---
Wax Motif
SoundCloud | Mixcloud | YouTube
---
Wenzday
SoundCloud | Mixcloud | YouTube
---
What So Not
SoundCloud | Mixcloud | YouTube
---
Whipped Cream
SoundCloud | Mixcloud | YouTube
---
XCRPT
SoundCloud | Mixcloud | YouTube
---
Yolanda Be Cool
SoundCloud | Mixcloud | YouTube
---
Yousef
SoundCloud | Mixcloud | YouTube
---
Yultron
SoundCloud | Mixcloud | YouTube
---
Zeds Dead
SoundCloud | Mixcloud | YouTube
---
Zeke Beats b2b Champagne Drip
SoundCloud | Mixcloud | YouTube
---
ZHU
SoundCloud | Mixcloud | YouTube
---
Connect with EDC Las Vegas on Social Media: