After a rocky experience on Florida's Historic Virginia Key back in March, Ultra Music Festival has announced that they will be finding a new home in South Florida.
---
Since its inception over two decades ago, Ultra Music Festival has become a powerhouse in the scene that marks the start of festival season for many while capping off the festivities of Miami Music Week. Last year, things changed for the festival though, as it was kicked out of their home at Bayfront Park and forced to relocate to Historic Virginia Key for the 2019 edition.
Moving to the new venue amid pushback from the local community, the City of Miami had approved it under the condition that an environmental impact report would be produced after the festival and the following year would be determined. Following an experience that was riddled with logistical nightmares, provided a mixed experience for attendees, and was paired with an environmental report that wasn't glowing, today the news has come that Ultra Music Festival will once again be on the move.
Today, Ultra Music Festival has released an official statement about the future of the festival in South Florida. In the letter that was posted to their social media channels, they announced the voluntary termination of their City of Miami license, thanking the city for giving them their home since 1999.
Citing the feedback from over 20,000 fans who attended the event and others who spoke out about the move, the Ultra team felt that this year's edition was simply not up to the standards they wanted to provide.
They go on to state that they've been in talks with a new home in South Florida and are finalizing details for the new location where the festival will take place in 2020. Stay tuned for a formal announcement of event details and tickets, and let us know what your thoughts are on this news from Ultra in the comments!
Read the full statement made by Ultra Music Festival: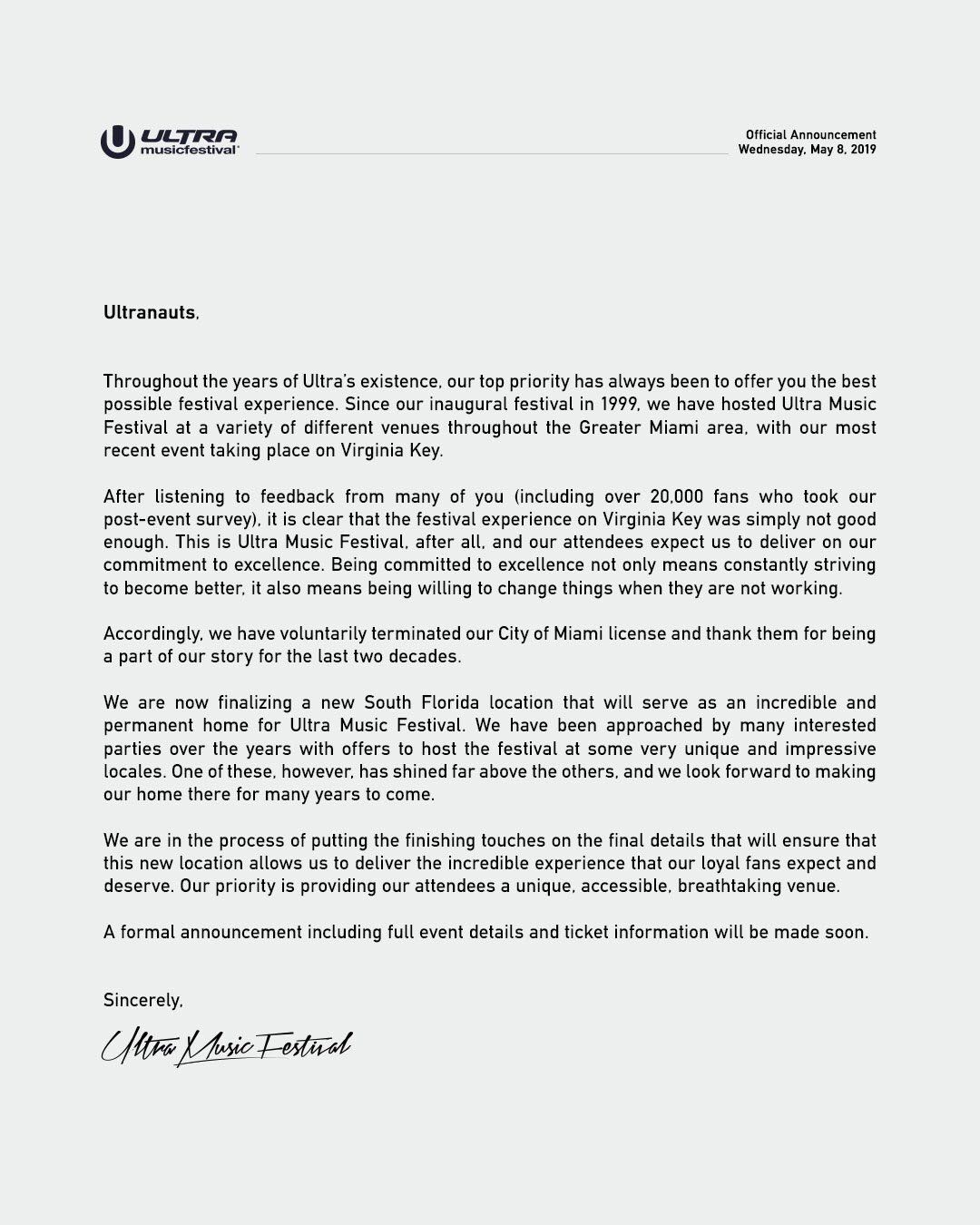 ---
Follow Ultra Music Festival on Social Media: